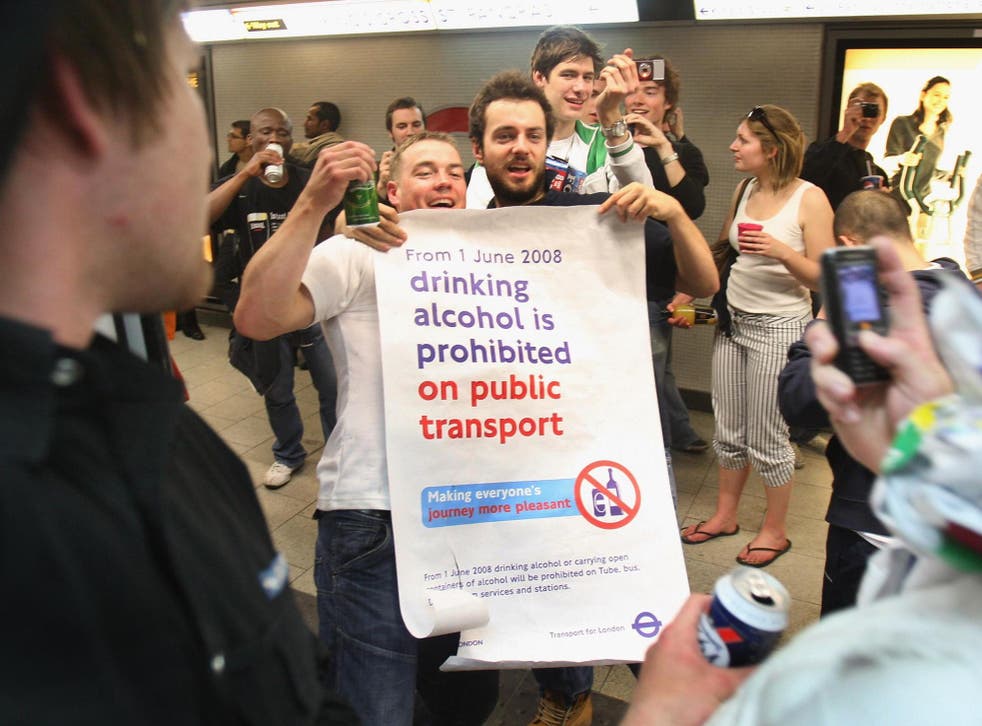 Alcohol on the underground: What are the laws for drinking on public transport in the UK?
Consumption of alcohol was banned on the London Underground more than a decade ago
Despite having been banned by Transport for London (TfL) more than a decade ago, it seems that many people are unaware that drinking alcohol on public transport in the capital is not allowed.
"I have never seen a sign saying you can't drink on the London Overground! I didn't know you couldn't," Labour MP Alex Sobel recently tweeted.
While consumption of alcohol is banned on the Tube and on buses in London, are the same rules upheld across the rest of the nation?
Here's everything you need to know about the laws regarding drinking on public transport in the UK:
London
On 1 June 2008, drinking on public transport in the capital became illegal under the supervision of former London mayor Boris Johnson.
The alcohol ban came into effect on the Tube, buses, Docklands Light Railway, tram services and stations.
In addition to consuming alcoholic beverages, it's also illegal to carry open containers of alcohol on the public transport network.
"I'm determined to improve the safety and security of public transport in London and create a better environment for the millions of Londoners who rely on it," Johnson said at the time.
Carrying alcohol in closed containers is permitted.
England and Wales
On most trains in England and Wales, drinking alcohol is allowed.
However, train operators may opt to run "dry" trains, meaning passengers cannot bring alcohol on board nor consume it.
Gallery: 150 years of London underground

Show all 27
This will usually happen in the instance of a sporting event.
When an alcohol ban occurs on a train, notices will be put up informing passengers of the regulation in advance.
Various bus operators highlight their alcohol guidelines on their respective websites.
On British coach operator easyBus, passengers are not allowed to bring alcoholic beverages on board "with the intention of consuming them".
Nottingham City Transport similarly states that drinking alcohol is not permitted on the bus.
Northern Ireland
Passengers on trains and buses in northern Ireland are banned from drinking alcohol.
Translink, the northern Ireland public transport company, states in its passenger transport guide: "Please do not consume alcohol on rail or bus services within northern Ireland, except when purchased from the bar onboard the cross-border Enterprise service."
The cross-border Enterprise service runs between Dublin and Belfast.
Scotland
When travelling on ScotRail, the national train operating company in Scotland, visible alcohol is banned from 9pm until 10am the next day.
During this time period, you are allowed to carry alcohol, as long as it's kept concealed in a bag.
The sale of alcohol on ScotRail trains stops at 8.30pm.
Furthermore, if a passenger appears intoxicated to the point that they're acting in a "disorderly manner", the train company may not permit them on the train.
Register for free to continue reading
Registration is a free and easy way to support our truly independent journalism
By registering, you will also enjoy limited access to Premium articles, exclusive newsletters, commenting, and virtual events with our leading journalists
Already have an account? sign in
Register for free to continue reading
Registration is a free and easy way to support our truly independent journalism
By registering, you will also enjoy limited access to Premium articles, exclusive newsletters, commenting, and virtual events with our leading journalists
Already have an account? sign in
Join our new commenting forum
Join thought-provoking conversations, follow other Independent readers and see their replies