The Independent's journalism is supported by our readers. When you purchase through links on our site, we may earn commission.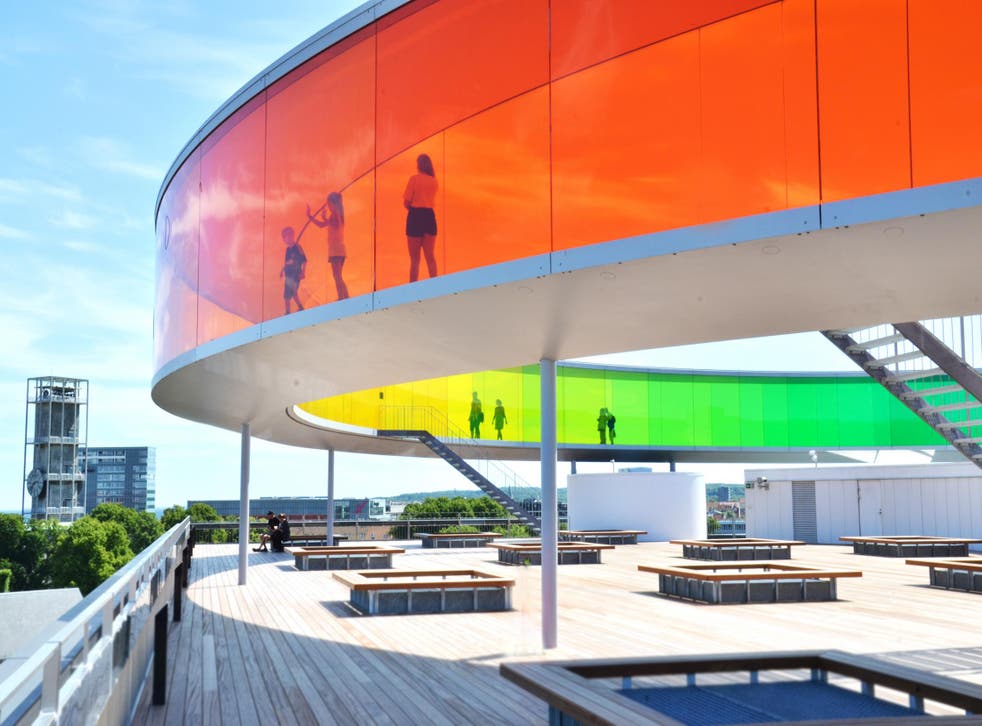 Aarhus: Why Denmark's second city should be your next urban break
It's time to check out the world's 'smallest big city', says Paul Tierney
The late actor Peter Ustinov once dubbed Aarhus "the world's smallest big city", and it's easy to see why. Even with rapid growth and its new-found cultural swagger, Denmark's second-in-command remains pleasingly compact in both scale and ego.
And yet, despite the modesty and cries of "We don't want to be Copenhagen", ambition lurks around every corner of this beautifully low-key outpost. The Danes don't do small talk, they make large gestures.
You see it in the restaurants, all vying for Michelin stars; in the new smash-and-grab architecture; and in the pearly, determined smiles of its youthful population.
"There's undeniable energy here," says Steen Stenstrup, owner of Villa Provence, easily the chicest hotel in town.
"When you mix art with youth, then add cool buildings and food, it makes for a compelling mix. We have a lot to offer."
The 10 best under-the-radar European cities, from Malmö to Tallinn

Show all 10
As committed Francophiles, Steen and wife Annette visit the country several times a year, amassing the antique furniture and tasteful objects that grace this fine boutique hotel. My bed is raised on a wooden plinth like a bouncy castle from World of Interiors, and rare cinema posters make the walls pop with technicolour nostalgia. "We do Provence, but with a Danish twist," says the proprietor, which would explain the generous wedges of ripe cheese at breakfast. I'm informed (somewhat indiscreetly) that Sting is staying next weekend. I only hope the bed can take a tantric thrashing.
If anything, it's food that characterises this quietly confident port. Nothing is a bargain in Denmark, but there's a street-food market offering global hole-fillers at reasonable prices, plus beer of every hue and persuasion. In the evening, locals head to Det Glade Vanvid, a social dining concept that eschews formality in favour of a rigid dinner plan, with more than 200 guests served simultaneously. What might be chaos runs to perfection. The food is elegant and plentiful, but ultimately the endless alcohol, bread and coffee – a sort of Heston-does-Harvester – are things the Danes prize highest.
At the other end of the spectrum, Aarhus is home to a flotilla of fine-diners offering food more akin to art than ingredients. Take burnt balls of British cabbage – possibly not the most edible of sentences, but the balls in question are burnt to perfection, then tweezered over lumpfish roe with mathematical precision. We're at Frederikshoj, the Michelin-star magnet that's high on foodie bucket lists. Owner Wassim Hallal presides over the kitchen like a benign force, while a clutch of minions – meerkats in lofty starched hats – prepare exquisite things in miniature. This is often lauded as the best restaurant in Denmark; there's a three-month waiting list, and were bread and butter the only things on the menu I would stay for a week.
If there is digestion in art, then ARoS is a large cognac on ice. This cathedral of art houses chin-stroking concepts so lofty they could induce vertigo. It's a museum on steroids, and superlatives abound. From Ron Mueck's gargantuan statue Boy, to the rainbow-coloured panorama up on the roof, there's an "Ooh" moment at every level. Up here, I can see the whole city mapped out in front of me – a mish-mash of sharp architectural contrasts and wavering forms. Old structures sit cheek by jowl with more linear buildings, and, save for a little skewed urban planning, the city remains harmonious.
Support free-thinking journalism and attend Independent events
Over in the Latin Quarter, it's all about reinvention. The maze of streets in this part of town, peppered with clandestine wine bars and the prerequisite hygge-factor, remain on the right side of pretentious – but prices can be off-putting. La Cabra, half way up "Hipster Hill", is the coffee shop on everybody's lips. It looks lovely, but can they really charge £5 for a tepid cappuccino? I point out the lack of temperature to a waitress who is genuinely miffed at such blasphemy. The Danes are not big on complaining, and coffee is their god.
Down by the docks things look remarkably different. Founded in Viking times, Aarhus is one of the oldest cities in Scandinavia, but it's difficult to align this with futuristic buildings like Dokk1 – a rhomboid space station masquerading as a library – pushing modernity to the fore. Walk five minutes north and you reach Aarhus O, a newly minted neighbourhood on a small peninsula, beckoning out to sea like a crooked finger. Ten years ago, the area was a container harbour: now it's 500 new apartments. At the very tip lies a clutch of white triangular towers known as the Iceberg complex. "They have ruined my view," says a local resident, "but at night it's like Metropolis out there." Forget Nordic noir. The positivity is electrifying.
Travel essentials
Getting there
EasyJet flies from Gatwick to Aarhus direct from £25 return.
Staying there
Villa Provence offers doubles from £173, B&B.
More information
Register for free to continue reading
Registration is a free and easy way to support our truly independent journalism
By registering, you will also enjoy limited access to Premium articles, exclusive newsletters, commenting, and virtual events with our leading journalists
Already have an account? sign in
Register for free to continue reading
Registration is a free and easy way to support our truly independent journalism
By registering, you will also enjoy limited access to Premium articles, exclusive newsletters, commenting, and virtual events with our leading journalists
Already have an account? sign in
Join our new commenting forum
Join thought-provoking conversations, follow other Independent readers and see their replies