Forget Paris: Amsterdam just might be Europe's most romantic city break
The Dutch capital has previously been best known for coffee shops and the red light district, but today it's a top choice for Valentine's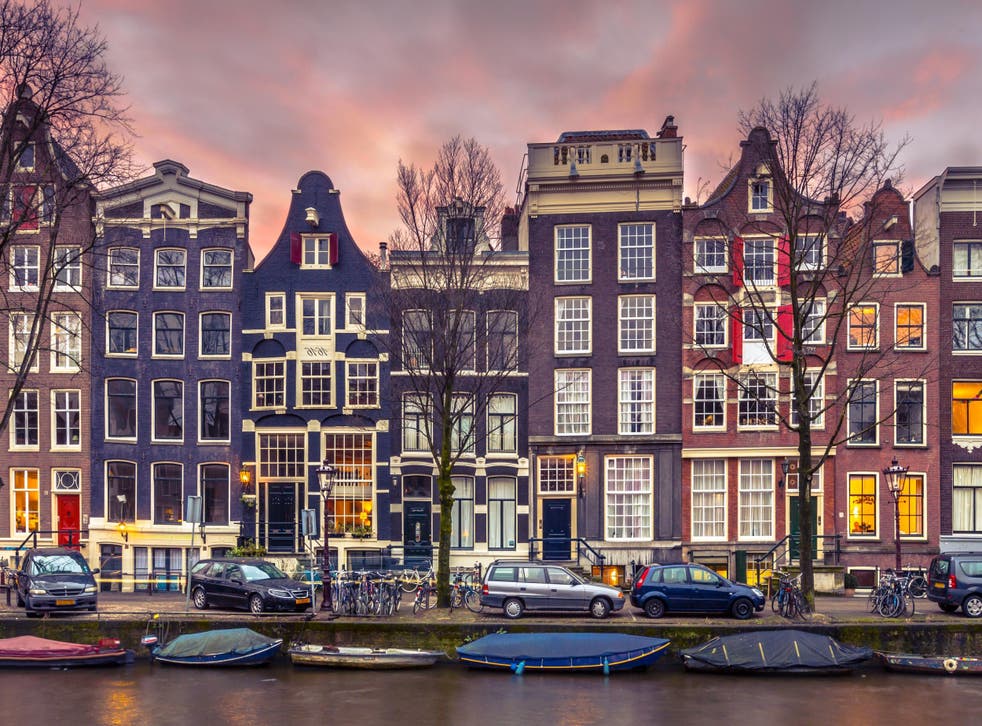 Asked to name a romantic city, you might pick Paris, Venice, Rome or possibly even Milan. But don't overlook the Dutch capital, which is poetic enough that I have spent the past few years holed up there writing novels.
And while you might associate it with a rather spicier type of "amour", Amsterdam more than holds its own when it comes to boutique hotels, romantic restaurants and canal-side strolls – not to forget its flowers. Valentine's Day falls on a Tuesday this year, so I say consider turning it into an extended, or even a lost weekend, in a hotel in Amsterdam.
It's romantic to arrive by train, but the direct Eurostar isn't in service yet (it's slated for the end of the year) and the current rail journey – four to six hours depending on the connection in Brussels – takes chunks out of weekends, even extended ones. Happily, it only takes an hour to fly there.
Trains from Schiphol airport into the city are fast and regular, and your destination is a compact place once you get there. There's an easy-to-use tram system and plentiful (though expensive) taxis; you may find it more romantic to hire bikes, which is how most locals get about.
Once you're there, here's how to make it an affair to remember.
Sexy strolls
Start at Bloemenstal 't Lievertje (00 31 20 627 9062; tlievertje.nl) – a flower shop on the Spui that leaves you with few excuses, guys. Dig deep; a beautiful, fresh bouquet never fails to make an impression and you're pretty much at the source here (a large share of the cut flowers sold in Britain comes from the Netherlands).
A short stroll from here stands the Magere Brug or skinny bridge, which you may recognise from films such as Diamonds Are Forever. The story goes that two sisters living on opposite sides of the Amstel river had the famous wooden bridge built so they could visit one another. I can't help but wonder why they didn't just live on the same side; no matter, the result is wondrous, particularly at night. A thousand little light bulbs gently illuminate the old drawbridge, reflecting in the rippling currents beneath.
The Nine Streets area (where several boutique hotels are found) is another picturesque place for a stroll. It is in fact a former blue-collar area that escaped redevelopment and is now filled with enchanting homes, boutiques and cafés. It's hard to believe that canal-side houses here were unloved and sometimes even vacant as recently as the 1980s; now they go for millions.
Dinner for two
A dramatic option for dinner is the A'dam Tower (00 31 20 237 6310; adamtoren.nl), across the water in north Amsterdam. Two different restaurants, on the 19th and 20th floors, afford spectacular views back over the city and give it that fitting sense of occasion, matched by the buzzy crowd. Both Madam, the top floor restaurant, and Moon, on the floor beneath, offer modern twists on classic dishes; an additional twist for Moon is that it rotates. You can get to A'dam Tower by ferry from Central Station (for free and takes two minutes; check hours of operation with your hotel concierge first).
While the restaurants in A'dam Tower might be tough to book for the night of the 14th itself, you could tap into north Amsterdam's lively creative scene for other options. NDSM wharf was one of the city's most important shipbuilding yards in its day; now it lays claim to a hundred or so artisanal studios, and also the restaurant Pllek (00 31 20 290 0020; pllek.nl), which combines industrial cool with a real fireplace.
Another restaurant nearby, Noorderlicht (00 31 20 492 2770; noorderlichtcafe.nl), is a glass structure lit beautifully at night, while Café de Ceuvel (00 31 20 229 6210; deceuvel.nl/en) has a relaxed, playful vibe. None of these options are too far apart and all lie close to the water. Each additionally qualifies for the Dutch term gezellig, a hygge counterpart loosely translating as cosy.
A nightcap
On Vinkenstraat, you will find Vesper Bar (vesperbar.nl), appropriately named after perhaps the only woman James Bond ever loved. Go for a gin-based rather than a vodka cocktail, though, in keeping with local tradition. Dutch gin predates the British variant by some margin and, for anyone considering popping the question, it may fortify them to know that it begot the expression Dutch courage.
Tales and Spirits (00 31 65 535 6467; talesandspirits.com) is a classy, fun spot on Lijnbaanssteeg with top-notch mixologists while Hiding in Plain Sight (00 31 625 29 36 20; hpsamsterdam.com), on Rapenburg, is a 1920s-style lounge bar and the more seductive for it. Amsterdam also offers friendly, gender-balanced nightclubs that can range from the risqué to the taboo, for those who go looking – and you're unlikely to find that in Paris or Rome.
Pillow talk
For the all-important hotel choice, it's a good idea to stick to the central canal-belt for reasons of charm as well as convenience. Amsterdam's central canal network is its defining feature; not for nothing is this called the "Venice of the north".
The boutique hotels can be pricey but thankfully there's a good selection to pick from; The Conservatorium (00 31 20 570 0000; conservatoriumhotel.com), in the Museum district, boasts a light and airy lobby with high wow-factor, and offers a fourth night for free over Valentine's (rates start at €375 per night, excluding breakfast).
The Dylan (00 31 20 530 2010; dylanamsterdam.com), in the picturesque Nine Streets area, is a canal-side mansion set around a garden courtyard with a Michelin-starred restaurant. Rooms starting at €325 without breakfast.
And The Pulitzer (00 31 20 523 5235; pulitzeramsterdam.com), an award-worthy new entrant comprising 25 former houses between two canals, has its own 1920s mahogany salon-boat for those looking to take to the water. Rooms from €317, without breakfast.
One standout canal-side choice is The Andaz (00 31 20 523 1234; amsterdamprinsengracht.andaz.hyatt.com) on Prinsengracht. This former library building features characterful décor, excellent dining (try the velvety chocolate mousse) and very comfortable beds. It offers a Valentine's package starting at €350 per night, which includes flowers, a bottle of champagne, credit towards a couple of cocktails and breakfast each morning.
Daniel Pembrey's new Amsterdam-set detective novel, Night Market, is available in ebook format with No Exit Press.
More information
Register for free to continue reading
Registration is a free and easy way to support our truly independent journalism
By registering, you will also enjoy limited access to Premium articles, exclusive newsletters, commenting, and virtual events with our leading journalists
Already have an account? sign in
Register for free to continue reading
Registration is a free and easy way to support our truly independent journalism
By registering, you will also enjoy limited access to Premium articles, exclusive newsletters, commenting, and virtual events with our leading journalists
Already have an account? sign in
Join our new commenting forum
Join thought-provoking conversations, follow other Independent readers and see their replies