The Independent's journalism is supported by our readers. When you purchase through links on our site, we may earn commission.
Bear tourism in Asturias: On the watch for the largest population of wild, native brown bears in western Europe
Their numbers in this part of northern Spain are growing, but spotting these elusive creatures is a fine art, says Nick Rider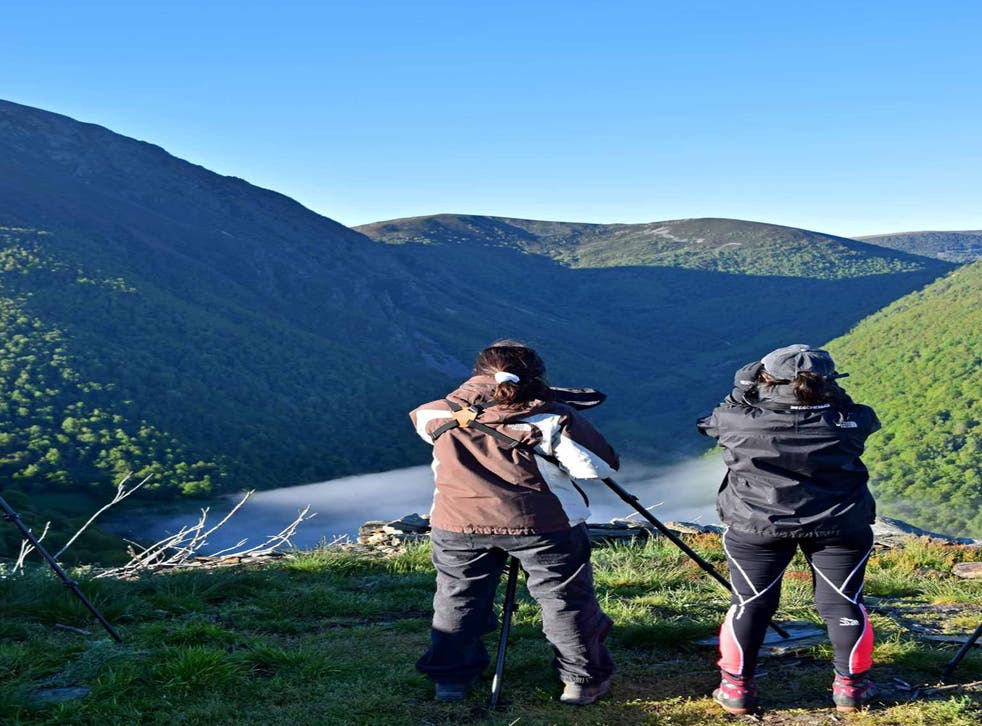 Bears are magical animals, symbols of the power of nature since prehistoric times. They're all around us, on city crests and beer labels, as cartoon characters and children's toys. But you don't imagine seeing a real one on a European hillside.
Except, with luck, in the mountains of south-western Asturias – a blank on the map even for most Spaniards – home to the largest population of wild, native brown bears in western Europe. What's more, this is the only group that is not just surviving, but growing. In the 1980s there were only 50 to 80 bears left in the whole Cantabrian range, and it was said they would all be gone by the year 2000. Now, most estimates agree that there are more than 250 in western Asturias. According to the Fundación Oso Pardo (the Brown Bear Foundation), the principal NGO involved in bear conservation, numbers have grown consistently since 2004, recently by as much as 10 per cent each year.
This is a remarkable conservation success, which has followed the creation of the Somiedo Natural Park in 1988 – considered a model of its kind for its combination of local support, wildlife protection and human needs – and the adjacent, laboriously titled Park of Fuentes del Narcea, Degaña e Ibias, in 2002. Bears here have never been confined to remote, empty mountains, but have always coexisted with people. And, contrary to what many seem to assume, they haven't attacked anyone for decades. Locals don't feel threatened by them, and are actually proud of their bears.
This achievement has created its own problems, in the sudden rise of "bear tourism". Only three years ago any sight of a real-live animal was considered a remote, accidental possibility. Now, guides reckon the chances of a bear sighting on their trips are around 50 per cent, and often higher. "Bear-spotting" has been fed by social media, since every time a good bear picture is posted online, the next weekend there will be 20 people with telescopes and cameras peering out from the same spot.
Concerns are raised over whether this new activity could disturb bear behaviour, or lead them to steal human food and become dangerous, like many bears in North America. Purist environmentalists call for a complete block on "bear-watching", but the truth is, as a hotel owner said to me, "bears show themselves", often close to roads. The FOP and experienced guides agree that the prime need is for bear-watching to be effectively managed, with clear rules.
In any case, anyone looking for wildlife here will do far better with a real guide. The fact there are bears in the hills doesn't mean they show themselves easily. Bear-watching is a lot like bird-watching, involving long stints spent in the changing Asturian weather, and patience. The search, though, is a great pretext for discovering a fabulous stretch of lush, wild scenery, and wonderfully hospitable people.
The valleys of Somiedo and Fuentes are filled with native European forest, magnificently dense green swathes of oak, beech and birch, giving way on the higher slopes to purple heather and yellow broom of almost unreal brightness, around great grey crags of rock and scree.
Finding bears in this landscape is a matter of intimate knowledge, and imagination. They can appear, said one guide, "in absurd places, where you'd never expect". I spent a comfortable hour looking for bears with Chema Díaz of Natur guides from a bar terrace in the village of Gedrez, after a bunch had been seen on the opposite hillside the previous afternoon. The abundant local food gives a rough indication of where to look.
Theoretically carnivores, bears will eat anything, and in Asturias their diet is more than 80 per cent vegetarian. They don't eat fish (too hard to catch), and usually only eat meat as carrion, when they come across a dead cow. Instead, in spring they eat a lot of grass, and strip leaves and shoots off trees. They turn to cherries and apples in summer, moving up the mountainsides for bilberries and buckthorn, before filling up for hibernation in autumn on chestnuts, beechnuts and acorns.
And they really do love honey – a treasured local product – which historically has led to most clashes with local people, as the bears smash their way into beehives. Víctor García of Quei Vitorino B&B, and an excellent guide, showed me an extraordinary 500-year-old anti-bear fortress called a cortín, a massive ring of stone walls to protect the hives within it.
The peak seasons for seeing bears are April, May and into June – when female bears emerge from their winter dens with their new cubs, born in January – and late August and September, bilberry season. Whenever, bears are most active around dawn and dusk, so any bear trip requires an early start.
WildWatching Spain is the most wide-ranging local tour company, which uses the FOP's bear wardens as guides. Over an unhurried day we spent hours with warden Luis Fernández discovering different mountainsides, watching changing colours, and scouring clearings with binoculars for any movement. There was plenty to see – Pyrenean chamois, wild boar, various kinds of eagle, peregrine falcons – but only a brief glimpse of a mother bear with two cubs. The next day, bright and early, began much the same, until Luis gave a quiet start and said: "Hey, there's a bear down there," pointing to a small opening of scree and rocks.
Just how he'd picked it out with the naked eye was magical by itself, but, sure enough, a large male bear came lazily into view, munching leaves and shuffling behind rocks, before presumably getting a sniff of a female and moving purposefully downhill. And then, not long afterwards, we saw another.
I asked Luis whether – after 19 years – his job ever gets monotonous. There's a routine, yes, he replied, but "every time I see a bear I still feel a jump, almost like the first time."
Getting there
easyJet (0843 104 5000; easyJet.com) flies to Asturias daily from Stansted, with fares from around £25 one-way.
Visiting there
Natur, Cangas del Narcea (00 34 609 547 788, naturalezayturismo.wordpress.com). Bear-watching weekends with accommodation from €140pp (£99).
WildWatching Spain (00 34 985 245 981; wildwatchingspain.com). Bear-watching from €90 (£64) per day.
Centro Somiedo y el Oso, Pola de Somiedo (00 34 942 23 49 00; fundacionosopardo.org).
Staying and eating there
Casa Miño, Pola de Somiedo (00 34 985 763 730; hotelcasamino.com).
Quei Vitorino, Tablado (00 34 659 555 777; queivitorino.com).
More information
Register for free to continue reading
Registration is a free and easy way to support our truly independent journalism
By registering, you will also enjoy limited access to Premium articles, exclusive newsletters, commenting, and virtual events with our leading journalists
Already have an account? sign in
Register for free to continue reading
Registration is a free and easy way to support our truly independent journalism
By registering, you will also enjoy limited access to Premium articles, exclusive newsletters, commenting, and virtual events with our leading journalists
Already have an account? sign in
Join our new commenting forum
Join thought-provoking conversations, follow other Independent readers and see their replies