Belgrade: Go with the flow in the Serbian capital

Show all 3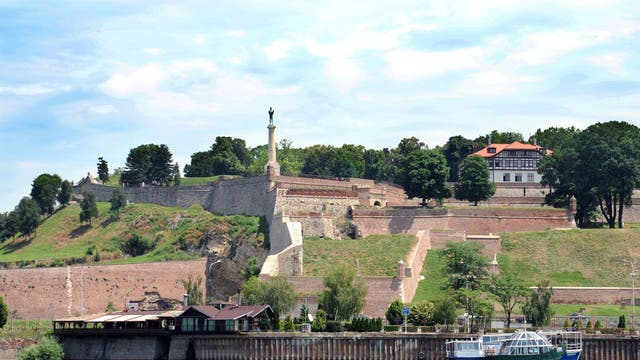 Belgrade: Go with the flow in the Serbian capital
Belgrade's two rivers offer sunny strolls and lively waterside activity, says Mary Novakovich
It's hard to resist the pull of the river in Belgrade – especially as there are two of them. Serbia's capital sits at the confluence of the Danube and Sava, both of which draw you like a magnet when the sun is out and the temperatures soar. Walking trails and cycle paths wind past floating bars and restaurants known as splavovi, some of which – come nightfall – are the liveliest nightclubs in Eastern Europe. But you don't have to wait until then to enjoy riverside life: the daytime ambience is relaxed and wonderfully peaceful for a capital city.
A large green section of the western side of the Sava is called Usce, scene of many of Belgrade's summertime festivals. From 14-19 August, it's the turn of the Belgrade Beer Festival (belgradebeerfest.com), which is celebrating its 10th anniversary this year. Over six days, dozens of bands put on free concerts in Usce park, while beer connoisseurs sample the many brews on offer. Serbian lagers such as Jelen easily hold their own against international competition.
Belgrade's old town, Stari Grad, which sits south of the Danube and east of the Sava, is the place to start your walk, specifically the pedestrianised avenue Knez Mihailova. Its handsome 19th-century buildings are filled with shops and cafés, and in the evening it becomes the favourite place for the Balkan version of the passeggiata. It's also home to the Beograd Art Hotel, the first boutique hotel to open in the city (see Travel Essentials).
Stroll north-west past the shops and souvenir kiosks. At the end of the street is Kalemegdan – Belgrade's fortress, historical heart and green lungs rolled into one. There's also a zoo, restaurants, museums, towers and gates from the Ottoman and Austro-Hungarian periods, and plenty of footpaths through landscaped gardens. It's easy to spend half a day here just ambling about, but head straight towards the giant plinth overlooking the Sava. You can't miss this unmistakable monument, nor Ivan Mestrovic's statue of a victorious warrior on top. From here you can see the route you'll take on the other side of the Sava and the Danube towards the suburb of Zemun.
Take the path directly in front of the statue to leave the park and turn right. Immediately, you'll see a busy junction where you turn left into Kneza Sime Markovica. In the first street on your left you'll notice a restaurant simply called "?" (00 381 11 635 421). Built in 1823, it's the oldest tavern in Belgrade and one of the few Ottoman-style buildings remaining in the city. If you're in need of a pick-me-up, ask for a kuvana kafa, a Turkish coffee. That'll get you buzzing.
Carry on until you reach Brankova street and turn right towards the Sava river. Cross the bridge and go down a stone staircase on your right. Now you take Usce's shaded riverside path and see Kalemegdan's venerable fortress in all its glory. You'll also walk past the first of nearly 200 floating bars and restaurants, which come in all sizes and architectural styles. Some are playful in their architecture, such as Monza, which has plonked a racing track on its roof. Others, Blaywatch for example, are playful with their spelling.
After about 25 minutes the path curves left and meets the Danube (Dunav in Serbian). Within a few metres is the entrance to an army base, so take the next turning on the right, Kej Oslobodenje, to carry on past more splavovi along the quayside. As you get closer to Zemun, the atmosphere takes on a seaside-resort feel, with a mini funfair, children's playground, the Grand Casino and ice-cream sellers on the left, and the Danube poking between the splavovi and trees on your right.
If you're ready for lunch at this point, try the fresh seafood at Zabar (00 381 11 319 1226; zabar.rs). It's pricey for Belgrade (with fish mains starting at about 1,900 dinar/£13), but dishes such as grilled octopus and river perch are beautifully done.
As Zemun's old town comes into view, you might start to wonder if you've stumbled into Hungary by mistake. Zemun was part of the Austro-Hungarian empire until 1918, and it's here that you notice the architectural differences between east and west – Austrian-style church spires, cottages in deep shades of ochre and terracotta. Zemun is the most attractive of Belgrade's suburbs, with the added allure of riverside restaurant terraces and, further along the quay, pontoons for swimming. Every summer, the authorities lay a pontoon bridge between Zemun and Veliko Ratno Ostrvo, or Great War Island, in the Danube, where there's a small beach in the corner of what is almost entirely a nature reserve.
At this point you can turn left into the pedestrianised Gospodska street, site of the daily morning food market, towards the main thoroughfare of Glavna. From here catch the 84 or 706 bus (pay 120 dinars/85p, directly to the driver) back to Stari Grad.
Fresh cuts
The club scene in Belgrade changes with bewildering rapidity, and even well-established spots can disappear or mutate into something new. The legendary Underground near Kalemegdan is the newest casualty; late last year it was turned into Soho Republic (1 Pariska st, 00 381 11 64 0133300; sohorepublic.rs), a touch of Shoreditch in the middle of Belgrade (Thurs to Sat, 11pm-5am). Ada Ciganlija, an island in the Sava river, above, is Belgrade's summertime playground, with beaches, watersports, cycle hire and numerous cafés and activities. In June, the beach was awarded Serbia's first blue flag – quite a feat in a landlocked country.
Travel essentials
Getting there
Mary Novakovich flew with JAT Airways (020-8 976 6000; jat.com) from Heathrow to Belgrade, which offers returns from £170. Wizz Air (0906 959 0002; wizzair.com) flies from Luton. Regent Holidays (0117 921 1711; regent holidays.co.uk) offers two-night hotel packages from £340 per person, including flights.
Staying there
Beograd Art Hotel, Knez Mihailova 27, Belgrade (00 381 11 331 2000; beogradarthotel.com) offers doubles from 16,248 dinar (£107), including breakfast.
Go guided
Belgrade Greeters (belgrade greeters.rs) give free multilingual tours of the city and are organised by the tourist office.
More information
Tourist Organisation of Belgrade (tob.rs). National Tourism Organisation of Serbia (serbia.travel).
Register for free to continue reading
Registration is a free and easy way to support our truly independent journalism
By registering, you will also enjoy limited access to Premium articles, exclusive newsletters, commenting, and virtual events with our leading journalists
Already have an account? sign in
Register for free to continue reading
Registration is a free and easy way to support our truly independent journalism
By registering, you will also enjoy limited access to Premium articles, exclusive newsletters, commenting, and virtual events with our leading journalists
Already have an account? sign in
Join our new commenting forum
Join thought-provoking conversations, follow other Independent readers and see their replies