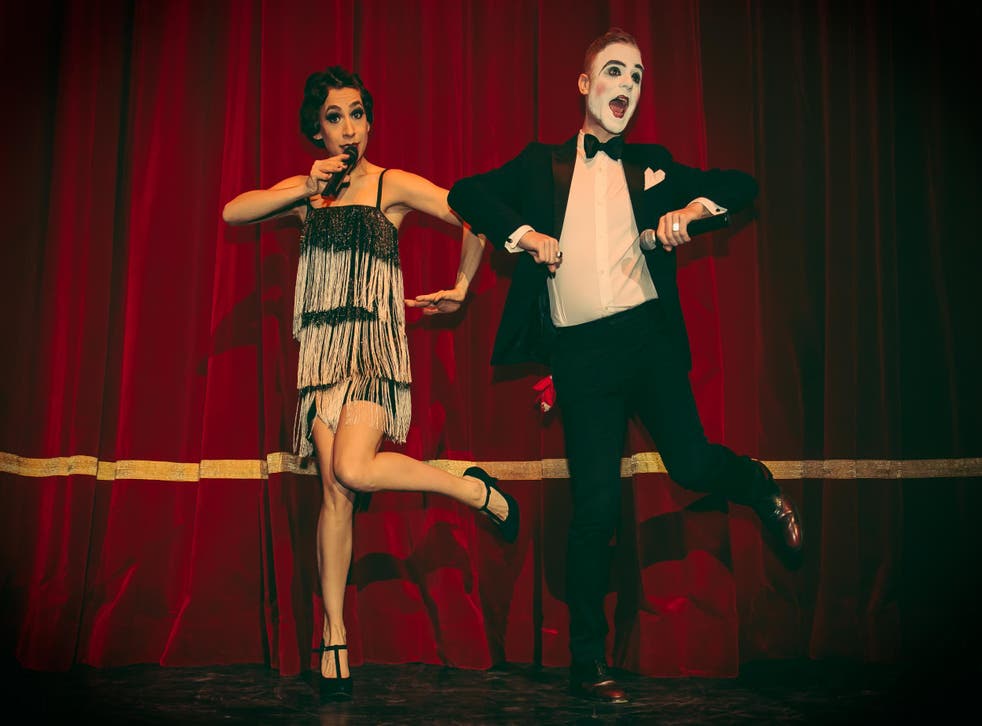 Beyond Berghain: Berlin's alternative nightlife, from cabaret to porno karaoke
It's easy to time travel in Berlin. Take shiny, new yellow tram number 10 and push the button to hop off at the Naturkundemuseum stop then it's just a two-minute walk up Chausseestrasse.
Enter the courtyard of the century-old Ballhaus Berlin dancehall, slip inside and you're back in the 1920s, back to velvet curtains, a hazy fog of smoke, dapper bartenders dispensing cocktails, dim lamp light and rotary telephones on tables perched around a stage; back to the louche era of the Weimar Republic when boys who liked boys who liked girls who liked girls were fleetingly free to be whatever they wanted before the Nazis decided the party was over.
On a recent Wednesday evening Ballhaus Berlin was packed to the rafters. Some people were in everyday work clothes, but a large minority – overwhelmingly in their 20s and naturally cool in a way that Berliners don't even have to try to achieve – were in spats and cravats, dinner jackets, flapper dresses and bonnet hats. (On some evenings, period dress is mandatory.)
We were all here to see Kabarett der Namenlosen (Cabaret of the Nameless), hosted by master of ceremonies, Le Pustra, who came on stage in a fur coat, with a powdered white face and orange wig that looked like it had just been blown sideways by a North Korean nuclear test.
"Leave your inhibitions at the door," entreated the South African-born Berlin-based artiste. "Enter a forbidden world of scandal, intrigue, self-indulgence. Celebrate the grotesque and the bizarre. Immerse yourself in a decadent mise en scène and dance the night away with the beautiful and the damned."
To describe all the acts that took place over the next hour and a half would be to spoil the surprise for anyone who plans to watch the show. But to set the scene I can tell you a young French dandy dressed in a jaunty-sailor-in-long-johns outfit tickled the ivories for the assembled crowd's delight and delectation. There was singing, vaudeville, comedy in English and German and yes, nudity too, but nothing that would shock your granny.
In fact, granny might be rather taken by the strapping young German chap in short shorts whose main role on stage seemed to be to just lounge about in gold body paint, when he wasn't having a quick fiddle with his accordion. And grandpa would surely approve of Miss Julietta la Doll and her scantily-dressed comedic skits.
If you're expecting a recreation of Hollywood's version of Cabaret – Liza Minnelli perched on a high stool belting out showstoppers and high kicks – prepare to be disillusioned. It's a lot more artful than that.
"For the first half, people find it uncomfortable," Le Pustra, 39, told me later. "You don't know what's happening; it's quite dark but then the audience relaxes into it and you are with us in the chaos... I like that people are a bit apprehensive and they don't know what's going to happen... I'd say it's more of an experience than a show."
Towards the end, the cast sang Das Lila Lied (The Lavender Song), composed in the 1920s, and said to be the world's first queer anthem. It's a melancholy presage to freedoms about to get snuffed out. "We are different to the others," goes the ditty "...why the torment to impose the morals of others on us?" (It sounds a bit dour in English, but rhymes in German).
After the final bows, I lingered over one last vodka tonic and revelled in my smoky, dimly-lit 1920s evening. I stepped outside on a warm autumn night and looked for tram number 10 to carry me forward ninety years into a Europe where the freedoms and cohesion taken for granted since the end of WWII once again seem threatened by bigotry and intolerance.
Three more of Berlin's best alternative night spots
Zum Starken August on Shoenhauser Allee is a bar that hosts burlesque on Fridays and Saturdays, but it's their porno karaoke that packs them in. Held on the first Saturday of each month, groups take turns to reproduce the grunts and groans of cheesy 70s movies that appear on the screens in front of them, all with the bonus of plenty of craft beers on tap and in bottles.
The Kleine Nachtrevue Theatre Bar is titillating and saucy rather than crude and its performers cover a good range of ages. The intimate venue on Kurfuerstenstrasse has just a few rows of seats on which you'll find a mix of foreign visitors and (based on my evening there, anyway) plump, middle-aged German couples looking for a bit of tassel-twirling entertainment. Performances take place Wednesday-Saturday at 9pm with a tango-themed show some evenings and naked ballet at midnight on Fridays and Saturdays.
Berlin resident Else Edelstahl organises 1920s-style balls all over Germany through her company Boheme Sauvage, but they are most frequently held in the capital and attract up to 800 people each time. Period costume is mandatory but guests can rent costumes from her, including some that were worn by extras in the 2013 movie version of The Great Gatsby. She can even direct you to a local salon to give you an authentic 1920s wave perm.
And a quick tip...
Berghain might be the nocturnal dance venue at the top of many visitors' hit lists but locals go there on Sunday mornings to avoid the queues and increase their odds with the notoriously-picky entrance policy.
Click here to view German tours and holidays, with Independent Holidays.
Join our new commenting forum
Join thought-provoking conversations, follow other Independent readers and see their replies