The Independent's journalism is supported by our readers. When you purchase through links on our site, we may earn commission.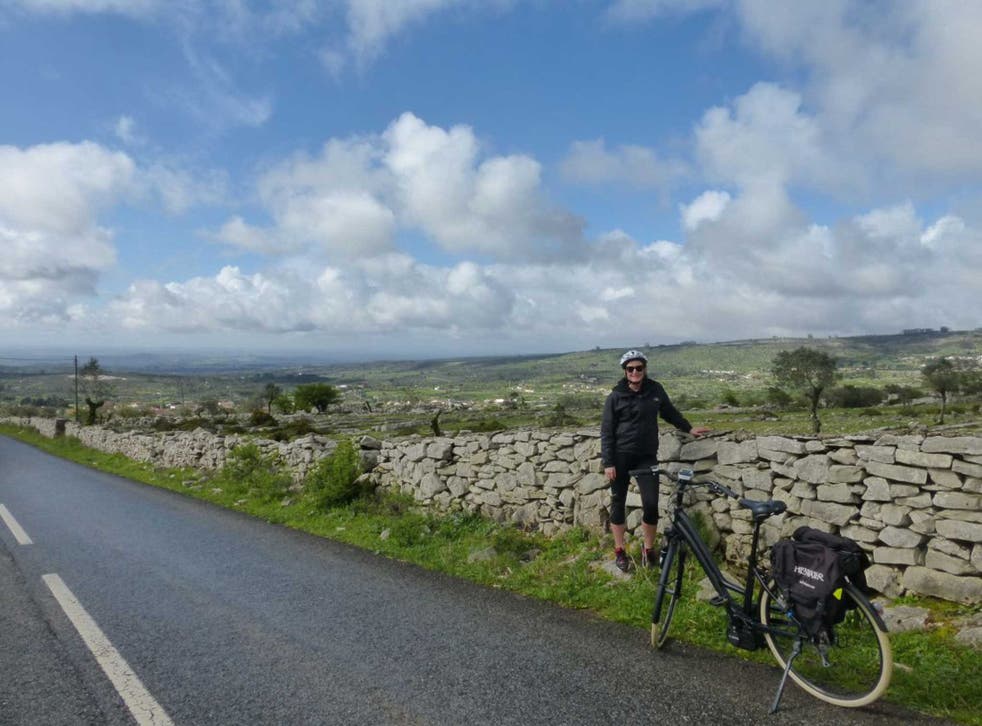 Bespoke emotion on an e-bike exploration in Portugal
In the mood for a gently active break, Harriet O'Brien sets off from an intriguingly named hotel to explore Estremadura's monasteries, orchards and surf spots
Harriet O'Brien
Monday 16 June 2014 13:15 Comments
Dark clouds were gathering as we reached the Emotional Hotel and, in the increasingly sultry conditions, the moss-draped oak trees around us were infused with a mood of brooding fantasy. Entering the modern, cube building, I marvelled at its surreal atmosphere, heightened by insect-shaped wall lamps and dramatic views from floor-to-ceiling windows.
With my bags deposited in a flower-and-chandelier embellished bedroom, I put on an apron and started to cook dinner.
The Emotional Hotel takes top marks for engaging eccentricity. It is beautifully set in western Portugal's Parque Serras de Aire e Candeeiros and makes "Cooking and Nature" its focus. The idea is that guests not only unwind in a striking location, they also have the option of joining the chef in making dinner and, in the process, learning how to whip up a couple of modern Portuguese dishes. During an early evening session, we produced a Portuguese version of risotto with negro and smoked linguica sausages and savoy cabbage, and baked a honey and pear cake that we ate with salted caramel sauce.
Yet to be honest, our culinary skills were not enormously challenged, for all the preparatory hard work had been done by chef Eduardo. We simply stirred and tasted.
I wondered, too, about the name of the hotel. Eduardo explained how "emotional" is intended to imply "inspirational": so much is lost in translation.
Estremadura's monasteries, orchards and surf spots

Show all 6
A group of seven, we were at the start of a cycling break, the trip part of the portfolio of gently active breaks devised by Headwater Holidays, neatly tailored to take in three magnificent monasteries – all World Heritage sites – as well as a hilly hinterland and spectacular seascapes.
We had visited the Convento de Cristo in Tomar on the way to the hotel, arriving as this monastic fortress almost at closing time. We whistled around cloisters (there are eight), chapter house, refectory, octagonal church and more, learning how the mighty complex was built for the Knights Templar around 1160 and was much enriched in early 16th-century Manueline style that reflects the era of Portugal's great voyages of discovery.
We didn't do the place justice. Nevertheless it was thrilling. And then onwards we went, to the Emotional Hotel, set in rural tranquillity nearby. It was from there, the next morning, that our two-wheeled journey was to begin.
Our route was along Portugal's mid-western Estremadura province, just above Lisbon. One of the chief attractions here is that while this rolling landscape is off-radar to foreign tourists, it's a region much loved by Lisboans who come for days out and weekends, so it exudes both genuine local colour and a holiday spirit. I was enticed, too, by the bike options of the trip: you can choose to pedal a 21-speed lightweight machine or you can give yourself an easier ride on an e-bike.
While electric bikes have been around for some time, over the past few years their once-clunky mechanics have been vastly improved and their battery life greatly extended. And they've been revolutionising the concept of cycling holidays. A small engine gives four levels of added oomph as you pedal along – "eco" for laid-back progress, usually on level terrain, up to "turbo" for maximum power, which is a godsend for the less fit when negotiating steep hills. You still have to put in some effort (indeed the harder you pedal the more power your little engine produces), but you don't have to be a Lycra-clad enthusiast to enjoy several days in the saddle of these useful machines.
I took to my silver Moustache e-bike almost instantly, and besides, the idea of riding through Portugal on a Moustache matched the surreal mood set by the hotel.
We started off in a protected park area of limestone country, riddled with caves and karsts, the surface patchworked into fields divided by drystone walls. It was the hilliest day of our trip, yet on my e-bike I swooshed up steep gradients to enjoy terrific views.
Traffic at first was disappointingly lumbering and we cycled narrow roads with the occasional lorry at our heels, but thankfully we turned down a dedicated bike-and-foot-path that took us 13km along a flower-filled former mountain railway.
We passed through limestone tunnels and wound through small village lanes to arrive at Batalha. This small town is dominated by a tremendous monastery and abbey that remains a seminal monument today. Founded to celebrate Portugal's victorious Battle of Aljubarrota in 1385, Mosteiro da Batalha is emblematic both of the country's independence and of the start of the remarkable Avis dynasty. King Joao I is buried here, along with his redoubtable wife Philippa of Lancaster (daughter of England's John of Gaunt). Their sons, too: Prince Henry the Navigator and King Duarte (interred in a fabulously decorated, if unfinished, chapel).
We took a tour of the rooftop, newly open to visitors, then wandered through superb carved cloisters to Portugal's Tomb of the Unknown Warrior, which is guarded with dignity and formality by two soldiers.
Thereafter the bike route lay near or beside the sea. Following a night at Batalha it's possible to take a transfer a short way to Monte Real village (it's not cheating, it simply cuts out a tedious and busy stretch of road) and from there you ride beside the River Lis to the coast and on to the resort town of Sao Pedro de Moel and the chic Hotel Mar e Sol. There's more sea scenery the next day as you head further south.
Indeed, beyond the smooth sands of Paredes Beach, the waves become the stuff of legend. We stopped by the lighthouse at Praia do Norte to watch the surf pummelling the rocks. It was spectacular but, we gathered, tame by comparison to winter shows. A combination of currents and a huge underwater canyon can result in waves 30m high and the area duly attracts the most adventurous surfers.
We cycled about a kilometre to Nazare, a picturesque and stoically unspoilt fishing town that has a long beach and a clutch of good, if inexpensive, seafood restaurants, particularly A Celeste, situated on the waterfront.
Our hotel, named Praia, sat not so much opposite the beach, as the name might imply, but across the road from the municipal market, which proved a great bonus. The next morning we made a bee-line for the pastry stalls and browsed long rows of abundantly heaped vegetables, moving among traditionally dressed women in above-the-knee gathered skirts, aprons and long woolly socks.
Back on our bikes we set off through the Alcoa Valley on a glorious trail beside apple and pear orchards to Alcobaca Monastery.
What a place: this is the largest church in Portugal, some 105m long and 20m high. It was founded in 1153 and given to the Cistercian order, so many parts of it are suitably austere, heightening the monumental feel of the building. We walked, ant-like, down the nave then visited the elegant cloisters, the refectory and dormitories and the huge kitchen added in the 18th century (it's said that eight oxen could be spit-roasted simultaneously here).
There was another architectural treat in store, for the next day the final destination of our trip was the medieval walled town of Obidos.
The route here took us past the shimmering lagoon of Foz de Arelho and along quiet country lanes awash with wildflowers, with Obidos suddenly appearing at the top of the hill as if it had just escaped the pages of a fairy tale.
The one drawback of coming to such a pretty place is that many other people want to visit, too. Having ambled the tiny main street, my chief aim was to dodge the crowds and at least in part rediscover the peace I'd enjoyed over the past few days. Happily, this proved perfectly possible. I simply climbed the steepish steps to the top of the walls and perambulated the thinly peopled walkway above the town.
The views were fabulous. And as I gazed back across the landscape that I had travelled through on my silver Moustache, I felt almost emotional.
Getting there
Harriet O'Brien travelled with Headwater (0845 527 7027; headwater.com) whose selfguided, eight-night Contrasts of Coastal Portugal holiday costs from £1,237pp. The price includes accommodation with breakfast, one evening meal, bike hire (rental of an e-bike is £50 extra), a GPS device between two people, notes and maps, luggage transfers and back-up services. Flights are extra.
The recommended gateway is Lisbon, which is served by TAP Portugal (0845 601 0932; flytap.com) from Heathrow, Gatwick and Manchester; BA (0844 493 0787; ba.com) from Heathrow; easyJet (0843 104 5000; easyjet.com) from Gatwick, Edinburgh, Liverpool, Bristol and Luton; and Ryanair (0871 246 0000; ryanair.com) from Stansted and Manchester.
More information
Register for free to continue reading
Registration is a free and easy way to support our truly independent journalism
By registering, you will also enjoy limited access to Premium articles, exclusive newsletters, commenting, and virtual events with our leading journalists
Already have an account? sign in
Join our new commenting forum
Join thought-provoking conversations, follow other Independent readers and see their replies