The Independent's journalism is supported by our readers. When you purchase through links on our site, we may earn commission.
Go slow: Albania's new food movement
From the Adriatic coastline to the Accursed Mountains, a new generation of chefs is putting a modern twist on the country's traditional dishes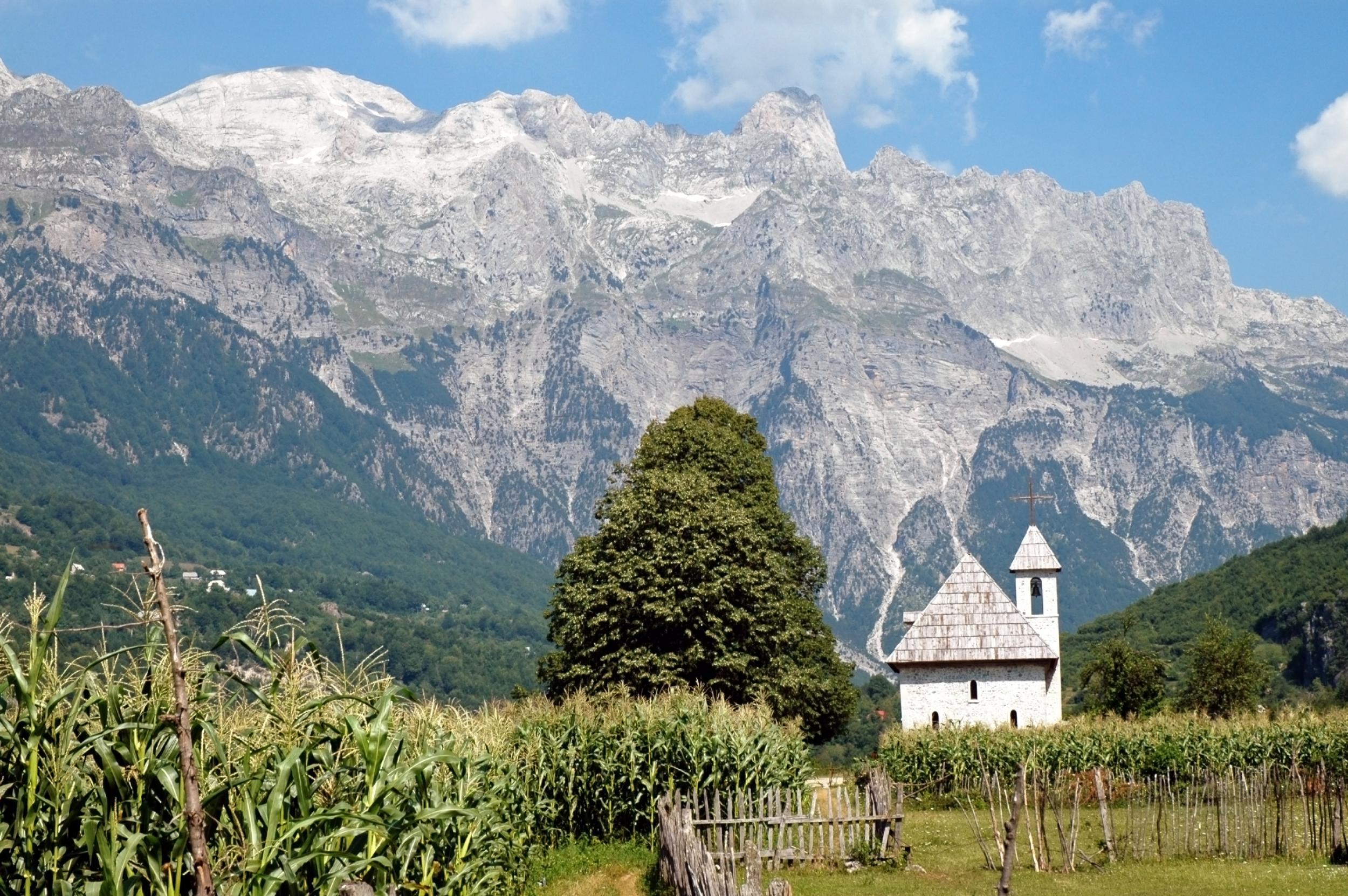 "Drying our homemade jufka pasta in the sun", "watermelon jam", "corn bread and white cheese", "sucking clover in the meadows", "omelette with wild fennel", "fritters with plum and honey sauce"... These are all delicious-sounding childhood meals recalled by members of Albania's new "slow food" movement.
Intriguingly, these memories were all created under communist rule. I associate the vicious regime of dictator Enver Hoxha with grey soups and meagre rations. But Albania is not only a post-communist country, it's also defined by its Mediterranean climate, its position next to Greece and a short hop across the Adriatic from Italy, as well as a long coastline and fertile plains. The burgeoning gastronomic scene here aims to take advantage of all those things and to honour traditional ways of cooking.
I watched last year as Rick Stein dipped a toe in Albania's beautiful coastal waters on his BBC series – as well as a finger into some of the exquisite stews and sauces prepared in small communities around the country. I'm on a gourmet journey here myself, and these chefs reminiscing about childhood delicacies seem a good place to start. All of them were trained abroad – Bledar Kola at Michelin-starred Pied à Terre and Le Gavroche in London as well as at Copenhagen's Noma, consistently voted "the best restaurant in the world" between 2010 and 2014.
The others trained in Belgium or Italy, like culinary historian Armand Kikino, who tells me that when he returned to the capital, Tirana, people said, "Your Italian food is great, but where's your Albanian food?"
It spurred him to enroll in a course on his country's history and he is now Albanian Consul of the Accademia Italiana Gastronomia Storica. Kola says, "You love Albania only when you've been away," and these foodies, like many of the diners they serve, have returned home from work as migrants abroad with a new appetite for the land of their birth – and some healthy disdain for the aspirations of imitation cuisine, advising that "the presence of avocado isn't the proof of a good dish".
These chefs take a witty, creative approach to educating the tastebuds of their clientele. At Mrizi i Zanave restaurant, located in the rolling countryside which gave birth to Albania's national poet Gjergj Fishta, I am served kebabs of tender meat and flavoursome slow-roasted local vegetables speared on twiggy branches several feet long, with leaves still attached.
At Rapsodia restaurant in Lezha, chef Alfred Marku has taken the flavours of his childhood but combined them in new ways: a dough made of clover flowers and potato, and light cornbread wafers – far from the gritty loaves of Hoxha's breadline Albania – served with an airy cheese mousse and sprouting corn.
It's not all about playing with your food though; there are serious economic and quality questions to be dealt with. Marku has created two co-operatives, one of 100 livestock farmers and one of 50 arable farmers, and he's started his own cheesemaking enterprise to ensure quality in his sourcing. The best Albanian food can compete with imports, and already enjoys a lively export market (Albanian sage, for example, represents 70 per cent of the American market – all those Thanksgiving turkeys stuffed with fragrance from this corner of southern Europe). And this is an economy that needs all the export market it can get.
Of course the impact of Albania's relative poverty is that even its world-class culinary experiences come cheap by British standards; for example, in Shkodra, the elegant town which is the cultural capital of northern Albania, I enjoyed fine dining at the exceptional boutique hotel Tradita, for less than €15 a head, including wine.
And there are wonderful gastronomic experiences to be had well away from the restaurants too. For my own culinary itinerary Kikino says I should try the Ottoman-named tava, a clay-baked dish of meat with yoghurt and eggs, made famous in the town of Elbasan where I'm travelling to experience the hot springs.
Kola has now opened a new rustic restaurant, Mullixhiu ("The Miller"), where the smartest palates in Tirana are fed, but he recommends getting to Theth, a picture postcard village of shingled houses perched in the Accursed Mountains. There isn't a restaurant in sight, but I try fli, layered pancakes, cooked by one of the families offering homestays. Kikino agrees this is the way to sample the best food in Albania: "Tourists should go to guesthouses. They may not have tablecloths, but they'll be clean. Go where the signs are most badly written." He also urges visitors to try the golden range of Albanian carbohydrates, echoing the Albanian saying for hospitality, "bread, salt and our hearts".
"Gezuar," says Dashami Elezi at his Etnik restaurant, raising a glass, and we enjoy the tang of sparkling pomegranate juice. Yet, Elezi enjoys more than fizzy fruit juice – he's a member of the World Jury of Sommeliers and is enthusiastic about local wines, particularly the full-bodied Kallmet, which is already being exported and which I enjoy with my meal.
There is a revival in other local drinks – wild rosehip wine, now part of the international Slow Food movement's "Ark of Taste" as a local delicacy worth protecting, and the rosemary-infused grappa-like raki offered at the cool Komiteti (meaning "The Committee") "café museum" in the heart of Tirana. This recent enterprise has been set up to commemorate the Communist past – waiters wear uniforms emblazoned with the red star; I got lucky when one pulled down a glass from where they were suspended between the tines of garden rakes hung from the ceiling, and treated me to some warming clove karafili, one of the jewel-coloured liqueurs in retro decanters behind the bar. They're homemade from recipes perfected during the communist years of self-sufficiency.
I'm learning from my Albanian travels and conversations with these pioneers of food and drink that Albania's gastronomic revolution – like the country's wider history – is a story of rugged self-reliance, as well as of intriguing Ottoman, Italian and Greek influences; it's where cosmopolitans meet cottage gardens. And it's delicious.
Travel essentials
Getting there
British Airways (ba.com) flies from Gatwick to Tirana, while Ryanair (ryanair.com) flies from Stansted to Podgorica, just an hour over the border in Montenegro.
Staying there
Hotel Tradita in Shkodra (00 355 22 24 05 37; hoteltradita.com) offers doubles from €64, B&B.
More information
Join our commenting forum
Join thought-provoking conversations, follow other Independent readers and see their replies