The Independent's journalism is supported by our readers. When you purchase through links on our site, we may earn commission.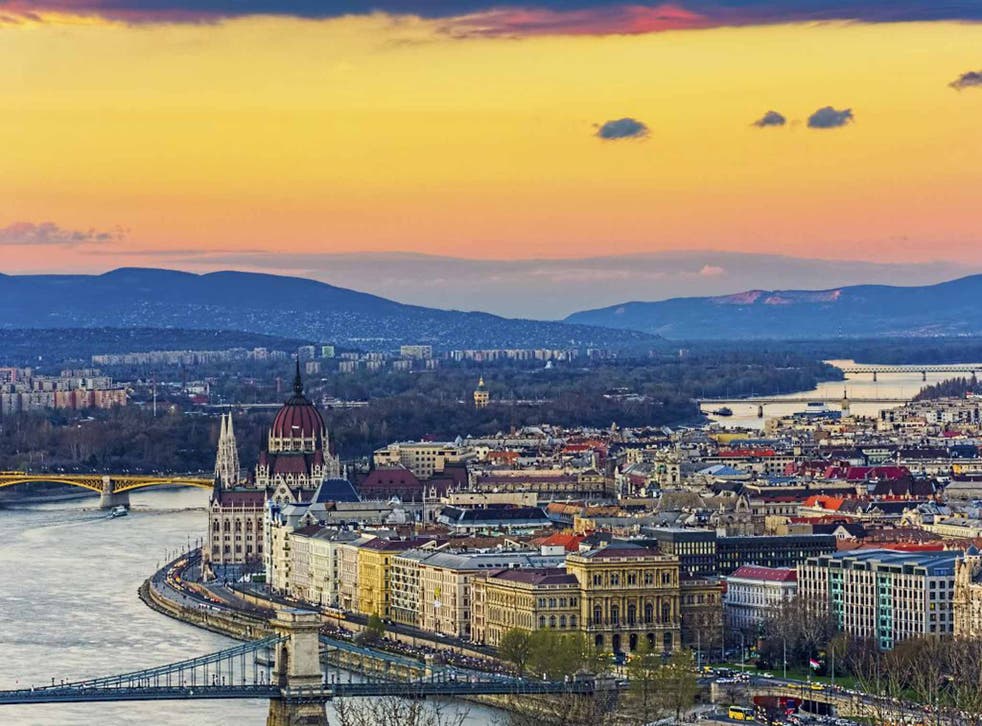 Budapest travel tips: Where to go and what to see in 48 hours
Autumn is the perfect season for walks by the Danube, world-class concerts, and visits to laid back 'ruin' bars, says Susan Griffith
Susan Griffith
Friday 19 September 2014 10:00 Comments
Travel essentials
Why go now?
With summer over, temperatures are still balmy enough to enjoy the garden bars and promenades along the Danube. The concert season starts just before the anniversary of Bela Bartok's death on 26 September. In the first weekend of October the renowned Budapest Festival Orchestra (bfz.hu) will play Mahler and Richard Strauss in the acoustically exceptional Palace of Arts (1).
The Independent Travel Offers: Our favourite Budapest city break
Touch down
Budapest Ferenc Liszt airport is served by BA (0844 493 0787; ba.com) from Heathrow; Wizz Air (0907 292 0102; wizzair.com) from Luton; Ryanair (0871 246 0000; ryanair.com) from Stansted, Bristol and Manchester; easyJet (0905 821 9000; easyJet.com) from Gatwick; and Jet2 (0800 408 1350; jet2.com) from Manchester, Edinburgh, Leeds/Bradford and East Midlands.
On arrival you can buy bus tickets and travel cards at the BKK desk (bkk.hu) near the terminal exit. Public bus 200E departs every 10 minutes during the day and takes 22 minutes to reach the nearest metro station Kobanya-Kispest, which is a 20-minute train ride from the centre.
Fotaxi (fotaxi.eu), the official airport taxi firm, has a booth at the terminal exit. The metered fare to the city centre is about 6,500 forints (£16.50). Door-to-door transport can also be arranged through Airport Shuttle Minibus (airportshuttle.hu).
Get your bearings
The city – and its name – is made up of two distinct halves; Buda is draped across hills to the west of the Danube, dominated by the castle (2) while Pest sprawls over the flat plain opposite, its most significant landmark being the Parliament Building (3). The two parts are easily navigated by tram, metro or on foot.
Public transport in Budapest is superb. Deak ter station (4) serves as the hub of the metro system and is also the square near which the main Tourist Information office (5) is located at Suto utca 2 (00 36 1 438 8080; budapestinfo.hu; open daily 8am-8pm). Single journeys cost 350Ft (90p) or 450Ft (£1.15) if not bought in advance. Travel cards are generally a good idea: 24 hours costs 1,650Ft (£4.20) and 72 hours 4,150Ft (£10.50).
Check in
Occupying a 19th-century building on a peaceful street in the inner city, the civlised Peregrinus Hotel (6) at Szerb utca 2 (00 36 1 266 4911; peregrinushotel.hu) has double rooms from 26,800Ft (£69), including breakfast and internet.
Palazzo Zichy (7) at Lorinc pap ter 2 (00 36 1 235 4000; hotel-palazzo-zichy.hu) once belonged to a Habsburg count – though he would not recognise the discreet, contemporary styling of its interior now. Doubles from €123, including an excellent breakfast.
Many Budapest hostels cater to party animals, but the 7x24 Central Hostel (8) at Kiraly utca 14 is an exception (00 36 30 585 7393; 7x24central.com). It's quiet despite its proximity to the buzzing pedestrian corridor Goszdu-udvar (9). A two-bed room with shared bathroom costs from €30 or €46 ensuite, excluding breakfast; minimum stay two nights.
Click here to see a bigger image of the map
Day one
Take a hike
Stroll along the southern stretch of the Danube to the city centre, starting at the striking performing arts complex, the Palace of Arts (1), which will be 10 years old next March.
Admire the view from the top of the Ziggurat (10), a picturesque folly which is free to climb. Then begin your walk behind the National Theatre (11), where a replica of the classical facade of the original city theatre is half-submerged in a pool. Through an arch sculpted as theatre curtains, you eventually join the not-overly-glamorous riverside promenade.
After 20 minutes you arrive at the Budapest Balna shopping complex (12), an impressive glass and steel structure in the shape of a whale. It houses several good terrace bars, including Jonas Sorhaz (13) , serving local craft beers with witty names such as Pest Control.
Lunch on the run
Along the right hand upper gallery of the teeming Central Market (14), a number of stalls sell peasant dishes like goulash soup and langos (fried flatbread with toppings). Grab a high stool to enjoy a spicy sausage and a beer for 1,000Ft (£2.50).
Window shopping
Hungary's weak currency means that many bargains are available in Budapest. Typifing Pest's creative energy, Paloma (15) is an art school-inspired project that opened this summer in a near derelict courtyard building at Kossuth Lajos utca 14-16 (open Saturdays 10am-3pm, weekdays 10am-7pm). Designers sell their jewellery, textiles, leather bags and so on from studio showrooms round the mezzanine level. A paper artist at Krisz Design makes lampshades in organic forms such as snails.
An aperitif
Kert or "ruin" bars are a Budapest invention. Derelict buildings and empty spaces have been turned into hip, relaxed gardens, where locals gather for conversation and drink. Ellato Kert & Taqueria (16) at Kazinczy utca 48 (00 36 20 527 3018) is about as unpretentious as they come. Formerly the provisioning depot for Hungarian Railways, the spacious garden is now adorned with colourful mismatched furniture under swathes of greenery. Most who visit are content with the flavourful Dreher beer but you might like to try a "pinky" (grapefruit vodka shot) or plum palinka (fruit brandy). Unlike some ruin pubs, Ellato remains open in the winter, from 5pm until 2am (4am at weekends).
Dining with the locals
The modern Hungarian kitchen at Restaurant 21 (17) at Fortuna utca 21 (00 36 1 202 21 13) is just a minute's walk from the Vienna Gate (18) in the pretty streets of old Buda. Its small but appealing menu is mostly meat-based, as is the way in Hungary. Mains costing 3,000Ft-4,000Ft (£7.50-£10) might include crispy duckling rillettes and confit of piglet, all beautifully prepared and adroitly served.
Day two
Sunday morning: go to church
A remnant of Budapest's once-thriving Serbian community is clinging on in a poignant corner of Szerb utca in the Belvaros (inner city). The bells of St George's Serbian Orthodox Church (19) draw a pitifully small congregation to the 10am service, but the Baroque church has been lovingly preserved, with icons, frescos, and built-in wooden seats around the walls.
Out to brunch
The Jewish quarter is the place to head for a lazy late morning feast. Charming Koleves (20) at Kazinczy utca 41 (00 36 20 213 5999; kolevesvendeglo.hu) serves a changing menu that might include matzo ball soup, sweet potato strudel, and crispy chicken with cinnamon. A lively garden bar next door offers a more casual menu.
Take a ride
Cruise on the Danube on a public ferry that ricochets between a dozen landing stages every hour (through the autumn), though the service is so slow that it barely qualifies as transport. It takes nearly two hours to cover 12km between Petofi hid (21) and the northern limit at Romaifurdo (22) via Margit Island (23). Tickets cost 750Ft (£1.90) and can be bought on board.
A walk in the park
Until the Communist era, Margit Island (23) represented an unattainable arcadia because an admission charge excluded all but the wealthy. Now locals flock to stroll its 2.5km length and admire statues and picturesque ruins. A marvellous free spectacle draws an audience to the Music Fountain at the southern end of the island on the hour between 10am and 9pm (until the end of October).
Cultural afternoon
Kiscelli Museum (24) at Kiscelli utca 108 in Obuda (00 36 1 368 7917; kiscellimuzeum.hu) is a Baroque monastery-turned-mansion-turned-museum that celebrates Budapest, with a collection of old photos and modern Hungarian paintings. The bombed-out church has been turned into a contemporary exhibition space, and interiors are furnished in various styles. The museum, reached by bus 17 or 160 from Batthyany ter metro and an uphill walk, is open Tuesday to Sunday 10am-6pm (4pm after October). Entry is 1,000Ft (£2.50).
Icing on the cake
Traditional Hungarian music and dance sessions at the Fono Budai Zenehaz (25) at 3 Sztregova utca (00 36 1 206 5300; fono.hu) grew out of the 1970s folk revival. On certain days, beginners' dance lessons are followed by casual open dancing to live music. Tickets to musical events cost 1,000Ft (£2.50); take tram 47 from Deak ter.
Click here to view Hungarian tours and holidays, with Independent Holidays.
Register for free to continue reading
Registration is a free and easy way to support our truly independent journalism
By registering, you will also enjoy limited access to Premium articles, exclusive newsletters, commenting, and virtual events with our leading journalists
Already have an account? sign in
Join our new commenting forum
Join thought-provoking conversations, follow other Independent readers and see their replies