The Independent's journalism is supported by our readers. When you purchase through links on our site, we may earn commission.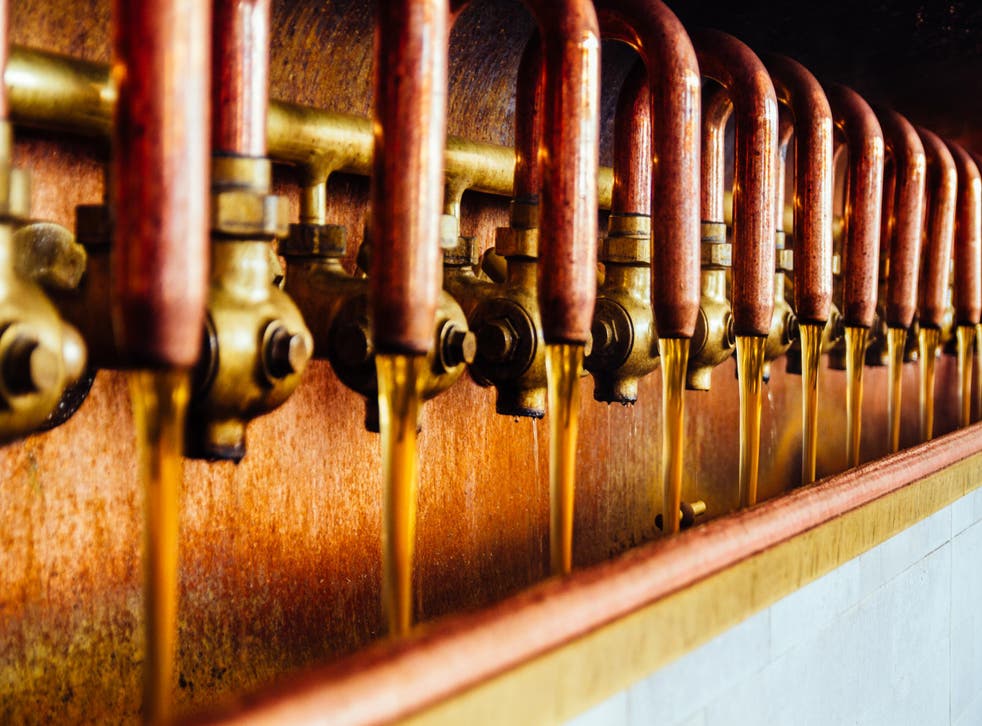 How Budweiser Budvar became the heart of Czech beer culture
At the heart of Czech beer culture is a town called Budweis. Nick Redmayne drinks it in
Nick Redmayne
Thursday 09 November 2017 11:51 Comments
Ceské Budějovice, or "Budweis" as it's known in English, is the capital of southern Bohemia and lies on the Czech Republic's longest river, the Vltava. The central square is lined with fine Renaissance and Gothic buildings, overlooked by an imposing 16th-century tower. So far, so engagingly central European. However, Ceské Budějovice is pre-eminent in the Czech Republic for something other than architecture: Budweiser Budvar beer.
First things first – yes, Budweiser Budvar. Yes, there is a beer produced by a US-based multi-national with a very similar name – a situation which has concentrated America's finest legal minds for decades and means, in certain EU countries, US "Budweiser" beer can only be sold as "Bud".
But "Budweiser" literally means "of Budweis", and while the American "Budweiser" has little to do with Ceské Budějovice, there are many breweries that do.
Ceské Budějovice's historical wealth and pretty buildings are based on beer – its reputation as a brewing city dates back to the 13th century, and it was, at one point, the official imperial brewery for the Holy Roman Empire.
Today, the town is still known for its breweries, and Budweiser Budvar is the best known – as well as the oldest and largest still in existence. Now owned by the state, it's been making beer in exactly the same way, with exactly the same materials, for over a century.
Inside Budweiser Budvar, the home of Czech brewing

Show all 9
Its credentials have paid off. In 2004, Budweiser Budvar was awarded PGI (Protected Geographical Indication) status by the EU. Its beer now stands alongside the likes of Melton Mowbray pork pies and Parmigiano Reggiano cheese as traditional products made in a traditional way, in a specific region.
It's brewed using artesian water, Saaz hops from Žatec in northern Bohemia (known as "noble hops" because of their high-quality pedigree), Moravian malted barley, and yeast. Crucially, it undergoes at least 90 days maturation, for a total 102-day brewing time. By way of contrast, popular mass-market beers are sold after just 72 hours.
I'm learning all this at Ceské Budějovice itself – the brewery is open for both tours and tastings. Josef Tolar – recently retired from the role of Budweiser Budvar's brewmaster – is our guide. Smartly dressed in jacket and tie, wearing glasses and sporting a neat moustache, he has the air of a popular schoolmaster. A good thing, since I've come to this city with its 1,000-year-old brewing heritage to soak up all things beer-related.
We start at a wellhead outside the modern brewery, watching clear, cold water flow through a glass tube. Down there, Josef says, they're drawing "Ice Age" water. "There was no industry, no agriculture at that time – so the water is pristine." No wonder it hurts to be mistaken for the US brand.
We go inside, up several flights of stairs and onto a balcony overlooking vast copper mash tanks. On the brewhouse floor, we reach into a sack for a handful of fragrant green hops, crumble them on our palms and breathe in deeply. Budvar use fresh hops, not processed pellets, and after a lively, zingy lungful it's impossible not to smile. Josef suggests I stick my head through an open panel in one of the mash copper tanks and look down. There's not much to see, but a heady brew of alcoholic Shreddies suffuses my head.
At the side of the room, polished copper pipes track along a wall. Josef opens one of several brass taps to pour a glass of immature beer, examining the colour and tasting the contents. The flavours are fresh but fleeting. There is a promise of great things, but something is missing: time.
Later, in the cold of the maturation cellars, we walk among tanks containing dizzying volumes of beer, comparing varying ages of Budvar Original and Dark, together with other beers not often seen outside the country: Special, Cvikl and Strong. In 1990, Budvar brewed 450,000 hectolitres a year and exported to 18 countries; now, they make 1,600,000 hectolitres and sell to 76 nations.
For beer connoisseurs sampling straight from the tank is a near religious experience. In the absence of light, movement and oxygen, flavours remain intact. Josef, unsurprisingly, is in his element. Nuances of each brew are identified and compared. Each glass gulped is dangerously refreshing.
Unpasteurised and unfiltered, this is beer as good as it gets. Beer is, of course, part of Czech culture – and, down in the cellars, I can see why.
Travel essentials
Getting there
The writer flew with Jet2, who offer flights from Newcastle to Prague from £73 return. Other airlines with regional departures include easyJet, Wizz Air and Ryanair. From Prague, trains run at least once an hour to České Budějovice. The journey takes two hours and costs from €13 each way.
Staying there
The Hotel Zatkuv Dum in Ceské Budějovice has doubles from £39, B&B.
More information
Tours of Budweiser Budvar's brewery are available throughout the year and cost from 120 koruna (£4) per person. To book, see visitbudvar.cz
Register for free to continue reading
Registration is a free and easy way to support our truly independent journalism
By registering, you will also enjoy limited access to Premium articles, exclusive newsletters, commenting, and virtual events with our leading journalists
Already have an account? sign in
Join our new commenting forum
Join thought-provoking conversations, follow other Independent readers and see their replies