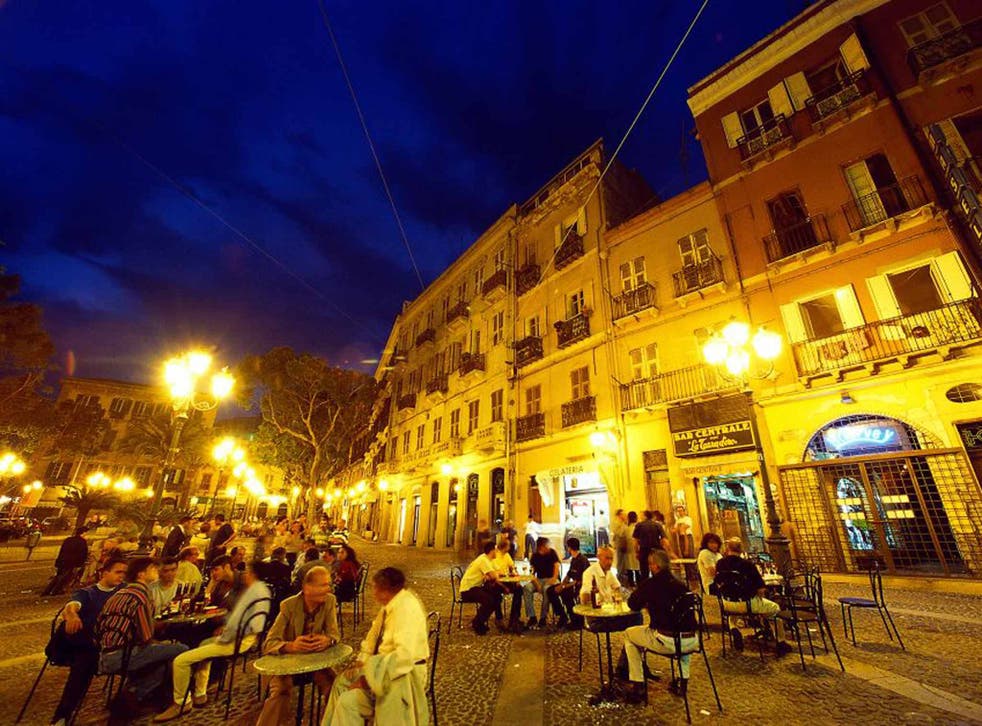 Cagliari: Take a cultural break from the beach
Sardinia may be blessed with a pristine white-sand coastline but, says Sarah Barrell, lingering in its lively capital – rich with Phoenician ruins and colourful street art – will leave you feeling just as blissful
There's smashed crockery scattered across the cobbles. The narrow backstreet behind the cathedral, where I'm staying, rattles with the sound of cart wheels over stone: a bride is making her way to church in a horse and carriage leaving behind remnants of a broken plate, along with its contents – rice, petals, coins – outside her childhood home; a wish for abundance, love and wealth in marriage.
At the cathedral, tourists gather, snapping photos as the bride is eased from the carriage, her voluminous frock more Princess Diana than Kate Middleton. Castello, Cagliari's hilltop neighbourhood crowned by the cathedral, may be fast gentrifying with an influx of artists' ateliers and hipster student digs, but this is an old local family which clearly follows the tradition of "more is more" when it comes to bridal outfits.
This is a cracking spot for wedding photos. Castello's southern ramparts, topped with wide terraces, jut over the Marina district below, the Gulf of Cagliari gleaming blue beyond the busy port. I stop to take in the view at Caffè Librarium, one of the city's livelier terrace bars, ordering a glass of mildly effervescent local Vermentino.
Cagliari is bidding to become European Capital of Culture in 2019 and along with its ancient food and wine culture, there's much to recommend it. In the distance, a pink cloud hovers above Santa Gilla lagoon: the city's resident flamingos, now the sole occupants of the site where the original Phoenician city was founded in 10BC.
Cagliari's current location, augmented by everyone from Romans and Byzantines to Genovese and Spanish, began as a Phoenician burial site. The Punic necropolis of Tuvixeddu – thought to be the largest of its kind in the Med – opened to the public this summer after decades of excavation: a hillside honeycombed with hundreds of deep tombs. This and Cagliari's more contemporary cultural corners can now be explored on a new tour in an old Cinquecento car, hosted by local guide, Francesco Manca (00 39 34 0006 9191; yoursardiniaexperience.com). It is a great way to tackle the city's numerous hills and get the skinny on what's new. Italy's economic slump has seen island youngsters find ever-more inventive ways to do business. In the Villa Nova district, for example, I find a retro-style dispensary, A S'Antiga, newly catering to those who need to buy anything from pasta to wine in affordable measures.
The Cagliari Unofficial Guide (cagliariunofficial.com) aids further exploration. This new map highlights everything from pop-up shops on Via Suli, the city's recently designated design street, to the best examples of ubiquitous local street art on the graffiti-lined walls of Via Saturnino. Sardinia's capital may have an ancient history but its spirit is determinedly youthful.
UNPACK
Check into your own Castello home, a newly opened holiday rental in the medieval heart of the city – labour of love for friendly Cagliari couple, Rocco and Carlotta Zinnarosu. Live like a local in this studio apartment (sleeps two; four on a sofa bed) set on a narrow cobbled backstreet a minute's walk from the cathedral: atmospheric and not traditional hotel terrain. Exposed brick walls contrast with contemporary soft furnishings printed with London and New York scenes. A neat spiral staircase leads to the mezzanine bedroom, overlooking the bijou living space. The kitchen comes stocked with everything from spices to breakfast pastries – there's even a little courtyard. And it's a snip, at £57 a night, booked through House Trip: housetrip.com/en/rentals/146003
THINK LOCAL
Street food in Cagliari is not the ersatz fare dominating many European cities. Instead, follow locals to the few, unprepossessing stands scattered around the city selling everything from fresh sea urchin to "caddotzone" – giant sausage sarnies made with pork or horse meat (plus plenty of fennel, garlic and parsley). This is just a taste of the rustic, traditional cuisine showcased during the Autunno in Barbagia festival (4 September–14 December), held in the small mountain villages of Nuoro, the rural province north of Cagliari. Barbagia ("barbarian lands") was the one part of Sardinia invading forces, Carthaginians, Romans and Spaniards among them, failed to penetrate. More info: cagliariturismo.it
EAT
Brainchild of an islander who lived a long time in London, Coccodi (00 39 706 70468; via Santa Margherita 9) is a smart little café/deli with mismatched furniture and distressed wood floors. Its bank of shiny glass counters are heaving with baked goods, everything from paper-thin pane carasau (flat bread), to organic loaves made with mirto (myrtle, the berried shrub ubiquitous in Sardinian cuisine). Lunch is a steal: a choice of hearty salads costs just €5.50 (£4.40). Add a more indulgent slice of home-baked pizza and elaborately iced cake and you'll still get away with paying around a tenner. Also open for dinner (unlicensed), until around 10pm.
DRINK
Dulcis, the pioneering little boutique grocery store on the Marina neighbourhood's happening Via Baylle (00 39 070 240 901; dulcispasticceria.it), sells a carefully selected range of traditional Sardinian treats. It was extended this spring to incorporate a deli-café; you can now taste everything from sweets and pastries (don't miss the bite-sized pardulas, feather-light cakes made with ricotta and lemon), to local wines such as the standout Korem and Turriga, from the leading Agricolas winery, plus shelves of superb local Vermintino. Come here for aperitivi and beautifully-crafted snacks.
SPEND
Black Nera di Arbus sheep, icons of Sardinia's wild interior, produce beautiful if hard to craft wool, largely confined to use in carpets and shepherd's garb until venerable local designer, Patrizia Camba got her ingenious hands on it. Her take on the traditional mastruca (shepherd's waistcoat) employs a medieval style of stitching made graphic and large, with stylish high collars, and are surprisingly lightweight. This new line adds to a back catalogue of clothing that cleverly transforms traditional embroidery, peasant pleats and utilitarian bags into urbane and elegant womenswear. Visit her atelier at Via Farina 67 (patriziacamba.com) or see a select collection alongside clothes, crafts and jewellery from other local designers at Intrecci, at Viale Regina Margherita, 63 (00 39 070 332 8708).
DON'T MISS
Along with the recently unveiled archaeological digs at Tuvixeddu, Cagliari's big cultural bang this summer is the new "Giants of Monte Prama" exhibition at the city's archaeological museum (Piazza Indipendenza 7; archeocaor.beniculturali.it; €5/£4; closed Mondays). These fearsome 9th-century BC sandstone statues, with geometric features that recall C3PO from Star Wars, were once guardians of aristocratic Nuragic tombs (Sardinia's remarkably advanced Stone-Bronze Age civilisations). They are a starry compliment to an already stellar collection of Roman artefacts, Phoenician pottery and some mesmerisingly life-like ex-votos from Nuragic tombs.
GETTING THERE
Cagliari is served from Stansted by easyJet and from Gatwick by Meridiana. Fares for mid-September currently start at around £136 return.
The new Sardinia Pass offers savings on local attractions and tourist experiences, including scuba diving, snorkelling and boat trips around the island's numerous beaches. The basic pass costs €5 (sardiniapass.com).
MORE INFORMATION
Register for free to continue reading
Registration is a free and easy way to support our truly independent journalism
By registering, you will also enjoy limited access to Premium articles, exclusive newsletters, commenting, and virtual events with our leading journalists
Already have an account? sign in
Register for free to continue reading
Registration is a free and easy way to support our truly independent journalism
By registering, you will also enjoy limited access to Premium articles, exclusive newsletters, commenting, and virtual events with our leading journalists
Already have an account? sign in
Join our new commenting forum
Join thought-provoking conversations, follow other Independent readers and see their replies