The Independent's journalism is supported by our readers. When you purchase through links on our site, we may earn commission.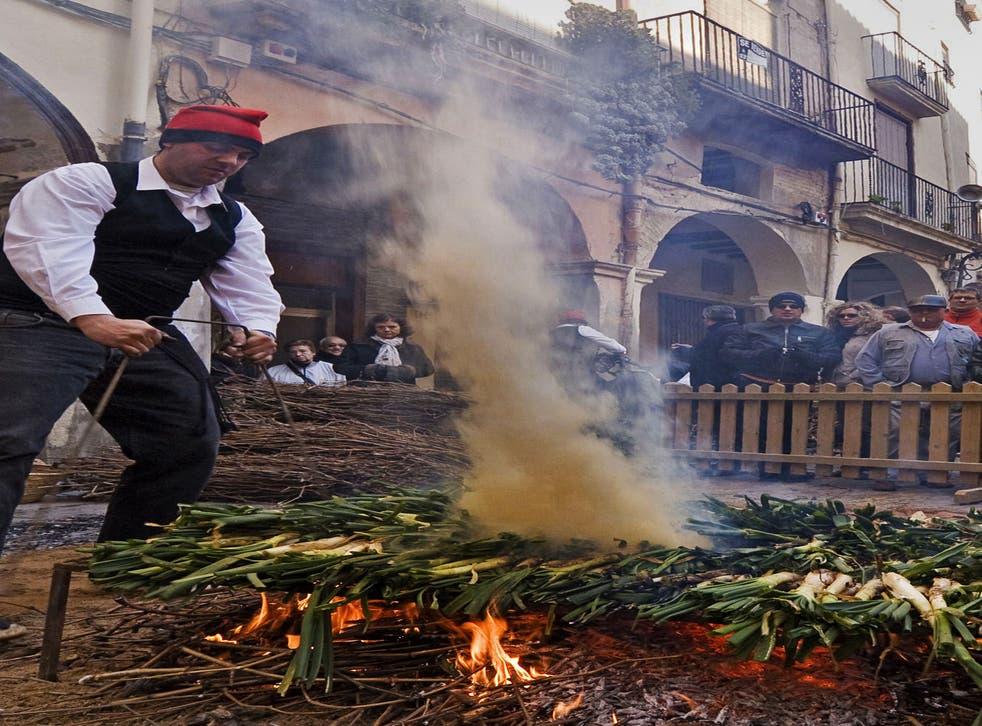 Calçots in Catalonia, where they know their onions
The 'calçotada' is a Catalonian culinary ritual like no other – and it is now luring visitors from further afield. Chloe Scott-Moncrieff gets stuck in
The Spanish couples next to me couldn't contain themselves as they ate. Chatting excitedly, they all wore bibs and gloves, yet there was ash strewn across their table and several had charcoaled chins. Outside the restaurant, amid plumes of smoke, five men in red berets walloped wads of the almighty calçot, unusually saporous spring onions, on to human-sized graelles (grills) with burning vines underneath. Flames leapt up. People took photos.
This was, after all, the calçotada, a Catalonian ritual, once only known in Tarragona province but increasingly attracting people from all over Spain. Why such fanfare over a humble allium? No ordinary specimen, the calçot must measure 15-20cm and is distinctively sweet, cooked on flames. It also has PGI (Protected Geographical Indication) status, like champagne. And it is seasonal. Only from December to early May can the calçot fires and the feasting, which date back 100 years, be found in restaurants and homes across the region.
A smattering of adventurous travellers have discovered them, importing the concept to their home countries. But the best place, to which in-the-know Spaniards make a mass pilgrimage, is Valls, a town 90 minutes' drive from Barcelona.
We were in Casa Felix and, according to my guide, Catalan food expert Rachel McCormack: "This is the epicentre. See all these coach-loads of Spanish people? They're friends, office parties and families and they all come here for this. They come on Sundays, sometimes Saturdays," she explained, looking at the sea of 400 bibbed participants. "It's a special day out."
Catalonia's 'calçotada' culinary ritual

Show all 5
By now, the couples next to me were consuming vast quantities of the corpulent charred onions on large roof tiles (the tiles being another prerequisite of this messy affair). They were peeling off the black skins and dangling the green insides high above their mouths in an unusually skilled manner, making me feel nervous I might get the etiquette wrong. Thankfully, my neighbour, a convivial chap named Rafael Castells Paris, came to the rescue: "You pick up the calçot with your right hand and pull off the burnt skirt," he said, pointing to the outer layer. "Then you must dip the calçot in the romesco sauce."
"Now eat." I tilted my head back and lowered the lot into my mouth. The mandatory creamy sauce, a pool of roasted tomatoes, garlic, pepper, hazelnuts, almonds and olive oil, with the silky innards of the onion, slipped down. After that, I couldn't stop. Castells Paris mused: "It's not an art, you see. The point is about sitting together. Having a calçotada can solve a lot of problems."
Each of us ate around 25. At that point, McCormack warned, "These are only the starters." By the end of the starters I had sauce dribbled down my bib, had a sticky nose and ash-stained hands.
Celebratory noises came from a little old lady and her husband dining close by. Another part of the tradition had commenced: the porró. The elderly duo simultaneously raised the porró, a glass vessel, high into the air. As I marvelled at how they didn't miss their mouths, wine poured forth. McCormack, fast becoming my sage, noted: "I think porró was once animal skin. If you were an itinerant sheep farmer you would pour the skin from the air for hygiene purposes."
Our empty tile was cleared after several helpings and it was time for our main course: the meat. All calçotadas serve calçots – most diners eat 25 or so, although they have competitions where people eat hundreds – then meat, then crema Catalana (Catalonia's crème brûlée). For us, the finale was everyone dancing as a man sang downstairs. Casa Felix didn't hold back – and it was €37 for everything, including endless wine, a cava and second or third helpings.
Earlier, I had met farmer Francesc Mateu, who explained these seasonal feasts bring out strong feelings: "I've always felt proud of it. When I was in the military 30 years ago, I put on a calçotada for 500 people to show them what we did back home. My great grandfather grew them, we always had them – but now word is spreading."
Demand for his crops had quadrupled in recent years: "I thought the [ailing] economy would slow demand but in 20 years we've gone from growing 75,000 to a million calçots. People outside Spain have started taking interest. Latin Americans, Romanians, Swedes, Italians … we were even asked to export to the States."
Valls is brimming with undiscovered attractions for the bibulous too. We stumbled upon the "wine cathedrals", bizarre temples to wine, designed by one of Gaudí's students, Cèsar Martinell. Not only are these modernist architectural bastions extraordinary, but they are wineries (there are 40 across the province of Tarragona).
In Nulles, 5km from Valls, the Catedral del vi de Nulles has monthly Vini Cultura events. Guests gather in Nulles town square and are met by an actor, who plays the ghostly figure of the monk who brought wine-making to the town. He walks them through town with candles to the winery, then climbs with them up little steel ladders high above the wine tanks where there is dinner and a theatrical or musical event on a steel balcony, plus a tasting of Catedral del vi de Nulle's Adernats wines.
The vermouth is exceptional here, too. We sat in Montblanc's medieval main square sipping a local brew, made from fortified wine with brandy and local herbs. "Catalans don't have a long tradition of tapas but they do have 'Vermut'," said McCormack. "Vermut is enjoyed before lunch. It can even mean having beer or crisps."
Valls delivered a final twist: it is peppered with trendy bars more akin to London's East End. Portal 22 had the best croquettas I've had (chef Joan Castells used to work at elBulli) and a martini glass of delicate bacalao (dried, salted cod) hugged by a tomato-pepper sauce. At kooky-interiored El Trois, we ate meltingly tender slow-cooked pork cheeks with goat's cheese and cherry tomatoes.
I had a goodbye vermouth that last night. And, as I drank, McCormack had some final words: "This is a largely unknown place to tourists; most daren't venture beyond Barcelona. It's time people found out about it."
Travel essentials
Getting there
Chloe Scott-Moncrieff flew from Gatwick to Barcelona with Vueling (0906 754 7541; vueling.com). She travelled with Catalan culinary expert, Rachel McCormack. McCormack is putting on calçotadas in Britain until April. Her next culinary trip to Catalonia will be from 3-5 May (catalancooking.co.uk).
Staying there
Hotel Felix (00 34 977 60 90 90; felixhotel.net) has doubles from €44, room only; or from €80 with the calçotada at Casa Felix, accommodation and breakfast included.
Eating and drinking
Portal 22, Valls (00 34 977 622 199; portal22.cat).
El Tros, Valls (00 34 977 60 44 07).
Wine cathedral, Nulles (00 34 977 602 622; vinicoladenulles.com).
More information
For details on Valls and the calçotadas, see cambravalls.com
Register for free to continue reading
Registration is a free and easy way to support our truly independent journalism
By registering, you will also enjoy limited access to Premium articles, exclusive newsletters, commenting, and virtual events with our leading journalists
Already have an account? sign in
Register for free to continue reading
Registration is a free and easy way to support our truly independent journalism
By registering, you will also enjoy limited access to Premium articles, exclusive newsletters, commenting, and virtual events with our leading journalists
Already have an account? sign in
Join our new commenting forum
Join thought-provoking conversations, follow other Independent readers and see their replies