The Independent's journalism is supported by our readers. When you purchase through links on our site, we may earn commission.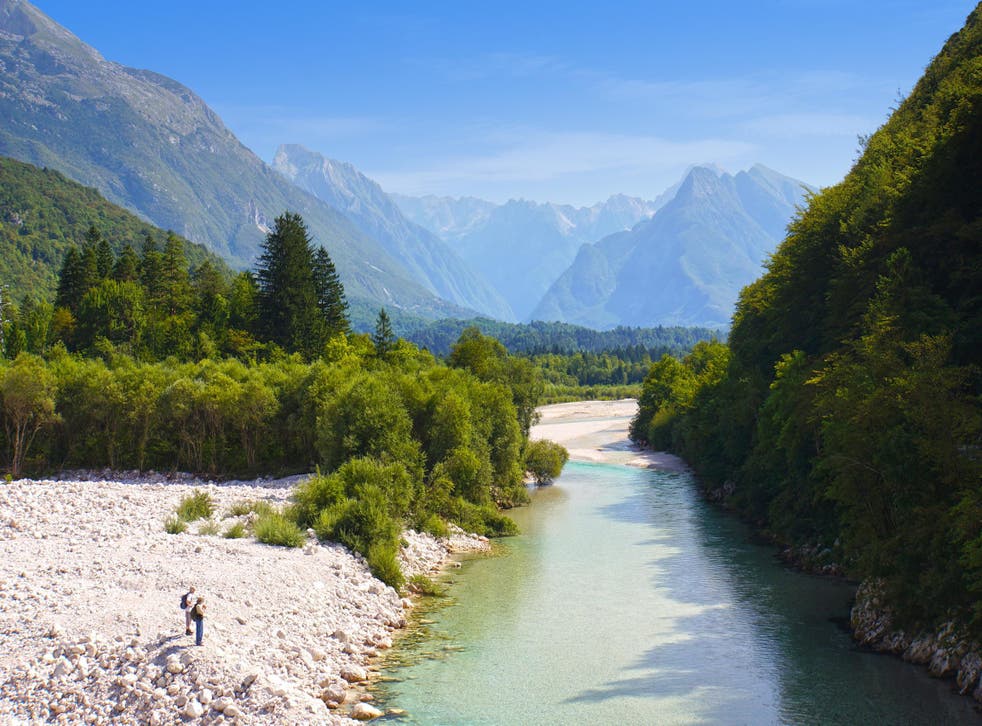 Homestays: how to live like a local on a trip across Europe
Whether you're visiting a capital city or a remote village, staying with a host offers a unique insight into local life
Ellie Ross
Friday 02 September 2016 11:05 Comments
Clutching a handful of lavender, I inhale deeply, enjoying the sweet, vaporous scent before it gets carried on the warm summer breeze. I am being shown how to transform the flowers into garlands by Vesna, the host of my homestay accommodation in Plave, a Slovenian village with a population of 300.
Sitting in her garden, with the Julian Alps rising in the distance, we are surrounded by potato plants, tomato vines and the neat mounds of mauve, swaying in the wind. Vesna teaches me how to fold the stems over the buds, then weave a ribbon around the bunch to secure the garland's shape. It's the same technique she has been using for years, and she wants to pass her knowledge of herbs and plants onto her guests – from making jam to pickling cucumbers.
I hadn't expected to be practising handicrafts so soon after my arrival in Slovenia, but I'm halfway through a trip around Europe and surprises such as this are giving me a flavour of real life that no hotel could provide.
Travelling by rail, the stops on my week-long journey are Budapest in Hungary, Plave in Slovenia and the Italian city of Padua: three places I have never visited and whose languages I don't speak.
Keen to immerse myself in the culture, I am staying in local people's homes booked through the aptly named Homestay.com. With accommodation averaging £31 a night, and train tickets totalling around £169, it's not only a fun way to travel but an affordable one too; an appealing prospect given the sorry state of the pound post-EU Referendum.
My first stop is Budapest, where I arrive at Maria Arvay's fifth-floor apartment in the 13th district, four blocks from the Danube River. Maria greets me with a smile and cup of tea, and shows me around her one-bedroom flat, with its neatly-arranged shelves, little balcony with flower pots and two resident cats, Moki and Dormi. Maria gives up her bedroom for guests, sleeping in the lounge, and I'm settled into the bedroom; she pulls out a map and gives me an overview of the city, telling me which places to visit during my 30 hours whistlestop here.
"Skip the dark history at the House of Terror," she says, referring to the eerie museum I had planned to check out following a quick flick through a guidebook. "You only have a short time here and shouldn't leave with only a dark impression of the city. Go to Gellert Hill instead. It has magnificent views of the whole city and is close to Liberty Bridge, which you can sit on with a beer to watch the sunset."
She then hands me a mobile phone. "It has a local sim card in it," she explains. "So we can call each other if we need."
As well as being practical, it's a thoughtful touch and, like the Hungarian phrases she has scribbled into my notepad, is one you usually wouldn't get in a hotel.
Armed with the annotated map, I visit Buda's medieval Castle District, a Unesco World Heritage Site, and nearby Fisherman's Bastion, a terrace named after the fishermen's guild that was once responsible for defending this part of the city wall. For dinner, I slip into a wooden booth at Pozsonyi Kisvendéglő – a cosy restaurant serving goulash soup for 830Ft (£2.30) – another of Maria's recommendations.
The following day I hug my host goodbye, promising to return for longer next time, and board a sleeper train to Slovenia. Fifteen hours later, I'm at my second destination, Plave, being warmly welcomed into Vesna's family home with a pair of slippers (a Slovenian custom) and a bowl of homemade Jota soup, made with sauerkraut and turnips – from the garden, naturally.
Upstairs, my room has herbal pillows and furniture made by Vesna's father Ivan, and a balcony overlooking the vegetable patch, where I can see her mother Karmen picking lettuce. During my stay, the four of us eat meals together like a family and communicate through a mixture of gestures and Vesna's translation. It's a nice change from staying in faceless hotels where you are one of any number of guests.
"My parents love meeting people from different countries but are afraid of flying," Vesna says. "By opening their home up to travellers, the world comes to them."
Vesna is a licenced guide, and for €20 an hour, guests can join her on everything from gruelling hikes around the Julian Alps to gentler strolls through the vineyards of Goriska Brda. Homestay.com allows guests to contact their hosts prior to arrival, so you can discuss the types of activities available and save time researching and organising your own itinerary.
Knowing I'm a keen hiker, Vesna drives us to Kobarid village, a 40-minute drive north of Plave. Positioned on the edge of the fast-flowing, emerald-green Soca River, it was made famous by Ernest Hemingway's 1929 novel, A Farewell to Arms, and has some excellent walking routes.
As we hike, gazing up at the beautiful wooded slopes, it's hard to imagine the brutal fighting that took place between the Austro-Hungarians and Italians in this strategically important valley during the First World War. As Vesna explains the history, we pass some of the trenches and gun emplacements that were dug out of the craggy mountainside, now dotted with lichen and wild flowers.
The following day it's time to move on to Italy, and I take two trains to Padua, where I'm picked up by my third and final host, Matteo Scialpi, a television producer who enjoys the company of guests now his sons have left home.
I feel privileged to have my own private tour guide as Matteo drives me through the city centre, with its canals and porticoed streets, pointing out the Botanic Garden – Europe's oldest (1545) – and the arches of the Palazzo della Ragione with markets on either side.
We pass the university where Galileo Galilei taught maths for 18 years ("the best years of my life", he said) and the Scrovegni Chapel with its ancient frescoes.
After an afternoon exploring on my own, I meet Matteo for dinner at Al Carmine, his favourite pizzeria, where ours are the only English-speaking voices. Tucked away down a cobbled street, a little further from the central PIazza dei Signori than most tourists venture, it's a restaurant I wouldn't have found by myself, though its plant-dotted terrace is busy with locals.
As the sun sets on my final night, I finish my trip with a sense of satisfaction that I've explored three very different parts of Europe, and seen sides to them that most tourists don't get to see.
Travel essentials
Getting there
Interrail (interrail.eu) passes start from €200 (£169) for a Global Pass. This includes travel for five days within a 15-day period.
Staying there
Ellie Ross arranged all her accommodation through Homestay.com. A night at Maria's in Budapest starts at £31 per room, B&B. A night at Vesna's in Slovenia starts at £30 per room, B&B. A overnight at Matteo's in Padua starts at £34 per room, B&B.
Visiting there
Ellie took a private walking tour of Budapest with Viator (viator.com), which offers tours in cities across Europe
More information
Register for free to continue reading
Registration is a free and easy way to support our truly independent journalism
By registering, you will also enjoy limited access to Premium articles, exclusive newsletters, commenting, and virtual events with our leading journalists
Already have an account? sign in
Join our new commenting forum
Join thought-provoking conversations, follow other Independent readers and see their replies