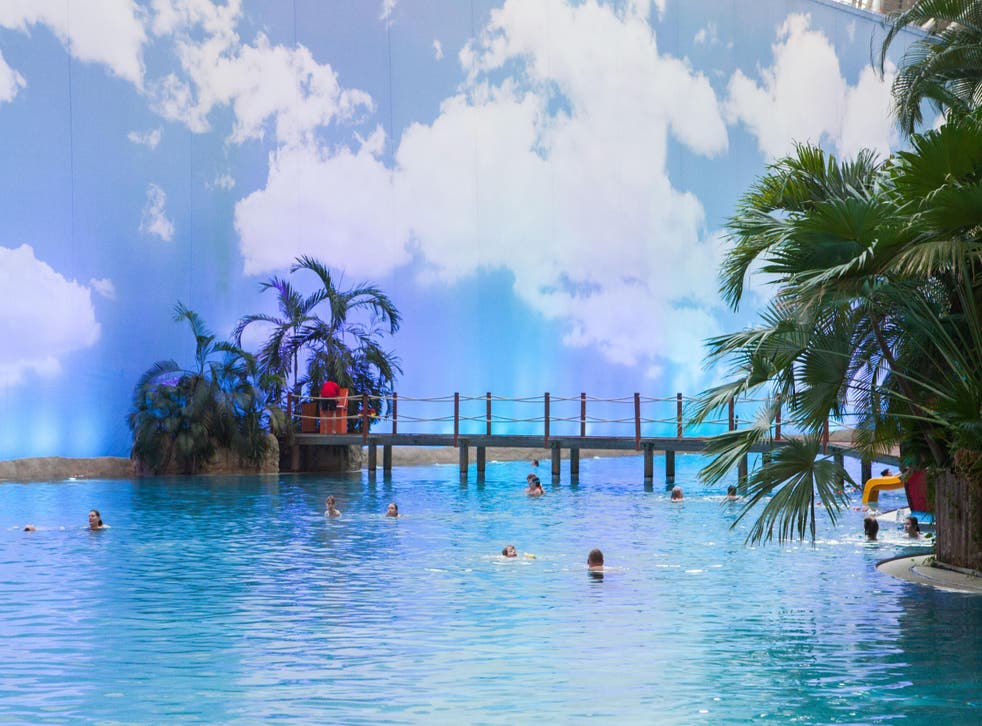 What it's like to holiday in a tropical paradise inside a Berlin aircraft hangar
For a winter sun getaway with a difference, head for the rainforest and beaches of Tropical Islands – under an industrial dome on the outskirts of Germany's freezing capital 
An hour's drive south of Berlin, where temperatures currently hover around 0C, you can find a tropical paradise of sweltering rainforest, gushing waterfalls and steamy grottos. Of course, this place shouldn't exist. In the late Nineties, at the height of the dotcom craze, this was a hangar erected to build airships. But when the company went bust, an opportunistic Malaysian business man, Colin Au, bought the dome for a snip at £20m and opened Tropical Islands – a lush wonderland where you can sip colourful cocktails in 26C and even camp in canvas tents on the "beach".
Tropical Islands' immense dome is the biggest self-supported hall in the world. And it's huge. That's 5 million cubic metres huge. You could slide the Eiffel Tower in on its side, or put the Houses of Parliament in – twice. It makes Centre Parcs look like a shed. In here, there's a makeshift sea – 3,000 square metres of it, to be exact – not to mention the 200-metre-long beach that stretches along its shoreline, and the Truman Show-esque backdrop of blue sky with fluffy white clouds completing the scene.
And quite frankly, the results are mind-boggling. I arrive from temperatures of -4C, into a pleasantly hot holiday resort. Swimsuit-clad, barefooted punters are casually walking around, some hoisting giant shark inflatables. The contrast is comical, and I'm immediately surprised too at how many young couples and groups of friends are here. I'd expected only families – I'm here with my partner and two young sons – but it seems Tropical Islands has a wider, unbeatably kitschy appeal.
After disrobing, we explore the lagoon, complete with water slides and whirlpools. It actually does look and feel tropical... if you can ignore the giant dome and the constant sound of the generators. After a dip, we take a walk around the site, where Bali, Thailand, the Caribbean and Borneo all meet in an ersatz reproduction of "tropical". And it's brilliant.
Cute little lodges and beach huts nestle among the lush vegetation, each one housing restaurants, shops, bars and guest rooms if you don't fancy the tents. I can't wipe the incredulous smile off my face, yet everyone is just acting as if it's the most normal thing on Earth. I withhold the urge to yell, "It's not real you know!" and just take in the bizarre verisimilitude.
Even stranger, you really can get a suntan here – the transparent film across the centre of the dome allows through UV light, so in the summer, make sure you get up early to get your towel down on one of the 2,500 seashore deckchairs (it is Germany, after all). This sunlight is also the key to the near-miraculous rainforest at the centre of the dome, the largest of its kind in the world, and home to 50,000 plants of 600 different species, plus various exotic birds, turtles and fish. My son is thrilled at the sight of the flamingos hanging out in a corner of the mangroves.
But this is Tropical Islands, not Club Tropicana, which means the drinks are certainly not free – but for a theme park of this kind, I don't think the prices are extortionate. A meal for two with a drink costs around €30 and a cocktail is about €7. Because you pay for everything with a very convenient wristwatch-style "pass", there's no need for cash anywhere on site, and it feels free. Until you receive the bill at the end…
Aside from the water attractions, there's also a fantastic spa area, where I indulge in a painfully authentic Thai massage. High above our heads, the "hot air balloon" ride looks fun, but if you can't spare the €29 it costs for a ride, you can always climb the 27 metres up to the top of Germany's highest waterslide tower for an equally thrilling view. Frankly, I don't have the nerve for the turbo slide, but my partner does, and enthusiastically tells me he reached at least 70kmph.
Okay, so in these times of ecological catastrophe, keeping the air temperature in its mid-20Cs, and the water temperature at around 30C, plus the air-con in the guest rooms, can't be especially good for the environment. But as one couple from England, who have come here for their first wedding anniversary, tell me: "We can be wilfully blind to that while we're here. It's just a bit of fun, where we don't have to be adults."
"Kitsch" is a German word, difficult to translate, and often used pejoratively, but Tropical Islands is pure kitsch. It's wrong on so many levels but I can't help but love it. As a female artist from Berlin confides in me, "I'm afraid I'm a repeat offender, Tropical Islands is my guilty pleasure," and I can understand why. Whilst sipping a pina colada Del Boy would be proud of, on a deckchair overlooking the lagoon, warm and comfortable, away from the freezing temperatures outside, I relax – and I really don't care if the drinks aren't free.
Travel essentials
Getting there
From the UK, Berlin Schönefeld Airport is served by Ryanair, easyJet, Jet2 and Norwegian. Tropical Islands is a 50km drive south of Berlin Schönefeld Airport.
Visiting there
Day guests from €42 for adults and €33 for children from the age of six (sauna and spa access costs extra).
Staying there
Overnight guests (including buffet breakfast): guest rooms from €115 pppn; lodges from €95 pppn; tents from €69 pppn.
It's also possible to stay outside the dome, in holiday homes, mobile homes, tents, or you can bring your own tent/campervan/caravan and stay on the adjoining campsite.
More information
Join our new commenting forum
Join thought-provoking conversations, follow other Independent readers and see their replies