Conquering Normandy en famille
Normandy provides the perfect location for a family holiday with a difference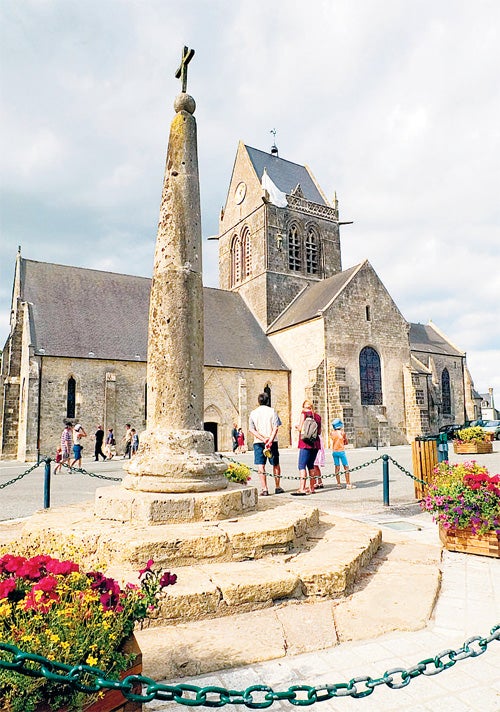 Britain's castles and beaches are firm favourites in our family – we've enjoyed years of holidaying here. As a family, we've also travelled further afield, to places with pools and restaurants serving international cuisine, but we've rarely strayed beyond their Anglicised perimeters. Now, I felt we were ready to do something else, and introduce the boys – aged three, five and seven – to a different culture, food and language.
What our family needed, I'd concluded, was a proper French holiday. I had visions of my boys scampering around sprawling markets, sampling cheeses, sipping cheekily at vin rouge in town-centre bistros at lunchtime, then scaling the walls of French chateaux like mini musketeers.
Normandy was the obvious destination: close enough to be within easy reach, while at the same time being distinctly different from the UK. The food would be odd enough for the boys to experiment, and they could learn a bit of history without realising it.
Perhaps the ferry voyage was designed to put us in the same frame of mind as the brave men sent across for the Normandy landings in 1944: it was one of the roughest I have experienced. But just half an hour away from Cherbourg came the dream-like vision of Château de Flottemanville. Here, we drove down a classic French avenue of tall, whispering trees to a dazzling mansion with turrets, balconies, stone pillars and fairy-tale windows; a stream ran through the grounds, where horses grazed.
They don't do dinner at the Château de Flottemanville, so we were sent to L'Auberge du Pont Cochon, five minutes' drive away. The place was empty. But the patron and his wife were all charm, teaching the boys their first words in French and encouraging them to sketch and scrawl on the paper tablecloths. Sam, Finn and Jack stuffed themselves full of steak-frites, drank Orangina and declared they loved France. Later that night, we snuggled up in our castle bedrooms, with the promise of breakfast of brioche and coffee in the dining room the next morning.
After a few days at the chateau, we moved on to self-catering accommodation at La Mare Chappey, a 16th-century manoir with cottages near the gorgeous town of Briquebecque. It's run by Geoff and Audrey Parker, an English couple who have tried to make everything as family-friendly as possible. Geoff renovated the place himself, and, over a glass of local wine, will tell you stories of his former career as a heavy-metal drummer for a band named Sleep, which used to support The Who, and played in front of 30,000 fans at the Nuremberg festival. Audrey runs an ad-hoc bistro on-site, which is handy when you arrive and can't get your bearings in the kitchen.
With our cottage as a base, we ventured out to the Briquebecque market. The medieval town has stalls lining the streets up to the castle. The region is renowned for its dairy produce and the town's Trappist monks came up with a cheese which is mild and delicious.
We stuffed our bags with cheese, wine and a roast chicken. A few stalls from the cheese was a jewellery stand where each piece cost €5: I bought the kind of chunky silver items that would cost £20 apiece back home. The boys were keen on the sort of plastic tat they could buy in the pound shop on our local high street – but we all came away happy.
Next, we tackled some local history. It's not hard to shut your eyes and recall the terrible events on Utah and Omaha beaches. At Utah, there is a German bunker behind the dunes which was turned into a US communications centre after 1945. This, in turn, has been reinvented as a café. You take your tea beside plastic models in Allied dress, with American wartime tunes burbling away in the background. The walls are plastered with newspaper reports and pictures of movie stars. It's brilliantly atmospheric – and expensive.
However, it was the reconstruction in the village of Sainte-Mère Eglise which caught the boys' imaginations. This is claimed to be the first Normandy village liberated by the Americans on D-Day. Dangling from the church spire in the village centre is a life-sized model of US paratrooper Private John Steele. He was dropped from his plane early on 6 June 1944. Unable to free himself, he hung there playing dead until he was cut free by a German soldier. The model's parachute rustles in the breeze, and the boys were captivated.
On the way back to our gîte, we stopped at Camp Patton. The boys clambered over a 30-ton Sherman Tank, of the sort most widely used in the war. The US established a command post here in an apple orchard on the edge of the village of Néhou.
The place where General Patton's planning had such a decisive effect on the war is a peaceful spot, which hosts only occasional visitors. The boys have since retold the story of Private Steele a hundred times, and are fascinated by the Normandy landings. They were also brave enough to fight a battle of their own: the ferry crossing home proved a turbulent end to their French adventure.
TRAVEL ESSENTIALS
Staying there
* Château de Flottemanville
(00 33 233 402 902; chateau-flottemanville.com ), Flottemanville-Bocage, Normandy. Twinbedded room: €60 per night, including breakfast.
* La Mare Chappey (00 33 233 412 976; lamarechappey.com ) Nehou, Manche, Normandy. Cottage rental rates range from £420 for the smallest cottage, off season, to £1,108 for the largest in the summer.
Eating and drinking there
* L'Auberge du Pont Cochon (00 33 233 039 002; auberge-du-pont-cochon.com ), La Croix des Frênes, Flottemanville-Bocage, Normandy. Menus from €17 per person, excluding wine.
Join our commenting forum
Join thought-provoking conversations, follow other Independent readers and see their replies