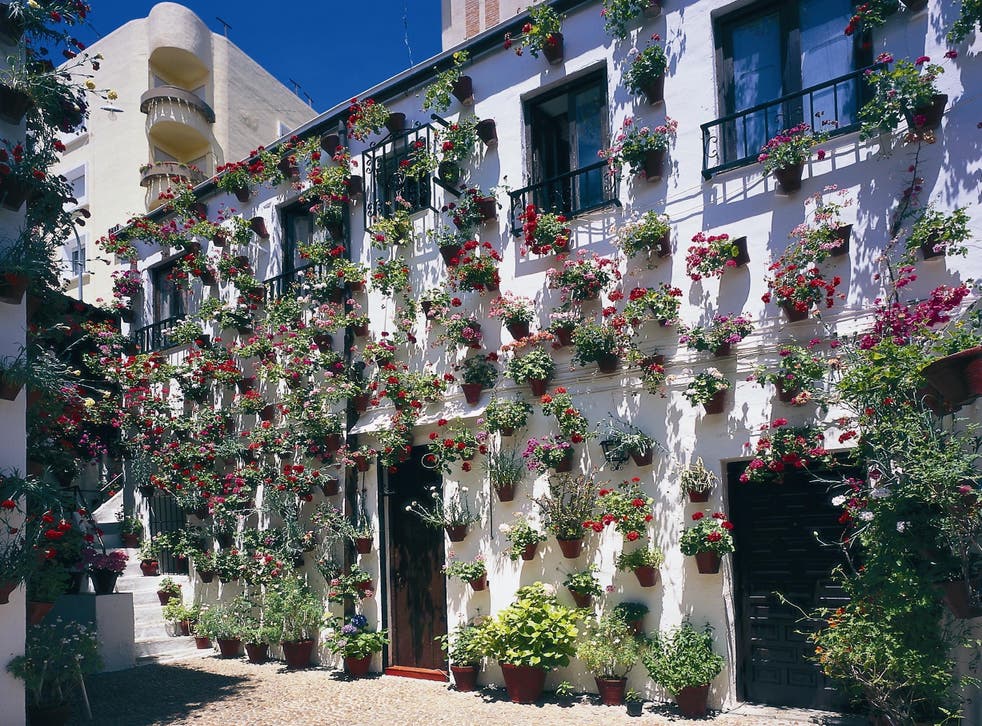 The secret behind Spain's most beautiful fiesta revealed
Cordoba is home to Spain's prettiest festival. Rishika Sharma explains the past of the Fiesta de los Patios
Cordoba needs no introduction – the name conjures up images of Andalusia at its best, the golden and crimson Mezquita, the triumphant Alcazar fortress, and of course, the dreamy Calleja de las Flores, or "street of flowers". And it's the last of those that's the main event every May, when the city opens up its courtyards for the Fiesta de los Patios.
The Fiesta – literally the 'Festival of Courtyards' – is a 12-day festival in May. Cordoba's courtyards are no mere patios – they're cultural melting pots which have been at the epicentre of local life since the Mesopotamic era, and were incorporated into the key infrastructure of villas by the Romans to offer solace from the piercing heat.
However, it was the Muslims who elevated the city's famous courtyards from functional to things of beauty. The Moors transformed them into fairy-tale visions of hanging baskets overflowing with roses and geraniums, water fountains bordered by fruit trees, and lavish furniture for receiving guests. Naturally, they became places for communities to congregate – a tradition which is still present today, and ramped up during the festival – a city-wide contest in which neighbours compete to create Cordoba's most elaborate courtyards. Normally private, the patios are then opened to the public – for free.
The fiesta is a big thing for Cordoba – there are flamenco troupes, impromptu concerts and street parties, and pop-up bars where the local fino wine flows freely. Walking routes catering for various interests are mapped out on the Puerta de los Patios website.
For those wanting to visit the courtyards outside of manic May – Cordoba hosts four major spring festivals throughout the month – El Palacio de Viana, a 15th-century house surrounded by 12 giant courtyards stays open all year round. Meanwhile, Los Patios del Alcazar Viejo takes private and group tours every month of the old Alcazar area (€7; check ahead for closing dates, since these are family homes). On the tours you'll visit the likes of Duartes 2 – a moving patio perfumed by jasmine and nectarines – and Martín de Roa 7-9, whose courtyard walls are studded with pots of red plants, as if in a vertical garden. Typical in this area is the Mudejar style of water fountains, Islamic art and Cordovan Chinese stonework – an arabesque pattern inspired by Greco-Roman times.
While the number of participants in the Fiesta de los Patios changes every year, the festival remains intact. Since it was formally made a competition in 1921, only the Spanish Civil War has interrupted annual event, and in 2012, UNESCO gave the Fiesta cultural heritage status.
The bad news? This edition of the Fiesta is over – it finished at the weekend. The good? Marking the centenary of its founding in 2018, they're already making spectacular plans for next year.
Register for free to continue reading
Registration is a free and easy way to support our truly independent journalism
By registering, you will also enjoy limited access to Premium articles, exclusive newsletters, commenting, and virtual events with our leading journalists
Already have an account? sign in
Register for free to continue reading
Registration is a free and easy way to support our truly independent journalism
By registering, you will also enjoy limited access to Premium articles, exclusive newsletters, commenting, and virtual events with our leading journalists
Already have an account? sign in
Join our new commenting forum
Join thought-provoking conversations, follow other Independent readers and see their replies