Corsica: Beach bliss on a wild isle

Show all 4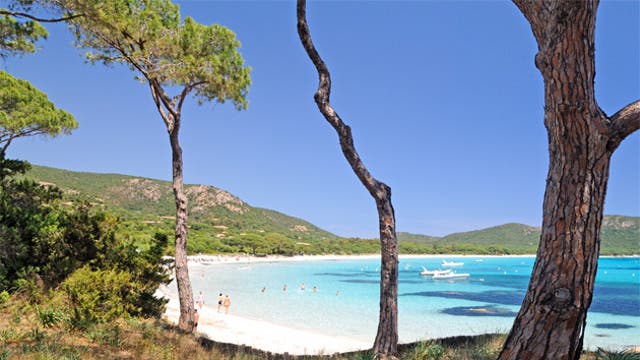 Corsica: Beach bliss on a wild isle
After the summer crowds have dispersed, Corsica's idyllic coastal campsites are free to enjoy in perfect peace, says Tristan Rutherford
Wednesday 31 August 2011 00:00 Comments
My love affair with Corsica's campsites began in leaner times. A decade and a half ago, breakfast was an orange and lunch meant scrumping figs on a coastal path. Since then, the trail of campsites that rings this island's sandy shores has become something of a personal refuge – and one that has changed little since I first started visiting in the 1990s. What must be the eurozone's least-expensive beach holiday is still my yearly touchstone in an ever-more hectic world.
Sleeping under canvas here has a naturalness that is soothing to the soul. I woke up on my first morning of holiday this summer just millimetres above the earth. A moment later, a bird swept over our tent, the beat of wings fading from left to right like a cinema stereophonic-sound test. The dawn chorus was just as mesmerising. More than 20 species hummed in unison like attendees at a yoga retreat. This island may be twice the size of Cornwall yet it hosts just half the population: getting away from it all could hardly be more bucolic.
Yet it's Corsica's beaches, not birds, that make camping here so special. These stretches of sand range from Thai-style arcs backed by swaying palms to 10-mile-long, ice-white beaches that wouldn't look out of place in Brazil. The majority bask under National Park status, meaning that campsites are the only accommodation allowed near – and often right next to – the sand.
And this was exactly the case as I wandered past the swimming pool of Camping U Turracconu, an hour's drive south of the capital, Ajaccio, on my first morning stroll to the sea. At €9 per person per night, this near-deserted campground commands views over eight spellbindingly beautiful beaches. It's also the only lodgings for miles around.
My wife and I were the only people on the coastal path that winds down to Cupabia Plage. This triple-bayed gem is lapped by translucent water just a few feet deep. The herb-scented morning breeze reminded me of Southern England, but here the sunshine is virtually guaranteed, right through until late October. Corsica receives an average of just three and a half rainy days in July and August, compared with 14 for the Devon town of Teignmouth and 20 for Cornwall's Bude. But campers can choose between Corsica's midsummer bustle or have the place to themselves in September and October – which are hotter months than June and May respectively – when you can bask on the island's deserted beaches, too.
As we were visiting outside the French school holidays, we had two miles of white sand to ourselves. We swam out to the islands in the bay and
snorkelled with sea bream and a curious cormorant. It was so quiet, in fact, that my wife suggested that we take off our costumes. We dived down to the sandy ocean floor, where six feet of water pressure compressed our podgy tummies. No one could see us, which was a shame, since this was the only place we'd ever look good in the nude.
After a picnic lunch of fougasse (flatbread), brocciu (ewe's milk cheese) and half a jar of local honey, we hiked back to camp. The two tents of the previous night had become five in our absence. My wife performed some yogic stretches outside the tent as I wrote up my notes and tiny red spiders scrambled across the page. After a €15 dinner of two crispy pizzas and a litre of wine in the local restaurant, we crept back to the canvas. With our T-shirts balled up as pillows and a sarong for a sheet, we snoozed for 10 hours straight – four-season sleeping bags are not needed here.
After three days of such rural simplicity, we'd lost track of time. Mornings spun out like 1950s British Sundays – noiseless and carless – and the hardest decision was what sort of jam to have with breakfast (though it's fig or tangerine on this island, not gooseberry or damson).
Such quaintness came to surface as we toured the island's west coast around Propriano. The island boasts as much coastline as all the Balearics combined yet it receives just one-fifth of the visitors. However, the lo-tech website www.campingcorse.com details every campsite on the island and led us down a single-track farm road to the village of Belvédère-Campomoro, where cows splashed around in the salt marsh and donkeys sighed beside the hedgerows. Here we found Camping La Vallée – an €8-per-person-per-night paradise tucked up against a white sand beach, where we pitched our home under a tree. Again, coastal walks filled our afternoons, and a blow-out meal of tuna tartare and steak frites on the beach provided our evening entertainment.
For our final stop, we headed for Corsica's south-eastern flank. Despite the low-cost air links from the UK, it seemed strange that we heard our first British voices only on our final day in Corsica. They pitched their tent by ours, a banal task micro-managed in a schoolteacher whine – we giggled as we were reminded of home. "Margot, may I suggest that you bring those poles a little further?"
Belying its €5.90-per-person price tag, Camping la Rondinara is the rural Ritz of campsites, with pitches set under pines in virgin Corsican countryside. Dragonflies and butterflies reminded us that we were 10 miles away from the nearest building, let alone hotel, while an on-site bakery, pool and pizzeria lent the place real class.
And the beach? Ask a child to draw their dream of a summer scene and they'll crayon a perfect round of sand lapped by shallow turquoise water. Plage de la Rondinara is that beach.
Travel essentials
Getting there
The main air links are on easyJet (0843 104 5000; www.easyjet.com) from Gatwick to Bastia and Ajaccio, and from Manchester to Bastia. Thomson (0871 231 4787; www.thomson.co.uk) flies from Gatwick to Figari in southern Corsica.
Camping there
Camping U Turracconu: 00 33 4 95 74 00 57; www.turracconu.com
Camping La Vallée: 00 33 4 95 74 21 20; www.campomoro-lavallee.com
Camping la Rondinara: 00 33 4 95 70 43 15; www.rondinara.fr
More information
00 33 4 95 51 00 00; www.visit-corsica.com
Click here to view Mediterranean tours and cruises, with Independent Holidays.
Register for free to continue reading
Registration is a free and easy way to support our truly independent journalism
By registering, you will also enjoy limited access to Premium articles, exclusive newsletters, commenting, and virtual events with our leading journalists
Already have an account? sign in
Join our new commenting forum
Join thought-provoking conversations, follow other Independent readers and see their replies