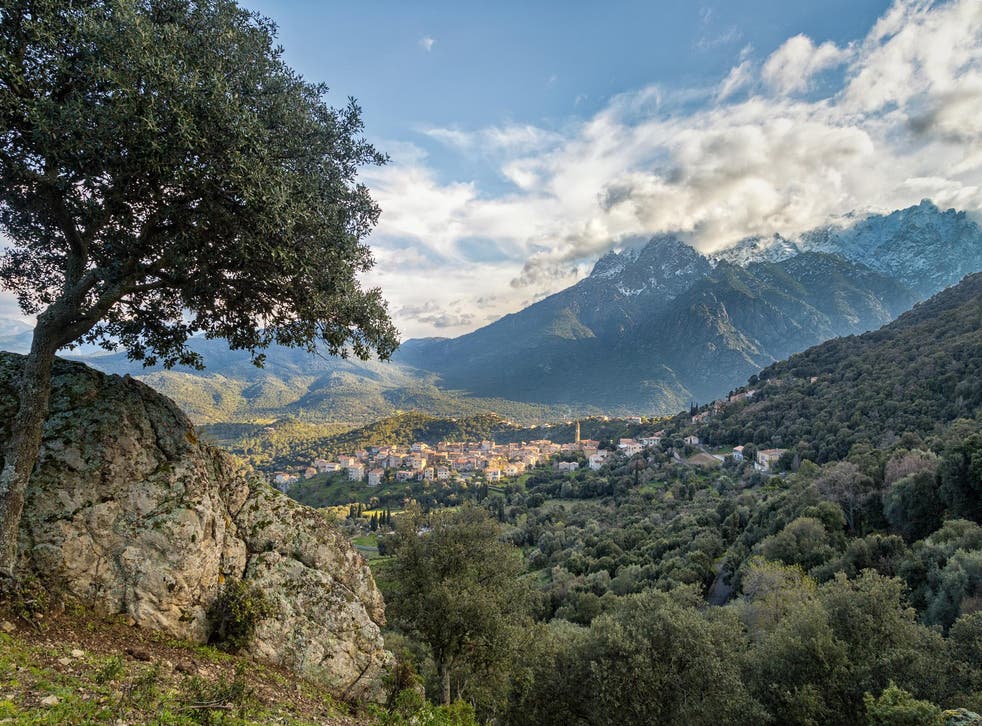 A family escape to Corsica's quieter corners
This French island buzzes in summer, but off the beaten track you can explore pre-historic sights, hidden beaches and a unique character
The road to Cauria is far from smooth or obvious. After a long, suspension-rattling drive down a rutted track, an easily-missed handwritten sign is all that indicates the treasure that rewards a pilgrimage into the sparse Corsican maquis.
Accompanied by a scratchy soundtrack of cicada song, visitors must take a winding footpath past gorse bushes and holm oaks to the final destination - a small fenced enclosure containing a line of nine standing stones rounded by human hand and some five millennia of wind, rain and blazing Mediterranean sun.
It is only on close inspection that these time-scarred sentinels give up their secret. Two grooves and a circle represent a helmet, two long lines meeting into a point indicate a sword and two more lines are what remain of a belt.
These are the celebrities of pre-historic Corsica - clan chiefs and warriors from the Bronze Age still standing guard over an unspoilt landscape without a postcard stall or an ice cream booth in sight.
The beguiling sculptures of Cauria, some 20 miles south of the fortified village of Sartene, say a lot about southern Corsica - a corner of savage, enduring beauty on an island that is French in name but remains robustly distinct in spirit; an understated Mediterranean redoubt that is full of surprises, from prehistoric art to hidden beaches.
And, as evidenced by the spine-jangling terrain that must be traversed to meet Cauria's granite warriors, it is also a place that best recompenses those who take pleasure in straying - just a little - off the beaten track.
On a sun-kissed week in August when the island is at its tourist peak and traffic jams inch their way to big-name beaches such as Palombaggia, the real thrill of this proud corner of the Mediterranean is to wave goodbye to the queuing motorhomes and take a side road that may lead to a winery, a spit of sand next to a fish-filled sea, a village hosting a travelling theatre or simply a field of curious, braying donkeys.
The road to La Tonnarra is one such thoroughfare. A few miles beyond the fortified citadel of Bonifacio, a steep, pot-holed lane opens out into the stony remains of a tuna factory - testimony to a once thriving fishing industry - where the sea offers some of the best snorkelling to be found on the island.
While kite surfers zip across the waves, beneath them swimmers can give chase to shoals of curious picarel and bream while also hunting out spiny forests of sea urchins. Those uninterested in, or too young to get to grips with, the submerged inhabitants can instead stroll along the sand to beachcomb for chunks of sun-bleached cork and shells from which to fashion a chunky necklace.
Escaping the crowds isn't always possible and sometimes the only thing to do is to join the throng and gawp at some of jaw-slackening sights that Corsica throws at its visitors.
In Bonifacio, a handsome port overlooking dramatic limestone cliffs on the very southern tip of the island, vast five-storey super-yachts of the girth preferred by oligarchs and Silicon Valley billionaires jostle for berths. The purchase of a quayside ice cream buys a pleasant 15 minutes playing "Guess the Mogul?" while watching uniformed deck hands feverishly hosing down jet skis and polishing mirrored glass before the owner returns from a light lunch of lobster and champagne.
For those unable to afford a Bond villain-style holiday barge, the entertainment is to be found in getting lost in the alleyways of Bonifacio's medieval hilltop fortress, built by the Genoese, where the cool of the galleried market place offers respite from the sun and the shifting architecture offers glimpses of the differing invaders from Renaissance Italians to the imperial French who have shaped Corsican history.
In the face of such colonisation, the Corsicans for centuries took refuge in the island's rugged interior, eschewing the perilous coast for mountainous villages and farming pigs and sheep.
The result is an indigenous cuisine crowned by some of the best charcuterie and cheese to be found in southern Europe. No trip to a market is complete without the purchase of a stick of boar or donkey salami alongside the arrays of island-grown tomatoes and courgette flowers.
The star of the show, especially for those with children in tow, is the "fritelli" - golf ball-sized doughnuts filled with "brocciu" - a creamy soft cheese made on the islands - or a child-pacifying dollop of Nutella.
For those fortunate enough to be staying on the route of Corsica's many peripatetic bakers, a daily dose of fritelli is delivered to the door with a few words of wisdom about the weather or some good natured grumbling about the mixed blessings of the euro.
It is a way of life that naturally lends itself to the leisurely pace in havens such as Domaine Santu Pietru, a collection of stone-built villas at the end of yet another rutted lane near Figari. It opens out into a hidden vineyard where olive trees provide shade and the dawn chorus is a braying donkey and the sight of a startled hare skipping away between the grapes. And that is the essence of Corsica, a place which exports very little of its excellent wine or cured meats and keeps its best treasures hidden down bumpy tracks but shares them generously with those who turn up and embrace its ancient rhythms.
Not far from the granite warriors of Cauria is Rondinara beach, a breathtaking crescent of silver sand reached, of course, only via a precipitous curving road. In August, it is dense with holidaymakers but they do not hinder a cow which regularly picks a path between the beach towels as it commutes between its preferred grazing spots.
Rather like the granite warriors, it is the visitors who fit around the customs and geography of Corsica. Not the other way around.
Travel Essentials
Getting there
Cahal Milmo travelled with Simpson Travel (020 8003 6557; simpsontravel.com), which offers a range of villas and apartments in Corsica, starting at £581pp for a week based on six sharing a three-bedroom villa. Includes return flights, car hire and accommodation.
More information
Register for free to continue reading
Registration is a free and easy way to support our truly independent journalism
By registering, you will also enjoy limited access to Premium articles, exclusive newsletters, commenting, and virtual events with our leading journalists
Already have an account? sign in
Register for free to continue reading
Registration is a free and easy way to support our truly independent journalism
By registering, you will also enjoy limited access to Premium articles, exclusive newsletters, commenting, and virtual events with our leading journalists
Already have an account? sign in
Join our new commenting forum
Join thought-provoking conversations, follow other Independent readers and see their replies