The Independent's journalism is supported by our readers. When you purchase through links on our site, we may earn commission.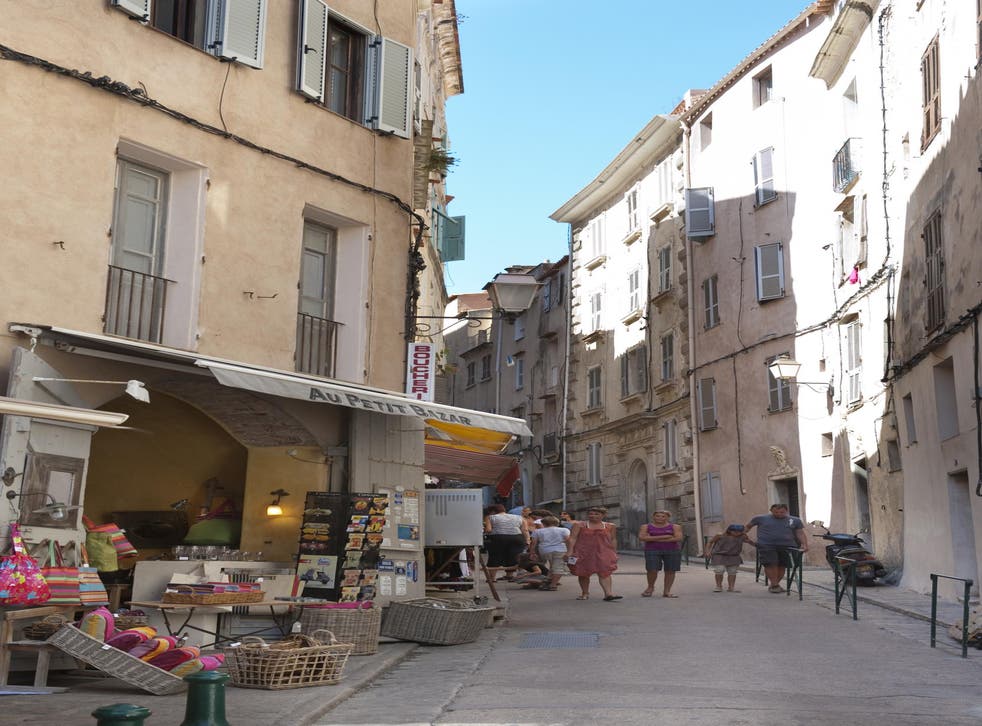 Corsica: why a week on the French island is not nearly long enough
This fiercely proud Mediterranean island dazzles with its diving opportunities, clifftop towns, cosmopolitan crowd and beautiful beaches
Richard Waters Comments
"One of these days I'll actually listen to what I'm being told," I chide myself as the first naked couple walks past me, birthday suits nut-brown in the soft light of a Corsican dawn. Thinking about it, the lady from Hippocampe Dive Centre who was about to spirit me to the nearby Cerbical Islands, had mentioned something about diving naturists in a nature reserve, but I only caught the "nature reserve" bit. A moment later, having passed more unreserved natural bits, and fully clothed in my Englishman-abroad attire, I am rapidly disrobed by Germanic dive master Karin and spooned into a wetsuit to join the awaiting divers in the Zodiac rib. Five minutes later, the air cool and brackish, a dolphin not 20 metres away wheeling in the silky deep, I spot the distant specks of the Cerbical Isles; one of the best spots around Corsica for diving, home to underwater canyons, menacing moray eels, and fat-lipped giant groupers. I'm here in Corsica's extreme south to dive, unwind and seek out the softest, sandiest beaches. For years I've been tempted to come to this mountainous island southeast of the French mainland, but have either been put off by the rumour it's astronomically expensive, or the suggestion that Corsicans are not particularly welcoming. I quickly discover I'm wrong on both counts.
My base has been La Cuve Apartments, a five-minute walk from Porto Vecchio's swaggering harbour on the south-east coast, with its pavement bars and bobbing millionaires' yachts. A former wine storage house with Cyclopean-thick walls, my apartment is all Gustavian greys and Scandinavian simplicity, stylish wood furniture, polished cement floors and industrial-chic lighting. The balcony overlooks a salt-marsh nature reserve back-dropped by the Ospedale Mountains. In the dawn light its water reflects the peach sky, gracefully silhouetted by the frames of storks alighting upon boulders. Visitors at this time of year are likely also to be greeted by flamingos.
But the real drama had been above me on the hill. Punctuated by the spire of St Jean Baptiste Church, the old town citadel of Porto Vecchio, built by the Genoese in the early 16th century, is today a confection of narrow streets spilling with fresh produce, cafes and restaurants piping refreshing mist across checked-cloth tables, and gorgeously classy boutiques and cobbles that predate Bonaparte (who was born in Corsica). Earlier that week, I had sought refuge from the fierce midday sun in the stained-glass serenity of the citadel's granite 19th-century St Jean Baptiste church. Later, having wandered the battlements, I took a seat beside an old carousel ride in tiny Place de la République and people-watched a cosmo crowd of French mainlanders, sinewy Corsicans and the occasional well-heeled Brit. Much of the citadel's charm is in sampling its local cuisine, washed down with a Pietra, the locally brewed beer blended with chestnuts to produce a distinctly nutty taste. Close to St Jean Baptiste Church, U Spuntinu Restaurant served a tantalising array of local cheese such as brocciu (made from whey and goat's milk), charcuterie, and traditional courgette beignets with mint.
Come evening, old town Porto Vecchio concocted a vivid atmosphere – dressed-to-the-nines beautiful people, boutiques hawking Panama hats, restaurants clinging to the vertiginous cliff-face dishing up moules marinière – and all the while the carousel horses silently galloping around Place de la République with metronomic frequency. It felt deliciously Italian, while at the same time French… though essentially Corsican. Confusing isn't it? You see everybody from the Genoans to the French (and even briefly the British), have taken an interest in shaping the island's history. That said, Corsicans are fiercely Corsican, and in their eyes that's decidedly not French. In a history spanning 4,000 years the Gauls appear as a mere 200 year-old footnote.
As to beaches, Palombaggia, 12km south of Porto Vecchio, was my first encounter with perfection; its sand indulgently fine between my toes, the sea a rich peacock-blue. From a backdrop of Aleppo pine forest, a cow wandered diffidently down the beach towards me. I made a mental note that a week was not going to be long enough here. Come the end of the day, nearby A Chabraca Restaurant fired up delicious pizzas, served to beautiful sunset views and by the friendliest staff.
My next destination was to Corsica's oldest town, the cliff-top citadel of medieval Bonifacio, half an hour's drive south of Porto Vecchio. Only 12km from Sardinia (clearly visible), the place is an enchanting warren of Escheresque streets, sun-blasted buildings and mercifully, ice cream parlours at every turn. Viewed from the sea, its buildings look as if they're an extension of the striated 70m-high cliffs they surge from. I could have taken the punishing climb up the Montée Rastello and Montée St-Roch steps which head into the old town and on through the Genoa Gate for the celebrated view of the Grain de Sable, a limestone sea stack; but now lazily in sync with Corsica's sleepy rhythms, I instead drove up the to the top of the hill, parking by the Mariners' Cemetery with its ornate mausoleums glowering seaward.
Bonifacio is abundant with street-side cafes. Stomach rumbling and tempted by its white stone interior and panoramic sea views, I chose U Castillé. An entrecôte with pepper sauce, Dauphinoise potatoes and glass of house wine cost a reasonable €25. If you're lucky you can bag a table on the balcony, though be prepared to leave your stomach inside, the drop is dramatic to say the least.
To appreciate fully the visual feast of this little town perched upon cliffs it's best to see it from the water, and catching an excursion boat from Bonifacio marina to the nearby Lavezzi Isles is the best way to do it. These uninhabited outcrops are quiet off-season, their protected marine waters home to scorpion fish, barracuda and stunning, blood-red gorgonian coral. It was around the Lavezzi Isles Odysseus is said to have come across the cannibalistic Laestrygonians. By dusk, the tightly packed houses of Bonifacio looked like tiny ornaments upon the ragged cliffs, their pastel shades a burnt amber in the setting sun.
The remainder of my week took on a turquoise complexion. Rondinara beach, 22km south of Porto Vecchio toward Bonifacio, was a favourite; its horseshoe-shaped bay threaded with teal and aquamarine, and perfectly sheltered for paddle-boarding and swimming. More cows wandered photogenically across the sand, and there was a restaurant-bar for lunch. Once I'd found Rondinara I gave up looking for anything better.
So back to my last day and I'm 18m-deep in navy Med, beneath me a canyon disappearing into the murk of the Cerbical Isles. Stacked at polite intervals like planes waiting to land, float giant groupers, as a string of large barracuda swim menacingly past. Karin, my Hippocampe dive master shines her torch upon starfish and recesses in the cliff wall, lighting-up submarine dramas of scuttling shrimp and moon-eyed pink fish. And then like all good things my enchanting dive is over, as is my holiday. A week? Not nearly long enough.
Travel essentials
Richard Waters travelled as a guest of Corsican Places (01489 866 931; corsica.co.uk) which offers holidays to Corsica from £349pp including flights and car hire or transfers.
Hippocampe Dive Centre (hippocampe.de; 00 33 60 999 3633; dives from €51 including equipment).
U Spuntinu Restaurant, Porto Vecchio (00 33 4 95 72 28 33).
U Castillé, Bonifacio (00 33 4 95 73 04 99).
Find hotels and resorts in Corsica and book your holiday today!
Register for free to continue reading
Registration is a free and easy way to support our truly independent journalism
By registering, you will also enjoy limited access to Premium articles, exclusive newsletters, commenting, and virtual events with our leading journalists
Already have an account? sign in
Join our new commenting forum
Join thought-provoking conversations, follow other Independent readers and see their replies