Cyprus reunification: Would landmark peace deal ruin island's natural beauty?
As talks heat up in Switzerland, Darren Loucaides ponders the future impact of tourism on the untouched north of the island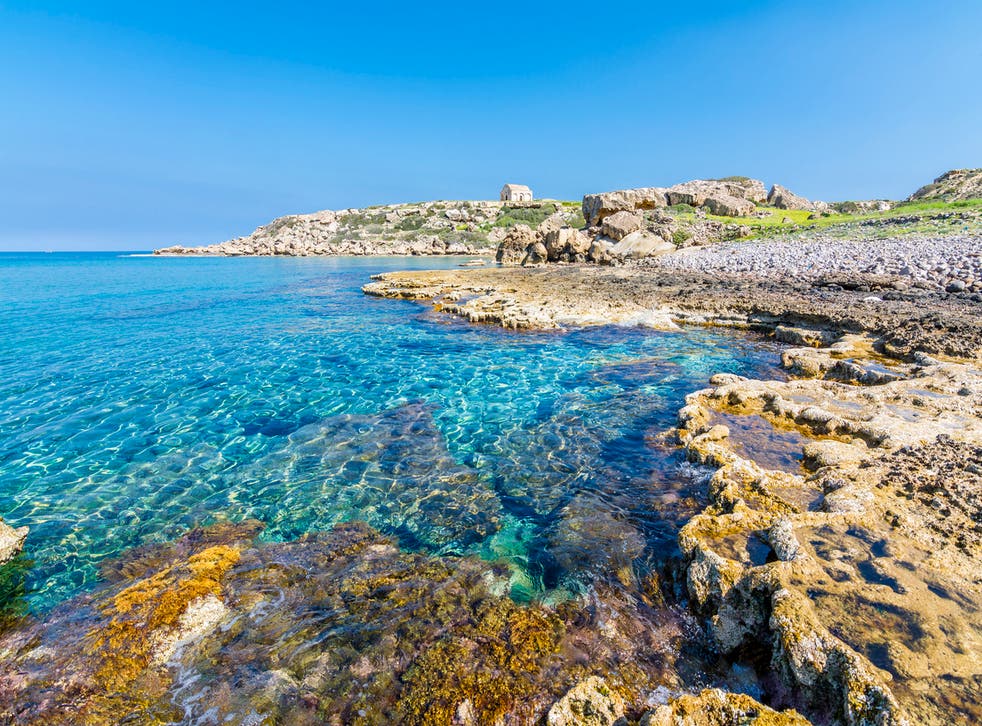 Hills speckled with the white blossom of almond trees heave around me. The road ahead winds down towards a 500-year-old monastery – apart from which there's hardly a building in sight. Verdant and tranquil, it's a scene that epitomises Cyprus's rural heart.
I'm near the tiny inland village of Vavla, south Cyprus, which couldn't be more different from the coastal city of Larnaca where I landed earlier this morning. There, making a beeline for the coast in the hope of dramatic Mediterranean seaviews, I was instead confronted by rows of hotels marching along the shore, just like any other built-up beach town.
And yet Cyprus isn't your average sun-and-sea destination right now. The island is on the verge of making history. Greek and Turkish Cypriot leaders are in Switzerland for landmark talks on reunification (Cyprus has been split since 1974, when a Greek-linked coup sparked Turkish military intervention). In the hopes of a deal being close, UN Secretary General António Guterres flew in last Friday and returned for further dialogue yesterday, joining the likes of Boris Johnson representing the UK as guarantor power.
Aside from sending a powerful message of peace, unification would unlock the economic potential of north Cyprus. For one thing, the tourism industry remains embryonic due to its isolation – only Turkey recognises the territory.
"It is one of the few places in the Mediterranean which has preserved its character and natural environment," says İsmet Esenyel, Undersecretary of the Ministry of Tourism and Environment in north Cyprus. "We still have golden, sandy beaches where there is no development at all – no buildings, no sun-loungers."
The challenge is that in the event of a deal, Larnaca-style mass tourism could run rampant, ruining the north's natural beauty.
At first, it seems anything but unspoilt as I cross the UN buffer zone in Nicosia, Europe's last divided capital. Along the sandbag-and-barbed-wire-strewn Green Line that divides the two territories, many buildings are half collapsed. One of the few hints of tourism is a giant tube-shaped hotel that wouldn't look out of place in Las Vegas, and lit accordingly by night. The glamorous sheen conceals a seedier underbelly inside, where the ground floor is given over to a huge bloke-filled casino.
Drive in any direction from Nicosia, however, and it's mostly idyllic countryside until you reach the coast, where the few ostensible signs of tourism tend towards resorts. Much of the coastline is protected by environmental laws, and the Karpas peninsula on Cyprus's northeastern tip has changed little in millennia. But I can't help thinking what a political settlement and subsequent investment will do to all this natural beauty.
It could do worse than to learn from the south's long experience of tourism.
While the southern Republic of Cyprus was for many years subject to a hotel building fever, the trend is starting to swing towards a more responsible tourism, one that revolves around Cypriots' rich culture and history.
"The villages have a lot of things to offer right now. We have many traditional buildings that have been restored – offering an alternative holiday in the countryside," says Evie Panayiotou from Cyprus Agrotourism Company, which counts members in 60 villages with more than 1,500 beds. By 2020, Panayiotou expects the number to have doubled.
Which brings me back to Vavla, a half-hour drive from the southern coastal hub of Limassol.
An old stone hamlet that until recently was home to just a handful of families, Vavla is one of many villages enjoying a new lease of life, in part thanks to a government offer to fund half the cost of a traditional house's restoration. Across inland Cyprus, locals are renovating their old family properties as a result, and turning them into agrotourism businesses.
One such property is Vavla Rustic Retreat, which has been in the Polis family for four generations. A world away from Larnaca, this white stone building is huddled round a courtyard of giant urns, flowerpots, trees and a restored well (no longer in use). The rooms are furnished with dark wood and historic finds from the restoration works. It's the height of rustic chic. But it almost didn't exist.
"My grandfather lived here – they had animals, grew their own food," says Anastasios Polis. His father came here to hunt, but later suggested selling the property. Anastasios instead persuaded his parents to restore it, arguing that it was a "jewel, which once given away, is lost forever".
Anastastios's wife Kelley, who handles the day-to-day management of the agrotourism, believes that preserving Cyprus's cultural heritage is vital. "Every village is unique, which I love," she says. "In Vavla the stone is white, but in the next village it'll be a different colour. You feel the difference in materials, and somehow you feel it in the people, too."
The Polis family have become part of a growing local network that lets visitors become a beekeeper for a day, or trek over to the nearby winery to try the local tipples. Next door to Vavla Rustic Retreat is another agrotourism spot called Our House, home to Vavla-born George Pavlou and his wife Donna Marie. Apart from the four guest rooms, the couple offer traditional Cypriot meals made with vegetables from their own garden. Be sure to try the wild asparagus soup, and galaktompoureko, a custard-filled filo pastry.
"We're still living life as it would have been here years ago," says Donna. "Things aren't so hard today, but we use the old tools, we make fresh bread in the stone oven. When you come here, we want it to feel like your home – a real Cypriot home."
It remains to be seen what will come of the current talks in Switzerland. But I can think of few better models for tourism in a unified Cyprus than Vavla.
Travel essentials
Staying there
Doubles at Vavla Rustic Retreat (vavlarusticretreat.com) from €65, room only.
Our House (countryhousecyprus.com) from €85, room only.
More information
Register for free to continue reading
Registration is a free and easy way to support our truly independent journalism
By registering, you will also enjoy limited access to Premium articles, exclusive newsletters, commenting, and virtual events with our leading journalists
Already have an account? sign in
Register for free to continue reading
Registration is a free and easy way to support our truly independent journalism
By registering, you will also enjoy limited access to Premium articles, exclusive newsletters, commenting, and virtual events with our leading journalists
Already have an account? sign in
Join our new commenting forum
Join thought-provoking conversations, follow other Independent readers and see their replies