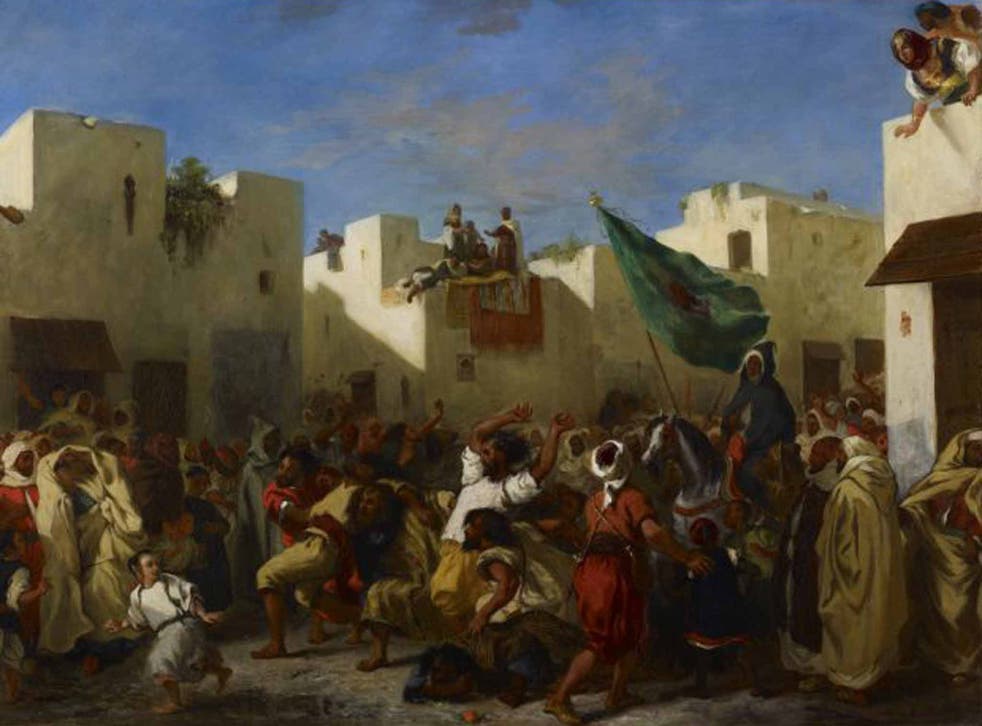 Delacroix's Paris: The presence of the artist who embodied liberté, égalité and fraternité looms large
The galleries of the French capital are unusually quiet, says Michael Hodges, which makes it easier to enjoy the work of the impetuous Parisian who changed the course of art in the 19th century
Walking through the Louvre has been a strange experience since the start of the year – you can see the art. For the first time in decades the great high-ceilinged galleries, endless corridors and grand staircases have been free of crowds and it has been possible to stand undisturbed in front of world famous works without being jostled, jolted or having your toes trodden on.
It's an unsettling reminder that the effects of last year's Paris terror attacks, centred on the offices of Charlie Hebdo and the Bataclan theatre, have been dramatic for the city's museums and galleries. School trips were cancelled and tourists stayed away. One Louvre manager told me that visitor numbers had dropped by 40 per cent.
Many who still came made their way, understandably, to the Mona Lisa, which despite the falling numbers still contrives to be busy. But if you are at all taken by Eugène Delacroix, the handsome and wildly impetuous Parisian whose obsession with colour and taste for the volcanically dramatic changed the course of art in the 19th century, you'll find a comparatively crowd-free treasure trove upstairs in room 77.
This is the French painters, or "red", gallery, and here among greats such as Géricault's The Raft of the Medusa (which Delacroix modelled for) you now have the space to be overwhelmed by the sheer scale and ambition of Delacroix's work. This includes The Barque of Dante (the picture that had announced his arrival at the 1822 Paris salon), Death of Sardanapalus, Women of Algiers and the monumental Massacre at Chios, his despairing portrayal of the miseries of Greece's independence struggle with the Ottoman Empire.
Delacroix represented Chios in the 1800s much as our media perceives other Greek islands now – a scene of death and despair. And 153 years after his own death, much of Delacroix's subject matter can seem remarkably contemporary. In Convulsionists of Tangier, one of the stars of Delacroix and the Rise of Modern Art, this spring's stand-out show at the National Gallery, Delacroix catches the danger and clamour of a North African street scene as the frenzied adherents of a Muslim sect make their way through the crowd. There could hardly be a more uncomfortably apposite subject matter for the citizens of Paris today, but it would be a disaster for all of us if the City of Light's galleries and museums were not to recover from their present travails.
Happily the arrival in London of Delacroix, that most Parisian of artists, gives us a very good reason to visit Paris. Delacroix and the Birth of Modernism is full of wonders but there is much of the artist's work in his home city that cannot come to London simply because, like his ceilings in the Senate library at the Luxembourg Palace and the Galerie d'Apollon at the Louvre, it is already attached to a building. And actual pictures in frames, such as Massacre at Chios, are too iconic to move anywhere.
It is quite possible that you haven't seen some of Delacroix's lesser-known but extremely important work in Paris. The Church of Saint-Sulpice, the second biggest church in the city after Notre-Dame, is a Baroque-cum-Neoclassical pile in the 6th arrondissement: 160 years ago it was the scene of a remarkable artistic event, when a series of giant murals by Delacroix was unveiled to the public.
The vividness, colour and movement of one mural in particular, Jacob wrestling with the Angel, came as a revelation from a man who was supposed to be past his best. Artists and ordinary Parisians alike flocked to Saint-Sulpice. Manet and other soon-to-be-Impressionists lined up to view work that apparently revealed the future of art.
Today, you will not have to queue; simply walk up the steps and turn right, enter the chapel of the Holy Angels and there the murals are. When I visited in January a team of conservators was still at work cleaning the murals and I was able to climb up and go eye-to-ankle with Jacob.
Now the scaffold is coming down and you are free to engage fully with what the 19th-century writer and critic Barrès called "a powerful exaltation of the human soul in all its mystery".
When Delacroix received the Saint-Sulpice commission in 1847 he took a nearby property to be close to a job that would last for 15 years. Delacroix only rented the house, but in 1857 he spent 87,000 franc d'or on it – the equivalent of £3m today – creating a studio and home. This is now the Delacroix Museum, a pleasant 10-minute walk from Saint-Sulpice. Fronting a cobble-stoned courtyard, at the back it features the only extant purpose-built studio by an artist in the city.
Directly outside the studio there is a small but delightful garden that horticulturalists from the Tuileries have restored. The garden now looks, they claim, as it did when Delacroix peered out from his studio's picture window and confided to a correspondent: "The view of my little garden and the cheerful appearance of my studio always makes me happy." Inside there are paintings, pastels, drawings and prints by Delacroix as well as his letters – he was a prodigious journal keeper and letter writer – and the objects he collected.
Some of these were picked up on Delacroix's life-changing trip to North Africa in 1832 when he was 34. In Morocco and Algeria Delacroix developed an interest in Arab culture, which had a great effect on the development of both his own art and that of those who followed.
Across town the Picasso Museum, which recently celebrated its 30th anniversary, has the preparatory sketches for Picasso's Les Femmes d'Alger inspired, to the point of being an homage, by Delacroix's Women of Algiers in their Apartment. Security is high at the Picasso museum and large bags particularly unwelcome, so avoid popping in on your way back to the Gare du Nord.
Security is high also at the Senate. The upper chamber of the French parliament is housed in the Luxembourg Palace where there are sprawling gardens, within which you can find Jules Dalou's 1890 monument to Delacroix which, if you go in August, is also a fountain.
The palace was built for Marie de Medici in the 17th century. Napoleon decreed it the seat of the senate in 1799 and a reading room was added in the 1830s. In 1840, Delacroix was commissioned to paint the seven-metre wide (3.5m deep) dome, for which he recreated a scene from Dante's Divine Comedy. Around a central area of intensely blue sky – which looks like a hole has been punched through the roof on a summer's day – Delacroix arranges the 13th-century poet's cast amid sylvan glades. Trajan, Caesar and Cato gaze across the dome to Homer, Aristotle and Orpheus on the other side.
Among the Greeks, Romans and deities you'll also find Dante himself and Virgil, the poet's guide through the inferno. It is claimed Virgil is Delacroix and Dante his great friend the Polish composer Frédéric Chopin. Also up there in the ancient crowd is George Sand, the French novelist and occasional cross-dresser, who broke Chopin's heart so profoundly that she has been blamed for his early death at 39, and who became muse to Gustave Flaubert in her old age.
Beneath the (very) dramatic personae there is an arbour in which Alexander the Great is framed by palm trees, another remnant of the painter's visit to North Africa. The profound effect of that experience seems to have increased with time. Delacroix's last ever painting, produced entirely from memory, was Arab Skirmish in the Mountains.
Towards the end of his life, weakened by illness, Delacroix withdrew from public view. Manet and Monet came to his door ready to proclaim him the father of their new movement but he had little time to see them. When he died in 1863 his best-known painting, as it is now, was Liberty Leading the People, an iconic depiction of the 1830 revolutionary mob following the fearless and bare chested Marianne as she mounts the barricades, tricolour in hand. Printed on 20 franc notes, reproduced on coffee cups, key rings and T-shirts, it has come, for much of the world, to represent liberté, egalité and fraternité.
These, along with the unfortunate citizens of Paris, were the very things that came under assault in last year's attacks. If you find the horror of those events still leaves you nervous of visiting Paris, you can see Liberty Leading the People at the Louvre's northern extension in Lens.
Back in the galleries of the main museum in Paris, there is another Delacroix work that didn't come to London. His ceiling in the Galerie d'Apollon shows Apollo killing the serpent Python, a triumph of light over darkness that seems redolent in present circumstances. For now, you can look up at the intense greens, reds and yellows without anyone bumping into you. But, hopefully, not for long.
'Delacroix and the Rise of Modern Art' runs at the National Gallery in London until 22 May (nationalgallery.org.uk; £16)
Getting there
Eurostar (08705 186 186; eurostar.com) connects London St Pancras, Ebbsfleet and Ashford with Paris Gare du Nord.
Flights from most UK airports arrive at Charles de Gaulle airport, 26km to the north. Some flights arrive at Orly, 15km to the south.
Visiting there
The Louvre (00 33 1 40 20 53 17; louvre.fr/en). Delacroix and Ancient Art runs until 7 March (museum closed Tuesdays).
Luxembourg Palace (00 33 1 42 34 20 00; senat.fr).
Church of Saint Sulpice (00 33 1 42 34 59 98).
Delacroix Museum (00 33 1 44 41 86 50; musee-delacroix.fr; closed Tuesdays).
Picasso Museum (00 33 1 85 56 00 36; museepicassoparis.fr; closed Mondays).
More information
Join our new commenting forum
Join thought-provoking conversations, follow other Independent readers and see their replies