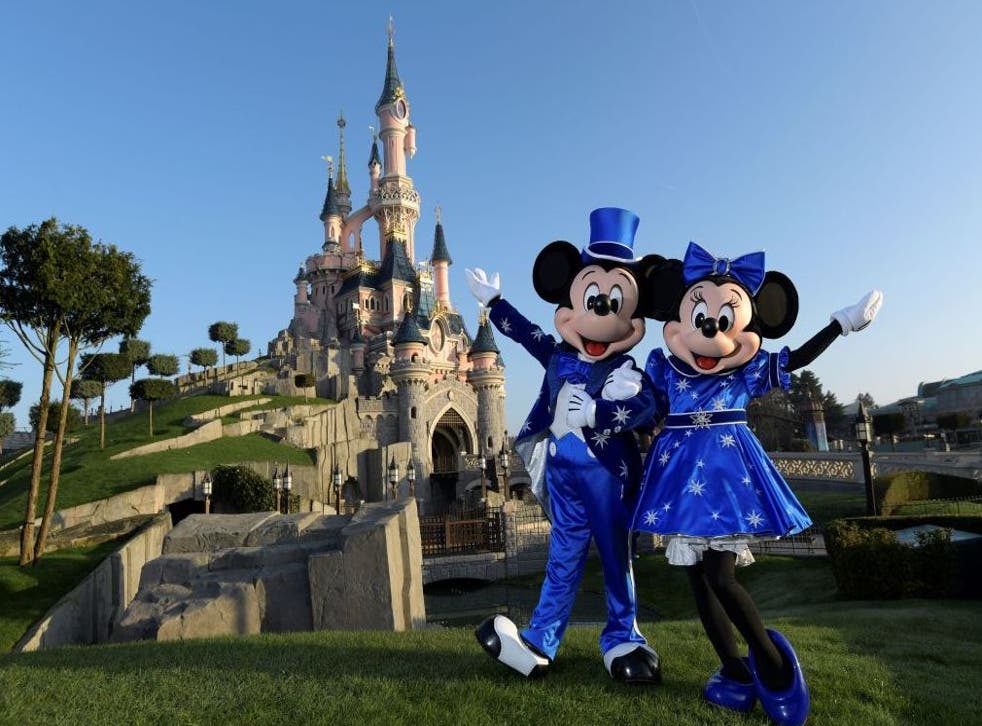 Disneyland Paris: What's it like to work as a character at the world's most famous theme parks?
Playing Mickey Mouse at Disneyland may sound like the ultimate job, but there's more to being the world's most famous rodent than meets the eye
Disneyland Paris opened 25 years ago as Euro Disney in Paris, with the aim of recreating the magic that its American parks had established. With its Sleeping Beauty Castle at the helm of the park, characters busily entertaining the 4,000 daily visitors and various 30-minute parades happening throughout the day, there's a huge amount of work that goes on behind the scenes to keep the magical kingdom alive.
And I got to experience it for myself – over 15 years ago, I worked as a cast member at the park. Here's what they don't tell you about playing a Disney character.
Characters must be seen and not heard
Don't be offended if you talk to Mickey and he doesn't talk back – characters aren't allowed to speak while in costume. At all. They also have minders with them – bodyguards, if you will – who make sure that they are safe at all times. This is handy; when you can barely see out of a costume, you really don't want to walk into a bin, or worse, a child. It's also pretty hot in there. Just imagine around three layers of clothing, plus a little fur for good measure. So while drips of sweat fall down their faces, try and be gentle when you're crowding round for a selfie.
Mickey comes with height restrictions
Not just anyone can be Mickey. You have to be a certain height to play him – and the same goes for Winnie and Pluto too. I was too tall to be Mickey and Minnie and way too small to be Pluto or Cinderella, much to my disappointment. The costumes are designed to fit people of certain heights; the Chipmunks, Winnie the Pooh and Alice in Wonderland were all perfect for my 5ft 1 frame. Sometimes it helps to be the same height as a young girl! My 6ft tall friends played Tigger and Goofy – towering over the crowds on Main Street parade, you could always see them a mile off.
There's a Disney University
Most people assume that the people who play characters just jump into a suit and start bouncing around like a crazy person. But it takes at least a week to train as one. The first stop is Disney University, where you get to brush up on all things Disney for the day: do you know Mickey's first cartoon? Or how many Disney parks there are in the world? You will after you graduate. Then there are rehearsals, where you'll learn your character's key movements, how to get into costume, how you sign their name when doing autographs and the dances for the shows. It's all about being as smiley as possible, especially if you're a face character. Or, in Mary Poppins' case, learning how to say "Spit Spot" in an authentic RP English accent.
Backstage is immense
There's a whole world backstage at Disneyland, with buses and bikes to get around - and there's even a Starbucks. It's a bit like any workplace really, with offices, changing rooms and places to eat. The big main building is housed at the back of the park, where all the characters' costumes are kept and everyone meets on their break times. The easiest way to get around is by bus – how else do you think the characters flit from the various photo call locations to the start of parades, plus manage to get changed, all without being noticed by children?
Breaking character is forbidden
Disney is all about magic, and no one wants to ruin it by getting caught smoking a fag dressed as Cinderella. You can't come out of character until you are officially offsite – little people checks are done way before Pluto is able to become more human.
The parades are a lot of work
A lot of the cast members come together for this – operating the floats, getting into character and dancing their way through the park. The whole route takes just over 30 minutes and snakes from the back to the front of the park. As a dancer you had to learn the routine and then add in parts which allowed you to move forward down the parade route – otherwise you got taken out by a float. The crowds were the best part about it, with nearly half the park waiting for hours to see their favourite characters. I loved the thrill of dancing down the parade route and seeing people's reactions; sometimes the parents looked more excited than the children.
It's like being famous
While sitting on a moving parade float, dressed in a wig and waving, my face would ache from smiling too much. But I loved it. It's a bit of an honour to be chosen as a face character, and despite being too small to be a princess, and after an extra audition, I got chosen to be Alice in Wonderland. People lined the route when the parades started, and as we reached the castle it would hit me that I was waving to my adoring fans – okay Alice's – and, just for those 30 minutes, it was like I was famous.
Join our new commenting forum
Join thought-provoking conversations, follow other Independent readers and see their replies