Skyrunning in the Dolomites: forget hiking and run amid the mountaintops
Exploring Italy's South Tyrol region on foot needn't mean walking - it's time to pick up the pace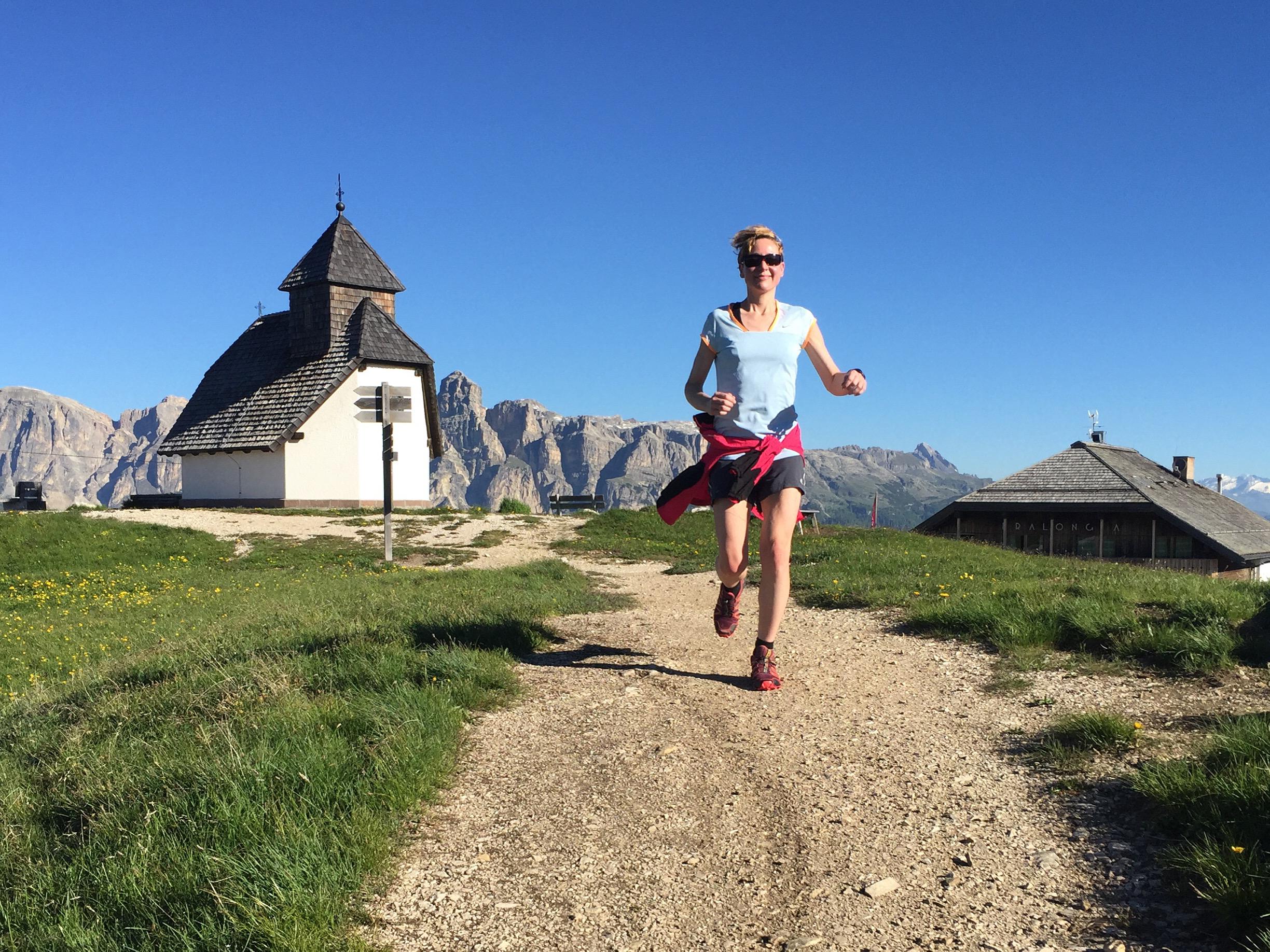 There was nothing between me and the deep blue sky. A blue to make Farrow & Ball weep into their paint pots and surrender to the superiority of nature. Mountains reared all around: the dramatic immediacy of the Italian Dolomites, the frosted Austrian Alps in the distance. Meadows beamed with wildflowers and a metal cross marking the 2,157m summit of the Pralongià Plateau raised its arms to the heavens. I felt like doing the same.
I was sweaty but elated. And, at this pre-breakfast hour, alone except for my equally sweaty partner and Filippo, the man-of-the-mountains who'd led us up here — at a decent jog. This was our first foray into skyrunning, and I felt on top of the world. This sport "created" by Italian mountaineer Marino Giacometti in the Nineties is defined as "running above an elevation of 2,000m, where the incline exceeds 30 per cent". Or, as Filippo put it: "It's starting from the village, going up to the top of the peak, then back down — a little bit scrambling, a little bit climbing."
We'd started from the Rosa Alpina Hotel in the village of San Cassiano, tucked into the Italian South Tyrol's Alta Badia valley. The hotel launched a three-night skyrunning package this summer, comprising two two-hour guided runs, tailored to your ability, as well as massages and more food than you could hope to run off over a long weekend.
On arrival we'd read the hotel newsletter, which offered a little mantra: "Life begins at the end of your comfort zone." As we broke into a trot, heading away from the church, across the river and towards the hills, I guessed I was about to find out if that was true.
Tanned and unassuming, Filippo, it turned out, holds the record for the fastest ascent of 3,343m Marmolada, highpoint of the Dolomites. Fortunately he was taking it "easy" with us on day one — we'd discussed our fitness levels and aspirations with him the night before, so he'd planned accordingly. We were starting on a trail that was wide and gravelly — not too technical, no agile mountain-goating required. But it was relentlessly up: through pine forest, by wooden hay-shacks, alongside fields of forget-me-nots and globe flowers.
"Skyrunning is freedom," Filippo explained as we huffed and panted. "You wear shorts, T-shirt, tie a jacket around your waist — that's it." Any tips? "Take small, light steps; if you need to walk, press your hands on your thighs for extra power."
I was pleased that walking was allowed, and that the scenery justified plenty of photo (recovery) stops. Every stride revealed more mountains, the views taking away any breath I had left. Eventually, after 600m of vertical ascent, we reached Pralongià's summit. From here, Filippo pointed out beefy Marmolada, the Sella Massif, tower-like Sassongher and his favourite training hill, scored by First World War trenches — a reminder that this high-altitude playground was once a frontline.
After tracing a grassy ridge it was downhill all the way back to San Cassiano — easier on the lungs, tougher on the knees. I was envious of Filippo's running poles, light as pencils, which helped take his strain. I would feel this tomorrow...
Run done, we set about recuperating. We had Alpine herb massages with arnica and pine, designed to relieve muscle tension. We used the valley's extensive cable-car network to access limb-stretching strolls amid the flower-bright mountains. We even tried yoga at the base of a waterfall — good for the soul, though our stiff salutations seemed to incite not sun but thunder, which rolled ominously around the peaks.
Less ideal preparation for the next day's run was dinner at Rosa Alpina's two-Michelin-starred St Hubertus restaurant. While pre-exercise fuelling is important, Mo Farah probably wouldn't opt for a five-course-plus-extras banquet including petal salad, beetroot gnocchi with beer soil and beef cooked in hay. Or a wine list so hefty it required its own table. Did it set us up for a run? No. Did we care, as we savoured silky porcini-sabayon tortellini? Not a jot.
So, fuzzy-headed and heavy-limbed, we set off again with Filippo the next morning. This time we drove further up the valley — today's skyrun would involve less ascent but a more technical, uneven trail.
"Today we're fog-running," said Filippo as we set off from the Valparola Pass into a low murk. However, the fog lifted in a flash, revealing an Alpine bowl of splendour. Soon we were bouncing over boggy grass, hurdling tree roots, skipping along skinny tracks and balancing on boulders, skirting around the seven-peaked Setsas massif.
It was, in fact, less exhausting than the previous day's climb. "This is more head than heart," confirmed Filippo as we descended a slippy crevice via an iron cable. All but the most skilled skyrunners will walk when necessary, carefully picking the safest route. "Do you often fall?" I asked. "Sometimes," Filippo answered. "But you must fall like a child — get straight back up."
The slower pace allowed more opportunity for admiring the mountains, which — at this early hour — we shared with only chamois and marmots. As we neared our run's end, dashing down a buttercup-bright meadow, it was all I could do not to burst into song: the hills were alive and I was too.
It would be tough to top such a morning but that evening came close. The Rosa Alpina owns a private mountain-side hut. It has no electricity or running water but it has a huge wood-burner and a barbecue, on which Carlos, a sous-chef from St Hubertus, cooked a huge meat feast (well, protein is essential for run-recovery...). Carlos then left us alone with a white Friuli and hunks of strudel to watch the sinking sun paint the peaks red-pink — the "enrosadira". Another colour unique to Mother Nature.
Travel essentials
Getting and staying there
Rosa Alpina Hotel & Spa's three-night skyrunning package, from €1,855pp, includes half-board and one night in a cabin (00 39 0471 849500; rosalpina.it).
Powder Byrne (020 8246 5300; powderbyrne.com) arranges breaks at Rosa Alpina from £1,695pp B&B for five nights; flights extra.
More information
Join our commenting forum
Join thought-provoking conversations, follow other Independent readers and see their replies