Dolphins off the port bow ... but for how much longer?
The bottlenose dolphin, a symbol of ancient Greece, is now under threat. Andrea Catherwood joins scientists trying to save this Ionian treasure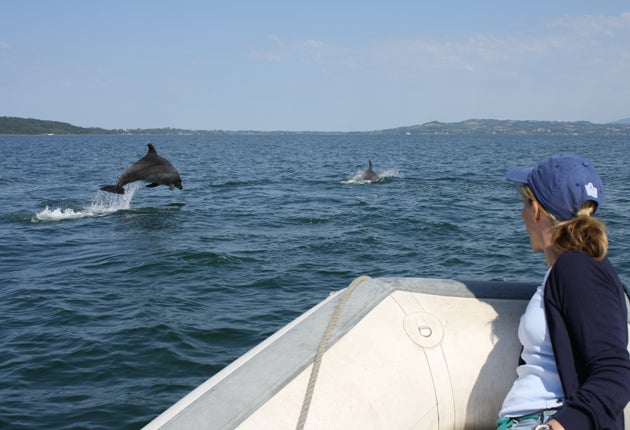 Secretly, I've wanted to be a marine biologist in the Ionian sea since I saw For Your Eyes Only, aged 11. I dreamt of being a scuba diving scientist – Bond girl, white-hot in a bikini yet surprisingly useful with a crossbow, although obviously without my parents being eradicated by a megalomaniac bent on world domination.
Now, decades on, I withhold that particular nugget as I introduce myself to my fellow travellers, sitting around the kitchen table of the field station that's to be our home for the next 10 days. We're here to share, briefly, the lives of the scientists who study and strive to protect that symbol of ancient Greece, the vulnerable and increasingly rare bottlenose dolphin.
Our expedition is organised by the environmental charity Earthwatch and is no dolphin-watching eco-tour: we're here as volunteers to help with research and the money we pay for the experience helps to fund the project. Unlike the myriad tour operators who've jumped on the green bandwagon, Earthwatch – which has organised global expeditions for almost 40 years – makes no profit.
A trip that "gives something back" may be a perfect atonement for the gluttony and excess of seven-star Dubai or chic minimalist hotels in areas of outstanding poverty; places with 12 staff to every guest, each paid less than the child who sewed the sequins on your kaftan. Instead, Earthwatch offers "an intense hands-on connection that gives you an appreciation of the earth's richness and quiet majesty". Gosh.
To make this connection we've already journeyed five and a half hours north-west of Athens by bus to Vonitsa. The port is dominated by the remains of a castle built in Byzantine times and attacked and then rebuilt by, variously, the Venetians, Turks and Greeks. Its colourful past owes much to its strategic position on the Amvrakikos Gulf, a huge basin of water linked to the Ionian by a narrow channel. Today, it's a sleepy backwater and home to the largest known concentration of bottlenose dolphins in the Mediterranean.
A charismatic Catalan, biologist Joan Gonzalvo from the Tethys Research Institute, runs the team I joined. The institute is a private non-profit organisation specialising in the study of whales and dolphins. Joan's Swedish research assistant, Christina, is studying for her Master's degree in London. The third permanent member of the team is Joan's dog, Poseidon, once a stray, now domesticated.
The common dolphin was once prolific in the seas just outside the gulf around the island of Kalamos, but in just 10 years numbers have fallen from about 150 to fewer than a dozen. The culprit is unsustainable commercial fishing with vast nets that empty the water and wreck the sea bed. This has turned what was once a marine paradise into a desert and has starved the dolphins of their prey.
Inside the gulf, a ban on commercial fishing has provided some respite for the bottlenose, but now they, too, are under threat from habitat degradation as rivers emptying into it carry increasing levels of pesticides. Joan's hope is that his research will help to publicise the deterioration of the ecosystem and the urgent need to protect the dolphins. "Science is a tool," he tells us. "Research without action is useless." As volunteers we help to collect that information, although the term "citizen scientist" is a step too far for me.
Early the next morning we're bouncing across the flat, calm waters in a little Zodiac. Staring across the dazzling sea it's not hard to imagine the dolphins completing this Greek idyll. Suddenly Joan turns the boat. We shout, we gasp, we totally forget what we learnt in last night's briefing as one, and then another, then another grey back arches out of the blue.
Belatedly we remember instructions. We're supposed to shout clearly over the engine noise "Dolphins out at 10 o'clock" (or wherever). As we point, Joan clicks, capturing the image of their fins. Many have individual markings and the photos will help us to identify them later.
We watch them as they feed, rounding the fish up from deep in the sea, swimming in decreasing circles to drive their prey to the surface and then fighting with the swooping gulls for the spoils. We watch them rest, almost floating, and we even watch as they rise out of the water to check us out, fixing us with their eyes. Most of us have seen dolphins before, but on that first morning we're all overwhelmed.
Over lunch my fellow volunteers, who all happen to have come from the United States, talk about their motivation for choosing this expedition when they could have been counting the eggs of Costa Rican sea turtles or tracking brown hyenas in South Africa. Earthwatch runs more than 60 expeditions to 31 countries. Visiting Greece is a big attraction and, of course, we all agree there's something magical about dolphins.
One of Joan's first tasks is to debunk the myths. We come with the baggage of the romantic associations of Greek mythology, where dolphins are either escorting the gods, or saving drowning sailors. Of all the mammals (please don't call them fish, Joan gets upset) we anthropomorphise, dolphins are up there with puppies and chimps.
Joan strips us of the notion that dolphins smile at us or helpfully nudge our lilo to shore, but his respect for dolphins and his passion to protect them are clear and infectious. With each day we become more absorbed. If luxury holidays promise escapism, Earthwatch expeditions provide immersion in another world.
Each day there's a new breathtaking spectacle. One morning we watch a huge loggerhead turtle sunning himself on the surface of the calm sea. Once, after the hubbub of finding dolphins, Joan cuts the engine. Right beside us, the dolphins are feeding, oblivious to our presence. The only noise comes from the dolphins' blowholes and the slap as they plunge back into the water leaving us collectively silent, mesmerised.
On the water we become better at spotting dolphins, less overawed, more useful to the scientists, as we chart their numbers and movements on a waterproof palmtop computer.
In the late afternoons, I confess, I take a nerdish delight in cropping photographs of the fins we've spotted and trying to match them to those from previous sightings. Each fin is almost like a fingerprint. Scratches and notches, particularly on older dolphins, make them unique and easy, even for novices, to match. The scientists come to know each dolphin and monitor the population over time.
Of course, let's not pretend this was all (or even ever) hard work. Each afternoon, while sensible scientists and locals take a siesta, the mad-dog volunteers enjoy the midday sun. Reinvented as tourists we loll on the beach outside the field station or splash in the sea we've been eyeing from the boat. Sandy pathways shaded by pine trees along the rocky coast lead to a tiny island with a church so film- location perfect I might see if I can get long odds on it being the venue for Madonna's next wedding.
At night we sit in Remezzo's, a friendly, family-run tavern, enjoying a cold beer. We feast on Michalis's exquisite slow roasted lamb as the last light leaves the sky.
Joan says the locals were mystified when the first teams arrived to spend their days with the dolphins, but now it's proving helpful. "Having volunteers from around the world helps to awaken the locals to the fact that they must have something right here that's worth saving."
Local fishermen only have to look in their nets to understand the threat. Once they caught swordfish and tuna in the gulf; now even the shrimps and sardines are harder to find. Generations of fishermen made a living with their nets on this coast for thousands of years, but now they, like the dolphins, are struggling to survive.
When I read in the expedition brochure, "you'll come home with your head full of ideas and your heart bursting with new-found purpose", I thought it sounded a bit too Dr Seuss for cynical old me. But, before I leave, I know I'll never be able to eat non-sustainably fished tuna again, and I wonder if Joan is trying to change the world, one volunteer at a time. "Do you turn all your volunteers into zealots?" I ask. "For a lot of people this is a life-changing experience. What they take back home is the reflection about what they can do as individuals – the slightest change is a positive thing. Small things can lead to large scale changes."
OK, so back when I was hoping to grow up and help Bond save the world from imminent destruction, I didn't think ... "or maybe I'll just do my bit for the planet by making smarter choices". But I do return from my absorbing Earthwatch experience with a quiet determination to do what I can in the hope that, when my own kids grow up and see the amazing pictures of this trip, I don't have to tell them: "Ah, that was back at the beginning of the century when we used to have dolphins in the Mediterranean."
Compact Facts
How to get there
Andrea Catherwood travelled to Greece with Earthwatch (01865 318831; earthwatch.org/europe) on a Dolphins of Greece expedition. There are further departures in September and October. The nine-day trip costs from £1,095 which covers accommodation, training, food, and the offsetting of greenhouse gases. Flights are extra. Athens airport is served from Heathrow by British Airways (0844 493 0787; ba.com) and Olympic Airlines (0871 2000 500; olympicairlines.com); from Stansted by Aegean Airlines (0871 200 0040; aegeanair.com); and from Gatwick, Luton and Manchester by easyJet (0905 821 0905; easyjet.com). Earthwatch will advise on how to reach Vonitsa from Athens at the time of booking.
Further information
Earthwatch also arranges dolphin expeditions along the north-east coast of Scotland.
Join our commenting forum
Join thought-provoking conversations, follow other Independent readers and see their replies