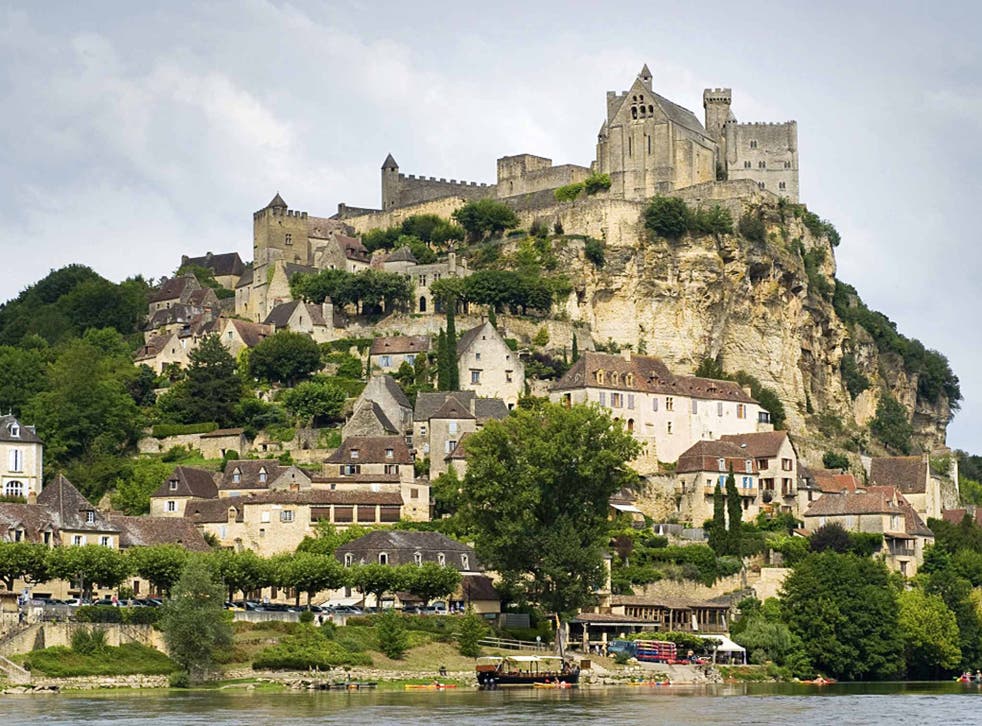 Dordogne caves: ancient history in France
This region is a great base for families, and some even older relations, says Richard Waters
Richard Waters Comments
My son gasps as a blur of fur and claws whistles overhead. A moment later we face a growling cave lion. Well sort of, we can't actually touch it but it's in the mirror opposite, interacting with our reflections. This brilliant feature at Le Thot prehistoric centre also recreates the movements of a mammoth, woolly rhino and giant elk, all of which existed here in the Dordogne around 20,000 years ago – alongside Cro-Magnon man.
Everyone from the Vikings to Julius Caesar passed through the wooded valleys of the Périgord Noir, but the most enduring footprint is that of Cro-Magnon, who lived 40,000 years ago, and whose old cave dwellings litter the place and are wide open for exploration. The Dordogne is tailor-made for our family holiday: my wife's magpie urges are satisfied by a glut of brocantes; my Frozen-obsessed daughter gets her pointy-hat castles at every turn; while my son has a helping of testosterone release through canoeing and cycling. And me? I get to unleash my inner caveman.
Our base is a few kilometres north-east of Sarlat-la-Canéda, itself a delicious maze of medieval cobbled alleys, bubbling with buskers and tempting cafés. With majestic views from its hillside eyrie, Le Domaine Des Mathevies is a family-run camp site where children are safe to run free and where, in place of pitching a tent, we opt for a cosy wooden cabin with two bedrooms and a kitchen.
Between playing pétanque and feasting on just-baked croissants, we walk Maizie the campsite dog past swaying cornfields and vernal hollows. By afternoon, families are drawn to the soaring linden trees, which shade a treehouse and handsome former cattle barn, now the Cosy Nook bar, where you can sip cappuccino, or nibble pizzas. It's an effort to drag my brood from the pool to explore the treasures the Dordogne has waiting for us.
Due east, the Ardèche valley is likely to be overrun after last weekend's grand unveiling of the Pont d'Arc Cave, the vast, multi-million euro recreation of the wall art of the prehistoric Chauvet caves. However, the nearby Vézère valley – former home of Cro-Magnon man some 10,000 to 35,000 years ago – is crying out to be explored and is comparatively quiet. Here, he documented the animals he preyed upon with pictures finely daubed on his cave's walls. The Dordogne's most dramatic examples are 26km north of Sarlat in the caves of Lascaux II with its precise replication of cave art at the original cave 200 metres away; and La Roque Saint-Christophe near the village of Peyzac.
After our close encounter with the cave lion at Le Thot, we stop for an ice cream at pretty Beynac village, where Chocolat was filmed – its cobbled street weaving up a hillside past honey-hued houses and topped by an imposing castle.
Just a short drive upriver and backed by a fairytale roofscape of sandstone spires and a pockmarked troglodyte caves 40 metres above them, Le Roque Gageac is no less arresting. Here we take a river tour on one of Gabares Norbert's handsome flat-hulled old gabares, trading vessels that sail through a potted history of the wars and sieges of the stunning chateaux and castles beside us.
We mimic the river's gentle pace, and our week slips by as we meander through sleepy villages. We also visit the fortress town of Domme, perched on a cliff and with staggering views of the valley, and seek out brocantes and farmers' markets such as the Sunday summer marché at Daglan which is heavy on local truffles and foie gras.
One particularly hot afternoon, we find refreshment in the sleepy riverside village of Saint-Léon-sur-Vézère. Outdoor Adventure offers gentle downriver kayak trips (€23 per person) where the current does all the work as we are awed by majestic chateaux and wave at people taking afternoon dips; all washed with a palette of lemon and lime afternoon light.
Dordogne's high summer days are long and sultry and, in search of both shade and activity, we head to L'Etrier De Vitrac, a well run stables where we hack on ponies through the cool forest. When we want to take things up a gear, the excellent Guillaume at Liberty Cycle obliges with a guided bike tour, taking us through sunflower and cornfields, passing castles and tobacco shacks.
Our last day takes us to the Prehisto Parc near Les Eyzies-de-Tayac. Set in lush woodland, the park has life-sized models of Neanderthal and Cro-Magnon man variously fighting off mammoths, wolves, lions, smilodons and bears.
Thunder cracks through the canopy, the forest suddenly fecund and primal, the faces of the antlered shaman mannequin and his fireside companions strangely animated. "I'm hungry," my son says, cutting through my reverie, "Can we go for a crêpe now?"
Getting there
Richard Waters sailed Dover-Calais with P&O (poferries.com); car and up to nine people from £39 each way. By air, Bergerac is the main gateway, served by Flybe and Ryanair from the UK.
Staying there
Le Domaine Des Mathevies (00 33 5 53 59 20 86; mathevies.com). Chalets £351-£386 per week; pitches £35 per day for a family of four.
Visiting there
Le Thot prehistoric centre (00 33 5 53 05 65 65; semitour.com); Roque St Christophe Fort and Troglodyte Caves (00 33 5 53 50 70 45; roque-st-christophe.com); Les Gabares Norbert (00 33 5 53 29 40 44; norbert.fr); La Belle Etoile (00 33 5 53 29 51 44; belleetoile.fr); L'Etrier De Vitrac (00 33 6 8776 9034; etrierdevitrac.free.fr); Outdoor Adventure (00 33 5 5350 6771; canoevezere.com); Liberty Cycle (00 33 7812 247 879; liberty-cycle.com); Prehisto Parc (00 33 5 53 50 73 19; prehistoparc.fr).
More information
Register for free to continue reading
Registration is a free and easy way to support our truly independent journalism
By registering, you will also enjoy limited access to Premium articles, exclusive newsletters, commenting, and virtual events with our leading journalists
Already have an account? sign in
Join our new commenting forum
Join thought-provoking conversations, follow other Independent readers and see their replies