Ella's excellent adventures in Lululand

Show all 3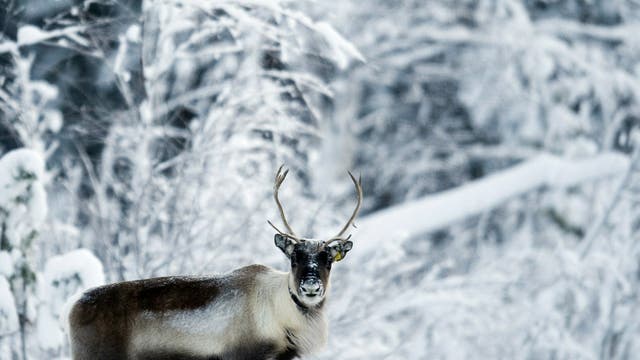 Ella's excellent adventures in Lululand
There's reindeer poo, dog sleds – and lots of snow. Sarah Barrell takes her daughter to a wild and wonderful corner of Lapland
Sarah Barrell
Sunday 18 December 2011 01:00 Comments
Our plane takes off and my daughter cries: "Hallelulea!"
Not a bad effort for a pre-schooler bound for somewhere as fantastical-sounding as Lulea: a snow-covered city on the edge of the frozen Swedish Arctic. In Ella's imagination, Lulea – pronounced "Lu-le-yaw" but now known in our family as "Lululand" – is indistinguishable from Narnia before Aslan triumphed. I'm happy to go along with the fantasy and so, it seems, is our air stewardess, who offers the children on board a lucky dip – Ella gets a silvery tiara fit for the Ice Queen.
When we arrive at Lulea's neat little airport, however, headgear is restricted to a balaclava – accompanied by an all-in-one ski suit, several pairs of thermals and two pairs of gloves. It's pushing minus 20C outside and the frozen air makes breathing a challenge. Ella, unfazed, immediately ditches her gloves and makes for a vast bank of sparkling snow. Less than 90 seconds later she is howling from the cold and, to add insult to injury, the snow is so powdery dry it won't make snowballs.
Here, harsh realities include snow that won't yield to sculpting and temperatures that regularly plummet to minus 25C. But there the hardship ends because what is found in Lulea, and due north into its beautiful, forested Arctic fringes, are low-key Sami villages, herds of wild reindeer, husky-sled safaris, and what has to be one of the most fantastical tree-house hotels in the world.
Lulea city centre appears to be asleep – or perhaps under a frozen spell. Its small clutch of low-rise buildings, coloured the brightest red, seem to hum against the snow-white ground. Built on one of Sweden's largest harbours, the city has been a strategic port since medieval times, its 700 islands stretch to the vast Gulf of Bothnia, a watery border with Finland.
Right now, the docks are still. The skate track that snakes over frozen river, sea and lake, forms an icy halo around town. During the day, it's a commuter trail for school kids and workers; now it's sharp and empty against the clear night sky. The next morning we've travelled for at least an hour on the road before we see signs of life. When we do, they appear out of a petrified forest, fluffy nosed and unconcerned by our car as they amble across the highway. Thanks to Lulea's dry climate, there's no ice on the ground and roads are so ramrod straight and Swedishly well-maintained that braking to a halt in front of the reindeer isn't the hazard I'd imagined.
The beasts appear to own this land but in fact, the forest conceals skidoo and cross-country ski trails, the recreational playground of Lulea's populace, along with the occasional international tour group. Independent travellers are a rarer breed (Swedish Lapland is far from the Santa-led commercialism of Finland). Further down the road, we call at a Sami house: a wooden cabin that comes with no signpost or ceremony but a polite welcome from Helena, a Sami herdswoman
Ella and I follow Helena through the forest. We hear them before we see them, a whispering wind through the trees: a 100-strong herd of reindeer dash across a clearing in front of us, their hooves kicking up snow like dust. The sight takes my breath away; Ella is entranced by something else: "Look at all the poo!" A tepee grabs Ella's attention next, inside which we warm up around a fire, drinking warm lingonberry juice out of carved wooden kasa cups.
One's scatological interests can be indulged in nearby Jokkmokk. This tiny town is the setting for the annual Sami market in the first week of February. It draws thousands of Sami from across northern Scandinavia and Finland. In its Attje Museum we learn about local culture and wildlife from craft displays, life-size models, and an impressive array of stuffed animals, their faeces identified in a sort of "guess the poop" gallery.
We overnight at the Treehotel, a clutch of futuristic, architecturally-designed tree houses dotted across a forested hillside. Our cabin juts over a snowy slope, appearing suspended mid-air; others include a giant bird's nest and a silver cube that appears to vanish into the trees depending on the play of light over its mirrored surfaces. I am utterly enchanted but the clever design and functionality of it all is perhaps lost on Ella, who prefers stomping Big Foot-like through the forest.
The morning is spent skiing at Storklinten. We have the slopes to ourselves. This two-hill resort, with ski-in lodges offering snowshoeing, tobogganing, ice fishing and over-nights in Sami tents, is the perfect winter retreat for families who don't want to commit all-out to a week of downhill. But Ella is biding her time for the big event: husky sledding. Led by a lofty, Nordic goddess of a woman called Caisa Ohlsson, we are transported by a 12-dog team through woodland tracks flanked by head-high banks of snow, out across a frozen lake, our dogs flushing a moose calf out of hiding as we run.
It's one of the most spirit-lifting things I've experienced. It's also very, very cold. Caisa insists I pull blankets over Ella's head as we whip across exposed lakes. We slide to a halt by the kennels, but Ella won't come to the fire. Instead she strides along the line of barking, jumping huskies, reaching up to pat each of them. Caisa smiles approvingly: "She can stay and work with me." Ella nods a serious contractual agreement. It seems we're moving to Lululand.
Compact Facts
How to get there
Sarah Barrell was a guest of Visit Sweden (020-7108 6168; visitsweden .com). Flights are available via Stockholm with SAS (0871 226 7760; flysas.co.uk) from Heathrow or Manchester, or from Gatwick on Norwegian (00 47 21 49 00 15; Norwegian.no). Best Served Scandinavia (020-7838 5956; best-served.co.uk) offers four-night packages for £1,750 per person, including return SAS flights from Heathrow; two nights B&B at the Elite Stadshotellet, Lulea (00 46 920 27 40 00; elite.se), with a driving on ice experience and night-time snowmobiling; and two nights' B&B at the Treehotel (00 46 928 104 03; treehotel.se), with dog-sledding and cross-country skiing.
Further information
Lulea Tourist Office (00 46 920 45 70 00; visitlulea.se)
Register for free to continue reading
Registration is a free and easy way to support our truly independent journalism
By registering, you will also enjoy limited access to Premium articles, exclusive newsletters, commenting, and virtual events with our leading journalists
Already have an account? sign in
Join our new commenting forum
Join thought-provoking conversations, follow other Independent readers and see their replies