Europe on a plate: The tastiest food festivals

Show all 8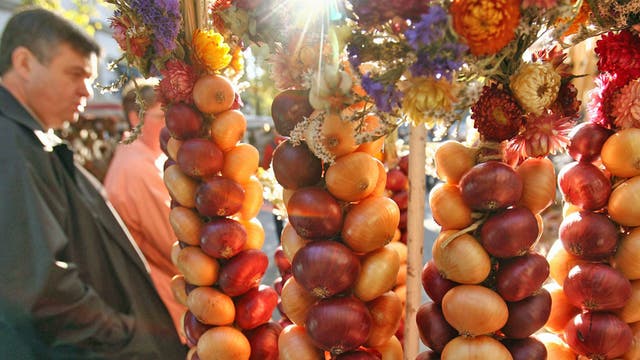 Europe on a plate: The tastiest food festivals
From celebrations of cheeses to seafood showcases, Europe has treats galore on the menu this summer. Lucy Gillmore samples a selection of the tastiest
Lucy Gillmore
Wednesday 11 April 2012 00:00 Comments
What's the attraction?
What could be nicer than a spot of gourmet grazing? Food festivals now range from generic celebrations of local produce to quirky events focusing on one, often bizarre, ingredient. In Yorkshire, Pontefract (0845 601 8353; experiencewakefield.co.uk) holds a Liquorice Festival every July, while in Hampshire on 20 May the centre of Alresford becomes a giant street party in honour of the local "superfood", watercress (watercressfestival.org).
Trailblazers of the British food festival fetish include Ludlow (7-9 September; foodfestival.co.uk) and Abergavenny (15-16 September; abergavennyfoodfestival.com), dubbed the Glastonbury of food festivals.
Across Europe, there's a festival almost every week. Take Sicily, where sagra (local fairs) celebrate everything from cannoli (May, Piano degli Albanesi) to couscous (September; San Vito Lo Capo). In Germany they've been celebrating onions, complete with an onion queen, in Weimar since 1653 (12-14 October; weimar.de).
French fancy
The French obsession with food extends to festivals too. Last September, the whole country became a giant food festival with the launch of the first Fête de la Gastronomie (fete-gastronomie.fr) with around 3,000 events. This year's festival takes place on 22 September. If you can't wait that long, head to Normandy, which celebrates its food credentials with an AOC (Appellation d'Origine Contrôlée – a geographical certification for wines, cheeses and other products) festival in Cambremer on 28-29 April (lesrencontresdecambremer.fr): calvados and cider from Pays d'Auge, Normandy Camembert, Isigny butter and special appearances from Midi-Pyrénées, Switzerland and Italy.
Brittany Ferries (0871 244 0439; brittany-ferries.co.uk) offers a week's self-catering in a gîte in nearby Lisieux from £466 per person including return ferry travel from Portsmouth to Caen departing 27 April.
By royal decree
In honour of the Queen's Diamond Jubilee, the Great British Food Festival takes place at Walton Hall near Warrington (01925 479140; greatbritishfoodfestival.com) from 4-5 June. The Jersey Food Festival (19–27 May; jersey.com) is a seven-day shindig celebrating the Jersey Royal potato and other tasty offerings. Highlights include the clam "dig", a charcuterie-making demo and the Jersey Royal Potato Competition at the food fair. Channel Islands Direct (08444 937 486; channelislandsdirect.co.uk) is offering four night's B&B at L'Horizon & Spa from £379 per person.
What's new?
Brusselicious (brusselicious.be) is a year-long gourmet food festival featuring dozens of events across the Belgian capital. One highlight is the swish tram taking visitors on a two-hour, €75 round-trip of the city as they tuck into classic Belgian dishes from the city's Michelin-starred chefs.
Eurostar (08432 186 186; eurostar.com) sells return tickets from London St Pancras, Ashford or Ebbsfleet to Brussels from £69.
In Cumbria's Eden Valley, the first "Foodival" (edenfoodival.co.uk) takes place on 26 August, with food demos, a farmers' market, pop-up restaurants plus face-painting and a teddy bears' picnic for children.
Who said that?
"If more of us valued food and cheer and song above hoarded gold, it would be a merrier world." – J R R Tolkien "FEAST, n. A festival. A religious celebration usually signalised by gluttony and drunkenness, frequently in honor of some holy person distinguished for abstemiousness. In the Roman Catholic Church feasts are 'movable' and 'immovable,' but the celebrants are uniformly immovable until they are full." – Ambrose Bierce 19th-century American writer
Seafood and eat it
Learn how to shuck an oyster on the west coast of Sweden. Contestants race to open 30 oysters at the Nordic Championships in Oyster Opening (27-29 April; westsweden.com) in Tanumstrand. There are also seafood safaris with local fishermen.
The Dublin Bay Prawn Festival (27-29 April; dublinbayprawnfestival.com) puts on food and wine tastings, a prawn-shelling competition and a firework display by Howth Harbour.
There are more than 250 events during Pembrokeshire Fish Week (23 June to 1 July; pembrokeshirefishweek.co.uk), including seashore foraging picnics, celebrity chef demos and fishing lessons.
Whitstable Oyster Festival (21-27 July; whitstableoysterfestival.com) is a week-long celebration that might involve sea shanties, seashore safaris and, of course, shellfish.
In Iceland, check out Dalvik's Fish Festival (dalvik.is), or "The Great Fish Day" on 11-12 August. The little fishing town in the north of the island has a population of just 2,000. On Friday evening local families place torches outside their homes, a signal that anyone is welcome to stop by for fish soup. And on Saturday afternoon, there's a huge cook-up of cod, salmon and haddock.
The big cheese
Trujillo is the location of the Spanish Cheese Festival (28 April-1 May), where you can taste hundreds of cheeses. Trujillo Villas Espana (trujillovillasespana.com) has five self-catering properties in the historic old town from £248 per person a week staying in the Artists Studio. The nearest airport is Madrid (2.5 hours' drive).
Melton Mowbray stages the Artisan Cheese Fair (artisancheesefair.co.uk) on 12-13 May, where you can taste the wares of 30 different makers, while the Caerphilly Big Cheese Festival (27–29 July; caerphilly.gov.uk/bigcheese) hosts the great cheese race.
"Never eat more than you can lift." – Miss Piggy
Slowly does it
This year, Italy, the birthplace of the Slow Food Movement, is holding a Slow Food Day on 26 May (slowfood.it) in more than 300 locations. Later in the year the showcase event, Salone del Gusto, takes place in Turin from 25-29 October (salonedelgusto.it), and it will draw up to 200,000 visitors and thousands of producers from around the world, with tastings and workshops.
Arblaster & Clarke (01730 263111; winetours.co.uk) includes entry to the event as part of a five-day "Gourmet Emilia-Romagna" tour from 27-31 October for £1,699 per person including flights from London.
Insider information
"Food festivals have – excuse the pun – mushroomed, fuelled by a reawakening of interest in local produce. At EAT! we run 60 events over two weeks, most of them free. This year, 100 teams of amateur bakers will build a giant edible map of Great Britain."
Simon Preston, EAT!
Newcastle Gateshead (13-29 July, eatnewcastlegateshead.com)
Register for free to continue reading
Registration is a free and easy way to support our truly independent journalism
By registering, you will also enjoy limited access to Premium articles, exclusive newsletters, commenting, and virtual events with our leading journalists
Already have an account? sign in
Join our new commenting forum
Join thought-provoking conversations, follow other Independent readers and see their replies