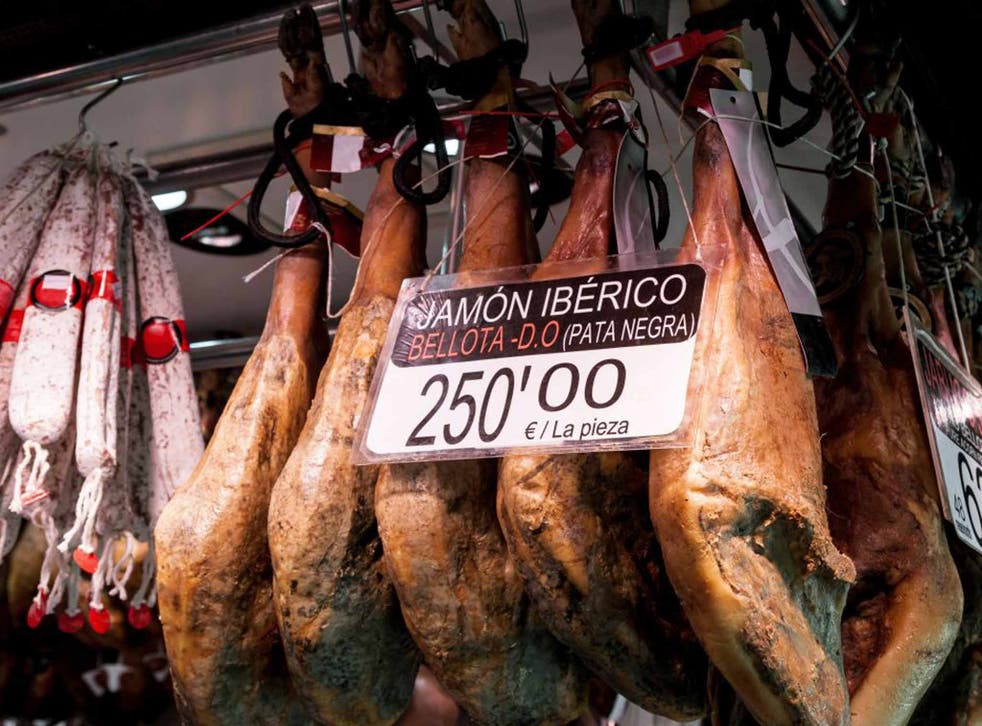 Extremadura gourmet pilgrimage: the Spanish region with a proud and thriving food culture
Many of the gastro-routes are associated with a much-prized denominación de origen
David Baxter
Friday 11 December 2015 12:25 Comments
We sat over cafés con leche with our guide to the 13 "gastronomic routes" of Extremadura, trying to decide how to tackle them. It seemed there was scarcely a village without a speciality product or dish – from the white gazpacho of Coria (Route 6) in the north to the conejo a la Inquisición (soused rabbit) of Llerena in the far south (Route 3).
There's a trail for tench (who could resist "an aftertaste of fresh mud"?), for both sheep and goat's cheese, olive oil, paprika, lamb, game, fruit and spirits, cold dishes (such as cojondongo – a rustic soup-stew of bread, tomatoes, peppers, onion), kid, freshwater fish and wine (Ribera del Guadiana). Then, of course, there's a trail for the celebrated jamón ibérico: Extremeños argue their de bellota (acorn-fed) ham is the best in Spain.
Extremadura, the landlocked region of Spain bordering Portugal, takes its food seriously, not least because food is its biggest industry. Between the sierras that criss-cross the region, the characteristic dehesa – oak-tree-studded grasslands – supports the extensive grazing of sheep, cows, goats and the pinky-black pigs which – after being walked around a bit to make them leaner – are led out to feed on the acorns.
Many of the gastro-routes are associated with a much-prized denominación de origen. We watched ripe peppers being picked and dried over an oak fire to produce pimentón de la Vera, a paprika with a worldwide reputation used in many a chorizo. In Casar de Cáceres, we visited a spotless factory making Torta del Casar, a creamy sheep's cheese whose quality is tested in laboratories. The best ibéricos, meanwhile, are hung for at least three years; families will fork out €300 for a whole one which will last them a year – if they slice thinly.
Not to be missed are two other cuts from the much-loved pig: the secreto and the pluma. And although meat is important, non-carnivores can find plenty to enjoy; at the Tuesday market in Plasencia, the main square was crammed with colourful piles of vegetables, fruit, nuts … everything looking fresh from the field. The centrality of food to local culture extends to museums – of cheese, peppers, olive oil, for example – and festivals, such as August's Fiesta de la Tenca (tench) in Talaván.
The problem facing us was doing justice to this cornucopia while avoiding a mad, gluttonous dash around a region twice the size of Wales. Fortunately, the regional capital, Cáceres, is also this year's Spanish "capital of gastronomy", and its restaurants were promising to bring the region to the centre, gastronomically speaking.
Any gourmet visiting Cáceres, indeed Extremadura, will probably head for the renowned two Michelin-star hotel-restaurant Atrio. An unashamedly Modernist building in Cáceres's atmospheric medieval centre, Atrio has been at the heart of the town's gastro-economy for almost 30 years. A tasting menu brought us plate after plate of colourful confections with intriguing flavours.
As head chef and co-owner Toño explained, "Our cuisine has nothing to do with local cooking but you will find the touch of local ingredients that we have been using for centuries – pimentón, mushrooms, pork, everything from the hunt – and I also love to use spices from Asia." Our tapa-sized dishes included fried oyster and strawberry kimchi with forest fruits; pork cheek with green beans, langoustine and creamy poultry soup; tocinos de cielo (literally, "bacon from heaven" but actually a dairy-free flan) yogurt ice cream. The combinations all worked wonderfully well. We drank modestly but well from local vineyards, having previously been shown by José – Toño's partner – his cellar, with one of the world's finest wine collections.
Offering perhaps a more accessible way to sample the region's flavours are tapas, as central to social life in Cáceres, Badajoz and Plasencia as in the rest of Spain. Not far from Atrio, we ate one evening at a streetside table served by a small taberna, Puerta de Mérida. For €20 we each chose two substantial dishes, including a perfect moussaka of aubergine and morcilla (black pudding), with decent wine at €2 a glass. At Tapería Yuste, while costumed singers serenaded newlyweds, we enjoyed a wild asparagus and boletus risotto. In the garden of Mastropiero, a buzzy "gastrobar", we finally tried tench, in the form of a fish-and-chip tapa.
We did venture out of Cáceres, staying in the charming paradors at Guadalupe and Jarandilla de la Vera. Below the Sierra de las Villuercas, the great monastery at Guadalupe (Route 9), revered in Spain and Mexico, still has an inn where monks and travellers have dined for centuries. We enjoyed one of its signature dishes, cabrito asado – grilled leg of kid, very tender, and finished with a chestnut mousse and nougat slices flavoured with honey and fig.
Before the monasteries, the Moors ruled here for 500 years, introducing rice, herbs and spices, almonds, saffron and many other ingredients that are still important, together with such ideas as combining meat and fruit in the same dish. Extremadura's penchant for lamb dishes and pickled fish can be traced back to the Jewish community. The Extremadura-born conquistadores – among them Cortés, Pizarro and Balboa – who returned to build palaces that still grace Cáceres, Trujillo and other towns, brought back potatoes, tomatoes, chocolate and more from the New World. Further back, Roman settlements along the Via de la Plata, including magnificent Mérida (Route 4), grew lentils, beans and grapes.
At Jarandilla (Route 8) we visited Yuste monastery, to where the Emperor Charles V retired. From here, there is a trail – the Emperor's Way – across the mountains to the valley of Jerte (Route 11), famous for its spring time cherry blossom and the fruits and spirits that follow. Spring would be a good time to return, I feel.
Getting there
Extremadura can be accessed from Madrid or Seville, served by British Airways (0344 493 0787; ba.com), Ryanair (0871 246 0000; ryanair.com), easyJet (0843 104 5000; easyjet.com), Iberia (0870 609 0500; iberia.com) and Air Europa (0871 423 0717; aireuropa.com).
Staying and eating there
Atrio (00 34 927 24 29 28; restauranteatrio.com/en) in Cáceres has doubles from €290 and tasting menus from €109pp.
Paradors (parador.es) have doubles from around €85, room only.
Puerta de Mérida, Cáceres (0034 619 91 61 97); Tapería Yuste, Cáceres (00 34 927 21 58 00; nh-collection.com); Mastropiero, Cáceres (00 34 927 214 837; mastropierogastrobar.es); La Minerva, Cáceres (00 34 927 26 10 52; laminervacaceres.com); Restaurante Cayena, Cáceres (00 34 927 24 54 97; restaurantecayena.com).
More information
Register for free to continue reading
Registration is a free and easy way to support our truly independent journalism
By registering, you will also enjoy limited access to Premium articles, exclusive newsletters, commenting, and virtual events with our leading journalists
Already have an account? sign in
Join our new commenting forum
Join thought-provoking conversations, follow other Independent readers and see their replies