The Independent's journalism is supported by our readers. When you purchase through links on our site, we may earn commission.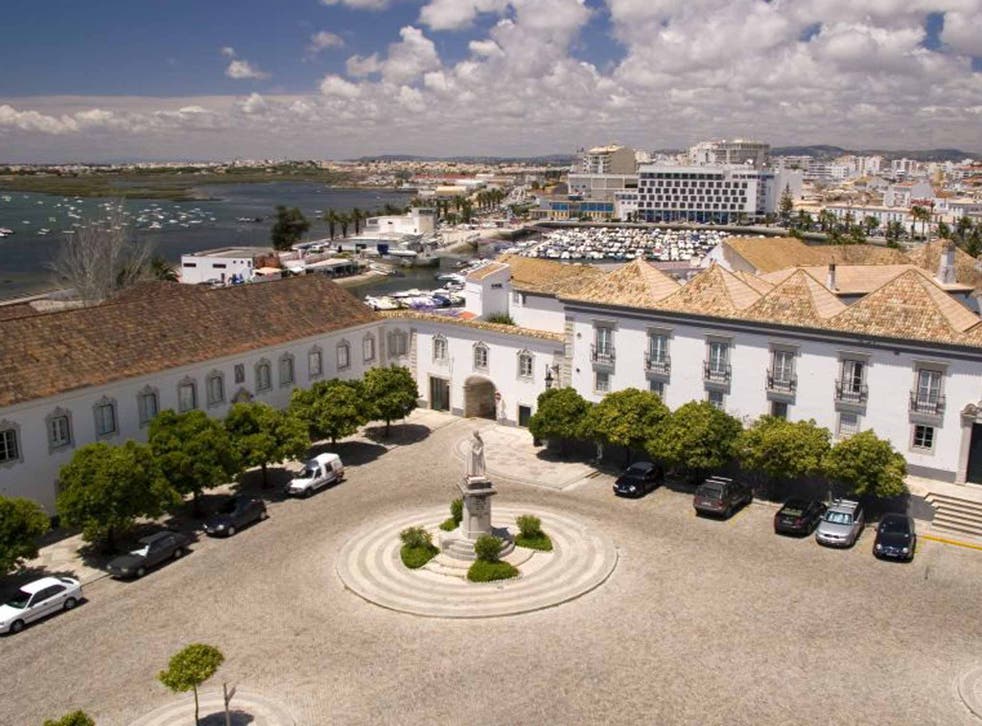 Faro travel tips: Where to go and what to see in 48 hours
More than just a gateway to the beaches of the Algarve, this compact city is also about to enter festival season. Harriet O'Brien gets in the spirit
Harriet O'Brien
Saturday 12 July 2014 00:00 Comments
Travel essentials
Why go now?
Faro's festa season starts soon, kicking off with the Ria Formosa Seafood Festival (26 July-5 August), continuing with FolkFaro (16-24 August), with the annual candy and dried fruit fair running alongside (17-26 August). These are the real deal: traditional Algarve events that don't pander to tourists.
Faro, gateway to Portugal's most popular holiday area, is oddly bypassed by visitors. The throngs arriving at Faro airport almost invariably head straight for the Algarve's beaches. But they're missing out: Faro is one of the region's most entrancing spots, with a charming old town and a wealth of natural riches in the Ria Formosa lagoon area.
Touch down
Faro is served from the UK by a host of airlines including British Airways (0844 493 0787; ba.com), easyJet (0843 104 5000; easyjet.com), Ryanair (0871 246 000; ryanair.com), Monarch (0871 940 5040; monarch.co.uk), Jet2 (0906 302 0660; jet2.com), Thomas Cook (0871 230 2406; flythomascook.com), Flybe (0871 700 2000; flybe.com), Norwegian (0843 3780 888; norwegian.com/uk) and Thomson Airways (0871 231 4787; thomsonfly.com).
The airport is about 5km west of the centre which you'll reach by taxi for around €12 or by bus for €2.22 – municipal Nos 14 and 16 (00 351 289 899 700; proximo.pt) run to the main bus station (1) roughly every 50 minutes, taking 20 minutes (no service on Sundays).
Get your bearings
Faro's pretty centre curves around a colourful marina. To the south is the tiny old town, or Cidade Velha, its Moorish and medieval walls embracing an oval of cobbled lanes. Directly west, lie the outlying wetlands of Ria Formosa. The railway station (2) and bus station (1) are to the north. To the north west is the University of the Algarve, adding a lively vibe in term time.
The tourist office (3) at Rua da Misericordia 8-12, is next to Arco da Vila, the old town's northern gateway (00 351 289 803 604; visitalgarve.pt; weekdays 9am-6pm, summer weekends 10am-5pm).
Check in
Overlooking the marina, Eva Hotel (4) at Avenue da Republica 1 (00 351 289 001 000; tdhotels.com), is a modern four-star that with sleek white lobby, 134 bedrooms, pool and panoramic restaurant has the most extensive hotel facilities in the centre. Doubles start at €73 including breakfast.
Just off central Faro's pedestrian shopping area, Hotel Santa Maria (5) at Rua de Portugal 17 (00 351 289 898 080; santamariahotelfaro.com), is small, cosy and good value, with doubles priced from €59 with breakfast.
Or for style and luxury combined with Portuguese panache, base yourself a short distance from Faro at one of the country's most elegant pousadas. Palacio de Estoi (00 351 210 407 620; pousadas.pt) at Rua Sao Jose in the village of Estoi (6), is about 9km north of central Faro. This Neo-Rococo palace with chandeliers, mirrors, impressive stucco work and formal gardens – as well as a wonderful infinity pool – has doubles from €120, including breakfast.
Day One
Take a view
Complete with cloisters, gilded woodwork and 17th-century tiles, the cathedral (7), or Se, on Largo da Se (00 351 289 807 590; Monday-Friday 10am-6.30pm; Saturday 10am-1pm; €3) was built on the site of a Roman temple.
The original 13th-century church here was all but burnt down by British troops in 1596 and most of the current building took shape after a major earthquake in 1755. Entry includes access to the bell tower from where you'll get a great view of Faro's rooftops. The most sublime look over the sparkling channels and islets of Ria Formosa.
Take a hike
Visitors to Faro should begin with an amble around the old town. From the cathedral (7), head to the 19th-century Arco da Vila gateway (3), a grand structure that replaced a ninth-century portal. As you approach, look up to the bell tower which is adorned with storks' nests.
Walk down Rua do Municipio; opposite the cathedral (7) is the elegant, 18th-century Episcopal Palace. Saunter past it and along Rua da Porta Nova to the former harbour area (8). Head down Rua do Trem and along Rua Nova do Castelo to see the remaining part of Faro castle (9) that in the 19th century became a distillery.
Follow Rua do Castelo. Turn right along Rua do Repouso passing the striking, 16th-century Convento de Nossa Senhora da Assuncao, now the Archaeological Museum (10). Before leaving the old town by the Repouso gateway (11), pause outside the charming 18th-century chapel of Nossa Senhora do Repouso.
Lunch on the run
Faro's smart three-storey market (12) is a 10-minute walk north east of the old town. It opens 8am-2pm daily except Sundays, with stalls selling vegetables, fish, cheese, Algarve honey and more. O Palhacinho (00 351 289 824 980) is a popular market café with soup for €2.50 and big plates of croquettes for €7.
Window shopping
Between the indoor market and the old town is a small pedestrian zone lined with cafés and shops such as Mango and Antonio Manuel Modas (stocks Hugo Boss and Escada) on Rua de Santo Antonio (13).
Such tourist shops as exist here sell genuinely hand-made local products: for lace, handbags, cork mats and the like, head to Casa do Arco (14) on Rua da Misericordia and Carminhos Artesanato on Rua de Santo Antonio.
There's a good range of wine at Garrafeira Rui (15) at Praca Ferreira de Almeida. For serious retail therapy make for Forum Algarve (00 351 289 889 300; forumalgarve.net) on the western outskirts at Estrada Nacional 125 (16), where you'll find Zara, Timberland, Massimo Dutti and more.
An aperitif
Bar Columbus (17) at Praca Dr Francisco Gomes 13 (00 351 917 776 222; barcolumbus.pt) is the most happening venue in downtown Faro. Grab a seat on the arcaded terrace and order a signature, minty mojito.
Dining with the locals
You're in for a treat at Tertulia Algarvia (18) in the old town at Praca Afonso III (00 351 289 821 044; tertulia-algarvia.pt). Set in a restored heritage property, this is the project of a small group of friends who wanted to develop a centre for Algarve culture. After some years of planning they achieved their goal last year: Tertulia Algarvia runs workshops, exhibitions, performances and more as well as offering a shop, café and restaurant.
Don't be deterred by the modest looking ground-floor bar area: head up the spiral stairs to find a first-rate restaurant serving Algarve specialities such as octopus cataplana (a casserole dish; €36 for two) and grilled tuna with coriander xarem, a sort of maize risotto (€11.50).
Day Two
Sunday morning: go to church
Sublimely elegant Igreja do Carmo (19) presides over Largo do Carmo, a short walk north-east of the marina (00 351 289 824 490; www.ordem-do-carmo.pt). The riot of gilt inside this 18th-century building makes a glorious backdrop to mass at 9am. The church is also notable for a chapel in the grounds constructed from human bones. The ossuary comprises the remains of about 1,300 monks buried in a cemetery on the site . It is one of several notable bone chapels in Portugal, and is surprisingly unghoulish. But you'll need to return on a weekday to see it (chapel open Monday-Friday 10.30am-12.30pm and 2-5pm; €1).
Take a ride
A boat trip to Ilha Deserta in the Ria Formosa Natural Park wetlands is a breathtaking experience. You pass along shimmering channels between sandy islets; see species of bird and plants found nowhere else; and you might spot dolphins and whales further out. Guided 40-minute tours on a catamaran are run by Animaris (00 351 918 779 155; animaris.pt) departing daily from Porta Nova (8) at 11.30am and 4pm, with a choice of return journeys from Ilha Deserta between 2.30pm and 7pm (€25 for the round trip).
Out to brunch
Spectacularly set on the sweeping sands of Ilha Deserta with views across the coast, Estamine restaurant (00 351 917 811 856; ilha-deserta.com) is a chic, environmentally conscious option with a focus on Algarve dishes, especially seafood. The menu – and prices – depend on what fishermen have delivered that day, from clams and cuttlefish to grouper and tuna. Leave room for a desert, such as the (very) gooey chocolate fondant.
Cultural afternoon
Catch the 2.30pm or 4pm boat back and you'll have time to visit the serene Archaeological Museum (10) at 14 Praca Afonso III (00 351 289 897 419; cm-faro.pt; weekends 11.30am-6pm; Tuesday to Friday 10am-7pm; €2) in the old town. Wander this former convent's cloisters with a striking Roman mosaic as well as other Roman remains, along with Moorish artefacts and Baroque paintings.
Icing on the cake
Step through the doorway of Galeria da Se (20) (00 351 289 826 156) at Rua da Porta Nova 6, and you're in a different world. Part shop, part studio, this is a haven of antique tiles painstakingly restored by owner and master craftsman Joaquim da Silva Carneiro. Galeria da Se is generally open daily in the summer (9.30am-1pm and 3-5pm).
Register for free to continue reading
Registration is a free and easy way to support our truly independent journalism
By registering, you will also enjoy limited access to Premium articles, exclusive newsletters, commenting, and virtual events with our leading journalists
Already have an account? sign in
Register for free to continue reading
Registration is a free and easy way to support our truly independent journalism
By registering, you will also enjoy limited access to Premium articles, exclusive newsletters, commenting, and virtual events with our leading journalists
Already have an account? sign in
Join our new commenting forum
Join thought-provoking conversations, follow other Independent readers and see their replies