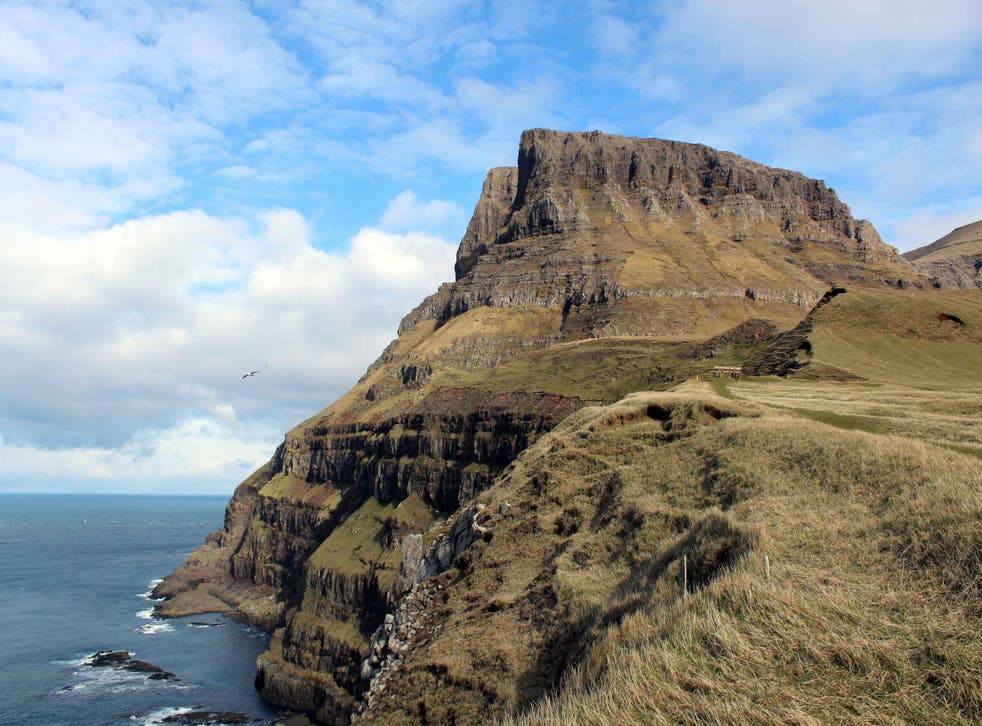 Faroe Islands: Is this the most remote road trip ever?
Can a city boy get back to nature with a road trip in the Faroe Islands? Ronan O'Shea investigates
Ronan J. O'Shea
Friday 02 June 2017 17:24 Comments
The guesthouse manager speaks to me over a crackly phone line, his voice a little manic. He seems worried I might be angry with him. Why? Well, his car's broken down, and he won't make it to our lunch at 1pm.
As I sit in scenic Gjogv, with its striking 360-degree views of mountain and sea that corral the tiny town of grass-covered houses, a small church and this hotel, the manager is in capital city Torshavn, where I came from this morning. I look around. Sipping a cup of coffee, looking out of the window, it's not the worst view in the world, alone or otherwise.
"Seriously," I say, laughing, "Relax, I'm fine."
And I truly am. After waking early, I've driven to this sparsely-populated spot near the northernmost point of the island of Esturoy, one of the 18 that make up the Faroe Islands. The manager doesn't need to feel worried. I don't. It would be hard to in this remote part of the world, located roughly equidistant between Norway, Iceland and Scotland.
Since arriving a couple of nights earlier, my time has been spent largely driving around in a rental car, marvelling at the scenery. As we landed in the late spring sunshine on Saturday evening, I was awestruck by the barren beauty of the rugged landscape, and it has remained a constant source of wonder ever since.
The music streaming from a tinny speaker on my Samsung phone is more or less the only reminder that it's 2017 when I return to the car and climb back through the mountains that led me here. I've got lost several times along the way, but pleasantly so; I stumble across tiny towns that are nothing more than a cluster of multi-coloured houses, a church and the obligatory football pitch (don't let the Faroe Islands' FIFA ranking of 77 fool you, they're football mad here) as I meander around vast, empty roads.
Without enough time to visit the islands of Sandoy, Suðuroy or Mykines (accessible by ferry), I decide to explore those I can get around by car instead; six of the islands are connected by road. I'm no driving fan – after six years away from the wheel, I'm rusty to say the least – but I find the open road and breathtaking scenery has a calming effect. The weather changes constantly along the way while I negotiate the gears: rain then shine, hail then mist, storm clouds swollen over the sea one minute, gorgeous sunshine lighting up the mountains the next.
I drive east towards the islands of Borðoy and Viðoy, stopping off regularly to take photos or simply breathe in the fresh air. A well-known local singer commonly regarded as the godfather of music on the Islands, Kristian Blak, told me yesterday that the young leave the islands in droves – particularly women in search of work, but also those just looking for somewhere more lively. It's true; you wouldn't head to these parts in search of La Dolce Vita or a good base tan. But as I sit on the bonnet of my car (we're besties now after a tough first day) looking out upon a mountainside – its unusual crags hewn through thousands, perhaps millions, of years of constant exposure to rain, snow and wind – I feel far more at ease than expected. I am not one accustomed to rural adventure. I'm a city boy; two days of bucolic retreat and I generally hanker after a busy pub, a good pint and a strong phone signal. Not here.
That said, my evenings in Torshavn do prove to be something of a treat. More of a town than a big city, its centre is pretty, with more grass-covered cottages and a handful of restaurants and cafes – and, surprisingly, the food is spectacular. With tapas-style seafood at Barbara Fishhouse, indigenous specialities at Ræst and extraordinary sushi at Etika (not to mention Michelin-starred Koks, which I sadly don't get a chance to try), the Faroes pack more culinary punch than many more reputable hotspots around the globe. I would bring a pal along next time though – eating tapas on my tod proves a strange experience.
On my final morning, an in-built fear of missing flights rears its ugly head, and I yearn to arrive at the pocket-sized Vágar Airport as early as possible. But I fight my nature, desperate to enjoy the views a little more before I leave.
I drive first to the tiny town of Kirkjubøur on the island of Streymoy, with its cathedral built in the Middle Ages, then head further west to the pretty village of Gásadalur on the island of Vágar. I park the car up on the roadside to take some more photos. As I turn the ignition and the music off, I decide against the camera, choosing instead to sit for a few minutes and just drink it all in. I look at the sea and the small islands in the distance and a cluster of gulls flying by – and know not a single one of the hundreds of snaps I've taken will do this place justice. I may have to return. After all, there's a hotel manager who owes me lunch.
Register for free to continue reading
Registration is a free and easy way to support our truly independent journalism
By registering, you will also enjoy limited access to Premium articles, exclusive newsletters, commenting, and virtual events with our leading journalists
Already have an account? sign in
Join our new commenting forum
Join thought-provoking conversations, follow other Independent readers and see their replies