The Independent's journalism is supported by our readers. When you purchase through links on our site, we may earn commission.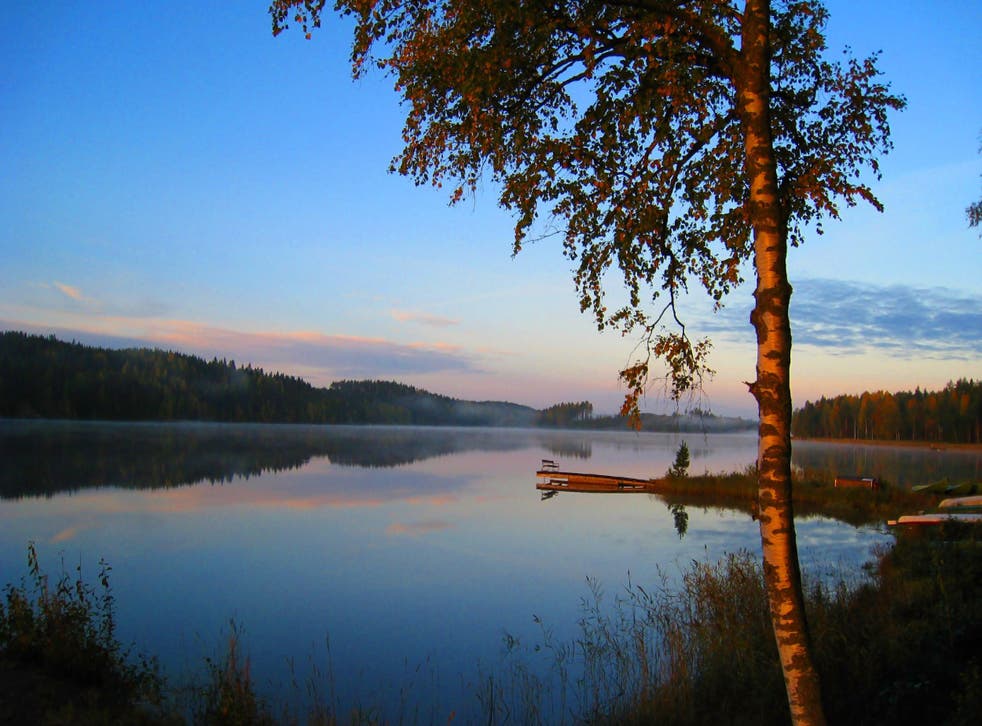 Channel hopping on a Finnish lake cruise
With over 180,000 lakes to explore, Finland offers the perfect setting for a tranquil summer cruise under the midnight sun
Looking over the mirror-still water from the cabin, I reflected that while ocean cruises are big business and with river cruises becoming more popular too, lake cruises remain a world apart – capturing a particular tranquillity that you don't get on the open sea or on waterways.
We had flown into Helsinki, capital of a country with 188,000 lakes and a proud tradition of shipbuilding, and stayed at the Indigo, a hotel converted from a shipping office near the seafront.
From the coast, we headed inland on a four-hour train journey north-east to Savonlinna, which sits on a narrow isthmus in the sprawling lake Saimaa. July's opera festival was in full swing, and the sound of a soprano trailed across the water from a harbour-front restaurant hosting an afternoon recital.
Before dinner, there was time for a swim, so from a sandy beach I plunged into the dark, whisky-coloured waters in front of Olavinlinna castle, where the festival's main performances are held, then emerged for a warming sauna overlooking the harbour.
The next morning our boat was waiting – one of several wooden craft that sail from mid-June to mid-August (summer days are long but transient here) – to Kuopio and back. The MS Puijo was built as a tug in 1914, when Finland was still a grand duchy of the Tsarist empire – only next year does Finland celebrate the centenary of its independence. Before it was ceded to Russia in 1809, the country was part of the Swedish empire for nearly a millennium, and the 15th-century Olavinlinna castle was one of its eastern defences, built to protect the unstable border. As the drawbridge opened to let the Puijo through, we crossed into a medieval battleground. Our own fears were a little more prosaic, however – dark clouds were looming. It was time for coffee and pastries inside.
We gazed out of the ship's large windows over the ever-changing landscape. Although Saimaa is Europe's fourth largest lake, it is scattered with an archipelago of 14,000 islands, so at times in this Moomin-esque landscape we were cruising through narrow, rocky channels, while at others we could scarcely see the lake's furthest shores.
Puijo was navigated – Swallows and Amazons-style – with leading marks showing the captain where to go as we approached a narrow passage. These two bright white triangles, clearly visible against the green forest walls, revealed the route when aligned.
It was at stops in these channels, by villages of wooden houses painted in traditional colours of red and white, that most of our fellow passengers came and went at the nine ports of call. The Puijo can accommodate 150, but even in peak season there were rarely more than 30 of us on board. As Europe's least densely populated country, three-quarters of Finland is covered by the forest that dominated the scenery around us, its mossy floor roamed by bear, elk, wolves and the occasional human berry-picker.
While we tucked into a fish lunch, we scanned the horizon for fellow pescatarians – seals. Finland is home to one of the world's three remaining colonies of fresh-water seals, a relic of the ice age. Even as late as 12,000 years ago an ice sheet more than two kilometres thick covered the country. Not only did the retreating ice leave the seals stranded inland, it created the bewitching, fissured landscape that we were travelling through, although the seals proved more elusive.
Later, we would raise our eyes from our novels to point out the odd lonely village, a yacht, children paddling at the beach of their mökki – the lakeside cottage that almost every Finn escapes to over summer weekends – or an interesting rock formation. After sailing some 150 kilometres north, the cathedral spires of Kuopio, came into sight. We could have slept on board, but the Puijo's four cabins are on the small side, so we opted for a hotel with en-suite sauna instead.
Though we arrived at 7.30pm, we had plenty of time to look around town. It never gets properly dark at this latitude in summer, with just a few hours of "dusk-dawn" – as it is known in Finland – around midnight in a landscape where one day merges into another. From its landmark revolving restaurant tower, diners can watch as the sun scarcely dips below the horizon before rising again.
Most passengers do the cruise one-way, with the option of breaking the journey at Savonlinna by visiting nearby attractions such as Punkaharju, a beautiful spit of land that is home to Lusto, a surprisingly engaging forestry museum; or Kerimäki, home to the world's largest wooden church.
But with our books only half-read, we boarded the Puijo again the next morning and let ourselves be carried by the water. At times the boat travelled sideways like a rally car as it fought strong currents. But inside all was calm, and from the locks that link this maze of lakes, we gazed at rapids that threatened to engulf fishermen, up to their waders in water, and kayakers, who followed their leader like ducklings. Even in still waters, doughty tugs pulling long islands of timber seemed to be reduced to a standstill, as the Puijo pushed on.
When we approached Savonlinna, the drawbridge that would later take us to a performance of Boris Godunov opened for us once again. It was to be a dark, brooding opera that befitted the backdrop of a castle and with its Russian history, reminded us of the tumultuous background of a now serene and tranquil region.
Travel essentials
Getting there
Helsinki is served by Finnair (0870 241 4411; finnair.co.uk), BA (0344 493 0787; ba.com) and Norwegian (0843 3780 888; norwegian.com/uk).
The capital is linked to Savonlinna by train (vr.fi) or plane (airlink.fi).
Cruising there
Sailings on the MS Puijo (00 358 44 766 2460; mspuijo.fi) from Savonlinna to Kuopio or back run from 20 June to 13 August and cost from €95pp one-way or €150 return not including food or drink. It costs an additional €30 to stay overnight. The boat leaves Savonlinna at 9am on Monday, Wednesday and Friday, and Kuopio on Tuesday, Thursday and Saturday.
Staying there
Hotel Indigo Helsinki (00 358 200 48105; hotelindigo.com). Doubles from €155
Hotel Seurahuone and Tott in Savonlinna and Puijonsarvi in Kuopio (00 358 20 1234 600; sokoshotels.fi). Doubles from €120
Visiting there
The Savonlinna festival (operafestival.fi) runs from 8 July to 6 August.
More information
Register for free to continue reading
Registration is a free and easy way to support our truly independent journalism
By registering, you will also enjoy limited access to Premium articles, exclusive newsletters, commenting, and virtual events with our leading journalists
Already have an account? sign in
Register for free to continue reading
Registration is a free and easy way to support our truly independent journalism
By registering, you will also enjoy limited access to Premium articles, exclusive newsletters, commenting, and virtual events with our leading journalists
Already have an account? sign in
Join our new commenting forum
Join thought-provoking conversations, follow other Independent readers and see their replies