The Independent's journalism is supported by our readers. When you purchase through links on our site, we may earn commission.
France's newest cycling route: La Vélo Francette
A new cycle route linking the Channel and Atlantic gets Greg Dickinson back in the saddle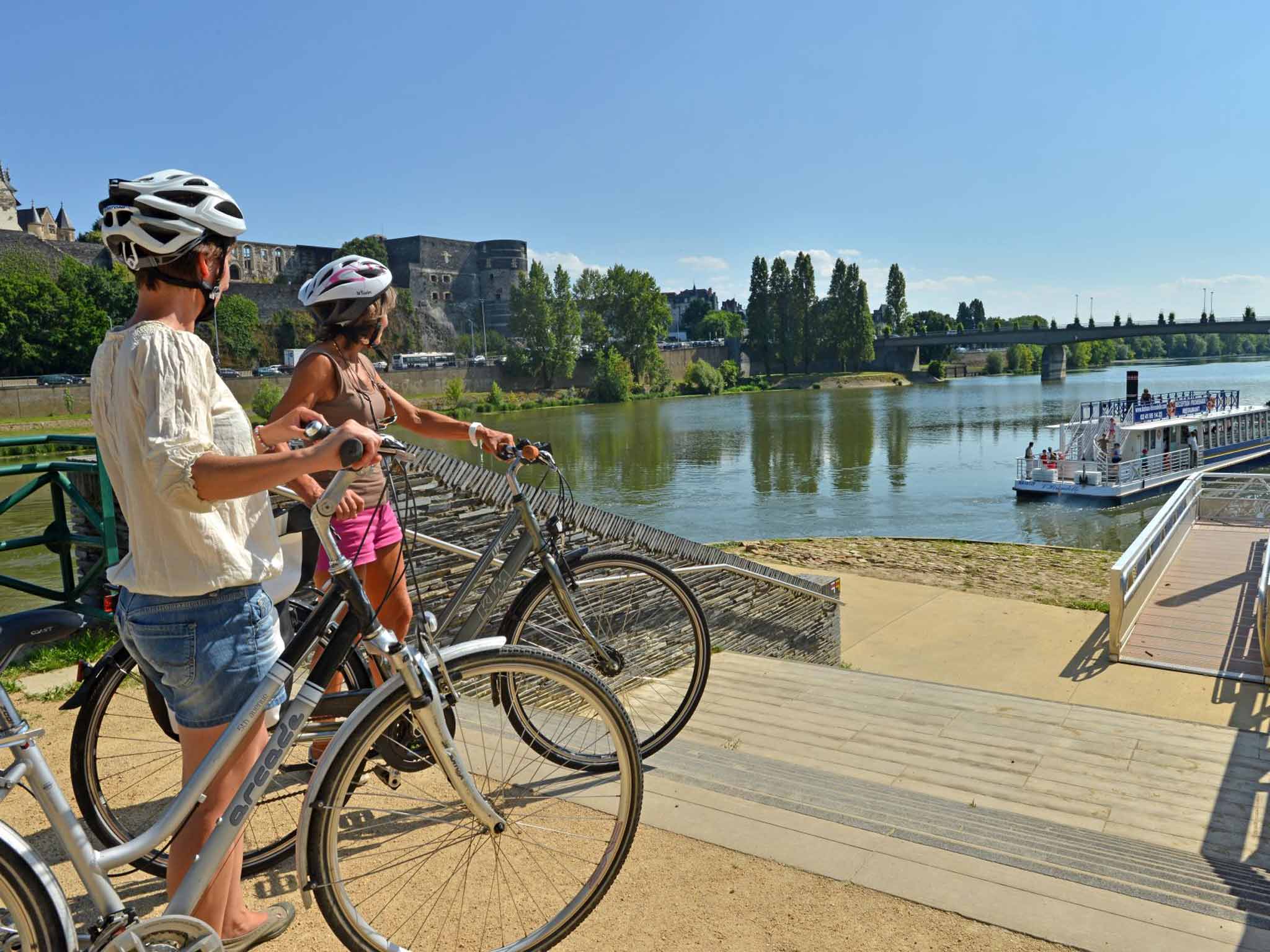 La Rochelle has a track record for opening up new frontiers. For centuries it was France's gateway to the New World, growing from a humble fishing port in the Middle Ages to a major trading post with French North America by the 18th century. While those days – when wine, salt and beaver pelts would bob back and forth across the Atlantic – are long gone, this summer La Rochelle has become the gateway to another brave new world: Francette.
"We couldn't call it Petite France," explained Willy Aubineau, project manager of France's newest cycle route. "That was already taken by an area in Strasbourg," he said. "So, we decided on La Vélo Francette instead." As we sipped our thimble-sized glasses of beer in a land-that-time-forgot village, I thought the name couldn't have been more fitting. For this is France at its most effortlessly bijou.
With the hot-off-the-press route map unfolded in front of us, Willy ran his finger along the zig-zagging red line that marked the 630km signposted cycleway from La Rochelle to Ouistreham in Normandy (which the Tour de France will have skirted yesterday, en route from Le Havre to Rennes). Willy stopped every inch or so to highlight noteworthy points: the fortified towns along the Thouet River; the sprawling vineyards of the Loire Valley; the hillier northern section known as Swiss Normandy. But he spoke as a proud local, not as a tourism professional, when his finger reached Marais Poitevin, where we now sat.
Earlier that day I'd pedalled the first 60km of La Vélo Francette to meet Willy and, during a turn around La Rochelle's harbour, I counted one cyclist for every few pedestrians. Indeed, the town has a history with the sport: in 1974 mayor Michel Crépeau masterminded the Vélos Jaunes scheme, introducing a fleet of bright yellow unisex bicycles around town, free to use. This was the first truly successful bike-sharing programme, and yellow bikes can still be seen on the town's streets.
After a quick raid of the farmers' market I was on my way, panniers stuffed with the two smelliest goat's cheeses I could find and a hunk of ham, with the obligatory baguette poking out the top of my backpack. The unchallenging terrain – a paved towpath running alongside the Canal de Rompsay – is the kind that a holidaying cyclist dreams of, as eyes and legs slip into autopilot while the mind is let loose to wander. The spring wisteria was in full bloom, filling the air with a heady violet perfume that was occasionally corrupted by bonfire smoke.
After two hours of blissful solitude I arrived in Marans, a pleasant pit-stop and well worth a visit just to see the peculiar Notre Dame Church. Half-completed for more than a century, the building was given its ultra-modern aluminium-and-glass steeple in the 1980s. Love it or hate it – I sense some locals may feel the latter – the viewing area at the top offers a rare sense of elevation in this remarkably flat region, exposing a canopy of green in all directions.
The 26km afternoon cycle from Marans to Arçais brought some welcome opportunities to practise my "bonjour" to the many fishermen on the banks of the Sevres Niortaise river. Passing through the village of Damvix I even scored a wave from an axe-wielding woman across the river, as she hacked at blocks of wood in her garden.
During my first day on La Vélo Francette, I could count the number of cars I met on one hand (and the number of petrol-fuelled cars on two fingers – electric cars have really taken off in this part of France). As I dined with Willy at Le Patio d'Arçais that evening, he told me that one of the guiding principles of the project is that none of the roads chosen would carry more than 500 cars per day; no mean feat for a route spanning half the length of France. Around 80 per cent of it follows existing cycleways – including La Vélodyssée (the Atlantic coast), La Loire à Vélo (along the river) and La Véloscénie (Paris to the Mont St Michel), mostly off-road. It was the job of Willy's team to tie them together into one unified route.
The following morning we rolled into the heart of the Marais Poitevin. France's second largest marshland is nicknamed the "Green Venice" for its network of canals cloaked by a viscous layer of emerald duckweed. But instead of Venice's herds of tourists we found cattle, steaming in the early morning chill. Flat-bottomed boats drifted by, flanked by white poplars and gnarled ash pollards. We crunched along stony paths – the kind that demand a thick tyre and padded shorts – dodging daredevil snails which are considered a delicacy in the area. Later in the morning local gourmets would descend, popping the molluscs into baskets to cook for their dinner.
After a couple of hours exploring the labyrinthine marsh, which would have been tricky to navigate without the casual guidance of Willy, we stopped for a coffee in the village of La Garette. While reflecting on the morning's ride our talk was interrupted by a battered car croaking by with a French flag in place of a radio antennae, more suited to a Legoland track than a road. "Une voiture-ette," Willy smiled. "When drink-drivers lose their licence they must use one of these small cars instead." Voiture-ette – even breaking the law is given quaint terminology here in Francette.
Getting there
Greg Dickinson travelled by train with Voyages SNCF (0844 848 5848; voyages-sncf.com). Returns from London St Pancras to La Rochelle start at £111.
Brittany Ferries operates between Caen and Portsmouth from £35 one-way with a bicycle (0871 244 0744; brittany-ferries.co.uk).
Staying there
Greg Dickinson stayed at Hôtel Champlain in La Rochelle (00 33 5 46 41 23 99; hotelchamplain.com), Maison Flore in Arçais (00 33 5 49 76 27 11; maisonflore.com) and Parc Hotel in Château-Gontier (00 33 2 43 07 28 41; parchotel.fr).
Visiting there
Notre Dame in Marans, is open on select days (00 33 5 46 01 12 10 29; ville-marans.fr).
Bike hire can be arranged through Greenbike (00 33 5 46 29 31 03; location-greenbike.com), and Cyclo Parc (00 33 5 46 07 25 06) in La Rochelle.
More information
Join our commenting forum
Join thought-provoking conversations, follow other Independent readers and see their replies