The Independent's journalism is supported by our readers. When you purchase through links on our site, we may earn commission.
Nimes guide: Where to eat, drink, shop and stay in this Provence city
How to get the most out of a weekend break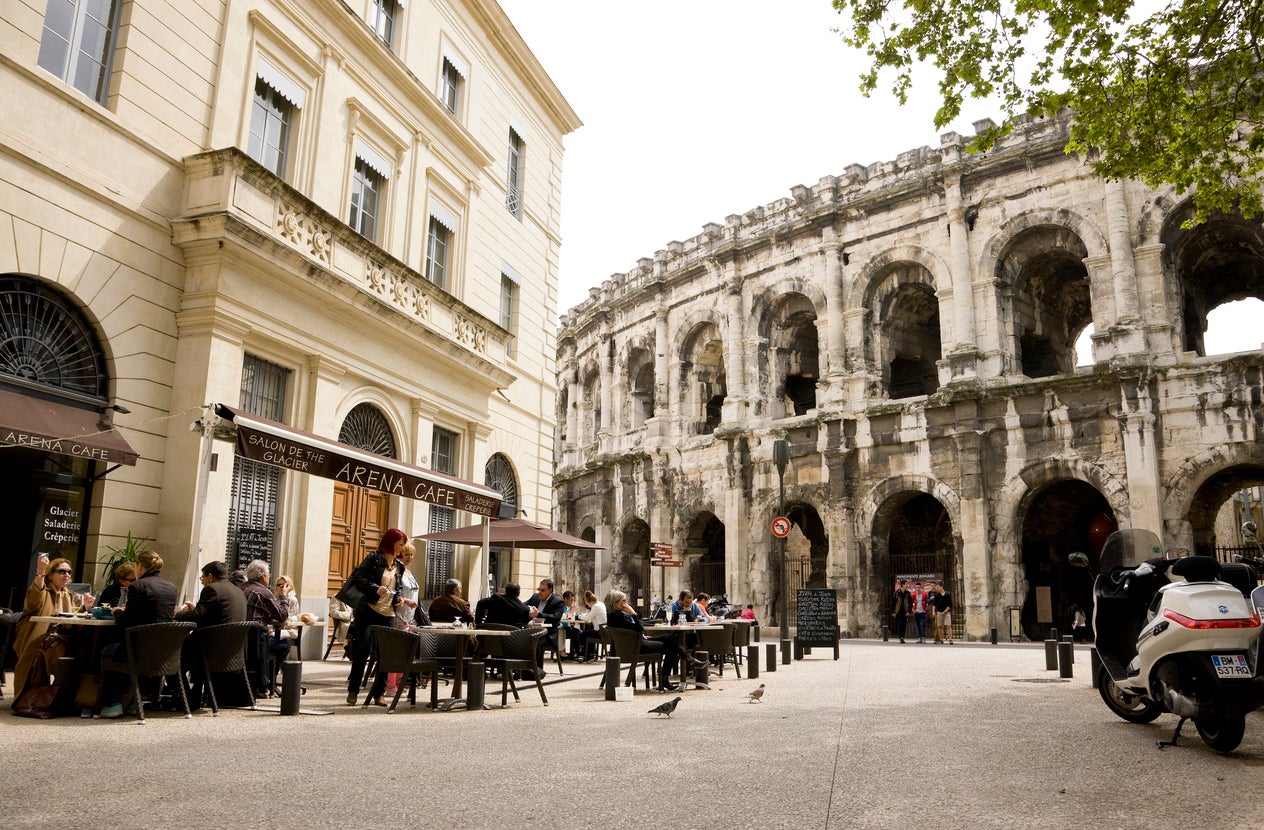 With a landmark new museum just opened and a decision about a Unesco World Heritage listing pending for July, the Provencal city of Nimes is in the spotlight. The Nimes Festival, a summer jamboree of cultural events, is already under way across the cobblestoned old town.
Nimes makes for a great weekend destination but can be quiet early in the week; this is, after all, provincial France.
What to do in Nimes
Step back in time
The big event was the recent opening of the Museum of Roman Civilisation. It brings together the city's huge collection of Roman antiquities with its four sections tracing the development of Nimes from the Iron Age, through the halcyon days of the Roman Empire to the Middle Ages, and concludes by considering the legacy of the Roman era today. Some of the most striking exhibits are the frescos and mosaics uncovered during archaeological excavations around the city. Open daily 10am-7pm, although closed Tuesdays from November to March; €8 entry.
When in Rome
New museum aside, there's a host of well preserved Roman buildings across the city. The big three are the amphitheatre, the Maison Carre (the former Roman forum), and the Tour Magne, an 18m stone watchtower located in the Jardins de la Fontaine. Open daily 9am-7pm, reduced winter hours; buy the Nimes Pass, a combined ticket to visit all three, for €13.
Arch art
By contrast, the Museum of Contemporary Art, designed by the British architect Sir Norman Foster in the Nineties, is worth a look for some Gallic chin-stroking over challenging modern art. The gallery sits next to the Maison Carree and the visiting exhibition by the photographer Wolfgang Tillmans runs until September. An exhibition of works by Picasso follows this autumn. Closed Mondays; €5 entry.
Where to stay
Nimes has a handful of international chains but more interesting are the guesthouses in historic buildings and quirky chambre d'hotes.
The four-star Appart'City Nimes Arenes, set in a grand, period building, offers a superb central location with the attractions within walking distance. Rooms come with kitchenette-style facilities, plus there's an onsite bar, sauna and gym. Doubles from €89 (£78), room only.
Also close to the amphitheatre, and a useful option for those on a budget, is the Hotel de l'Amphitheatre, a family hotel set in a 16th century townhouse. Doubles from €85 (£74), room only.
For quirky digs, La Maison Rousseau is an eccentric guesthouse with a dash of design charm and a sunny garden for breakfast. Doubles from €105 (£92), B&B.
Where to eat
There's a good mix of restaurants, but be warned: many places close on Sundays and Mondays.
A reliable option is Place d'Assas, a pedestrianised square with playful water fountains, where L'Imprevu is the pick of the bunch. Think well presented food served on a night-breeze-cooled terrace, plus a good value menu du jour (two courses for €19). Unlike most, it closes on Tuesdays and Wednesdays.
Le Vintage is a friendly bar au vins on a lively street in the old town and a good place to discover the joys of the cafe gourmand, an espresso served with a selection of small deserts. Open Mon to Sat lunch and dinner.
For lunch, Le Petit Moka is a handy salon de thé in Place aux Herbes, where you can munch a croque monsieur under the serene tower of Notre Dame St Castor Cathedral. Open Monday to Saturday.
Le Cheval Blanc is a homely little bistro on a matador theme by the amphitheatre and one of the places to eat bull meat. Open Monday to Saturday for lunch and dinner.
Where to drink
Nimes is all about its cafe culture; sipping a pastis while taking in the modern-meets-antiquity views is de rigeur. The quintessential view is of the amphitheatre, taking in 2,000 years of history from a terrace table at the Cafe de la Grande Bourse.
Another popular spot for a daytime beer or an aperitif Kir Royale is Place de l'Horloge with Bistrot de la Horolge at the heart of the square.
For something a bit more lively, the backstreets behind Place de Marche are home to pop-up gardens bars and hole-in-the-wall drinking dens. Try La Buvette du P'tit Nimois to meet the locals over a pastis or sangria.
Where to shop
Diving into the labyrinthine backstreets of the old town never fails to reveal interesting places for souvenirs. One of my favourites is L'Itineraire, located on Rue des Arenes, for vintage posters of the annual Fete de Nimes and black-and-white photos of the bullfighting festivals.
Les Indiennes de Nimes, located right by the amphitheatre, is a reminder of the city's textile heritage, with cashmere scarves and shirts to make Paul Smith's tailoring look positively monochrome.
The main covered food market is Les Halles, located next to a shopping centre of the same name. It's open until lunchtime daily but many stalls close on Mondays. Otherwise, stock up on local goodies, such as croquants, a crunchy local biscuit, at Maison Villaret on Rue de la Madeleine, or try La Maison de la Brandade on Rue de l'Horloge for brandade, a paste of fish and olive oil. Many shops close Mondays.
Architectural highlight
Nimes may be packed with Roman buildings but the real toga-dropping site is the Unesco-listed Pont du Gard, the Roman aqueduct outside of the city, which packs 2,000 years of Roman heritage into the Provencal landscape.
Nuts and bolts
What currency do I need?
Euro.
What language do they speak?
French.
Should I tip?
Tipping in restaurants is voluntary, and usually about 10 per cent.
What's the time difference?
Nimes is one hour ahead of the UK and flight times average two hours.
Public transport
Nimes is compact enough to explore on foot or two wheels; check out Cycles Rebour for bike hire.
Best view
The Tour Magne in the Jardins de la Fontaine, the statue-lined city park, offers the best cityscape view. It's worth climbing the steep steps for the Unesco-bidding vista.
Insider tip
Shuttle bus transfers from Nimes airport only cost €6.80 and take you to the heart of the city in 20 minutes.
David travelled to Nimes with Ryanair; flights from £19.99, one-way.
Join our commenting forum
Join thought-provoking conversations, follow other Independent readers and see their replies