The Independent's journalism is supported by our readers. When you purchase through links on our site, we may earn commission.
How to visit Paris without leaving home
Armchair Travel: Experience the French capital from where you are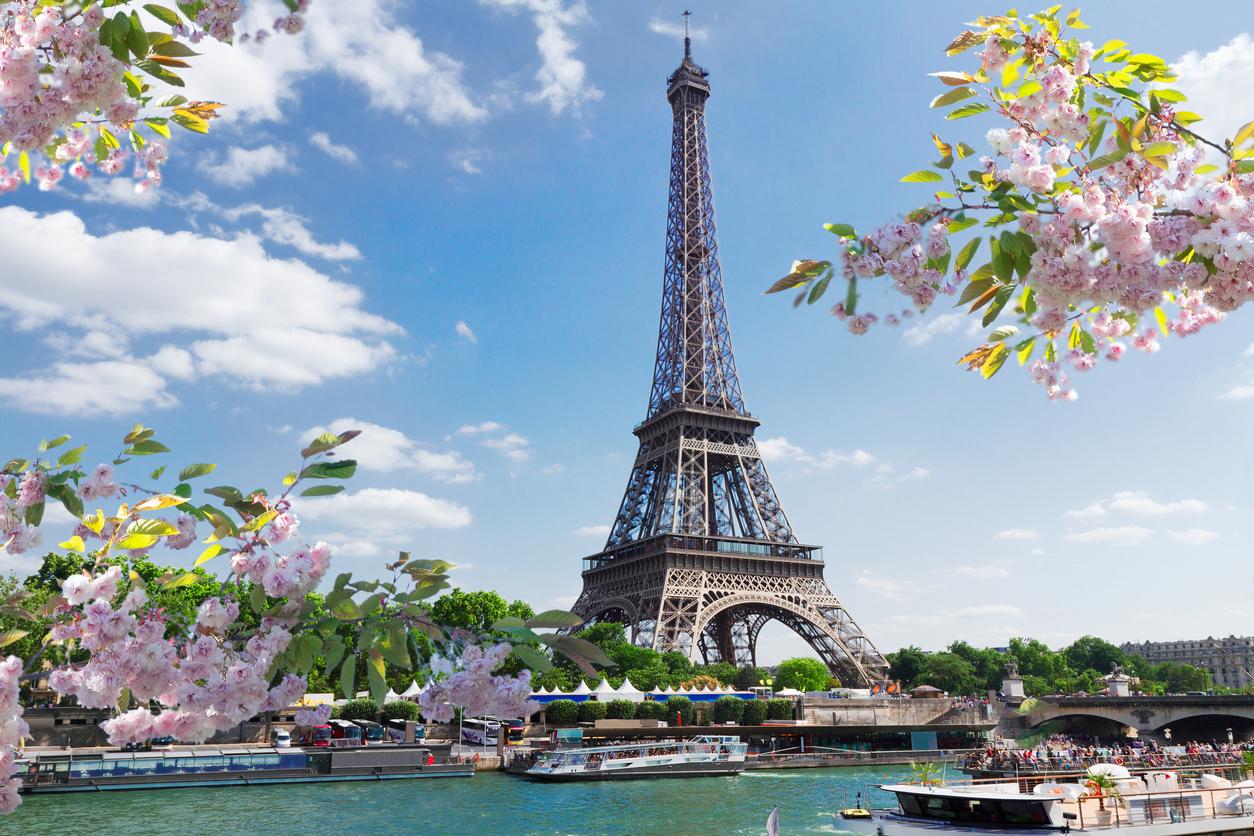 When Humphrey Bogart declared "We'll always have Paris" in Casablanca, he perhaps hadn't considered the possibility that the City of Light, along with swathes of Europe, might one day go into lockdown in response to a global health pandemic.
For now, the French capital is off-limits to tourists, with the fabled gargoyles of its beleaguered Notre Dame standing sentinel over hushed avenues.
But Paris has plenty to offer visitors, even from afar. Thanks to its cultural, culinary and artistic legacy – and Google – it is possible to add a dash of joie de vivre to your own quarantine experience.
Here's how to enjoy a virtual trip to Paris, while we wait for the time to stroll its cobbled streets once again.
What to do
See the landmarks
First things first: the Eiffel Tower. Paris's "Iron Lady" turned 131 this March, so now is a good time to brush up on the history of the landmark monument with the help of the Google Arts & Culture exhibition The Eiffel Tower in 1900, which explores the formidable technical engineering of the age.
Over on YouTube, Wanderlust Travel Videos can take you on a virtual tour of the modern-day structure, featuring two glass-walled elevator rides up to the 276-metre-high viewing deck. Filmed on a crisp spring day in 2019, the high-definition footage offers spectacular views of the Parisian skyline.
Another must-see is the Sacre-Cœur Basilica in Montmartre, which can be explored via a guided panoramic visit. It offers 360-degree views, both inside and outside the building, serving as a virtual vantage point over the city. Click on the interactive map to place additional landmarks.
Marvel at the splendour of Sainte-Chapelle's renowned 13th-century stained-glass windows, which stand 15 metres tall and recount the stories of the Old and New Testaments. This interactive tour, set to relaxing piano music, allows you to scrutinise the majestic space at leisure.
Fill up on art
Take a bite-size art history lesson at the Centre Pompidou, where the #PompidouVIP podcast offers insight into some of the major works displayed in the museum's permanent collection. Each episode – which takes the form of a conversation between a journalist and a guide – examines seminal pieces by artists including Henri Matisse, Frida Kahlo, and Joan Miro.
Meanwhile, Musee Rodin has undertaken the task of telling the life story of its namesake creative, the sculptor Auguste Rodin, in his own words. Each day, the museum uploads a photograph of the artist, alongside a quote, to Instagram.
"I failed the entrance exam for the Ecole des Beaux-Arts three times, so I couldn't apply for the prestigious Prix de Rome scholarship with all its opportunities for artists," reads one entry. "I was penniless, with everything to prove."
Local flavours
The best way to visit Paris is undoubtedly through your stomach. Luckily, in the interest of solidarity, Paris's chefs have ensured that the city (and its virtual tourists) continue to eat well during lockdown. You'll need patience – and possibly a helping hand from Google Translate – to recreate the magic, but your taste buds will thank you for the effort.
Eric Frechon, the chef who helms the three-star Michelin kitchen at the luxury Hotel Le Bristol, has published his recipes for the old favourites croque monsieur and omelette aux chips (yes, that's a omelette with crisps) on Instagram. Each recipe serves four people, but we won't tell if you don't.
Au Pied de Cochon, a traditional brasserie established in 1947 in the 11th arrondissement, has also shared the recipe for its signature soupe a l'oignon.
If you fancy trying your hand at making a baguette from scratch, then head to the artisan-boulanger Eric Kayser's Maison Kayser Academy YouTube channel, which features subtitled videos guiding home chefs through the process (there are also recipes for desserts like chocolate fondant and strawberry tart).
For an authentic Parisian cooking experience that comes with mouthwatering footage of the city's markets, binge on the BBC TV series The Little Paris Kitchen: Cooking with Rachel Khoo, or snap up Khoo's book, The Little Paris Kitchen: Classic French Recipes with a Fresh and Fun Approach.
Before you know it, it will be Happy Hour, and time to pull a tiny table over to an open window and indulge in the glorious French tradition of the apero en terrasse.
Knock up a St-Germain Spritz by following these instructions, or pretend you're heading to Candelaria, one of Paris's hippest cocktail bars, by rustling up its signature Guepe Verte concoction – a combination of lively tequila and soothing cucumber.
Little Red Door, another great cocktail spot, has just released the book Don't Judge A Door By Its Colour, which explores the concept of flavour, and could provide useful inspiration. To get your hands on a copy, email contact@lrdparis.com.
Setting the scene
Recreate the uniquely Parisian experience of being serenaded by an accordion at improbable moments by listening to Jeremy Dutheil's melodies – his music can be found on his YouTube channel, which features nostalgic French classics such as "Champs Elysee", as well as feel-good tunes like "On the Sunny Side of the Street".
For romance and sentimentality, anything by Edith Piaf or Charles Aznavour should do the trick. Alternatively, for a more current vibe, head to Apple Music, where the celebrity nightspot Hotel Costes has uploaded its April 2020 soundtrack for chilling at home.
Literature's love affair with Paris means that bookworms are also spoiled for choice when it comes to navigating its streets remotely.
Victor Hugo's The Hunchback of Notre-Dame is an obvious starting point; the tragic love story between a gypsy and a hunchback plays out against the backdrop of the illustrious Gothic cathedral, which is arguably the protagonist of the novel. Ernest Hemingway's memoir A Moveable Feast takes the reader on a spin through a 1920s version of Paris, populated with literary greats such as F Scott Fitzgerald, James Joyce and Ezra Pound; while Anthony Doerr's brilliant Second World War novel All the Light We Cannot See conjures up evocative visions of the historical Latin Quarter.
France around 1900: A Portrait in colour
Show all 11
For Francophiles, director Jean-Pierre Jeunet's 2001 film Amelie has long been a gateway into the dreamland of French cinema, thanks to its whimsical shots of Montmartre, kitsch styling and jaunty Yann Tiersen soundtrack. It tells the story of Amelie Poulain, a quirky waitress manipulating destiny to spread joy, and will leave you utterly charmed.
Striking female characters and colourful Parisian scenes also take the lead in La Vie en Rose, a biography of the singer Edith Piaf; and Colette, which tells the tale of the avant-garde writer of the same name.
However, there is perhaps no better introduction to the teeming contradictions of life in the French capital than the multi-directorial effort Paris Je T'aime, a medley of 18 short films, each telling a story set in one of Paris's arrondissements. With a star-studded cast including Natalie Portman, Maggie Gyllenhaal, Gerard Depardieu, it's an easy and bittersweet introduction to the capital's neighbourhoods.
Bring it home
Forget plastic Eiffel Tower keyrings: the trademark Parisian souvenir has become an ink-stamped paperback from Shakespeare & Co, the Left Bank bookshop with a cult following and a storied history involving some of the world's most famous writers. Support the store by placing an online order (which will be fulfilled post-lockdown), choosing from its extensive array of indie works and classic tomes.
Chic concept store Merci is the ideal destination for curated fashion and design objects with an intellectual touch, and it is still doing business online. The boutique's website stocks everything from coffee table books to bed linen, but it's new T-shirt Merci 1000 is gaining attention. The shirt features a poem thanking health professionals for their work through the Covid-19 crisis, with sales proceeds being directed to the Paris Hospital Trust.
Jewellery designer Annelise Michelson's high-end pieces with a bohemian twist are a popular choice with celebrities, and her eponymous brand remains open online, shipping from its Parisian workshop. Her sculptural designs, which are crafted from bronze, silver or vermeil and gilded with gold, make for the perfect statement gift.
Anything else?
Paris's tourist office has been encouraging residents to share their snapshots of the city during lockdown, publishing images on social media using the hashtags #parisfrommywindow and #ParisJeTaime. The tourism board r-posts a selection of snaps daily to its @parisjetaime Instagram account, and the gallery makes for a dreamy combination of slate grey rooftops, Haussmann buildings, sunny interiors and gorgeous sunsets.
Now is also the time to dust off your rusty French in preparation for your next trip to the most romantic of cities. Start with learning a lovely French phrase – there are thousands of them. A fitting one right now might be "apres la pluie, le beau temps", which means "after the rain, good weather", and is essentially a poetic way of saying "things will get better". Paris, on t'aime.
Join our commenting forum
Join thought-provoking conversations, follow other Independent readers and see their replies