Fresh flavours in Extremadura

Show all 3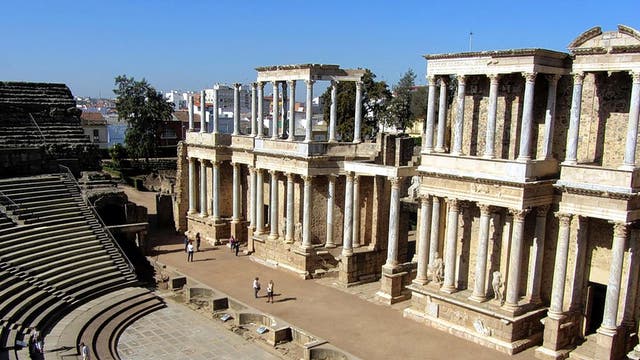 Fresh flavours in Extremadura
The Spanish region that was home to the conquistadors is a place of rich history and dazzling cuisine, says Leni Gillman
Leni Gillman
Friday 21 June 2013 11:07 Comments
It's a stiff climb up narrow cobbled streets to reach the castle at Montánchez, built by the Moors 1,200 years ago. But it's worth it. From the polished granite ramparts, you look across a patchwork plain, where holm oaks and olives grow, and pigs and cattle roam, to the jagged sierras that line the horizon. The castle and the view hold the key to Extremadura, where history is always in evidence and the land is the font of an earthy regional cuisine.
Its relative isolation, poised between Castile and Portugal – and more than 100 miles from an airport with UK flights – gives it an allure reminiscent of the days before mass tourism. I came looking for traces of the Spain I had known decades ago and found an intriguing fusion between the old Spain and the new.
What first struck me, as I headed up the streets below the castle, was a sweet, nutty aroma that came from one of the staples of Extremadura food. The black pigs which graze the acorns on the grassy plain are slaughtered after two years and converted into jamón – and the jamón produced in Montánchez, with its dry mountain air, is reputedly among the best in Spain.
At his small family business, Juan Carlos Bautista showed me the mound of Cadiz sea salt where the legs are first buried to dry and preserve the meat. They are then hung for two years before going on sale, free of additives, at his store. Fresh-cut ham has the richest flavour, as Mr Bautista was keen that I should discover. Carving wafer-thin slices from the deep red ham, threaded with creamy veins of soft fat, is a special skill.
Montánchez jamón was on the menu for a typically late Sunday lunch at Restaurante La Posada, where locals were still arriving at 4pm. There were also tasty items such as cochifrito – fragments of deep-fried pork on the bone. You could eat and drink your fill for €15.
I had an equally robust and good-value tapas meal in Casa Benito café in Mérida, served in a dark panelled bar. It included a powerful oxtail stew (rabo de toro) and a challenging dish of braised boars' snouts (morro de cerdo) – all originating from a subsistence cuisine where every part of the animal is put to use.
As I strolled through Mérida, I encountered the city's Roman antecedents at every turn, from mosaic fragments to entire temples, together with a spectacular amphitheatre and an impressive archaeological museum. Most affecting is a stretch of worn roadway that conjures the bustle of life in what was the Roman capital of Lusitania – the province that covered present-day Portugal plus Extremadura.
Until 10 years ago, Extremadura's roads were almost as dilapidated. Now a new autovia network makes it easy to explore. At Alange, I floated in the briny waters of an immaculate Art Deco spa, fed by a thermal spring that the Romans used. The town of Zafra is a maze of alleys and plazas, with a parador and its excellent restaurant in a 15th-century palace.
I was drawn to the drowsy village of Medellín on learning that it gave its name to the notorious city in Colombia, founded by the conquistadors. Many were from Extremadura, among them the ruthless Hernán Cortés, commemorated in Medellín with an in-your-face statue that hails the "conqueror of Mexico". No less brazen is the monument in Trujillo to Francisco Pizarro, the man who murdered the Inca emperor and plundered their gold.
There are further old-world links in the monastery of Guadalupe, with its echoing courtyards and cloisters, where Columbus gave thanks for his discoveries. Breathtaking riches are on display – above all, the processional costumes, embroidered from gold and silver thread and testifying to the power and wealth of the Catholic church following the Reconquest, when the Moors were driven from Spain.
The Guadalupe monks dried and smoked the peppers brought back by the conquistadors, producing the paprika known as pimentón – another Extremadura speciality, adding piquancy to several dishes served at the monastery's unashamedly secular restaurant.
The hills around Guadalupe are home to Extremadura's goat's cheese, with its gutsy tang. Further west, cheese is made from the milk of merino sheep – notably the Torta del Casar, intense and creamy, served by slicing off its top to reveal a dense, fondant-like interior. Once made by shepherds, its production is now controlled by EU regulations. However, its makers still use coagulant obtained from thistles harvested around Zafra, a key to its unctuous texture and bitter, salty notes, prized by Spanish foodies.
Both cheese and jamón are ideally complemented by the wine of Extremadura, another Roman legacy. The fierce summer heat limits its quality but there is an impressive range of mid-quality reds, full and fruity, often with rich floral or spicy bouquets. In the supermarkets I found highly drinkable wines for €5-€15, including the stand-out Puerta Palma and Huno labels. I inspected the gleaming steel vats at the Habla bodega near Cáceres, where traditional methods have ceded to EU-controlled processes, yielding wines of increasing subtlety and complexity.
My last visit was to the walled city at Cáceres, where the granite architecture covers the gamut from Romans to the Reconquest via Visigoths and Moors. It also houses Atrio, the best restaurant in Extremadura, which represents an inspiring story of local enterprise. José Polo and chef Toño Pérez opened a modest neighbourhood dining room 25 years ago, won their second Michelin star in 2004 and moved to premises inside the walls in 2010. Its tasting menu provides exquisite variations on the Extremadura theme, among them loncheja – jamón with squid, green salad and curry sauce; careta – a pork, crayfish and duck consommé; and torta del casar, served with quince ice cream.
Inevitably, Atrio is among the Extremadura businesses feeling la crisis, as Spain's economic woes are termed: business recently had been "so-so," Mr Polo admitted. The day before, there had been a demonstration in the Plaza Mayor in Cáceres, by students protesting at government cuts. At Montánchez, Mr Bautista has reduced jamón production in step with Spanish belt-tightening. Yet Extremadura has been proportionately less affected than the coastal regions, the worst hit when the property bubble burst. Its tourist authority hopes that Brits driving south from the Basque ports will dwell a night or two en route to the Costa del Sol or the Algarve. But Extremadura deserves a longer acquaintanceship than that. Its entwined cultures of history and gastronomy are worth savouring for what they reveal of one of Spain's least familiar yet most enthralling regions.
Travel Essentials
Getting there
The writer travelled with Brittany Ferries (0871 244 1400; brittanyferries.com), which sails from Portsmouth and Plymouth to Bilbao and Santander. Fares from £274 each way for a car and cabin for two. The nearest airports with direct UK flights are Madrid served by BA, Iberia, easyJet, Ryanair, Air Europa; and Seville served by Ryanair and easyJet.
Staying there
Hospedería del Real Monasterio, Guadalupe (00 34 927 367 000; hotelhospederiamonasterio guadalupe.com). Doubles from €70. Parador de Zafra (00 34 924 554 540; www.parador.es). Doubles from €130.
Atrio, Cáceres (00 34927242928; www.restauranteatrio.com). Doubles from €240.
La Posada, Montánchez (00 34 927 380 045).
Casa Benito, Mérida (00 34 924 330 769).
More information
Register for free to continue reading
Registration is a free and easy way to support our truly independent journalism
By registering, you will also enjoy limited access to Premium articles, exclusive newsletters, commenting, and virtual events with our leading journalists
Already have an account? sign in
Join our new commenting forum
Join thought-provoking conversations, follow other Independent readers and see their replies