George Sand's Mallorca: A hilltop escape that dazzles – but wrap up warm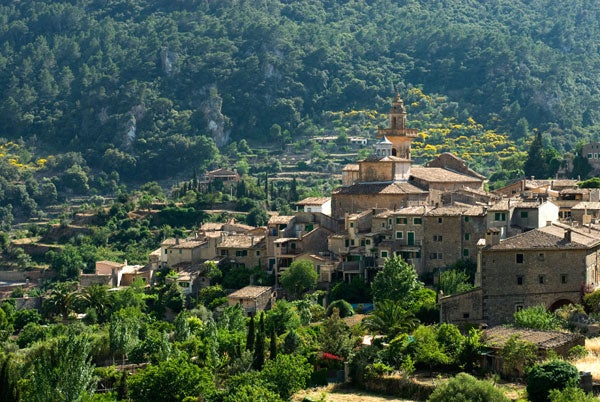 A winter in Mallorca? What could be more romantic? To escape northern Europe with your lover – a famous composer – and seek solace in the mountains, vineyards and citrus groves of one of the most beautiful islands in the Mediterranean. Sadly for George Sand, her fantasy sojourn couldn't have been more disappointing in reality.
The French writer, her two children and her lover, Frederick Chopin, decamped to Mallorca in November 1838. Chopin, who had a weak chest, thought a warmer climate would do him good. But from the first day in the island's capital, Palma, everything went wrong. "In a country so close to civilised Europe," she wrote, "we found it difficult to understand why we were unable to find a single inn ... In Palma one has to be recommended and introduced some months ahead to 20 of the more important local personages if one does not want to end up sleeping in the open air."
They eventually found two semi-furnished rooms "in a disreputable area where a stranger is lucky if he can find a trestle-bed with a mattress a little softer and little more yielding than a slate, a rush chair and food dominated by peppers and garlic". Sand's A Winter in Mallorca begins tartly, descends into exasperation and ends in acrimony. "As the winter advanced, the gloom froze all my attempts at gaiety and calm ... We felt like prisoners, far from any enlightened help or productive sympathy."
Sand had failed to prepare for two things. The weather in Mallorca in winter can be foul, despite being in southern Europe. A biting north wind, combined with prolonged periods of rain, is common, especially up in the hills. On top of that, Chopin was diagnosed with TB by a doctor in Palma – falsely, according to Sand – and Mallorcans were superstitious about the illness. Sand, Chopin and her children were turfed out of a house they were renting and treated like lepers by the locals.
Eventually, they found sanctuary of a sort in an empty Carthusian monastery in the hill village of Valldemossa. It had divine views down a valley to the sea. Despite her bad temper with all things Mallorcan, Sand was at least appreciative of the beauty before her. "It is one of those views that completely overwhelm one, for it leaves nothing to be desired and nothing to the imagination. All that a poet or a painter might dream of, Nature has created here."
That, and a freezing north wind. As we got out of the car in Valldemossa, I realised that I, too, had failed to prepare for winter in Mallorca. My first purchase was a woolly scarf, which I rarely took off for the rest of the trip.
The monastery at Valldemossa has made a small museum out of the rooms that the Sand entourage inhabited that winter. Her book is on sale here, but there is little in the museum to indicate that they had anything other than an enjoyable stay – or that Sand disparaged the Mallorcans as "monkeys" and thieves.
Luckily, much has changed since 1838. The Mallorcans we met couldn't have been friendlier. The views are still as spectacular as ever, and the roads hugely improved. In Sand's time, "rains, torrents, swamps, quickset hedges, ditches, all bar the path in vain; one does not stop for such trifles, because, of course they are part of the road.
"So you are left to contemplate the scenery either in expectation of death or in hope of a miracle". We, by contrast, zoomed along smooth highways, mountains gold-lit by the horizontal sunset light, the venerable, twisted old olive trees and dry-stone walls tracing their way down to the sea on our left.
For the 21st-century tourist, winter in Mallorca is delightful, as long as you pack a warm coat and, unlike Sand, stay in well-heated accommodation. Ours, La Residencia in Deià, was deliciously toasty. The staff were helpful and the restaurant, though expensive, was seriously good. The hotel is set in landscaped gardens and – though it takes up much of a hillside – it blends in completely with the village. Everything, discreetly, is in the best possible taste.
One advantage of visiting Mallorca out of season is that the crowds have vanished. Another is that you can enjoy the wonderful walks without sweltering. We followed a well-marked footpath from Deià to Sóller, a two-and-a-half-hour hike through olive groves, citrus orchards and pine forests, passing dilapidated farmhouses and tucked-away idylls. We crushed pine needles and marvelled at lush countryside. Halfway there, an enterprising owner of a manor house has set up a tiny café in his old carriage yard, where we sipped freshly-squeezed orange juice and coffee and admired the sensational view to the sea.
Deià itself is a charming hill town, once home to the writer Robert Graves. He translated and annotated one edition of A Winter in Mallorca and provides a plausible explanation for why Sand took against Mallorca so violently. Apparently her daughter, Solange, resented Chopin's dalliance with her mother. So, when they were lodging in the monastery, she dressed up as a monk and appeared to him as a ghost. Chopin was so disturbed by the apparition that he went to the sacristan and asked for absolution. This was granted, on condition that he stop having sex with Sand. They never slept together again.
No wonder Sand resented the island. For the rest of us, though, providing we are neither consumptive nor fearful of divine retribution for an illicit affair, it provides a perfect few days of natural beauty, architectural charm and dazzling views. Just don't forget to wrap up warm.
Mary Ann Sieghart travelled to Mallorca with ITC Classics (01244 355 527; itcclassics.co.uk). They offer three nights from £765 per person based on two adults sharing a classic double room at La Residencia, including breakfast, flights with Easyjet from London Gatwick and private transfers
Mallorca: hiking, clubs & beaches
* There's no better time than spring to explore Deia, the exclusive arty enclave on Mallorca's north-western coast, that has attracted such literary luminaries as Robert Graves and Anais Nin. Mallorca Farmhouses ( mallorca.co.uk) has villas with pools from £950 a week.
* Leave the masses behind and hike the Serra de Tramuntana. Mallorca's highest range reaches 1,447m, a landscape of often surreal-shaped limestone karst that runs through the northwest of the island, plunging down to its rugged coast; inntravel.co.uk.
* Don't dash through Palma. Mallorca's main city is worth a weekend break, with a burgeoning boutique hotel scene (try the pioneering Portixol: portixol.com) and some swanky swimming spots like the Purobeach Oasis del Mar ( purobeach.com) that juts out into Palma Bay, a chill-out spot by day and club by night.
* The best beach? It's hotly contested but the favourite among sand-savvy travellers is Playa d'es Trenc, near the fishing port of Colonia de Sant Jordi – a 3km-stretch of pristinecoast that ranks among Mallorca's finest; spain.info.
* Hotel Formentor, on Cap Formentor, is the grandaddy of grand hotels on this well-established tourist island. Set in lush Mediterranean gardens on a jut of headland above the wild northern coast, this hotel has spectacular views; hotelformentor.net.
Join our commenting forum
Join thought-provoking conversations, follow other Independent readers and see their replies