The Independent's journalism is supported by our readers. When you purchase through links on our site, we may earn commission.
Why a tour of Georgia's Soviet-era past is the best way to explore this complex country
Back in the USSR: Delving into Georgia's history creates a trip like no other, finds Maya Oppenheim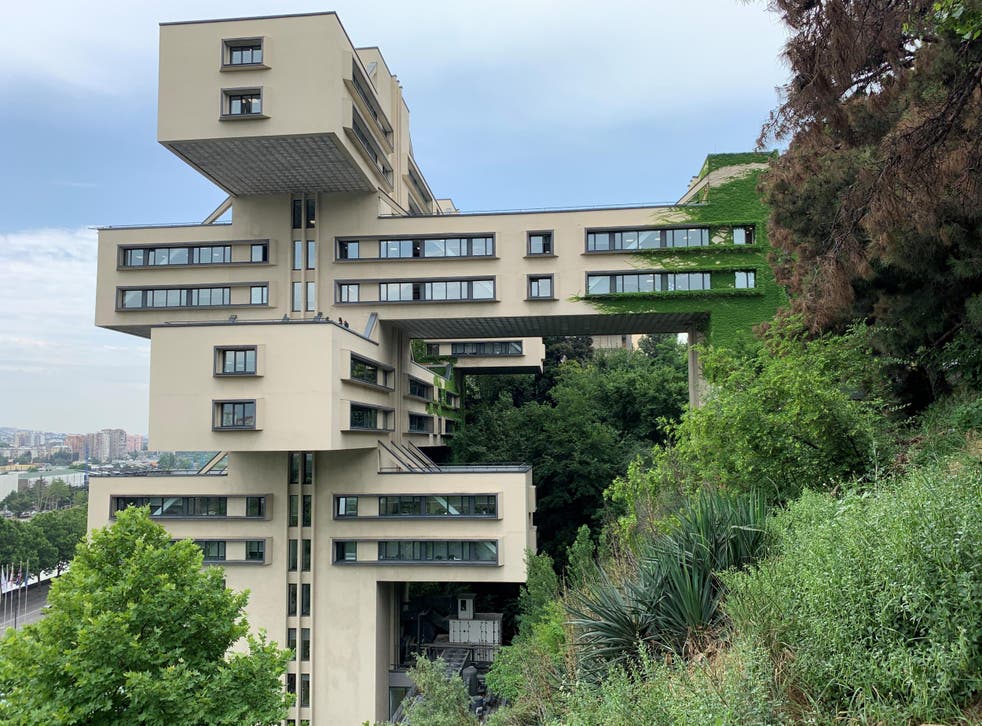 "Georgian nature, culture and people make this country the most beautiful in the world," secretary-general of the United Nations' World Tourism Organisation, Taleb Rifai, once said.
It might sound an awfully audacious claim – and I am not in the business of pitting countries against each other – but after an eye-opening three-day tour, it's not hard to see where Mr Rifai was coming from.
From the absurdly glorious scenery – the country is home to the highest mountain range in Europe – to the rich history spanning five millennia, there are as many reasons to visit Georgia as there are varieties of grapes in the country (more than 500 indigenous species, to be exact).
Located at the crossroads of eastern Europe and western Asia, flanked by the Black and Caspian seas, Georgia is bounded to the north by Russia, to the south by Turkey and Armenia and to the southeast by Azerbaijan. The country of four million, which has been dubbed the "Italy of the Caucasus", has long been shaped by its position at this meeting point of disparate cultures.
Women struggle for independence in Georgia

Show all 14
One substantial, albeit often glossed over, element of Georgia's history is its long stint as a member of the Soviet Union. Georgia experienced a fleeting three years of independence after the collapse of the Russian Empire in 1917, but this was abruptly cut short after the Red Army seized the nascent democracy and made it part of the USSR. Georgia remained part of the union for the next 70 years.
I learn all this (and much, much more) during a deep-dive into Georgia's past on a Soviet Tours trip. The brainchild of Berlin-based photojournalist and travel author Gianluca Pardelli, the company aims to move beyond the "shallow stereotypes" of cut-rate booze, military paraphernalia, gaudy outfits and "tasteless dark tourism" that other travel firms seem keen to promulgate when it comes to the former USSR.
While Soviet Tours provides trips mainly in and around the former USSR – Georgia being just one of many destinations – it also offers tours as far afield as Iraq, Nigeria, Kurdistan, Eritrea, Sudan and North Korea.
"We chose to avoid ridiculous simplifications and aimed our focus rather on culture, architecture, history, politics, traditions, and human relationships," Pardelli explains. "We tend to shun well-travelled routes and prefer to explore unknown destinations, remote regions and forgotten backwaters.
"We're experts in unrecognised countries, contested territories and separatist states as well as little-known autonomous republics and obscure geopolitical entities."
A strong passion for and enduring interest in the former Soviet Union and its successor countries spurred Pardelli to set up Soviet Tours.
"I had a burning desire to show my prospective clients the rich kaleidoscopic of cultures, stories and traditions I had been experiencing during my years of extensive travel across and beyond the former USSR," he says.
He turned his attention to Georgia due to the fact the country's "rich architectural and cultural heritage" from the Soviet era is often overshadowed by the nation's other tourist attractions.
"We truly go off the beaten path," he tells me. "Purposely avoiding tourist areas and hotspots, we focus on little-visited industrial towns and fading concrete glories. We go beyond postcard-like images and prefer to show a truer and more challenging face of the country."
And that it certainly does. The trip feels as far from a tourist board-sanctioned itinerary as you can get.
We start our journey in the capital of Tbilisi – a beautiful city whose winding streets give way to Georgian babushkas by the roadside, pomegranate juice sellers, cafes stacked with cheesecake and heaving food markets and bookstalls. It's a smorgasbord of medieval, classical, and Soviet structures alongside shiny, space-age architecture.
From the beaten-up stray dogs to the bougie cafes and "post-industrial chic" bars; from the drug dealers' numbers graffitied on building walls to the EU flags hung from public buildings (despite Georgia not being a member): Tbilisi is a bundle of contradictions. Old men play backgammon and chess on street corners. Hip teenage girls take selfies. It's opulent yet decaying – dazzling yet shabby.
We focus on both qualities with a visit to Soviet-era gems from the 1970s and 80s, such as the Lego-like neo-constructivist Ministry of Highways and the expressionist Palace of Rituals. Both are now privately owned, with the latter housing the headquarters of the Bank of Georgia. Other highlights include exploring the Gldani and Varketili districts to see Soviet-era mass housing projects built in the Sixties and Seventies – a time in the country's history known for its relative calm and prosperity. Today, both these Soviet-era micro-districts suffer from serious overcrowding and a dearth of repairs. Balconies have been turned into rooms to add additional space to flats, and entire blocks have added precarious-looking extensions from a random assortment of materials.
We venture onwards, to the fetching Soviet-classicist town of Gori. It's the birthplace of none other than Joseph Stalin and is home to the Stalin Museum. Much as when it opened in 1957, the museum continues to be something of a shrine to Uncle Joe. Paintings and photos of Stalin through the ages show the ruler of the former Soviet Union doing a random assortment of miscellaneous activities. Driving a car, writing a letter, holding a small girl: his eyes follow you wherever you go.
There's even polished Stalin merch in glass cabinets, his face emblazoning everything from delicate crockery to opulent vases. Fortunately, the museum does now at least mention his monstrous legacies: the Gulag, the purges and the leader's pact with Adolf Hitler.
Gori is also the last Georgian-controlled frontier before the contested border with the Republic of South Ossetia – an independent but disputed territory not accepted by the international community. In the 2008 war over South Ossetia, Gori was bombed by Russia. At least 20 civilians were killed and the majority of the population escaped before the town fell under Russian control for 10 days.
The tour is packed with both Soviet modernist gems, from the array of brutalist concrete buildings to the forgotten Soviet-era bus stops, and regular, reasonably-priced food stops. The latter happily involves eating mountains of steaming Khinkali – special dumplings which are a Georgian staple.
The former Soviet resort town of Tskaltubo in west-Central Georgia is next on the fit-to-bursting agenda. Some 30km (18 miles) inland from the Georgian coast, Tskaltubo was a booming spa town back in the Twenties. During the Soviet Era, the USSR built 186 sanatoriums across the state created for comrades who needed rest and relaxation, with Tskaltubo emerging as one of the most popular places for workers and the upper echelons alike. At its zenith, 100,000 people visited a year, with four trains coming in daily from Moscow. Stalin himself was a devotee.
Workers came to Tskaltubo, which was home to 22 sanatoria, as part of a state-funded programme called putevki. It required citizens to take compulsory spa holidays for at least two weeks each year (not such a bad idea if you ask me). But now the sanatoriums, which blend classical Stalinist design with ethnic Georgian decor, have fallen into disrepair. When the Soviet Union crumbled in 1991, they were left to crumble with it.
While chipped marble columns give way to smashed windows, dilapidated stairways and rubble-covered floors, the grandiose character of the buildings lives on. And, nestled among the thriving palm trees and peeling posters for political candidates, there is life in them yet. They are now inhabited by victims of war: in 1992, a vicious battle erupted between government forces and separatists who fought for the independence of Abkhazia, a disputed autonomous republic in northwestern Georgia, and tens of thousands of people were displaced. After being driven out of their homes by conflict, Abkhazian refugees transformed the sanatoria in Tskaltubo by constructing make-shift homes and tending to vegetable patches. We even see a couple of chickens wandering aimlessly alongside people sitting playing with an abacus.
It could be a metaphor for Georgia, in all its beautiful contradiction – opulent yet decaying, dazzling yet shabby.
Travel essentials
Getting there
Georgian Airways flies direct from London Gatwick to Tbilisi from £400 return.
Staying there
G Vino City Wine Hotel in Tbilisi has doubles from £47.
More information
Soviet Tours offers a seven-day itinerary in Georgia, including B&B accommodation, private transport in the region, entrance fees to the attractions listed and guiding and translation service, for €1,250. Bespoke itineraries are also available.
Join our new commenting forum
Join thought-provoking conversations, follow other Independent readers and see their replies