The Independent's journalism is supported by our readers. When you purchase through links on our site, we may earn commission.
Germany's great outdoors: The Black Forest, wine country and Saxon Switzerland
In the second of a three-part series on this European powerhouse, produced in association with Lonely Planet, Andrea Schulte-Peevers explores its natural assets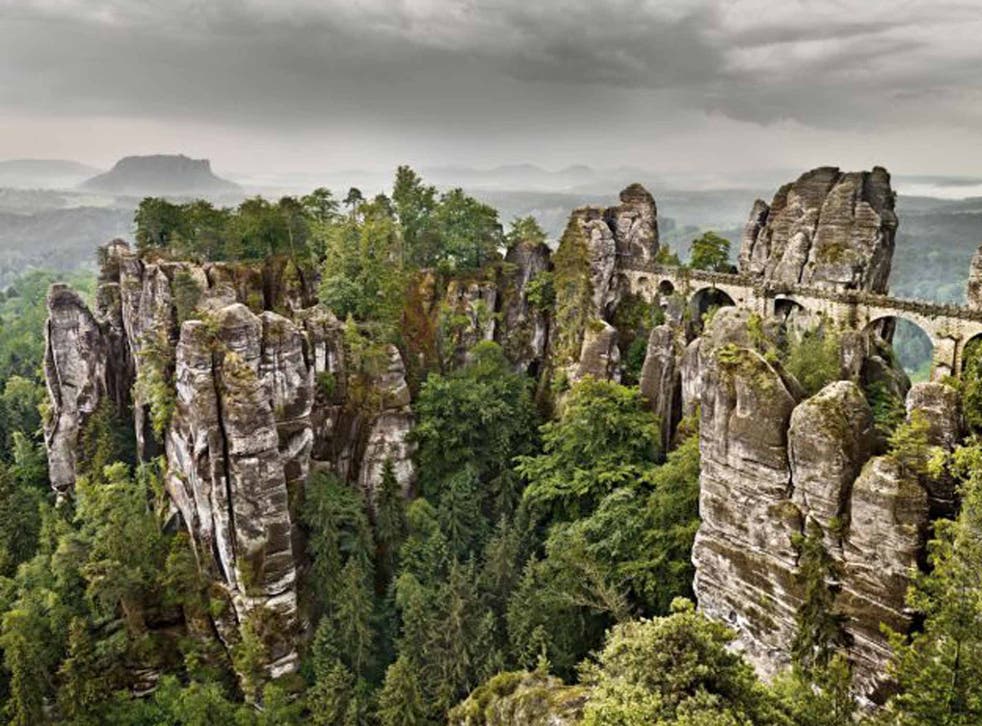 There is something irresistibly artistic in the way Germany's natural landscape unfolds: from the dune-fringed coastline in the north to the fairytale forests, mist-shrouded valleys and sprawling vineyards in the centre, all the way to the Alps in the south, carved into rugged glory by glaciers and the elements.
With nearly 82 million people, Germany is Europe's most populous nation, yet when you travel outside the major cities it's easy to wonder where they all live. More than a third of its terrain is covered with forests and much of the rest is comprised of rolling hills, fields and vineyards.
The most precious patches of nature are protected by Germany's 15 national parks. Each has its own character, from the gleaming white chalk cliffs of Jasmund National Park, on the Baltic island of Rügen, to the craggy peaks and ice caves of Berchtesgaden National Park, on the border with Austria. The newest to join the ranks is the Black Forest National Park, which was designated in 2014. Add to that 104 nature parks and 15 biosphere reserves, and it's clear Germany takes its nature pretty seriously.
The best way to explore the great outdoors is on foot – after all, the word wanderlust was coined by the Germans. There are 200,000 km of sign-posted trails criss-crossing the countryside, from gentle rambles to hardcore alpine climbs, so it's easy to find a route to match your timeframe, sense of adventure and fitness level.
Germany's great outdoors

Show all 6
The Bavarian Alps are Germany's hiking heartland, and for a truly special experience it's possible to embark on a multi-day trek from mountain hut to mountain hut. Built to protect shepherds, farmers and mountaineers from the elements, many of these huts now provide a welcome brotzeit (light meal) stop or a place for weary hikers to spend the night. Set amid splendid scenery, they tend to be rustic affairs, and some have strong historic credentials: the Soiernhaus in the Karwendel range is "Mad" King Ludwig II's former hunting lodge, and the Staffelalm in the Tölzer Land once provided refuge to the expressionist painter, Franz Marc. Most huts are managed by the German Alpine Association (00 49 89 140 030; alpen verein.de). Local chapters also organise guided treks. Handy resources for planning a German walking holiday include touchingnature.co.uk and wanderbares-deutschland.de.
Germany is also superb cycling territory, whether you fancy a leisurely spin around a lake, a downhill ride in the Alps or a multi-day freewheeling adventure. Local tourist offices can supply suggestions for trips and you can rent bikes (including e-bikes) in most towns and villages.
More than 200 sign-posted, long-distance cycle routes cover 70,000km across the country. These combine lightly travelled back roads, forestry tracks and paved highways with dedicated bike lanes. Many traverse nature reserves, meander along rivers or venture into mountain terrain. One of the most popular and family-friendly is the 245km-long Altmühltal Radweg, which starts in the walled medieval town of Rothenburg ob der Tauber and follows the Altmühl River as far as Kelheim. Ancient castles, monasteries, villages and beer gardens make for pleasant stops along the way, as does the bishop's seat and university town of Eichstätt.
Germany's national cycling association, ADFC, has an extensive website (adfc-tourenportal.de) with downloadable maps and route suggestions. It has also created a handy directory called Bett+Bike (bettundbike.de) that lists 5,500 bicycle-friendly hotels, inns, hostels and campsites.
The Black Forest
The Black Forest National Park sprawls across 100sq km south-west of Baden-Baden. Between the bucolic Black Forest High Road and the Murg Valley, it protects thick woodland, glacial lakes, thunderous waterfalls and dark moors. You can even find house-sized cuckoo clocks near the village of Triberg.
The region is also a fine-dining paradise, famous for its smoked ham and kirsch-drenched gateau and boasting no fewer than 26 Michelin-starred restaurants. Hiking and cycling are the main outdoor pursuits. Mac's Adventure (0141 530 4013; macsadventure.com) offers a nine-day Red Deer Trail self-guided walking holiday (with seven days' walking) in the northern Black Forest. Available between May and October, the trip will take you from the town of Freudenstadt through forests, open pastures and villages. The package costs from £645, including B&B accommodation, baggage transfers, route notes and maps. Flights not included.
Wine country
The vineyards along the Mosel deliver a rewarding immersion in viticulture. It was the Romans who first brought wine-making to Germany some 2,000 years ago, and founded the city of Trier – the starting point of the Mosel Cycle Route that follows the river for 200km as far as Koblenz.
Along the way, you'll clap eyes on Europe's steepest vineyard and stop in such celebrated wine villages as Bernkastel-Kues, with its timber-framed homes, Art Nouveau-flavoured Traben-Trabach and romantic Beilstein. Opportunities to sample fine rieslings and other classic German varieties in ancient cellars and cosy taverns abound. Good options include the Zehnthauskeller (00 49 2673 900 907; zehnthauskeller.de) in Beilstein and the Mosel Vinothek (00 49 6531 4141; moselvinothek.de) in Bernkastel-Kues, which has an all-you-can-taste deal for €15.
Radweg Reisen (00 49 7531 819 930; radweg-reisen.com) offers self-guided, seven-day Mosel cycle tours from €439, including B&B, luggage transfers, route notes, maps and a guided tour of Trier.
Boat & Bike Tours (00 31 299 313 071; boatbiketours.com) runs seven-day trips through Saarburg to Koblenz (or vice versa) that include accommodation on board, three meals a day, bicycles, daily guided rides and one wine tasting. From €699pp.
Saxon Switzerland
Saxon Switzerland is a magical land where nature has chiselled porous rock into a series of dramatic spires, cliffs, ravines, mesas and valleys. Through it all meanders the mighty Elbe River, past thick forest, hilltop forts such as the 13th-century Festung Königstein (00 49 035021 64607; festungkoenigstein.de; €4), and villages including Bad Schandau, where scenes from Oscar-winning film The Reader were set.
One of Germany's most scenic trails, the 112km-long Malerweg (Painters' Way), follows in their footsteps, passing by dozens of walker-friendly inns set up to provide stays and catered lunches.
Cyclists are drawn to the Elbe Cycle Route (elbe-cycle-route.com) that stretches up from Cuxhaven. But Saxon Switzerland is Germany's top spot for rock-climbing. Kletterschule Outdoortours (00 49 35971 569 07; klettern-sachsen.de) offers a four-day introductory package, including two days' instruction, equipment and full-board lodging for €245.
The Green Belt
On 3 October, Germany will be celebrating 25 years as a reunited nation, making this a good time to reflect by hiking or cycling the 1,400km-long former East-West border.
The so-called Green Belt zigzags from the Czech Republic to the Baltic Sea, passing watchtowers, signposts and other Cold War relics. Off-limits to development for 40 years, the border strip allowed nature to flourish.
One of the nicest and most easily accessible sections is the 100km-long Harz Border Trail, in Harz National Park. A handy first stop is the visitor centre in Torfhaus (00 49 5320 331 790; torfhaus.info), near Goslar.
Wandern im Harz (00 49 5321 689 6600; wandern-im-harz.de) offers self-guided walks, including a six-day itinerary from Wernigerode to Walkenried, via Mt Brocken, the Harz's highest peak. From €385, including B&B, packed lunches, luggage transfers and a bus back to Wernigerode. DIY-types should pick up a copy of Michael Kramer's illustrated "German-German Border Trail".
Where to stay
The classic way to overnight is in a gasthaus or gasthof. These inns are generally family-run, with restaurants serving home-cooked food. If you don't have a booking, look for signs saying "Zimmer Frei" (room available). In Trier, Hotel Siebenglueck (00 49 651 4631 0877; siebenglueck.de) offers doubles from €79, B&B. In Hinterzarten, in the Black Forest, is Gasthaus zum Engel (00 49 7652 1539; engel-hinterzarten.de), with doubles from €43, B&B.
Farm holidays are particularly suitable for families, because children can interact with animals and take part in farm activities. The German Agricultural Association inspects hundreds of farms and publishes details on landtourismus.de, which also allows you to contact properties directly.
Germany is littered with campgrounds, many in scenic locations. Camping on public land is not permitted, and if you want to pitch a tent on private land, you need to ask the owner's permission.
Getting there
Following the tragic Germanwings crash on Tuesday, the airline cancelled several flights. However, at the time of going to press it was operating a normal schedule, serving destinations including Stuttgart, the main gateway to the Black Forest. It flies there from Heathrow, Stansted, Birmingham and Manchester (0330 365 1918; germanwings.com). Stuttgart is also served by British Airways (0344 209 7777; ba.com) from Heathrow and Glasgow; Flybe (0371 700 2000; flybe.com) from Birmingham; and Ryanair (0871 246 0000; ryanair.com) from Manchester. Ryanair flies from Stansted to Baden-Baden, just north of the Black Forest.
For wine country and the Mosel, Frankfurt Hahn (not the city's main airport) is served by Ryanair from Stansted and Edinburgh. Cologne is another access point: fly Germanwings from Manchester, Birmingham, Edinburgh, Stansted and Heathrow; Flybe from Birmingham; easyJet (0330 365 5454; easyjet.com) from Gatwick; and Ryanair from Stansted.
The closest airport to Saxon Switzerland and the Harz Border Trail is Leipzig, served by Ryanair from Stansted and by Germanwings from Manchester, Birmingham, Stansted, Heathrow, Newcastle, Edinburgh and Glasgow.
To go by rail, take Eurostar (03432 186 186; eurostar.com) from London St Pancras, Ashford or Ebbsfleet to Brussels, where you can connect to Deutsche Bahn (00 44 8718 808 066; bahn.de). You can be in Trier (for wine country) in six and-a-half hours, in Goslar (for the Harz Border Trail) in nine, in Baden-Baden (for the Black Forest) in seven and-a-half, and in Dresden (for Saxon Switzerland) in 12 and-a-half.
Register for free to continue reading
Registration is a free and easy way to support our truly independent journalism
By registering, you will also enjoy limited access to Premium articles, exclusive newsletters, commenting, and virtual events with our leading journalists
Already have an account? sign in
Register for free to continue reading
Registration is a free and easy way to support our truly independent journalism
By registering, you will also enjoy limited access to Premium articles, exclusive newsletters, commenting, and virtual events with our leading journalists
Already have an account? sign in
Join our new commenting forum
Join thought-provoking conversations, follow other Independent readers and see their replies