The Independent's journalism is supported by our readers. When you purchase through links on our site, we may earn commission.
German spas: the naked truth
In Bavaria, anyone who fancies taking the waters should forget their swimming costume and dive right in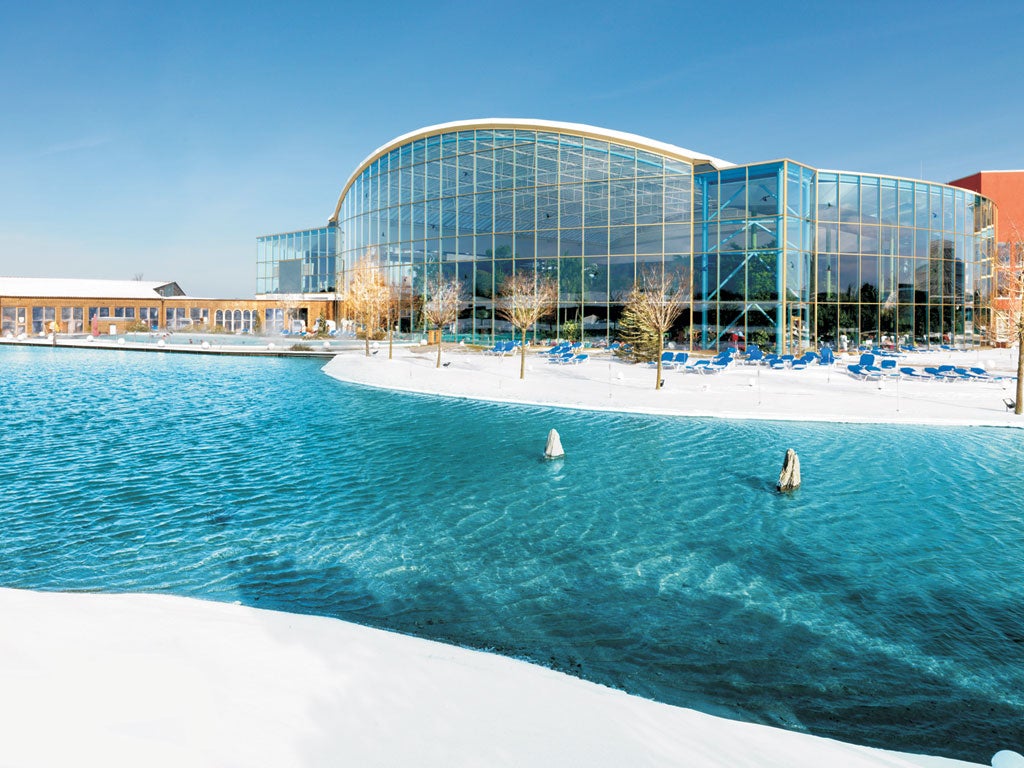 It's not the nudity that shocks visitors to Europe's largest thermal spa. It's the clientele. On a wintry Friday evening on the outskirts of Munich, post-work pals aren't watching TV or heading out for drinks. Instead they're sitting at Therme Erding's pool bar wearing nothing but an electronic wrist tag, which tots up how many half pints of local Erdinger lager they've supped through the night.
To those present, it's a Bavarian Eden. It's a classy Center Parcs – with frankfurters, but without the clothes. But to the naïve eyes of my wife and I, the scene seems almost Bacchanalian, a hedonistic playground as painted by Hieronymus Bosch. Hundreds of happy bathers aged from 18 to 80 splash naked in 34C healing springs. Couples piggyback through deeper waters like pairs of mating frogs. Others steam outside in thermal rockpools, wallowing like blissed-out manatees. Those naked Germans have all the fun.
Such hedonism hasn't been around long. A century ago Germany's spa scene was strictly high society. The likes of King Edward VII and Russian Tsar Nicholas II "took the waters" in ritzy retreats such as Bad Homburg and Marienbad. Indeed, Therme Erding's thermal source was only discovered by accident by the US petroleum giant Texaco in 1983. After years of geothermal research, the energy firm drilled for oil but found only a steaming lake of mineral-rich water. It's now one of new breed of family-friendly spas across the country, replacing herbal cures and laxatives with hammams and waterslides.
Therme Erding's changing rooms – some unisex, some segregated – lead out to Tropical Paradise. This zone is the largest non-naturist area of the 36-acre complex. The proportions are immense. At its centre bubbles a steamy healing cauldron the size of a football field, ringed by palm trees, whirlpools and bubble baths. In summer, the entire roof peels open to the sunshine; in winter rock concerts are held, allowing guests to mosh in their Speedos.
My wife may want to relax but I'm keen to dive headlong into my first spa experience. It's to Therme Erding's new indoor water park, a short walk through the children's thermal playground, that we head to first. Known as Galaxy, it's a mile or so of state-of-the-art slides, chutes and rapids. We take an elevator up to the highest slide (yep, no stairs to climb here) and recline on a two-person inflatable sofa. In front of us is a tunnel so wide that you could drive a Fiat Panda through it.
It's not an auspicious start. A tidal surge urges us into the abyss. My spatial awareness is governed only by my wife's open-mouthed screams and the g-force in the pit of my stomach. At times our inflatable chair corkscrews upwards, thrust uphill by powerful rapids. For a full minute we spiral downwards in pitch darkness, a sensory deprivation jarred by jets of ice water in the face. We're then dumped from a height – still screaming – into a bath-like pond. My wife utters a string of expletives that translates as: "I never want to go on another slide again."
I sense the mood calls for gentler pursuits. We head to the Vitality Oasis, the largest and strictly adult-only section of the spa. A giant billboard of a nude couple makes clear that we're about to enter a compulsory clothes-off zone. We buzz our wristbands at the electronic gate and drop our towels.
The first people we see are two teenage boys. Goofy, gangly and whiter than a weisswurst, they are hardly hardy specimens of Bavarian youth. Yet they are as comfortable with their nakedness as I would have been mortified at the same age.
With a new sense of liberation we walk around the main Vitality Oasis lake. Similar to the Tropical Paradise pool, it's an inviting mineral-rich pond surrounded by Japanese steam baths, bubble massagers and hundreds of white reclining loungers. We try to bag one as a base for our things (newspapers, books and iPods are allowed, cameras are verboten). But old stereotypes die hard. Despite signs pleading against the habit, every single seat is reserved with a towel.
As we float lazily in main herbal pool we spy a place for quiet pint. Therme Erding may boast an array of eateries from a Caribbean restaurant (nude) to a schnitzel joint (clothed) but nothing speaks holiday like a sunken pool bar. It's a slice of pure Tahiti, ringed by as many palm fronds and parasols as appear in their day-glo cocktails. We perch on bar stools, bottoms just below the high-water mark. Others prop up the bar and chat up the barmaid. It's microcosm of a Friday night boozer beamed across to the South Seas.
We scorn such anthropological studies by indulging in our own parlour games. Honestly, swimming and drinking beer in the nude is such a novelty that we can't help ourselves. One contest has us diving under water to the bar counter (you can open your eyes in the thermal shallows) then arising like Zeus to sup a pint in gales of laughter. In a warm, beery haze, our winter worries peel away. But our japes win us dirty looks from the bar.
Behind the bar lies the Sauna Paradise. A cutting-edge area of the spa, it's where the detoxification process begins. With 25 wellness areas ranging from a Finnish log cabin to a citrus-scented hammam, it's the world's largest sauna complex.
Loungers in the Alhambra dry sauna are evenly spaced out around a central circle. Soft music mutes any noise from your naked neighbour. There's just enough light to read a newspaper by, but most of us doze on the contoured beds. Our lazy tour continues through scalding footbaths, UV face lamps, rose-petal steam rooms and bath-like floatation pools.
After four hours our winter bones are warmed to summer beach levels and we're keen to complete the true German spa cycle. To show we're not wimpy English prudes we run naked into the Bavarian night. Some locals dip into icy plunge pools and roar with wild abandon. Others jog or flap in the freezing air. In searing pain we dive to the bottom of the outdoor thermal pool. It's the temperature of a hot bath and we don't get out for a very long time. We're not the full bratwurst yet.
Total immersion: German spas
Claudius, Cologne
Classy indoor/outdoor spa complex with mineral-rich waters ranging from 33C to 73C. Includes salt-water floatation pool and vaporisation saunas. Day passes: €27.50. (00 49 221 981 440; claudiustherme.de).
Taunus Therme, Bad Homburg
Adult-friendly indoor/outdoor thermal baths in historic setting. Includes vast naturist section with UV lamps, Finnish sauna and sausage restaurant. Day passes: €24. (00 49 617 240 640; taunus-therme.de).
Palm Oasis, Black Forest
Tropical spa near the French and Swiss borders with 33C thermal waters and an 18-slide indoor theme park. Day passes: €18. (00 49 765 193 600; badeparadies-schwarzwald.de)
Travel essentials
Getting there
Munich airport is served by easyJet (0843 104 5000; easyjet.com) from Gatwick, Stansted, Edinburgh and Manchester. Lufthansa (0871 945 9747; lufthansa.com) and Singapore Airlines (0844 800 2380; singaporeair.com) compete from Manchester. Lufthansa also flies from Birmingham, London City and Heathrow, where it competes with British Airways (0844 493 0787; ba.com).
Railbookers (020 3327 2439; railbookers.com) offers two-night rail packages from London to Munich, staying at the Holiday Inn Munich City Centre, with breakfast and a return flight home on British Airways from £325.
Taking the waters
Therme Erding (00 49 8 122 2270200; therme-erding.de) offers day passes to the spa with full access to all areas for €40. To reach it from Munich, take the Line 2 S-Bahn to Altenerding, where a shuttle bus and a forest path lead to the spa.
Click here to view German tours and holidays, with Independent Holidays.
Join our commenting forum
Join thought-provoking conversations, follow other Independent readers and see their replies