The Independent's journalism is supported by our readers. When you purchase through links on our site, we may earn commission.
Hamburg guide: Where to eat, drink, shop and stay in Germany's second city
Make the most of a trip to Germany's 'Gateway to the World'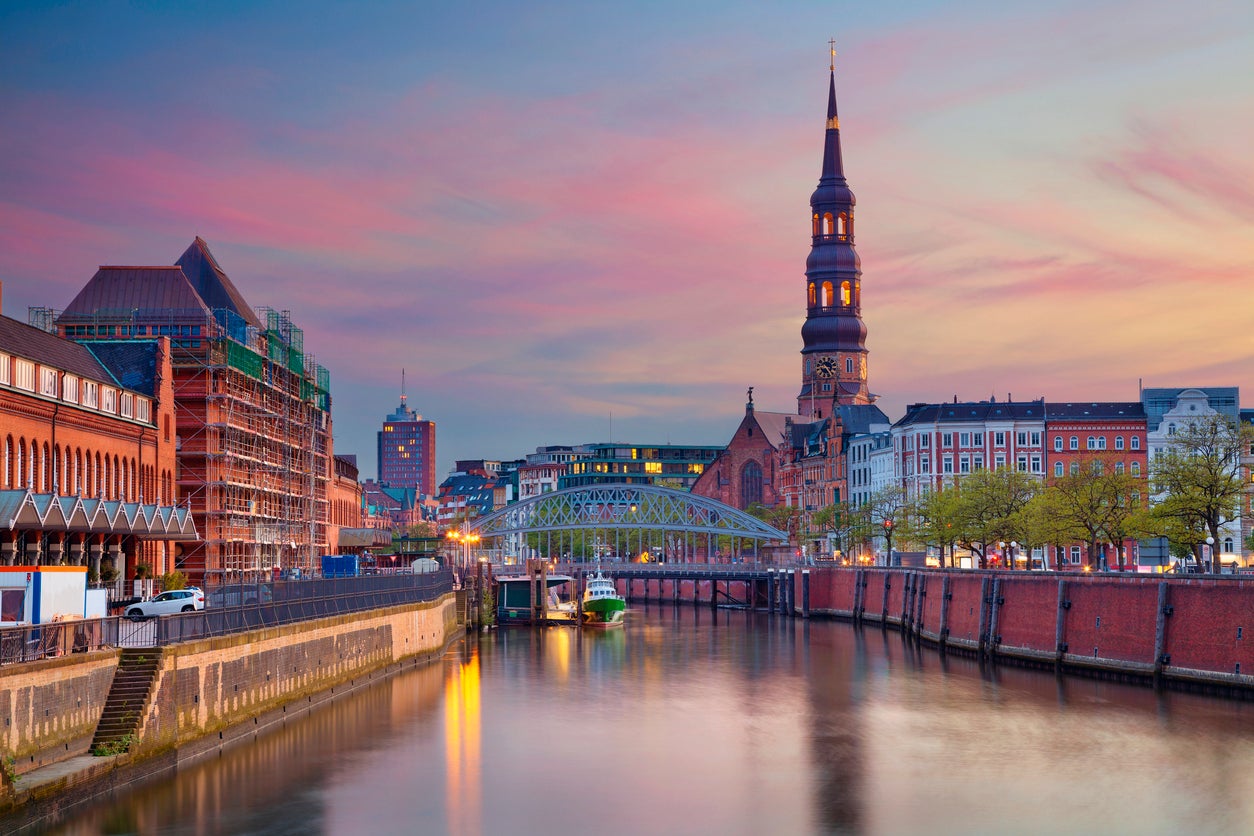 Nicknamed "Tor zur Welt" (Gateway to the World), Hamburg's welcomed merchants, sailors and travellers for centuries. These days Germany's second largest metropolis is best known for its nightlife, northern brick architecture and maritime flair. And since the opening of Hamburg's new landmark, the Elbphilharmonie concert hall, in early 2017, the city is experiencing an unprecedented visitor boom.
What to do in Hamburg
Take a walk
Hamburg is made up of vastly different neighbourhoods, best explored on foot. Visit the town hall and St Michaelis Church (€5) in the inner city. Shoppers will find plenty of small places in Altona and the Schanzenviertel. The Speicherstadt boasts formidable red brick warehouses that have gained Unesco World Heritage Site status, while St Pauli has been an entertainment district since the 17th century.
Enjoy concerts and views
Don't even think about missing the Elbphilharmonie when in Hamburg. Enjoy a concert in one of the largest and most acoustically advanced concert halls in the world, join a tour through the striking building with its wave-like glass façade and redbrick base or head upstairs to the "Elphis" outdoor viewing platform; entry €2.
Be a child again
Let yourself be blown away by the sheer scale and attention to detail of the Miniatur Wunderland (€15), the world's largest model railway system. Some 930 trains with nearly 14,450 railway wagons chug their way through tiny replicas of Hamburg plus other countries along eight miles of tracks.
Go cruising
Hamburg's port is one of the city's main attractions. Head to the floating docks, Landungsbrücken, and join an hour-long harbour tour (€18) for close-up views of the mighty container ships. Alternatively, take a cruise through the canals of the Speicherstadt or on the two Alster lakes; from €16.
Party all night
Reeperbahn, the once notorious red light district, has softened considerably since its heyday in the 1960s. Nowadays it's the best place in the city for a fun night out, with bars, clubs, cabarets, theatres and top-notch restaurants on offer. Afterwards, head to the legendary Hamburg Fish Market for more dancing till the early morning hours.
Where to stay in Hamburg
The Superbude St Pauli hostel in trendy Schanzenviertel is all about good vibes, music, art and "lifestyle", featuring funky furniture, allergy-friendly sheets, rain showers and handmade soap. Plus there's the ASTRA Rockstarsuite for a wild stay with up to six friends. Doubles from €95, room only.
Hamburg's first design hotel, Gastwerk, is housed inside a painstakingly renovated historical brick building, the former gasworks. The stylish atmosphere complemented by a free English-language newspaper at breakfast, free parking and bike rentals. Doubles from €111, room only.
Recently opened The Fontenay takes five-star accommodation to a new level in Hamburg. The innovative sculptural hotel has breathtaking views of Alster Lake and an urban roofscape with spa, infinity pool and sun terrace. The Lakeside Restaurant is headed by the Michelin star chef Cornelius Speinle. Doubles from €320, room only.
Where to eat
Pauline in St Pauli is one of the best places in town for breakfast. The French style café and bistro offers homemade croissants, jams and waffles but the highlight is the sumptuous vegan fare. Expect a full house for the popular Sunday brunch.
It is impossible to walk past the window of Herr Max, with its display of extraordinary cake creations, without stopping to swoon. Drop in for afternoon tea and spoil yourself with delicious raspberry tarts and cheesecakes in this bright, airy shop in the Schanzenviertel.
For a snack on the go, try a traditional Fischbrötchen. The northern Germans love this simple fare of pickled herring in a bread roll. It's usually bulked out with gherkin and onions but there are countless variations such as salmon, shrimps and more. Sample one at Brücke 10.
Located in a former livestock hall, the Bullerei is extremely popular, in part thanks to its TV chef owner Tim Mälzer (think Jamie Oliver). The restaurant specialises in quality cuts of meat; exposed brickwork and pipes add to the lively ambience.
Where to drink
In the only vaulted cellar of the Speicherstadt, you can experience the world of coffee at Kaffeemuseum Burg. See a wide range of objects and tools from coffee grinders to long-forgotten coffee brands downstairs, then enjoy a freshly ground cup in the café upstairs.
Voted bar of the year 2017 by Bar magazine, the Chug Club has firmly established itself in St Pauli's club scene only two years after first opening. The signature drink is tequila, which comes in an infinite variety of flavours and combinations.
Clockers seduces with a wonderfully out-there interior which includes moss growing on the walls and a tree across the bar. The bar produces its own gin and offers two-hour tasting sessions to introduce guests to the world of juniper.
It wouldn't be a trip to Germany without some beer quaffing. Lovers of the amber nectar should head to Altes Mädchen, where local brews and more than 60 craft beers are on offer.
Where to shop
Hamburg's shopping districts are among the most elegant in Germany. Around the Binnenalster and leading on from the historical, covered arcades around the lake is a hidden network of small shopping centres selling everything from souvenirs to haute couture. The major big name brands are mostly found on Mönckebergstrasse.
Every Saturday bargain-hunters make their way to the iconic Flohschanze flea market in search of second hand treasures. From 8am to 4pm, clothes, furniture, records, jewellery, bric-a-brac and books change owners in front of the old butchers.
With a name that translates to "Shop yourself happy", Kauf Dich Glücklich sells everything from clothes and shoes to jewellery, accessories and hats for men and women.
Normal people and pop stars alike frequent the three hip gentlemen's stores of Herr von Eden in search of tailored suits, grooming products and umbrellas.
Architectural highlight
The Chilehaus, an expressionistic 1920s office building in the shape of a ship's bow.
Nuts and bolts
What currency do I need?
Euros.
What language do they speak?
German.
Should I tip?
Even though a service charge is added into your bill, it is customary to add 5-10 per cent and "round up" to a full Euro amount.
What's the time difference?
Hamburg is one hour ahead of the UK.
What's the flight time from the UK?
Flights take around one hour and 40 minutes.
When's best to go?
Summer – when temperatures are warm, days are long and café and bar terraces fill up along the Elbe River.
Public transport
Hamburg has U-Bahn (underground), S-Bahn (tram), ferries and buses. Unlimited travel with the Hamburg CARD starts from €10.50.
Best view
Suitably called Clouds, Hamburg's highest restaurant and bar has views over the city, port and illuminated Reeperbahn.
Insider tip
If you're on a tight budget but still want to explore Hamburg on the water, hop on one of the HADAG ferries. The scheduled services are an inexpensive way to get around; tickets start at €1.60.
Explore the best the city has to offer with Hamburg City Pass – offers and deals available on Viator
Join our commenting forum
Join thought-provoking conversations, follow other Independent readers and see their replies