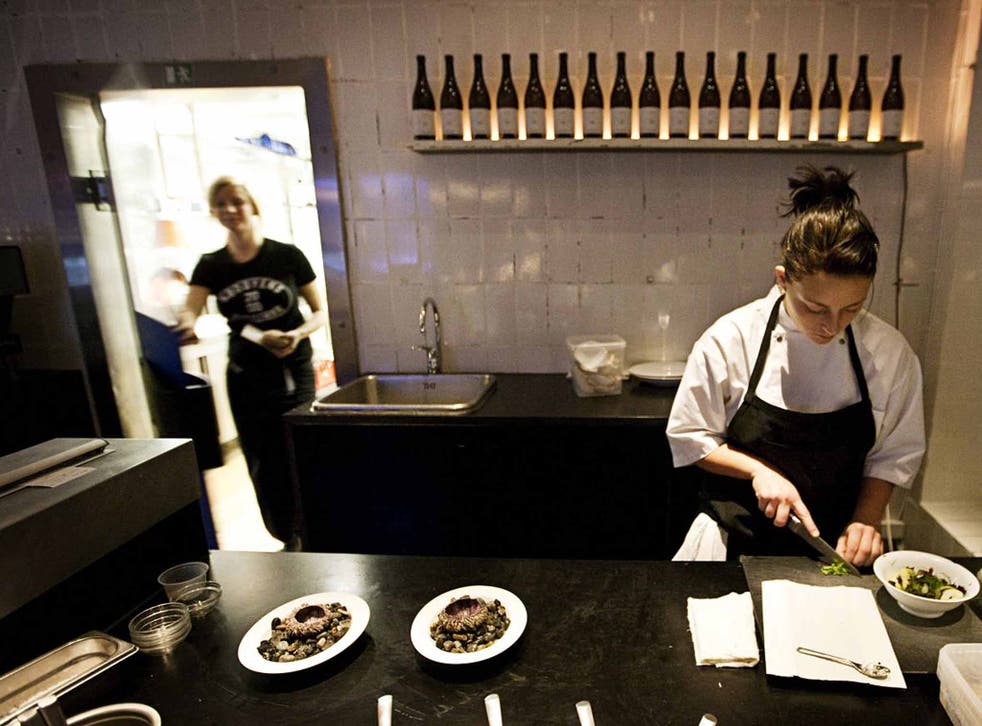 Gourmet Denmark: Traveller's Guide
In the second instalment of our four-part series on Nordic escapes,produced in association with Lonely Planet, Luke Waterson explores the region's culinary heartland
Luke Waterson
Friday 04 July 2014 12:08 Comments
Denmark excels at stamping its authority across multiple echelons of cuisine. That creamy blue cheese, those pastries… and of course the humble sandwich which the Danes turned into their culinary treasure by doing little more than removing the top slice of bread (voilà: smorrebrod). Often adding the adjective "Danish" in front of a dish seems sufficient to render it a delicacy, and there is a reason why: inventiveness, which is something else Denmark typically excels at.
What we now know as Danish food results from a relatively recent brand of innovation. As little as 11 years ago, the little of the country's cuisine that did make it abroad hardly inspired culinary pilgrimages to Denmark to sample more. The stories that filtered back were of pickled fish, salted meat and Carlsberg: nice enough to try; nothing to rave about.
Then, in 2003 chefs René Redzepi and Claus Meyer opened Noma in Copenhagen. Within a few years, this restaurant had been recognised as the world's best and eyes were turning to the city as a beacon in global cuisine (it has more Michelin stars than Rome or Madrid). What Redzepi and Meyer had begun was the movement of New Nordic Cuisine: a championing of back-to-basics local products, a preserving of traditional food preparations like smoking and salting and a reinstalling of national pride in the Danish-ness of Danish food.
The knock-on effect spread. Eclectic eating and drinking spots opened their doors, with an ethos based on authentic sourcing of quality food products. Businessmen lunched on smushi (a sensory medley of smorrebrod and sushi) in suave central Copenhagen restaurants, bright young things took to the counter-culture coffeeshops of Norrebro neighbourhood and the Kodbyen meatpacking district had its warehouses revamped into eateries that even made pickled herring cool again. Dining out across Denmark upped its standards.
But for all its compotes and reductions, New Nordic Cuisine rests on traditions that hark back centuries. Meat (predominantly pork) and, being a land of peninsulas and islands, fish (mostly herring) have been smoked, salted or pickled in the boom times to preserve them for the bad ones deep into Denmark's pre-Industrial Revolution past. Complementing these were grains like rye and, in season, herbs, green vegetables, berries and apples. Still-existing dishes heralding from this time include aebleflaesk (pork and apple fried in pork fat) or klipfisk (dried salted cod) with berries being stewed to make the summer sweet of rodgrod.
Foreigners also introduced a couple of classics: the Austrians were responsible for the rise in popularity of the nation's fabled breakfast sweet, wienerbrod, while a French butcher introduced Denmark to cold cuts.
Denmark, as the palate-tingling hub of the Scandinavian food scene, throws on an array of festivals to introduce outsiders to their gastronomy. In Copenhagen, the best starting point is Scandinavia's biggest foodie extravaganza, August's Copenhagen Cooking (copenhagen cooking.com) which offers everything from demonstrations by top chefs to explorations of Denmark's rural cuisine. Year-round city tours are also available with Licorice Tours (00 45 5012 3645; copenhagen.foodtours.eu; DK300/£34), featuring the Danish obsession with licorice.
Rural Jutland's festivals focus on seafood delicacies. Hirtshals Fish Festival (bit.ly/hirtshalsff) is a three-day celebration on the first weekend of August in one of Denmark's leading fishing ports. Or try mid-July's Logstor Mussel Festival (muslingebyen.dk). On the west coast near Ribe at the Wadden Sealife Centre you can forge off on an expedition to collect distinctively-tasting oysters (Oyster Safari; 00 45 7544 6161; vadehavscentret.dk; DK260/£28)
Gourmet Denmark is about place as well as product though. Take a pick from Copenhagen's converted-factory restaurants (such as Paté Paté; 00 45 3969 5557; patepate.dk), century-old countryside staging-post hostelries or kros (such as Jutland's idyllic Norre Vissing Kro; 00 45 86 94 37 16; nr-vissing-kro.dk) and seaside dining at otherworldly Skagen, where the lurid light that has drawn artists here for decades fills the windows as you feast (try De 2 Have; 00 45 98 44 24 35; restaurantde2have.dk).
Where to stay
Henne Kirkeby Kro (00 45 75 25 54 00; hennekirkebykro.dk) on the isolated west coast north of Esbjerg, is an 18th-century coaching inn with 12 recently refurbished rooms. Its huge garden supplies a restaurant that has made a name for itself with exciting chefs such as Allan Poulsen and now Paul Cunningham overseeing cooking. B&B starts at DK1,475 (£160).
One of Denmark's most beautiful towns, Skagen, is also home to Ruths Hotel (00 45 98 44 11 24; ruths-hotel.dk). Large, light rooms look out on the dunes and one of Denmark's best restaurants, Malling & Schmidt, is on site. Doubles including breakfast and entry to the wellness centre are from DK1,750 (£190).
One of Copenhagen's best hotels, Radisson Blu Royal (00 45 3342 6000; radissonblu.com) is allegedly the world's first designer hotel and also has one of the city's best-regarded restaurants, Alberto K. Doubles from DK1,685 (£180).
New Nordic
The New Nordic Cuisine movement strives to showcase combinations of those foods previously unsung in Denmark: home-grown meat and locally-sourced fish, infused with tastes of wild foraged plants such as nettles or woodruff, often prepared using traditional methods of smoking, salting and marinating.
To taste the trendiest take on traditional Smorrebrod, Copenhagen's Royal Smushi Café (00 45 3312 1122; royalsmushicafe.dk; smushi plates DK48/£5.20) is the spot to be. The smushi here are distinctively fish-focused, such as haddock with spring onion, ramson and charred leeks. It's something of a gimmick (the "sushi" part of the smushi essentially means the smorrebrod are just cuter and more intricate than the norm) but is culinary fine art nevertheless.
As reservations at the world's best restaurant, Noma, are notoriously difficult, it is fortuitous that other standard-bearers of New Nordic Cuisine are close at hand. Norrebro's Restaurant Relae (00 45 36 96 66 09; restaurant-relae.dk; "omnivore" four-course meal DK385/£42) is an epitome of minimalist Scandinavian design (the cutlery materialises from a hidden drawer at your table). The food is just as striking: Denmark's woodsy-flavoured asparagus, Baltic Sea fish roe, or west coast lamb with bergamot, perhaps, but rarely with more than two or three dominant tastes. It's possible to get reservations under a day in advance – not bad considering this ranks among the world's top 60 restaurants.
Head north of Copenhagen to Sollerod Kro (00 45 45 80 25 05; soelleroed-kro.dk; four courses DK775/£85), a beautiful 335-year-old inn, for an introduction to rural Danish gastronomy. It owns one of Denmark's 17 Michelin stars and serves some of the country's most enticing food, with especially good game. The chefs are world-class, but you're gazing out on a Danish scene from yesteryear: a duck pond, a wood and a castle.
Seafood
Within Copenhagen, industrial-chic Kodbyen's Fiskebar (00 45 3215 5656; fiskebaren.dk; mains from DK105-255/ £11.50-28) should be your port of call for Scandinavian maritime delicacies such as Limfjord blue mussels, celebrated across Denmark for their flavour, or hand-dived Norwegian scallops.
Widely considered to be Denmark's next-best dining out after Noma, Skagen's Malling & Schmidt (00 45 98 44 11 24; ruths-hotel.dk; five plates DK865/£95) has now moved to the town's Ruths Hotel from Aarhus – and given its idyllic seaside location is the place to eat Danish seafood. It subscribes to the New Nordic style of simplicity, too. Dine on the likes of lobster terrine, or Skagen's catch-of-the-day with salt-water vegetables as Denmark's lonely northern sand dunes loom outside.
Sweet treats
The Danish know all about elaborate pastries and cakes, and consume their renowned wienerbrod with particular fervour. Andersen (00 45 33 75 07 35; andersen-danmark.dk) near Tivoli Gardens has been baking such Danish classics for over 50 years, including the city's best spandauers (one of many members of the wienerbrod family). They are pastry shells brimming with almond paste, jam, nuts and icing.
Claus Meyer has also opened Meyers Bageri (00 45 2510 1134; clausmeyer.dk) with several branches in Copenhagen, where the wholesome breads and cakes have in-the-know locals queuing for breakfast way before the 7am opening.
Danish drinks
Danes treat coffee seriously: so much so that they have let few international coffee chains into the country. Coffee here is the domain of top-notch coffee shops such as The Coffee Collective (00 45 60 15 15 25, coffeecollective.dk) in Norrebro, run by former world barista champion Klaus Thomsen. The café works closely with farmers to ensure it has the most flavoursome, ethically sourced beans: usually ones that cannot be sampled elsewhere.
Carlsberg might be the beer most associated with Denmark but the craft brewery industry is expanding, with Copenhagen increasingly mentioned in the same breath as Brussels and Munich for quality brewpubs. Norrebro Bryghus (00 45 35 30 05 30; noerrebrobryghus.dk), with an award-winning brewer at its helm, offers very good Danish food that matches superbly with ales – such as the pale, crisp Bohmer Pilsner, made with Danish Pilsner malt.
In Aalborg, on a dock rejuvenated by museums and restaurants, is where Akvavit, Denmark's signature spirit, is produced. Its potent taste is formed by a concoction of spices and herbs such as caraway seed. For information on tours and tastings at the Akvavit brewery, contact Visit Aalborg (00 45 99 31 75 00; visitaalborg.com).
Travel essentials
Copenhagen is Denmark's main hub. SAS (0871 226 7760; flysas.com) flies from Gatwick, Aberdeen, Birmingham, Manchester, Newcastle and Heathrow; easyJet (0843 104 5000; easyjet.com) from Bristol, Manchester, Edinburgh, Gatwick and Stansted; Norwegian (0843 3780 888; norwegian.com) from Edinburgh and Gatwick; BA (0844 493 0787; ba.com) from Heathrow.
The car ferry from Harwich to Esbjerg (0871 522 9955; dfdsseaways.co.uk) is the only sea connection between Scandinavia and the UK.
Denmark's rail system is also very efficient. Find train times and fares at rejseplanen.dk
Lonely Planet's guide to Denmark (sixth edition) costs £14.99 and is available from shop.lonelyplanet.com
Register for free to continue reading
Registration is a free and easy way to support our truly independent journalism
By registering, you will also enjoy limited access to Premium articles, exclusive newsletters, commenting, and virtual events with our leading journalists
Already have an account? sign in
Join our new commenting forum
Join thought-provoking conversations, follow other Independent readers and see their replies