The Independent's journalism is supported by our readers. When you purchase through links on our site, we may earn commission.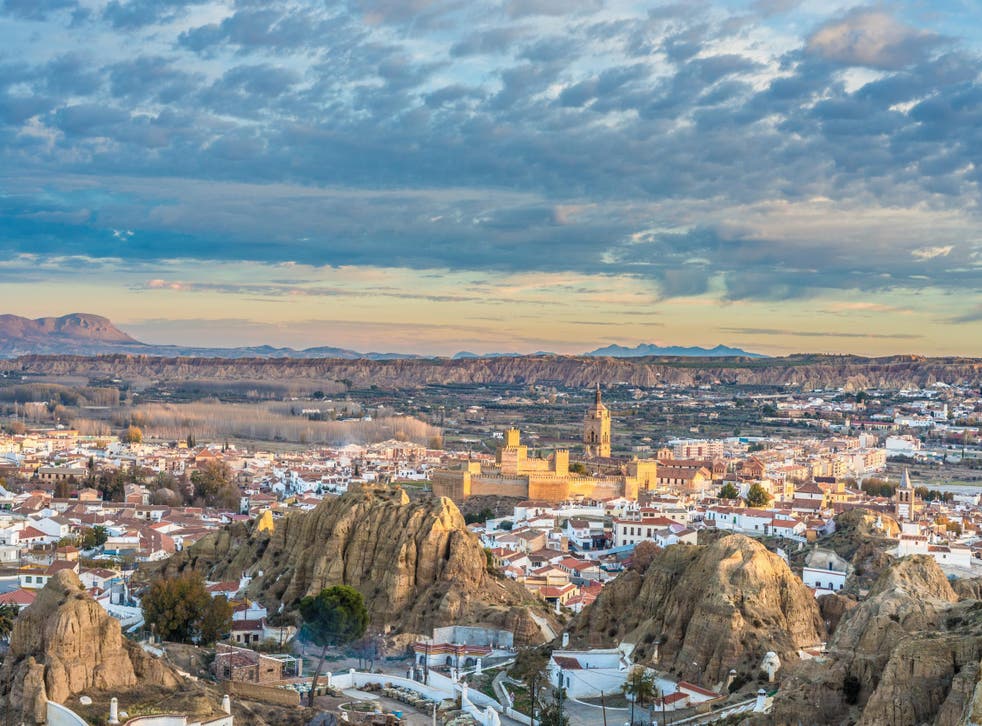 Lorca's Granada: following in the footsteps of Spain's murdered poet
It's 80 years since Spain's favourite poet was executed by firing squad. We set out to discover his hometown of Granada through his eyes
Edmund Vallance
Wednesday 17 August 2016 17:37 Comments
"If he'd been alive today, can you imagine the poem Lorca would have written about Trump? He would have torn him apart!"
I'm inclined to agree with Alfonso Alcalá – the director of Museo Casa Natal Lorca, the house-turned-museum where the great Federico García Lorca was born. Friday marks 80 years since Spain's celebrated poet and playwright was shot to death by a right-wing firing squad, and I've come to his favoured stomping ground, the craggy, sun-cracked region of Andalusia, to follow in the master's footsteps – from birth until untimely death.
I first fell for Lorca's poems while studying Spanish in a stuffy public school in south London. His verse was emotional, sensual, unpredictable: everything my environment was not. The man himself was renowned for being outlandish, outspoken and utterly unwilling to compromise.
These were the qualities that most offended the Nationalist generals who ordered his death on 19 August 1936. They were also the qualities that made him one of the most popular poets of the 20th century.
Lorca's father, Federico García Rodríguez, was a wealthy landowner. His mother, Vicenta Lorca Romero, was a primary school teacher. His birthplace, Fuente Vaqueros, sits in the centre of a fertile plain about 12 miles from Granada, the whitewashed houses and quiet tree-lined streets typical of this sleepy corner of Spain.
Walking into the modest, two-storey home, the first thing to grab my attention was his parents' brass bed standing in a small, light-bathed room. On the headboard, an intricately carved lion's head gripped an ashtray in its jaws: no doubt handy for Don Federico's post-coital cigar.
My next stop was the town of Valderrubio, a 15-minute drive from Fuente Vaqueros, and about half its size. Lorca's family moved here in 1907, when the proto-poet was just nine years old. Valderrubio is tiny and remote – the perfect backdrop for the small-town claustrophobia Lorca describes so vividly in plays such as Yerma and La Casa de Bernarda Alba.
The house is managed by Eduardo Ruiz Baena, a historian and Lorca biographer. Eduardo showed me through the high-ceilinged hallway to Lorca's bedroom, a small chamber with a single bed and a low window looking out onto the street.
"I'll be back in a moment," he said, leaving me to gawp at the poet's writing desk, his ink blotter, and his leather-bound edition of The Complete Works of Shakespeare. With only Lorca's ghost for company, I felt a tug of conscience. I was an intruder, a literary voyeur. Worse than that, I was fighting the urge to rifle through his drawers. What if I discovered a fragment of forgotten verse – a nugget of genius scrunched into a ball of dusty notepaper? Would I pocket it? Would I, at the very least, take a discreet snap with my phone?
My daydream was interrupted when Eduardo arrived at the door. "Did I mention that my grandfather went to school with Lorca in Almería?" he asked. "Lorca never studied. He was the master of night-before revision – but he always got good marks. I think my grandfather found that irritating. He was a pretty mediocre student himself."
Eduardo's story rang true. Lorca was wealthy, witty and handsome – and his talent wasn't confined to poetry. He was an accomplished playwright, painter, and musician: the sort of swarthy Renaissance man whose gifts might well have inspired envy in friends and foes alike.
I would have liked to stay longer in Valderrubio, but it was time to set my GPS for Granada: Lorca's home town from age 11 until his death at 38. On the sun-scorched highway, I saw brown mountains wobbling in the heat haze, and fields of olive and fig trees outlined through the dust. I was excited: this was the landscape that loomed so large in Lorca's verse. In one of my favourite poems, Romance Sonámbulo: "The fig tree chafes the wind with sandpapered branches, and the mountain, an untamed cat, bristles with sour maguey spears."
Just 20 minutes later, I was in the thick of the city, negotiating petulant pedestrians and meandering mopeds. I was in a hurry: I had an appointment with Maria Angustias García-Valdecasas, a senior guide with Cicerone, a tour company offering Lorca-themed walking tours.
We had arranged to meet outside the Centro Federico García Lorca, a new museum from the Federico García Lorca Foundation, directly opposite the cathedral. By the time I arrived, I was short of breath and bathed in sweat. Maria took pity on me. Smiling politely, she shook my soggy hand, and ushered me into the air-conditioned interior.
"It's worth remembering that General Franco was not a Lorca fan," she said, as we entered the sleek, steel-and-glass entrance hall. "After his murder, the government had no desire to preserve Lorca buildings or artefacts. Luckily that's all changing now."
It certainly is. The entire Lorca archive, including never-before-seen letters, notebooks, paintings and photographs, is arriving here in preparation for a hotly anticipated 2017 exhibition. In the meantime, the centre offers an eclectic arts and music programme, as well as monthly performances of Lorca plays in the adjoining theatre.
The following morning, I strolled over to Parque Lorca, where a group of serious-looking septuagenarians was playing a game of bowls in the shade of an enormous poplar tree. Weaving between joggers and dog walkers, I eventually arrived at Huerta de San Vicente, an elegant white farmhouse. This was the Lorca family residence from 1926 until shortly after the poet's death in 1936.
Juan José García, the museum director, met me at the front door. "San Vicente was Lorca's favourite place to work," he told me, as we entered the tiny bedroom on the first floor. "While he was here writing Bodas de Sangre, he played Bach and flamenco records back to back for an entire week. It drove his sister crazy."
Looking around, I was struck by how bare the room was: a single bed, a desk, and very little else. The balcony now looks out onto the park. But in Lorca's day, when the city was less developed, he would have had a clear view of the Sierra Nevada; a vista he once described as "the most beautiful mountain panorama in Europe".
These snow-capped mountains are a constant feature in Granada. They pop up between the spires of medieval churches, reflect in the windows of raucous tapas bars, and frame the open skies that Lorca loved and wrote about so passionately.
Lorca loved music. In 1922, he and a friend – the composer, Manuel de Falla – organised Granada's first flamenco competition at La Alhambra, the fabled Moorish fortress to the north of the city.
I spent the afternoon wandering through its labyrinthine courtyards, imagining the festivities in full swing. In Leslie Stainton's biography, Lorca – A Dream of Life, she writes: "A downpour on the second night failed to shatter the spell. People simply covered their heads with their chairs and continued to listen in the rain."
A handful of flamenco shows still take place at La Alhambra at the annual Festival Internacional de Música y Danza de Granada, but tickets sell out almost immediately.
Instead, you could do worse than head to El Templo De Flamenco, a nightclub in the old Moorish quarter of Albaicín. While the sound and feel of flamenco here is unmistakably sexy, this isn't gypsy "twerking"; the performers are aloof, even a little disdainful, and the harsh, vibrato vocal style conveys pain as much as joy. Lorca describes it best in his ode to the celebrated flamenco singer, Juan Breva: "His voice had something of sea without light, and orange squeezed dry."
After the show, I wandered back to my room at Hotel Reina Cristina. Once the home of the wealthy Rosales family, this is the building where Lorca was arrested on 16 August 1936. As I pictured the Nationalist soldiers beating at the gnarled old wooden door on Calle Angulo, I felt suddenly very sad. Within three days of his arrest, he would be dead.
"Carve in the Alhambra, a statue of dreams and stone for the poet," his friend, Antonio Machado, wrote just a few months afterwards. "Over a fountain where water goes grieving, and saying, eternally: the crime was in Granada, in his Granada!"
Travel Essentials
Getting there
British Airways (0344 493 0787; ba.com) flies direct from City Airport to Granada.
Staying there
Double rooms at Hotel Reina Cristina (hotelreinacristina.com) start at €62, breakfast included.
More information
Register for free to continue reading
Registration is a free and easy way to support our truly independent journalism
By registering, you will also enjoy limited access to Premium articles, exclusive newsletters, commenting, and virtual events with our leading journalists
Already have an account? sign in
Join our new commenting forum
Join thought-provoking conversations, follow other Independent readers and see their replies