Greece: Homage to Kefalonian cuisine
Tavernas in this pretty Ionian island go far beyond moussaka, with dozens of dazzling dishes on offer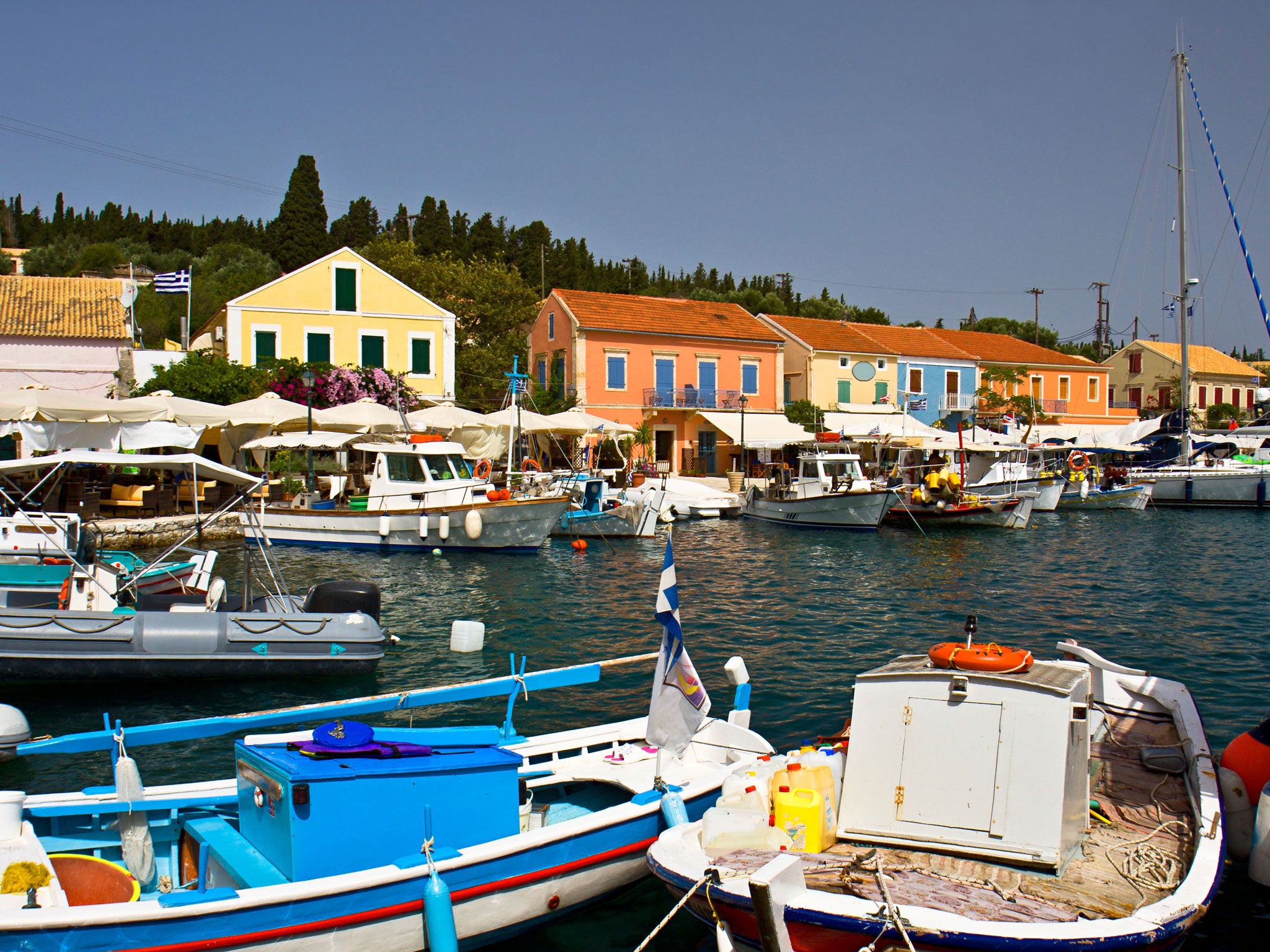 There can't be many people who visit the Greek islands hoping for major foodie thrills. However, if your expectations are still confined to a slab of moussaka and a bowl of Greek salad, prepare for a pleasant surprise. Slowly but surely, the gastronomic bar is being raised. A number of islands now take pride in offering a distinctive cuisine, showcasing traditional recipes made from local ingredients. And imaginative tavernas have sprung up in even the unlikeliest of places. It's just a question of knowing where to look.
Lovely Kefalonia, the largest of the Ionian islands, has always prided itself on its special touches of hidden magic: eerily beautiful underground lakes and caves, a mountainous interior harbouring hosts of rare orchids and – on the south-east slopes of Mount Aenos, the island's highest peak – a herd of wild white horses clambering loose-limbed over rocky escarpments like super-sized goats. Now, it can justifiably also boast an impressive range of top-quality restaurants and tavernas among its lesser-known attractions.
Many of Kefalonia's nicest eateries are off the beaten track. The island's western Paliki peninsula is surprisingly little visited by tourists, even though fabulous Petani beach, with its isolated 2km sweep of fine white pebbles surrounded by a spectacular curtain of rock, is one of the most stunning spots on the island. Nevertheless, from the terrace of the rickety Erasmia Taverna, family-run and specialising in fresh seafood, you can watch unbelievable Day-Glo sunsets over a large beer or half-litre of local wine priced at only €2 (£1.70).
Head to unspoiled Vatsa Bay, on the southern tip of the peninsula, for one of the finest foodie haunts on Kefalonia. Run by Spyros Antonellos, the quirky Spiaggia Taverna is a firm favourite among islanders but as yet relatively undiscovered by tourists. Perched on an idyllic strip of butter-gold beach, it's a delightful encampment of wooden tables on a sand-scattered floor, under a makeshift roof streaming with weird and wonderful knick-knacks: ancient binoculars, a painted wooden marrow, a bizarre baby doll in a basket and fishing nets galore.
Just beside the taverna, a small freshwater stream flows into the sea through silvery-green screens of pine and olive trees, and local fishing boats moor here to deliver their catches direct to the kitchen. Grilled fish dishes start at €9 (£7.75), or splash out on succulent giant prawns at €15 (£13). Vegetarians can make a beeline for the riganada (€4.50/£3.80), a Kefalonian speciality, similar to bruschetta, of roasted bread topped with tomatoes, oregano and feta cheese.
Kefalonia offers an enticing array of regional dishes. On my most recent visit I stayed in the fishing village of Assos, on the north-west of the island. Set on a picture-perfect isthmus connecting it to a wooded peninsula topped by a Venetian fortress, it's arguably the most beautiful little resort in Kefalonia and offers a fantastic range of local culinary treats.
Platanos Restaurant is Assos's oldest dining venue, a friendly sprawl of red-and-white-covered tables under a plane tree in the village's flower-filled square. Enthusiastic Panayiotis Kokolis, son of the restaurant's 80-year-old owner, is always happy to talk visitors through the dishes of the day. A mouthwatering list of specials includes the island's trademark kreatopita (Kefalonian mixed-meat pie, wrapped in a special pastry; €8.50/£7.30), local chicken sausage made with wild marjoram (€8/£6.90), beef sofigido (a stew with a thick sauce of tomatoes, wine and cloves, similar to the better-known stifado, but made in the oven; €9/£7.75) and wild-rabbit tagato, cooked in tomato and garlic sauce, and served with lemon juice (€9.80/£8.45).
Around the corner, in a vine-smothered courtyard garden, Assos Restaurant has a great range of unusual starters: spetzofai (a stew of sausage, green pepper and tomato sauce; €5.90/£5), tirokafteri (a satisfyingly fiery version of the standard dip of feta cheese and red-hot chilli peppers; €4.50/£3.90) and aliada (the Kefalonian take on skordalia, garlicky mashed potato; €4.50).
For top-of-the-range Kefalonian cooking, there's no contest. Head for the picturesque Venetian harbour town of Fiscardo, on the northern tip of the island, where television chef and cookery-book author Tassia Dendrinou has run the waterfront Tassia Restaurant for 30 years. It's frequented by locals and cosmopolitan yachties alike. Its unique dishes include a fantastic spaghetti platter with prawns, feta cheese, sun-dried tomatoes, fennel and ouzo sauce (€33/£28.40, for sharing). There's also a good selection of local cheeses, which include mizithra (a ricotta-like cheese) and kefalotiri (a hard full-fat cheese), alongside an impressive list of fine Kefalonian wines.
Robola is Kefalonia's best-known home-grown tipple, a dry honey-coloured wine traditionally presented in bottles wrapped in hessian and sporting a wax medallion on the front. Robola grapes are farmed only in a designated area in the Omala valley, around the foothills of Mount Aenos, and more than 70 per cent of the harvest is bottled at Omala's Robola Co-operative, named after the patron saint of the island. Try combining a trip to the co-operative with a visit to the Saint Gerasimos monastery (now a convent), only 400m away – an oasis surrounded by rose gardens and flooded with birdsong.
Argostoli, the island's capital, is less than half an hour's drive from the monastery and a great place to drop by for a fix of Kefalonia's other key gourmet attraction. Kefalonians are notoriously sweet-toothed, and wickedly sticky cakes of the region include syrup-soaked karidopita (walnut cake), amygdalopita (almond cake) and galaktoboureko (chilled custard in filo pastry). Feast on delicious home-baking while sipping locally made lemonade (spitiko) or almond squash (soumada) in the courtyard of the Bells Café, by the clock tower. Part of an EC initiative called "Employment Horizon", it was created to employ people with special needs, and the cooking is wonderful. For souvenirs, the café sells its own jams and sweets, including the island's characteristic mandoles (sugared almonds with red colouring).
I brought back what was meant to be a month's supply. My friends scoffed the lot in an afternoon.
Travel essentials
Getting there
Linda Cookson travelled with Ionian & Aegean Island Holidays (020-8459 0777; ionianislandholidays.com), which offers a week's self-catering in the Seapath Apartments in Assos from £519 per person, based on four sharing, with return flights from Gatwick or Manchester, transfers and car hire. A week's self‑catering in Kalokeri Apartments, near Fiscardo, starts at £529 per person, based on two sharing, with flights, transfers and three days' car hire.
Eating and drinking there
Erasmia Taverna, Petani Beach (00 30 26710 97372).
Spiaggia Taverna, Agios Nikolaos (00 30 26710 93991; vatsa.gr).
Platanos Restaurant, Assos (00 30 2674 051381).
Assos Restaurant (00 30 6944 671804).
Tassia Restaurant, Fiscardo (00 30 26740 41205; tassia.gr)
Robola Co-operative, Omala (00 30 26710 86301; robola.gr).
Bells Café, Argostoli (00 30 26710 24456).
Join our commenting forum
Join thought-provoking conversations, follow other Independent readers and see their replies