Thomas Cook is trying to make package holidays cool again – but is it working?
The travel company invented the package tour back in the 1840s; now it's rejigging the formula in an attempt to attract a more discerning crowd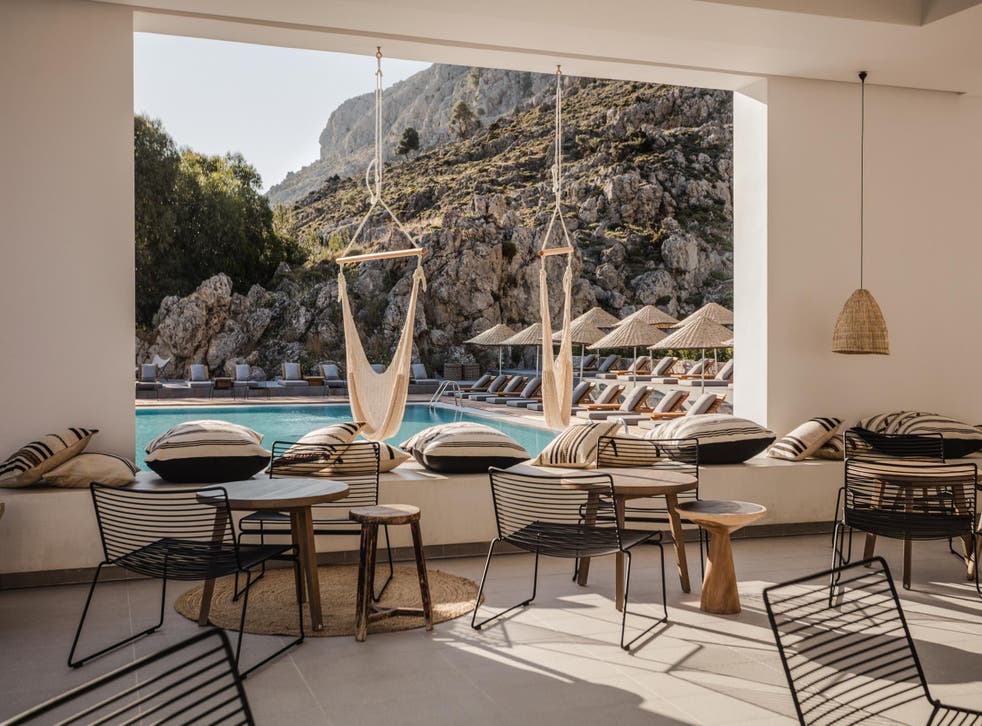 The first thing you see when you check into Casa Cook is the hotel's "Concept Store", which takes up four-fifths of the reception. Here you can buy leather-bound notebooks, Turkish hammam towels, grey marl yoga shorts and handwoven hammocks. Quite different from – and arguably quite a lot less useful than – the usual hotel shop selling suncream, Haribo and bat-and-ball. But then this is quite different from the usual hotel.
Casa Cook on Rhodes is Thomas Cook's big new idea – the first in a planned chain of boutique lifestyle hotels, for "trend-conscious travellers ... inspired by the spirit of our times". In other words, it's a package hotel for hipsters. Hence the hammocks, which you can buy to "take home a bit of the bohemian dream", having spent a week swinging in one, sipping an Aperol spritzers in the hotel bar. Or the "Happiness Hub", as it's called at Casa Cook – an Instagram-friendly, open-sided, starlit white cube, with mismatched chairs, big cushions, cocktails and a luxuriously bearded DJ who sets up poolside at 7pm and plays Café del Mar beats until 11pm every night. #bliss, etc.
Apart from the not-very-Greek "mi casa es su casa", Casa Cook's mantra is "stylish design, great value, laid-back vibes, healthy food and a taste of local flavours and adventures". Accordingly, there are no wristbands, no British reps, no clipboards. At breakfast in the dining room – or "Kitchen Club" – goji berries and quinoa porridge are laid out alongside the usual fruit, bread and pastries. At dinner, the food is served in bowls. Guests can book one-on-one open-air yoga classes and hire retro-style white bicycles for the day. The look is minimalist – muted colours, lots of wood and concrete and clean lines with the odd flourish. On the whole, it's very much more Mykonos than Malia.
It is easy to be sniffy about all this try-hard stuff, but Casa Cook looks great. The 90 rooms are scattered across a generous site dotted with wildflowers and grazing goats in a series of dazzling white, Miami-style cubes, which look very striking against the bright blue sky and rugged limestone rocks. The pool is large with plenty of attractive, comfy sunbeds. The dining room – so often in big hotels an overlit, soulless space – is large and airy with a cool jungle tile mural covering one wall. A few outside tables – not enough, judging by the fierce competition to get one – line the pool. The bar buzzes all day long, staffed by cheerful, young locals in jeans and white T-shirts.
The rooms are handsome, too. Of the 90, 11 are split-level suites – roomy, with cool concrete floors, elephant-grey walls and bleached wood. The beds are low, futon-style but very comfortable, there are cushions, wicker baskets and those hammam towels strewn about. The non-suites are smaller but just as stylish. It certainly feels a notch up from the usual Thomas Cook experience, but then there is no free mineral water in the rooms and, when I visited, no towels by the pool. It's the little things.
The winning touch is that each room has its own sun terrace and loungers and its own pool. Or at least its own bit of pool; each one is shared with the four neighbouring rooms, which creates some etiquette problems. I never left my zone of the pool, but my neighbours had no qualms paddling up to my end. If you're British/bothered by this sort of thing, try and get a room on the end of a row - you get more space and visitors only swim in from one direction. On the design front, then, Casa Cook achieves what it sets out to do. It also ticks the box on "laid-back vibes" – it's a very relaxing place. When I visited, it seemed to have attracted the crowd it was aiming for, too: youngish, trendy-ish, no children, not the hordes of 60-something German holidaymakers most packages seem to attract.
The problems, then, come on the other parts of the mantra. The food is better than in many package hotels but not quite good enough. Breakfast is a big spread with an excellent chef making everything from poached eggs to pancakes, but they could lose some of the quirkier elements for more fresh fruit. For dinner, there is a varied menu of meze, fish and steaks. There are also seven dégustation menus offering six Greek-themed dishes like cheese saganaki, grilled octopus and lamb chops with goat's cheese and rosemary to share. If you were dining in every night, you could try the whole menu this way, though at €50 (£43) it's an expensive way to eat when Taverna Michel is five minutes' away and twice as authentic at half the price.
As for local adventures, Casa Cook is in Kolymbia, a resort 19 miles from the airport, and around a half hour's drive from both Rhodes Old Town and Lindos, both of which are a must-visit. With no town to speak of and streets lined with hotels, it's not a destination in itself. The beach is rather thin and packed, though there are two excellent, fish restaurants – To Nissaki and Limanaki – with gorgeous views and waterside dining at the far end (about a half-hour walk from the hotel).
For beaches, drive 10 minutes to Tsambika or a little further to Afandou (for rare golden sand). Hiring a car is probably wiser than using the hotel's ruinously expensive taxi service. The hotel can also arrange hikes to Tsambika monastery in the early morning, trips to Lindos to see the acropolis and charter a sailing boat around the island.
So does Casa Cook have a future? It's a cut above, but it has a price to match. A week's half-board with flights in August will cost somewhere between £1,000 and £1,500 per person, though prices drop very sharply come September and there are bargains to be had. As for attracting the mythical bohemian/hipster traveller, I suspect location might be an issue; they are are more likely to be found on the nearby islands of Symi or Kastellorizo – both delightful and a short ferry from Rhodes port. If Thomas Cook can keep the price down, though, there's certainly a gap in the market for savvy travellers who know their way around the world but are looking for a hassle-free, sunshine break. A package with class, say. And hammocks.
Travel essentials
Getting and staying there
Thomas Cook (0844 412 5970; casacook.com) offers seven nights at Casa Cook, Rhodes, from £885 per person on a half-board basis, including flights from Gatwick in September.
More information
Register for free to continue reading
Registration is a free and easy way to support our truly independent journalism
By registering, you will also enjoy limited access to Premium articles, exclusive newsletters, commenting, and virtual events with our leading journalists
Already have an account? sign in
Register for free to continue reading
Registration is a free and easy way to support our truly independent journalism
By registering, you will also enjoy limited access to Premium articles, exclusive newsletters, commenting, and virtual events with our leading journalists
Already have an account? sign in
Join our new commenting forum
Join thought-provoking conversations, follow other Independent readers and see their replies