The Independent's journalism is supported by our readers. When you purchase through links on our site, we may earn commission.
Crete for foodies: Gizzi Erskine eats her way around the Greek island
The celebrity chef and food writer follows the sunshine - and her stomach - to Crete's north-east coast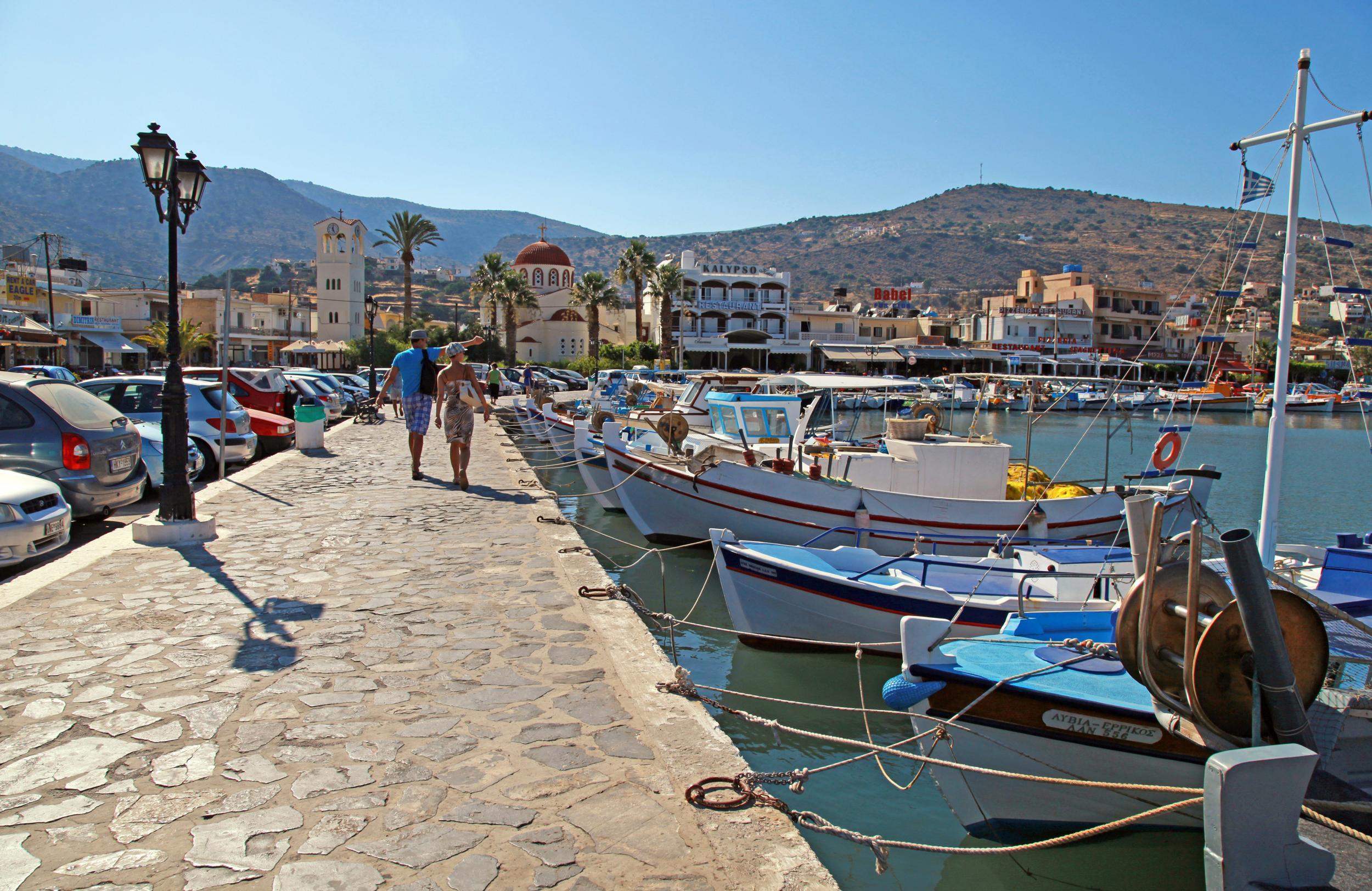 A desperate need for sunshine and relaxation led me to the Greek island of Crete, but, as ever, my travels are often led by my stomach.
After landing at Heraklion airport my friends and I drove an hour through stark and sun-bleached landscape to Elounda, on Crete's north-east coast. A small fishing town made up of a string of villages stretched along the seaside, it's home to a huge number of places to eat – and a high concentration of luxury hotels.
We checked in at Relais & Chateaux's Elounda Mare hotel and headed straight for its private beach. Here we got our first taste of Cretan wine, which would prove to be one of the revelations of the trip, and spent a dozy afternoon remembering what sunshine felt like, with occasional dips in the crystal-clear sea.
Before long, though, our minds turned to food. First stop was the hotel's Yacht Club, for what we'd been craving on the plane: grilled octopus, as well as a whole grilled bass, served with new-style Greek rosé, which has moved on from the syrupy stuff from way back when and is now more like the totally drinkable and trendy Provençal-style pale rosé. This, combined with views of the incredible turquoise bay made for a real fantasy lunch.
Although Elounda has plenty of restaurants, many of them are geared firmly towards tourists, and as a result serve rather standard fare. We visited a few weeks before the start of the holiday season, so it the area was quiet and relaxed, although much of the food on offer seemed to be overpriced and uninspiring.
Cretan food's strength lies in its simplicity, and the island yields incredible produce and the freshest of fish. One place that really understands how to make the best of this was the Ferryman Taverna, which has been running since 1974 at the end of the harbour in Schisma, Elounda's heart.
At the Ferryman we enjoyed the best taramasalata of the trip, rich and creamy and – crucially – white, not dyed pink like the stuff we so often find back in the UK. Melting, slow cooked lamb was served with orzo, and the freshest, sweetest seafood followed, flavours only enhanced by intermittent wafts of salty sea air.
One of the best ways to explore the area is by boat, so we chartered a catamaran for the day, and told our captain, Tollias, that we were looking for authentic Cretan fare off the tourist trail. He suggested the small historic village of Mochlos, about an hour's sail from the Elounda Mare.
Rosé spritzers and fresh melon provided the perfect accompaniment as we glided along the gently undulating Aegean waves. Halfway to our destination however, the winds unexpectedly picked up, and the next thing we knew our journey resembled something closer to a log flume, the crashing surf drenching us from head to toe.
After this exhilarating, if slightly nerve-wracking crossing, we dropped anchor at a remote beach for what was supposed to be a relaxing swim. This actually ended up being a bit more a frantic race against increasingly large waves, and we finally made it back to the boat a little shell-shocked and absolutely ravenous.
We were not to be disappointed however, when we finally arrived at Tavern Ta Kohilia in Mochlos, where a generous array of meze arrived quickly to restore us. Among the highlights were saganaki (pan-seared cheese), incredible sardines doused in olive oil and parsley, deep fried white bait, a crunchy salad and dakos, a traditional Cretan dish of dried out barley bread, doused in sweet crushed tomato, crumbled mizithra cheese and olive oil.
A huge sea bass followed, caught that morning, served simply grilled with a zingy squeeze of green lemon. All of this was washed down with carafes of light rosé, made from the local Kotsifali grape, one of the oldest varieties in the region.
This was one of the best days – so good in fact, that we decided to get the boat out a second time, and sailed towards Spinalonga (as featured in Victoria Hislop's book The Island), ending up in the lovely restaurant Gorgona, in the tiny village of Plaka. The owner, Yiannis, furnished us with yet another glorious feast of fresh fish and meze, with the freshly baked bread and some delicious courgette and cheese fritters being of particular note. The restaurant looked out on to Spinalonga, a melancholy island that was once an Venetian fortress, and later a leper colony, in use as recently as 1957.
Back on the boat, our crew had some of the best tips on where to eat. They recommended two places to experience real Cretan cruisine, further inland. The first was in the picturesque village of Kroustas, where we found the O Kroustas taverna, run by Stavrakakis and his family.
He was a real character and brought us out a large plate of snails on arrival, cooked cretan style in vinegar and rosemary. I have to say these proved something of a challenge, but luckily a delicious variety of grilled lamb, souvlaki, incredible chips (why are Greek chips the best?) and exceptionally light and airy fried cheese balls, were all highly enjoyable. We ate until we were fit to burst, and this was one of the best value meals of the week.
We were also directed to the mountain-top village of Latsida, 250 metres above sea level, on the promise of haunches of lamb cooked for hours by the side of warm coals, at the charming taverna Miliaras. Sadly there was no lamb on the menu that day, but a deliciously unctuous dish of slow-cooked goat and tomato more than made up for it. And the drive alone, winding upwards through the mountains, is worth the journey.
A week sailed by, and we found ourselves on the final day, and the last supper. This was definitely the best of the trip, and was found right at our hotel, at the Old Mill restaurant. Set within the gardens of the hotel, The Old Mill has received multiple Toque d'Or awards as one of the finest restaurants in Greece. High praise indeed, and I must say well deserved.
If you know me you'll know that I am not a stickler for fine dining, preferring simplicity, but here they managed to keep the food simple and classic, yet refined. Finally getting to taste the very rare but very Cretan sea urchins in their iodine, sea-salty glory, the most brilliant crab soup, a local chicken pasta that was the pure essence of roast chicken, and meaty white fish with a beef jus. On that high note, we were ready to head home, tanned and a good few pounds heavier.
Travel essentials
Getting there
Heraklion is served from the UK by easyJet (easyjet.com), Jet2 (jet2.com), Thomas Cook Airlines (thomascookairlines.com), British Airways (ba.com) and Aegean Airlines (aegeanair.com).
Staying there
Elounda Mare (00 30 28410 68200; eloundamare.com). Doubles from £283, B&B.
More information
Gizzi Erskine's trip was supported by the Greek National Tourist Office (visitgreece.gr).
Join our commenting forum
Join thought-provoking conversations, follow other Independent readers and see their replies