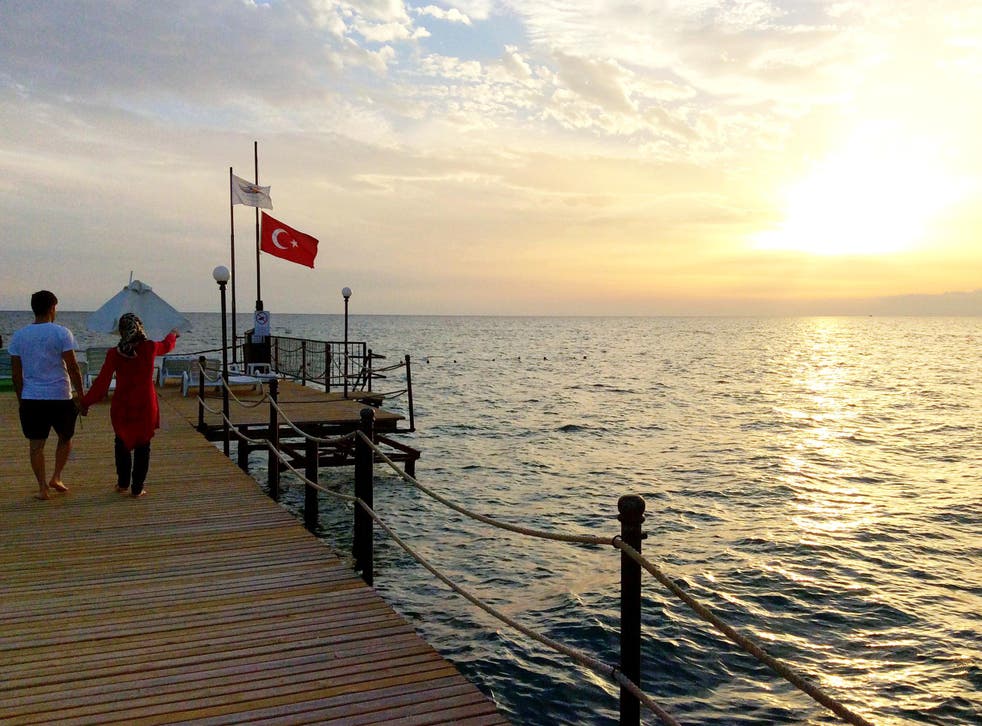 Halal holidays: what it's like to take a Muslim beach break
For practising Muslims, a sun-and-sand holiday needn't mean wearing a burkini. Hanna Yusuf signs up to one of a growing number of specialist trips
The cashier in Selfridges struggles to hide the bewildered look on his face as he takes a second glance at my headscarf, while scanning the fluorescent bikinis I've picked up. I can understand why he's confused. I, too, had thought it unimaginable for a headscarf-wearing Muslim woman to don swimwear that reveals more than a "burkini", until I discovered the concept of the halal holiday.
Among other specialist holidays such as kosher, vegan and even specialist Christian holidays, halal tourism is a rapidly growing sector in the travel industry. Companies such as HalalBooking.com prepare tailor-made packages that take into consideration the culinary needs of the practising Muslim traveller, while also ensuring easy access to prayer facilities and privacy for both genders. The holidays on offer vary from city breaks in Italy to spa getaways in Slovenia.
I've opted for a holiday in Antalya, on Turkey's Mediterranean coast. The country's tourism industry has been seriously dented by safety concerns, with holidaymakers instead opting for "safer" short-haul sun-spots such as the Balearics. But Antalya is a world away from Turkey's troubled areas on the borders of Syria and Iraq, as well as the northern cities of Istanbul and Ankara, and travellers who do venture here will find a less crowded, and much cheaper, holiday destination.
With its strip of nightclubs, cheap alcohol and sunny beaches, Antalya is more commonly associated with partygoers than practising Muslims. But within a few miles of Antalya's party district are a number of hotels that attract Muslim holidaymakers from all over the world.
Bera Alanya hotel is one of them. After an hour-long journey from the airport in the blindingly bright sun, the hotel's dark interior is a soothing sight. Before I can reach for my passport, a porter takes my bags; a few minutes and an iced tea later, I'm escorted up to my room.
Once I'm settled in, I change into my bikini and head for the pools. Before I have a chance to panic about forgetting my beach bag in London, I notice one folded neatly on a shelf, next to the prayer mat. The women-only lift takes me to the hotel rooftop, where two of the three women's pools are situated.
After security guards conduct a thorough bag-search for cameras, I'm granted entry; the pool area's no photo policy eliminates the potential risk of unwanted images surfacing online.
With Nicki Minaj blasting on the speakers, one of the areas feels like a wild pool party – the kind that usually ends with a drunk person passing out on a lilo. Except nothing of the sort will happen here because of the hotel's strict no alcohol policy. The only person on a lilo is a topless woman sunbathing, and I seem to be the only person who's noticed her. This indifference to what women are wearing (or not) is one of the main benefits of single-sex swimming areas.
The pool at the other end of the roof has a mellower atmosphere. On the stereo, at low volume, is traditional Turkish music; a few women sit by the pool, drinks in hand, chatting excitedly.
The quiet atmosphere and my lack of phone make me realise that coming here alone probably wasn't the best idea. I start up a conversation with a young woman from Germany who's at the resort with her whole family – her mum and teenage brother are by the hotel's private mixed-gender beach. The quieter area soon becomes too quiet for me and I head back to the party zone before going for dinner.
The hotel restaurant is one of the few areas that aren't segregated. There's a buffet with a wide selection of foods, from traditional Turkish roasts to alcohol-free Italian desserts. I'm normally not a big fan of meat, but the slow-cooked lamb was truly irresistible. Most evenings, the hotel also provides family entertainment after dinner such as puppetry, some of which is in English, and a kids' disco.
The final few days of my trip were spent at Selge Beach Resort, less than 30-minutes' drive away. While Bera Alanya Hotel was purpose-built for halal holidays, Selge was previously a standard resort but has been converted. With its minimalistic design with subtle Turkish touches, the décor is more modern and feels considerably more stylish.
The resort's assistant manager, Ismail, tells me that the unexpected growth in halal tourism has resulted in a number of hotels making changes to suit Muslim clients. According to him, Turkey welcomes five million halal holidaymakers a year, so it's no surprise there are so many hotels focusing on halal tourism – approximately 50 in Turkey alone, Ismail says.
The overall experience was enjoyable and, for a practising Muslim, offered more than a standard sun-and-sand holiday would. I would've liked to experience a single-sex beach – something resorts could perhaps work on – but the private pools made for a welcome change from the awkward feet-dipping at resorts in, say, Torquay or Tenerife. And it was great to be able to sunbathe properly.
Fellow Muslim Brit Saima – whose northern accent I heard in the Turkish hammam before I could see her – couldn't be more enthusiastic about the freedom these kinds of breaks give her. "This is the third year we've been on a halal holiday", she told me. "At resorts like this, we're able to enjoy a family holiday without compromising our beliefs."
Travel essentials
Getting there
Turkish Airlines (turkishairlines.com) flies from Heathrow to Antalya via Istanbul.
Staying there
HalalBooking.com offers one-week all-inclusive stays for a family of four from £612 at Bera Alanya and from £631 at Selge Beach. Flights not included.
More information
British nationals need an visa to travel to Turkey. e-Visas can be bought online in advance for US$20 (evisa.gov.tr).
Register for free to continue reading
Registration is a free and easy way to support our truly independent journalism
By registering, you will also enjoy limited access to Premium articles, exclusive newsletters, commenting, and virtual events with our leading journalists
Already have an account? sign in
Register for free to continue reading
Registration is a free and easy way to support our truly independent journalism
By registering, you will also enjoy limited access to Premium articles, exclusive newsletters, commenting, and virtual events with our leading journalists
Already have an account? sign in
Join our new commenting forum
Join thought-provoking conversations, follow other Independent readers and see their replies