The Independent's journalism is supported by our readers. When you purchase through links on our site, we may earn commission.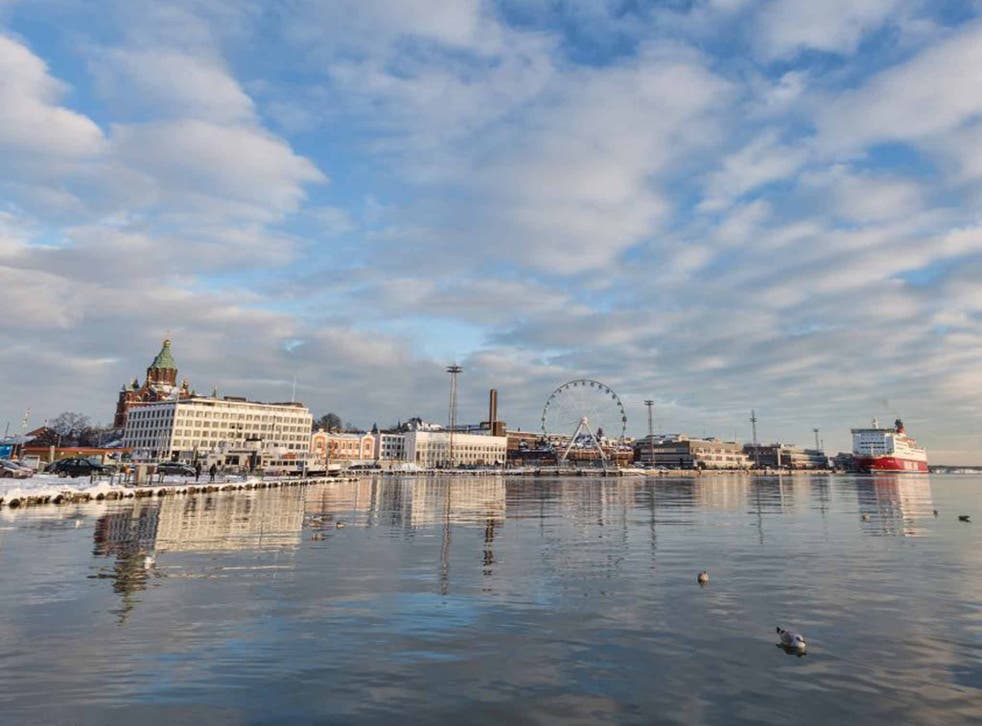 Fancy a spot of communal bathing? Visit Helsinki on its first Sauna Day
Creativity abounds in the Finnish capital, so there's plenty to keep you entertained - even if you don't enjoy getting naked with strangers
An arctic breeze blasts down the Helsinki streets. Offshore, the Baltic waves shimmer like liquid silver. Snow tries to fall. Make no mistake, Mother Nature dictates life in this Nordic city, where winter brings long hours of darkness and summer days stretch for 19 dizzying hours. Only the ritual of the Finnish sauna regulates life through the seasons, offering the heat of summer in its roasting interior followed by a maniacal leap into the icy chill of the sea.
The ritual – both an embrace of nature and a defiant fist-shake in its face – reflects the affinity Finns have for their environment, which is evident everywhere in Helsinki. Located on the Vantaa River, the city enjoys 130km of coastline and over a third of the city is given over to green spaces, creating an urban archipelago of woods and parks. Summer's white nights can just as easily be spent swimming at Hietaniemi Beach as attending a symphony at the avant-garde Music Centre (00 358 20 707 0400; musiik kitalo.fi) in Toolonlahti.
In the 1920s and 30s there were over a hundred public saunas in Helsinki, of which only one remains, the lovely neoclassical Yrjonkatu Swimming Hall in Kampi where Finns plough up and down the length of the pool in just their goggles. In the intervening years public saunas closed in favour of private facilities, but the tide is turning yet again.
Next Saturday, the city will host its first Sauna Day (helsinkisaunaday.fi) when private saunas around the city will open their doors to the public. This might sound odd, but the sauna ritual is as much about community and getting to know people as it is about relaxation and mindfulness.
Finnish actor Jasper Paakkonen and restauranteur Antero Vartia, couldn't agree more, which is why they've created the swanky new Loyly Design Sauna in the up-and-coming neighbourhood of Hernesaari, due to open in late May. Crouching on the shoreline, clad in silvery birch, the building takes its cue from the forest and the sea, and will add an exciting new architectural landmark to Helsinki's already avant-garde skyline.
It's also the perfect place for mind, body and nature to converge. Stripped of clothes and status, sitting in communal silence, embraced by the tendrils of the loyly (steam), you can gaze out at the shimmering Baltic and practice your omissa oloissaan (aloneness with one's thoughts).
Unpack
Step into the lobby of art deco Hotel Lilla Roberts (00 358 9 689 9880; lillaroberts.com) and you might expect Hercule Poirot to rise from one of the Hans Wenger cigar chairs. Helsinki-based design firm Jaakko Puro has done a stunning job of converting this early 20th-century landmark building by Selim Lindqvist into a stylish 130-room boutique hotel. It's located down a quiet side street in the fashionable Design District. Borrow one of the hotel bikes for an easy urban tour. Doubles from £125, including breakfast.
Think local
According to the UN, Finland has the cleanest water in the world, which means that for wild swimming fans there's no better place to dip your toes in the water. In June, you'll be able to join locals at the new Helsinki Pool (helsinkiallas.fi; adults €9/£7, children €6/£4.60), a sea spa by Market Square where you'll be able to cavort in three enormous pools carved out of a floating spruce-wood platform before making a dash for the bio-gas sauna. There will also be events and activities at the pool, from yoga and pilates to movies, live music and circus acts.
Eat
Thanks to the country's long border with Russia, Finnish cuisine rocks its own vibe, featuring the likes of pies filled with salt pork; soft-boned Baltic herring dipped in rye flour; gravlax and horseradish; and bitingly tart pickles. Get to grips with it at Juuri (00 358 9 635 732; juuri.fi), which serves small plates of sapas (Finnish tapas) topped with trout sausage and spring chicken with celery.
For the very finest market-driven menu, head to Michelin-starred Ask (00 358 40 581 8100; restaurantask.com) in Kruununhaka, where multi-course menus (from €49/£38 per person) are composed of organic produce, foraged vegetables, game and wild-caught fish.
Drink
The Helsinki Distilling Company (00 358 40 648 4534; hdco.fi) is the latest food and drink start-up to open in Teurastamo, a former slaughterhouse dating back to 1933, in Kallio, a district that's on the up. To prevent the complex falling into disrepair, city officials invited entrepreneurs to pitch for premises and now it's a thriving hub of eateries, bars and live events. The distillery, which you can tour, is the first of its kind to open in Helsinki since 1919 prohibition laws were enacted in the wake of the First World War.
Spend
Helsinki is a treasure trove of contemporary design, from Iittala homewares and Jackie Kennedy's favourite Marimekko textiles to modernist furniture from Artek. If you want to see what's coming next, head to Kallio's creative hub, Moko Market (00 358 10 315 6156; moko.fi) where Mad Men lookalikes and graphic designers lunch inside an airy warehouse filled with designer products, home furnishings and one-of-a-kind souvenirs. And, to gain access to the city's coolest studios visit during Helsinki Design Week (helsinkidesignweek.com; from 1-11 September).
In early summer the island fortress and Unesco World Heritage Site, Suomenlinna (00 358 295 338 410; suomenlinna.fi), is engulfed in a mist of purple lilacs. They come from Versailles and were planted by Augustin Ehrensvard, the forward-thinking military architect behind this extraordinary collection of low-profile bastions, tunnels, parks and gardens. To reach it take the public ferry (€5/£3.80 round trip) from the east side of Market Square. In summer boats return as late as 2am.
Getting there
Paula Hardy flew with Finnair (0208 001 0101; finnair.com), which flies from Heathrow to Helsinki Vantaa from £146 return.
Line 615 and the Finnair City Bus operates between the airport and the Central Railway Station (€6.20/£4.80 one way; 20 minutes).
More information
The Helsinki Card (helsinkicard.com) allows entry into major museums and unlimited travel on public transport, including the ferry to Suomenlinna. A ticket valid for 12 hours costs €44. visithelsinki.fi
Register for free to continue reading
Registration is a free and easy way to support our truly independent journalism
By registering, you will also enjoy limited access to Premium articles, exclusive newsletters, commenting, and virtual events with our leading journalists
Already have an account? sign in
Register for free to continue reading
Registration is a free and easy way to support our truly independent journalism
By registering, you will also enjoy limited access to Premium articles, exclusive newsletters, commenting, and virtual events with our leading journalists
Already have an account? sign in
Join our new commenting forum
Join thought-provoking conversations, follow other Independent readers and see their replies