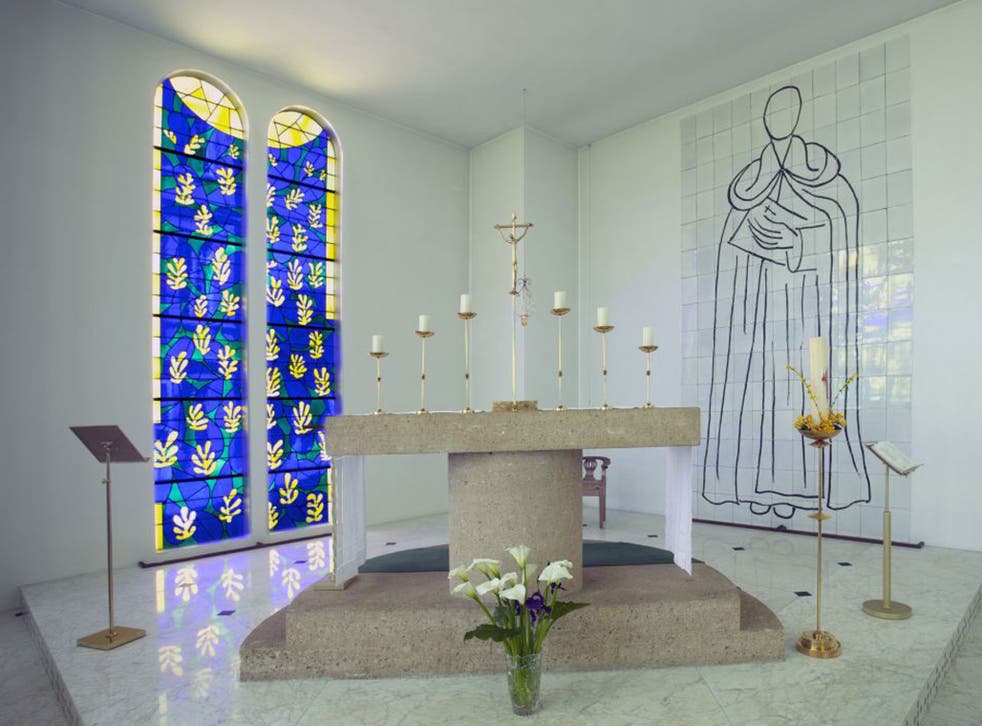 Henri Matisse and his Côte of many colours
As an exhibition of Matisse's cut-outs opens in London, Jonathan Lorie goes in search of the inspiration for all that brightness in the towns of Provence
Jonathan Lorie
Sunday 13 April 2014 00:00 Comments
Beside the glittering water of the swimming pool, a tanned woman lies back on a lounger and unhooks her bikini. Above her the moving arms of a giant sculpture by Alexander Calder flick bars of shade across her skin. On the other terrace lunch is being served by crisp-shirted waiters, the clatter and chatter of well-heeled diners drifting through the bright air. And here in the darkened dining room, where tall windows reveal both views, I am standing in one of the holy places of the world of art.
Welcome to La Colombe d'Or. Only in France would this mixture of sun, fun, glamour and food be called a temple of art. But through the gloom of the unlit room I can see why. Lining the white walls between the massive fireplaces and the brown shutters are rows of paintings by the modern masters. Some were gifts from grateful regulars, others offered in payment for food or lodging in the days when the artists were poor and the restaurant was run by a local peasant's son.
In pride of place is a painting of a cactus by Picasso. Nearby are two lobsters on a plate by Georges Braque, inventor of Cubism. On the far wall is a Montmartre street scene by Maurice Utrillo, last of the Impressionists. And here by the door is a portrait by Henri Matisse, the artist who brings me here.
This Thursday, Matisse is celebrated in a major exhibition at London's Tate Modern. It will feature the largest-ever showing of his "cut-outs" – the swirling collages that he snipped from brilliantly coloured paper. He called the technique "drawing with scissors". Tate Director Nicholas Serota has called this show "once in a lifetime". And I have come here, to the Côte d'Azur, to follow Matisse's trail and find his inspiration.
I'm starting in the hills high above the coast, in the pretty medieval village of St-Paul-de-Vence. From the 1920s it attracted artists, who spent their days painting the landscape and their evenings in La Colombe. The guest book has signatures from the giants of Modernism, and slowly their fame pulled in others – writers, singers, film stars and directors. To eat a plate of sea bass with a glass of chilled rosé de Provence, on the sun-drenched terrace under a mural by Fernand Léger, is as close as you can get to a magical era when the world was seen anew in a playground by the sea.
Today St Paul is still awash with artists, its winding lanes filled with galleries and studios. Some cater to the tourist trade, but in the window of Galerie le Capricorne I spot an etching by Chagall. I duck inside. The back room is hung with original prints by Picasso and Chagall, and a lovely line drawing of a woman's head by Henri Matisse.
Matisse himself lived in the neighbouring village of Vence. I drive there along a winding hill past tall cypress trees. It's scruffier than St Paul, but the old centre is a perfect circle of ancient stone alleys where locals are shopping for fish on slabs of ice and vegetables from the hills. And it has one great claim to fame: the Chapelle du Rosaire, a nunnery chapel entirely designed by Matisse. I park outside.
"This work is the outcome of four years of exclusive work, and it is the result of all my active life," wrote the artist. "I consider it my masterpiece." From the outside it's a white shed with a corrugated roof. Inside it's a revelation. Down a flight of dim-lit stairs is a big room of purest white, the walls whitewashed, the floor in marble. On two walls are stark line drawings some 20ft tall, of a saint in robes and the stations of the Cross. In the centre is a vast hunk of yellow sandstone, roughly cut as the altar. And flooding it all with ripples of sudden colour are two walls of stained glass windows, pouring into all this piety the warmth of the hot South in shades of sun-yellow, sky-blue, grass-green, in imagery of flowers and cacti and leaves from the tree of life. It is perhaps the world's first installation by an artist, an entire environment you can walk through and experience in three dimensions. And it glows.
A nun interrupts my musings to whisper that mass begins in 15 minutes. I wander out to find the house where Matisse lived. Down an unkempt driveway between holiday villas, I glimpse it. La Rêve is a big square Provençal house surrounded by palm trees and looking towards the sea. It is not open to the public, but artists can book to stay in its rooms and paint. I can't actually see any easels in the garden, but perhaps they are all out in the hills, working in the footsteps of the masters.
As dusk settles I check into my hotel, the art-themed Maison du Frêne. It's a jokier version of an art installation, the tall rooms painted red and lined with quirky contemporary work – a sausage dog after Jeff Koons, a lampstand made from a golden Kalashnikov, some startling African statues built from jerry cans. I pop across the road to a classic Provençal restaurant, L'Auberge des Seigneurs, where chickens roast on a spit before a crackling fire, and then retire for the night with Warhol's multiple Marilyn Monroes smiling above my bed.
Matisse lived in Vence during the Second World War, seeking somewhere quiet and safe. But for most of his adult life he lived in Nice, and that's where I'm heading next. It's an hour's drive to the elegant old city which he discovered in 1917. En route is the unspoilt hilltop village of Haute de Cagnes, and the house where Renoir lived. On the mantelpiece in Renoir's dining room is a photo of Matisse visiting the old master.
"I decided never to leave Nice," wrote Matisse in 1950, "and remained there nearly my entire life." Born and raised in the gloom of northern France, he was dazzled by the luminous light of Provence. Along the coast from here in 1905 he pioneered the wild colours of the Fauvist movement, and in a series of hotel apartments in Nice, from the 1920s on, he painted the colour-drenched series of "odalisques" – sensual harem women lolling on sofas, influenced by visits to Algeria just across the water.
The stylish Cimiez district was his main haunt in Nice, and I stop at the grand building of the Hotel Regina, where he lived. Built in honour of Queen Victoria, who liked to winter in Nice, it has now been converted to flats. The grand entrance lobby is still there, with its chandeliers and double staircase. Old photos of the artist's hotel suite show cut-outs pinned to the walls and spilling over the floors. Studio assistants described exhausting sessions as the artist scissored the hand-painted papers and directed where on the canvas they should be pinned. Often they were repositioned for days or weeks until a final composition satisfied. The process seems similar to a jazz jam session, sampling and improvising on a series of ideas – Matisse's first major cut-out project was indeed a book of scenes called Jazz.
Up the street is the Musée Matisse, a lovely old Provençal villa in an olive grove where he liked to walk. The collection is small but delightful, surveying the arc of his career, from murky Impressionism in 1890s Paris, to the freedom of the Nice years. And on the first floor are the cut-outs: not just walls of beautiful images of blue nudes and tropical fish and blowsy flowers, but the tiny paper scraps from which these were formed. A row of gold frames holds each fragile cut shape, in blue or purple, green or cream, and you can glimpse the marks where his scissors ran. Seen up close, they are pure splashes of colour and form, affirmations of joy that make you smile.
Next door to the museum is the cemetery of Cimiez, where Matisse is buried. Past a jumble of stone angels, I find a little stairway to a quiet terrace, where a simple slab of stone is surrounded by purple irises and white lilies, their strong shapes and bold colours fitting for this devotee of line and colour who finally fused both in a form that went beyond painting. "I don't think that I have ever found such balance as I have in creating these paper cut-outs," he reflected. "Only much later will people realise to what extent the work I am doing today is in step with the future." Beside the path I find a yellow flower and lay it on his tomb.
Travel essentials
Getting there
Jonathan Lorie travelled courtesy of Art Tours Ltd (020 7449 9707; arttoursltd.com), which offers tailormade, art-focused holidays. A two-night guided tour of the region, staying at the five-star Château St Martin in Vence starts at £1,795pp with flights from London.
Staying there
Maison du Frêne, Vence (00 33 4 93 24 37 83; lamaisondufrene.com). Doubles from €160, B&B.
Hotel Windsor, Nice (00 33 4 93 88 59 35; hotelwindsornice.net). Doubles from €205, room only.
Visiting there
Chapelle du Rosaire, Vence (00 33 4 93 58 03 26).
Musée Matisse, Nice (00 33 4 93 81 08 08; musee-matisse-nice.org)
Eating & drinking there
La Colombe d'Or, Saint-Paulde-Vence (00 33 04 93 32 80 02; la-colombe-dor.com).
L'Auberge des Seigneurs, Vence (00 33 04 93 58 04 24, aubergeseigneurs.com).
Chez Acchiardo, Nice (00 33 4 93 85 51 16).
More information
'Henri Matisse: the Cut Outs' opens at Tate Modern in London on Thursday; until 7 September(£18; 020 7887 8888; tate.org.uk).
Register for free to continue reading
Registration is a free and easy way to support our truly independent journalism
By registering, you will also enjoy limited access to Premium articles, exclusive newsletters, commenting, and virtual events with our leading journalists
Already have an account? sign in
Join our new commenting forum
Join thought-provoking conversations, follow other Independent readers and see their replies