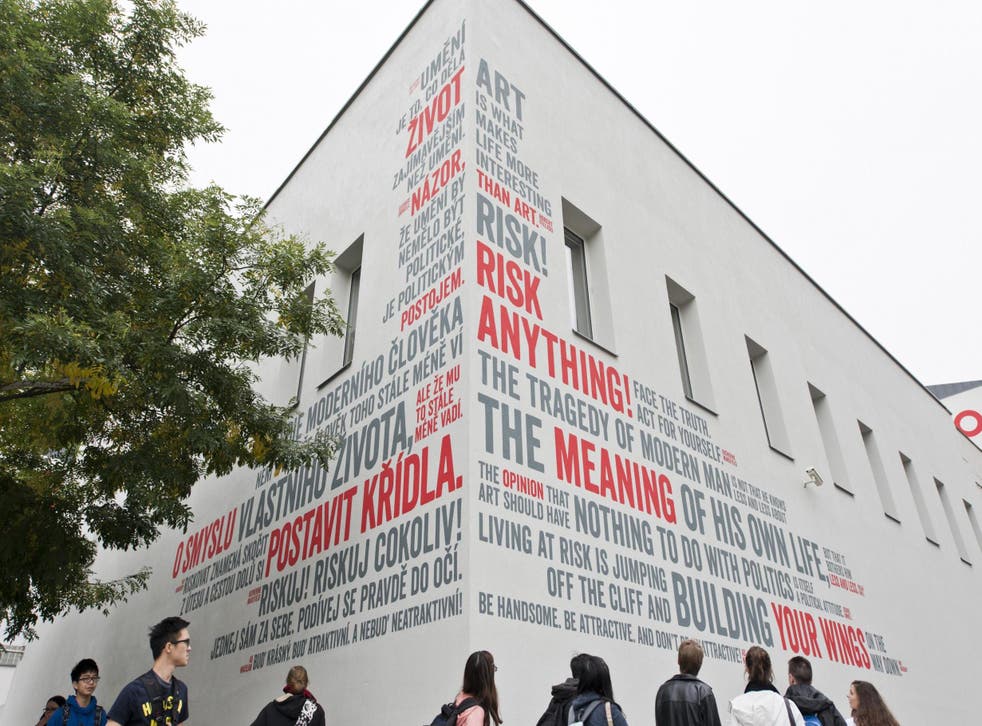 Holešovice: The Prague suburb that's gone from sleazy stag dos to hipster paradise
The neighbourhood made its name for strip clubs but is in the throes of an artistic revolution
Lisette Allen
Wednesday 20 September 2017 10:46 Comments
With its fairytale vistas and legendary beer, it's little wonder that Prague remains a perennially popular destination. The majority of tourists never find their way out of the historic centre's maze of cobbled lanes – and frankly, they're missing out, as in recent years the city's suburbs have undergone a veritable renaissance.
Once upon a time, the only reason to go to gritty Holešovice was to shake your booty at legendary music venue Cross Club or for pre-wedding shenanigans at ShowPark, the vast strip club featured in Stacey Dooley's BBC 3 documentary Sex, Stags and Prague. However, since moving to the neighbourhood six years ago, I've witnessed it blossom.
Its former industrial spaces are being transformed into cool haunts like Vnitroblock, a vast café-meets-design-store in a disused factory, which opened in October 2016. The cavernous interior is reminiscent of an edgy Brick Lane boutique, showcasing cutting-edge Czech designers while millennials hunch over laptops and magazine editors manage fashion photoshoots.
"The offer came to us and the first idea was to open a café or similar concept," founders Lukas Zdarsky and Jakub Zajic explained, "but when we saw the space we had an idea to create more. And we are still creating and working on Vnitroblock to bring it alive."
Továrna, another abandoned factory on nearby street Dělnická, regularly hosts film screenings, pop-up stores and quirky events like F**kUp Night, at which five notable speakers recount their screw-ups. A few doors down, Ztohoven, the anarchic ethical hacker collective famed for their artistically motivated pranks, have set up their headquarters, Paralelní Polis. The three-floor venue includes Bitcoin Coffee, reputedly the only café in the world which only accepts the cybercurrency, an Institute of Cyberanarchy where anti-establishment events and talks are regularly hosted, a 3D printing lab and a co-working space – membership of which has to be paid for in Bitcoin, naturally.
"There's no particular reason we chose Holešovice as a base: we just spotted the 'for lease' sign on the building. That said, Polis fits perfectly into the neighbourhood, which used to be full of brownfield sites," says Roman Týc, co-founder of the Ztohoven collective. Týc also highlights Továrna as a positive example of the area's revitalisation. "It's all coming together now," he says.
There's support at local government level in the form of Art District 7, a branding exercise which hopes to connect the creative talent – or "cultural actors", to echo their bureaucratic jargon – already living in the area, thereby supporting its organic transformation into a cultural hub. "We'd like to attract tourists to leave the centre and learn that this part of Prague has much to offer them," Stanislav Václavovic from Prague 7 District's cultural department told The Independent.
However, much of Holešovice's revamping has been down to private initiatives like DOX, Prague's answer to the Tate Modern. When the Centre for Contemporary Art, housed in a former sheet-metal plant, opened back in 2008, it granted the neighbourhood a key artistic hub. Since then it has hosted numerous exhibitions featuring both Czech and internationally renowned artists, recently unveiling its architecturally distinctive Gulliver airship extension. The wacky wood and glass structure which hangs above the main building's courtyard like a giant Zeppelin is open to the public and hosts literary events.
Theatre fans should beat a trail to avant-garde theatre troupe Cirk La Putyka, who successfully crowdfunded their project to transform old slaughterhouse Jatka 78 into a performance space for their innovative work in 2016. They regularly perform sell-out shows. Combining mime, live electric guitar, dance and acrobatic shenanigans, their work is a dream-like assault on the senses guaranteed to haunt the subconscious.
Holešovice still has its fair share of dodgy drinking dens but those after a decent microbrewed lager in more salubrious environs should visit Pivovar Marina. The former customs house located by the river has a cosy interior with exposed wooden beams and huge copper brewing vats in which the hops ferment proudly on display near the bar. However, the main draw is the gorgeous riverside beer garden. Grab a bench on a sunny day and join the locals in the pursuit of the chilled vibe that is česká pohoda – the Bohemian equivalent of hygge (but with beers). In the summer the kitchen staff crank up the barbeque, providing the perfect excuse to sample some authentic Czech pub grub. Try klobása (a chunky red sausage) with a dash of horseradish sauce or naložený hermelín, a Camembert-style cheese pickled with spicy peppers.
For less cholesterol laden eats, head for nearby Home Kitchen, which opened its doors in July 2014. The interior décor might be third wave coffee house cliché – giant industrial light fittings and exposed ventilation pipes hanging over scandi-style, stripped-down wooden tables – but the quality of the food makes this forgivable. The focus is on light, healthy fare made with freshly prepared, seasonal ingredients, like homemade soups and salads; samples of the day's specials are available for inspection on a table near the open kitchen.
No one's saying you should limit your exploration of Prague to just one neighbourhood – but you owe it to yourself to look beyond the tourist hoards clogging the streets of the Old Town, in which a mere 10,000 of the city's 1.2 million inhabitants actually live. If you want a slice of local life and to witness how the hipsters are having a hand in the regeneration of this venerable Central European capital, then head for Holešovice.
Travel essentials
Getting there
Ryanair (ryanair.com) flies from London Stansted to Prague from £40 return. Holešovice is easily accessible from central Prague via public transport. From the Old Town, take the 6 tram from Namesti Republiky to Delnicka; the journey lasts less than 15 minutes and is covered by the cheapest public transport ticket, which is valid for 30 minutes and costs 24CZK (83p). From Wenceslas Square, jump on the A line of the metro at Muzeum and then get off at Vltavska.
Staying there
Absolutum Boutique Hotel (absolutumhotel.cz) is a convenient upmarket choice for those wishing to stay in the neighbourhood. It's only a short walk from the train and metro station, Holesovice Nadrazi, so it's still a good base for exploring Prague's main sights. Doubles from €69, room only.
More information
Register for free to continue reading
Registration is a free and easy way to support our truly independent journalism
By registering, you will also enjoy limited access to Premium articles, exclusive newsletters, commenting, and virtual events with our leading journalists
Already have an account? sign in
Join our new commenting forum
Join thought-provoking conversations, follow other Independent readers and see their replies