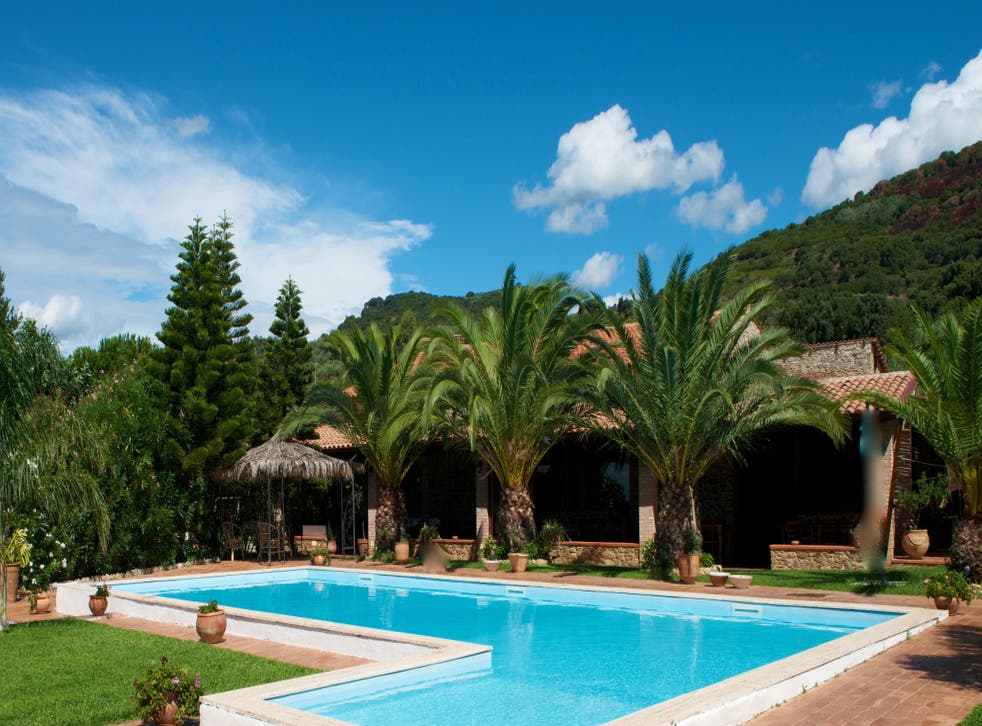 The 10 best budget places to stay in Italy
Sawday's lady on the ground in Italy, Nicole Franchini proves that you don't have to have the funds of a Medici to enjoy the splendours of Italy. Here, she selects her top places to stay around the country from Sawday's new Special Places to Stay: Italy guide
Nicole Franchini
Thursday 20 July 2017 11:58 Comments
Agriturismo Livadia, Gizzeria, Catanzaro, Calabria
On a gently sloping hillside gazing out to the Mediterranean, surrounded by olive trees and a heady mix of tropical plants, enjoy the peace of the family home of Clelia and her parents. The four simple but homely apartments are in the family's main house, and the four rooms are on the hillside just below the pool. Tuck in to breakfasts of fresh bread, jams and fruit from the farm in the rustic loggia dining room. Children will love the pool, play area and table football. Go horse riding or hike the nearby mountain reserve, visit archaeological sites and medieval villages, then return to evening meals of mouthwatering Calabrian recipes.
Doubles from €60 including breakfast.
Agriturismo Livadia (00 39 0968 466 415; agriturismolivadia.com).
Duca Di Castelmonte, Trapani, Sicily
Once a grand and self-sufficient estate, Duca Di Castelmonte has been in this family for five generations. Leave the urban sprawl behind, and enter a jolly, much-loved home and agriturismo with a restaurant, 15 apartments and a fabulous pool. Three generations live here, along with ponies, donkeys, dogs and hens, so it's heaven-sent for children. The apartments ramble between courtyards, through archways and around trees. Explore olive and citrus groves, polytunnels, fields of vegetables – pick to your heart's content. There's a playground in the pines, a bar by the pool and lovely Sicilian food. Make friends in different languages across the dinner table.
Doubles from €80 including breakfast.
Duca Di Castelmonte (00 39 0923 526139; ducadicastelmonte.it).
Antica Tenuta Le Piane, Amandola, Fermo, Le Marche
Take a small, unmarked road through woods, pasture and majestic mountain scenery to this old estate in the foothills of Sibillini National Park. Generations of the Ricci family have lived here and for many years the team has made guests welcome in their farm cottages. It's a very child-friendly set-up, with plenty of outdoor space, mountain bikes, games and two swimming pools set well apart. Bedrooms are welcoming and bright, kitchens are well equipped and living areas have painted wicker furniture and exposed stone walls. A great space for nature-loving folk to unwind, to go hiking and biking and explore the rich Province of Fermo with its medieval castles and renaissance Abbey.
Rental starts at €450 per week for an apartment sleeping three.
Antica Tenuta Le Piane (00 39 0736 847641; anticatenutalepiane.com).
Corte d'Aibo, Monteveglio, Bologna, Emilia-Romagna
Follow the track to a winery in a valley where farming and nature work in harmony. There's a farmhouse, a barn-restaurant, a biodynamic winery and 12 bedrooms with a communal sitting room above. With a host of chickens, plenty of cats and staff chatting and laughing in the kitchens, it's impossible not to unwind. Well-equipped bedrooms are furnished in spare, modern style and a lawn runs down to the reed-fringed lake. Take a dive into its fresh waters - no better start to the day! Best of all is the food: regional, seasonal, organic - so good that food-and-wine tours book in. Hiking and biking is what it's about in the Natural Park dell' Abbazia, and if you stay here, the bikes are thrown in.
Doubles from €55 including breakfast
Corte d'Aibo (00 39 051 832583; cortedaibo.it).
Azienda Fontanasalsa, Fontanasalsa, Trapani, Sicily
The flat countryside of the salinas is full of surprises, fringed by the salt ponds and an azure, calm lagoon and studded with big old farmhouses that hide their handsomeness. Fontanasalsa is such a place, solidly functional as you approach and then a burst of colour and vitality as you enter the courtyard. The two women who run it are fascinating: Maria was Sicily's first pediatrician and Colette was a fighter pilot. Gentle yet commanding, they are deeply rooted in their work on the land, firm in their convictions and gifted as hosts. Their kitchen produces wonderful meals, the pool is a place for sybaritic unwinding and the bedrooms have that elusive but comforting touch of old-worldliness.
Doubles from €100 including breakfast
Azienda Fontanasalsa (00 39 0923 591120; fontanasalsa.it).
La Casa di Pippinitto, Santa Venerina, Catania, Sicily
The farm is small, delightful and organic, the coast is a short drive away, and you can walk to simple cafés. But the star here is Europe's largest active volcano... there are great views of Mount Etna from La Casa's orchard. Come for organised treks to the crater, skiing in winter or walking the rest of the year. Back at the farm, there's a lovely set up for a family stay, with gardens to run around in, hammocks slung between walnut trees and a guest kitchen in which to rustle up a meal. You can also self-cater, in the characterful old casita dedicated to Pippinitto, the farmer who once lived here. As you'd expect, generous host Cesare's breakfasts are plentiful and delicious.
Doubles from €75 including breakfast.
La Casa di Pippinitto (00 39 0959 53314; lacasadipippinitto.it).
Lodole Country House, Monzuno, Bologna, Emilia-Romagna
An exceedingly well-renovated 17th-century stone cottage with views over breathtaking Apennine countryside. Flowers brighten windows, terracotta planters march up to the front door, and a paved path curves up to a swimming pool. Bedrooms are romantic; all have low lighting, wooden boards, exposed beams and soothing hues. Well-chosen pieces add interest: polished armoires, antique vanities, free-standing antique washbasins and fine, wrought-iron beds, some canopied in soft cotton. The living room has a fireplace, big white sofas and a window with views to the hills. Numerous local trattorie provide discounted meals to guests and the Molino del Pero golf course is just next door.
Doubles from €65 including breakfast.
Lodole Country House (00 39 0516 771189; lodole.com).
Castello di Monterado – Apartments, Monterado, Ancona, Le Marche
Cut off from western Italy by the Apennines is Le Marche; peaceful, charming and unsought-out. On a small square in the medieval town of Monterado is a solid old stone building housing six apartments with a contemporary and luxurious feel. Lofty walls are plastered white, floors are polished parquet, and styling is simple, classy and sleek. Guests in the apartment can use the pool in the castle gardens. In the town is a handful of restaurants and shops, plus tennis courts, while the region is the home of porchetta. After a day's touring, return to the peaceful garden of the Castello, with its cedar trees and scented roses and, beyond, a landscaped woodland with winding paths.
Rental starts at €420 per week for an apartment sleeping two.
Castello di Monterado (00 39 0717 958395; castellodimonterado.it).
Il Furtin, Cantalupa, Turin, Piedmont
In the hills above the peaceful and remote village of Cantalupa is an old stone building with stunning views across the valley. The moment you enter you know this is a special restoration, employing materials reclaimed from the old farmhouse, roof beams from the chestnut woods and wool for insulation. The work has been carried out by the best local artisans; the uncluttered interiors are a beautiful example of Italian rustic-chic. Off the grassy garden is a big stone-walled living room with white sofas either side of a central fireplace, and sparkling spot-lit floors. There's a kitchen for large groups to use. The sun-dappled gardens, the outdoor pool and the hotel bikes come free.
Doubles from €80 including breakfast.
Il Furtin (00 39 0121 354610; ilfurtin.com).
Ca' del Rocolo, Verona, Veneto
This 1800s farmhouse is on the side of a hill overlooking forested hills and behind is the vast Lessinia National Park. Maurizio and Ilaria gave up the hustle and bustle of Verona for a peaceful country life here. Having completed much of the renovation themselves, the result is authentic and attractive; simple cotton rugs cover stripped bedroom floors, rough plaster walls are whitewashed, and rooms are decorated with solid, country furniture. Breakfasts are out on the terrace, making the most of the views: expect home-produced honey and jams, seasonal cakes, home-grown fruits and happy conversation. This is a seven-hectare, organic farm, with olives and fruit trees, hens, horses and beehives. There are nature trails galore, and always something going on.
Doubles from €63 including breakfast.
Ca' del Rocolo (00 39 0458 700879; cadelrocolo.com).
For more information on all places featured or to make a booking enquiry visit sawdays.co.uk/italy. Sawday's new Special Places to Stay: Italy is priced £15.99.
Register for free to continue reading
Registration is a free and easy way to support our truly independent journalism
By registering, you will also enjoy limited access to Premium articles, exclusive newsletters, commenting, and virtual events with our leading journalists
Already have an account? sign in
Join our new commenting forum
Join thought-provoking conversations, follow other Independent readers and see their replies